This website may contain affiliate links and advertising so that we can provide recipes to you. Read my privacy policy.
Blackened Cajun shrimp tacos with avocado salsa are made with so many fresh ingredients, and the blackened cajun shrimp takes it to the next level with flavor! These are some healthy and delicious tacos you have got to try! 
I love any kind of tacos… They are all so delicious, and there are so many different ones to try. Check out some of my favorites like these Carne Asada Tacos, these yummy Best Ever Birria Tacos, or these Beef Brisket Tacos!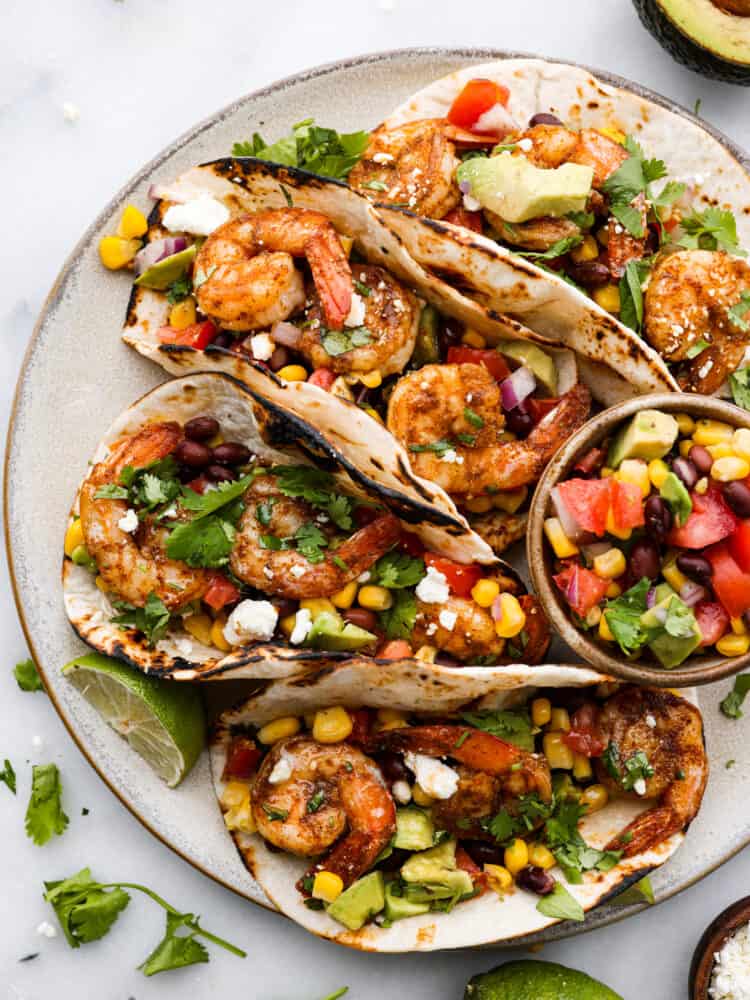 A Reader's Review
Made these last night and they are FANTASTIC! The cajun shrimp and cool salsa were a great balance. Five stars from the family and we're using the leftover salsas dip today!
-Gina
Blackened Cajun Shrimp Tacos Recipe
This recipe starts with this blackened Cajun shrimp. I love Cajun seasoning because it has so many spices combined in one to really add a kick. It was perfect for seasoning the shrimp and makes a nice crisp seasoned edge. The taste and texture of the shrimp are perfect! But then, you top it off with some delicious avocado salsa and wrap it up in a crisp tortilla… it's a match made in heaven!
When thinking of what to put inside of these blackened Cajun shrimp tacos, I knew that an avocado salsa had to be involved. I LOVE avocado salsa and could literally eat it with a spoon. Fresh avocados, tomatoes, red onion, black beans, and corn with a squeeze of fresh lime. This really took these tacos to the next level!
Ingredients in Blackened Cajun Shrimp Tacos
These tacos are so simple and easy! I love using the avocado salsa because then I don't have to set out individual toppings. You just add that in, and all of the flavors are there in one place, ready to go! Check out the recipe card at the bottom of the post for exact measurements.
Jumbo Shrimp: You can use frozen shrimp in this recipe! You can buy it peeled and deveined, which makes it so simple! You can also remove the tails if you want.
Cajun Seasoning: You can buy this at the store or easily make it at home with this recipe of mine!
Olive Oil: The olive oil helps the seasonings to stick to the shrimp.
Feta: You don't have to use this, but I love to sprinkle on feta cheese as an additional topping.
Flour Tortillas: You can buy these at the store or make them at home with this recipe. You can also use corn tortillas if you prefer!
Avocado Salsa
Roma Tomatoes: You can dice these up to whatever size you prefer.
Yellow Corn: I used a can of corn in this recipe, but you can also take corn fresh from the cob or use thawed frozen corn.
Black Beans: After you open your black beans, rinse and drain them before adding them to the salsa.
Red Onion: I like to use red onion because it's the best onion to eat raw.
Avocados: Dice these up and add them to the salsa just before serving so that they don't turn brown.
Cilantro: Cilantro adds such a delightful taste to finish off the salsa.
Lime: You can just juice from fresh lime or use bottled lime juice. Fresh will always bring in a brighter taste.
Salt and Pepper: These will enhance all of the flavors in this salsa that goes on top of these blackened Cajun shrimp tacos.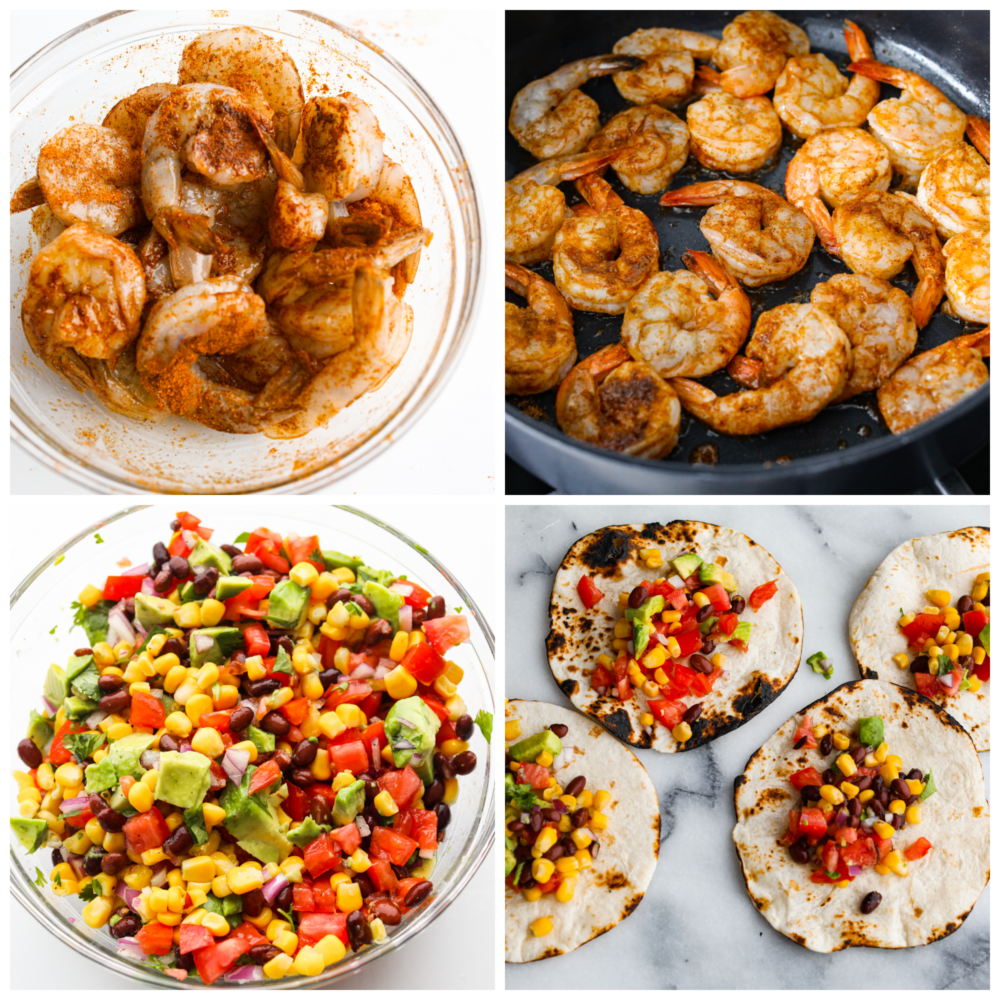 How to Make Blackened Cajun Shrimp Tacos
If you thought the ingredients list was easy, then wait until you see how easy these are to make! Only 3 steps and you will be on your way to eating deliciously flavored tacos and you won't be able to stop at just one!
Toss and Cook Shrimp: Add the shrimp and cajun seasoning in a medium-sized bowl. Toss until coated. Add olive oil and shrimp over medium-high heat in a medium-sized skillet. Cook for about 2-3 minutes until no longer pink.
Make the Avocado Salsa: Add the tomatoes, corn, black beans, red onion, avocado, and cilantro to a bowl. Salt and pepper to taste.
Combine: Assemble the tacos by dividing the avocado salsa and topping it with shrimp. Sprinkle with crumbled feta and serve immediately.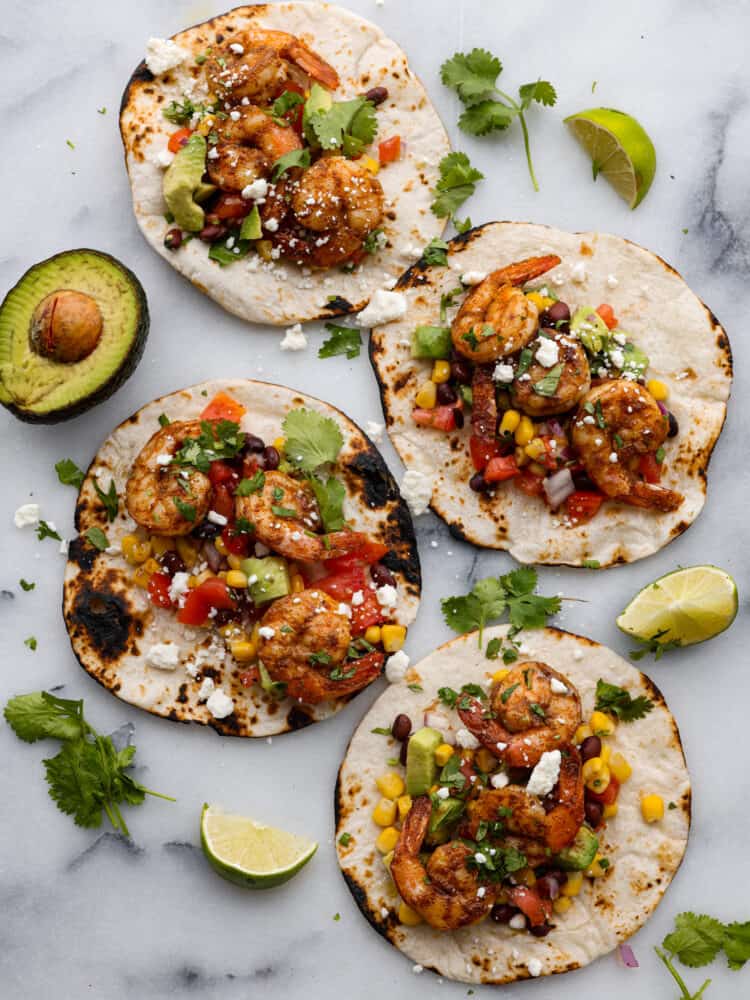 Variations
These blackened Cajun shrimp tacos are simple and can easily be changed up to fit your needs! Here are a few ideas on how to make them different every time!
Seasoning: Cajun seasoning is insanely delicious but have you tried my blackened seasoning? It's similar but just different enough (it's slightly less spicy) that you may want to use it on at least half of the tacos so that you have a slight variation of flavor!
Toppings: If avocado salsa is not your thing, then there are other ways to add a lot of flavors! Try using shredded purple cabbage with some feta cheese, cilantro, and lime!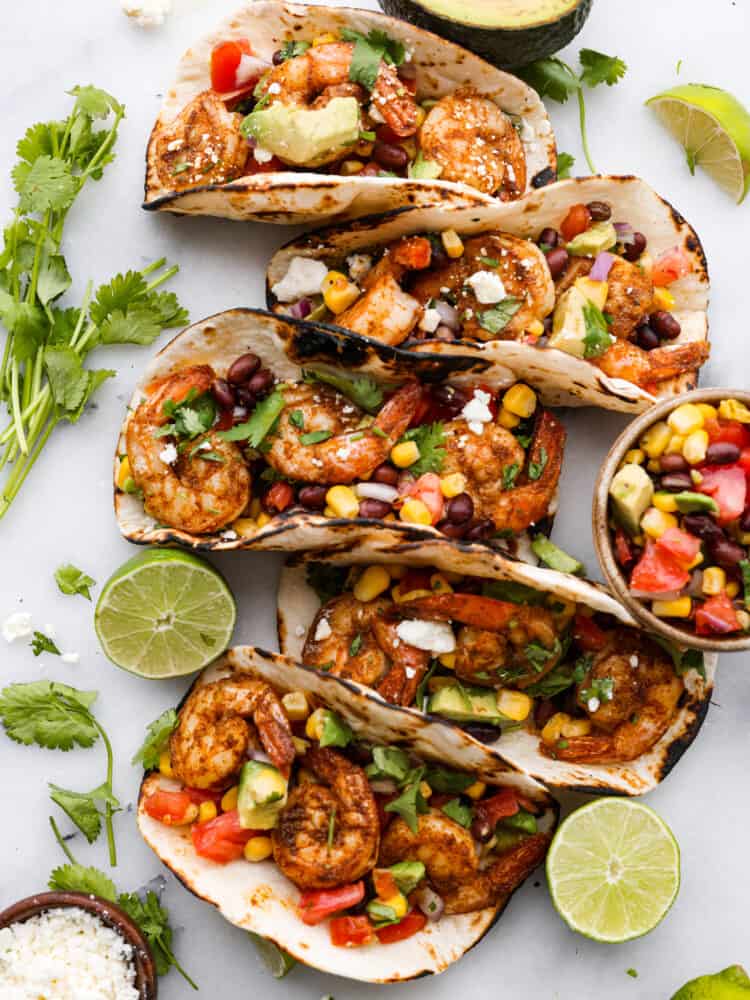 How to Store Blackened Cajun Shrimp Tacos
These shrimp tacos can be stored as leftovers as long as you store all of the ingredients separately! They will be soggy the next day if you store them all together.
In the Refrigerator: Place your unused shrimp and avocado salsa in separate airtight containers and store them in the fridge. It will last about two days.
To Reheat the Shrimp: You can cook them on the stove with about a teaspoon of olive oil on medium heat for about 1-2 minutes until they are heated through.