This Black Bean and Beef Chili is loaded with the perfect combination of chili ingredients, and the Avocado Salsa is the perfect finishing touch. This is a chili recipe I've loved for years, and this chili recipe is perfect for game-day food. And there are instructions for making this tasty Chili in the slow cooker if you prefer.
PIN this tasty black bean and beef chili with avocado salsa to try it later!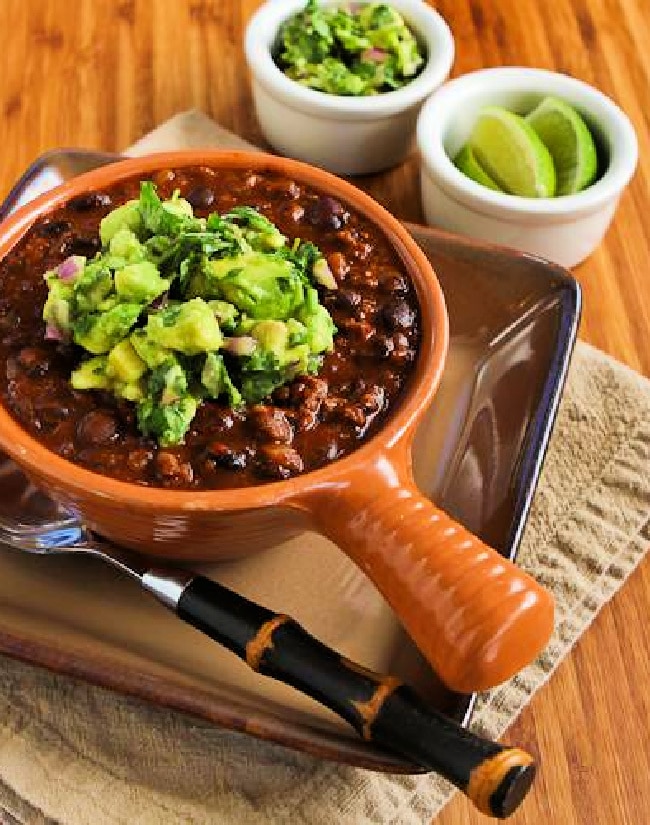 Before we talk about Black Bean and Beef Chili, let's just talk about chili in general. Chili is a perfect cold weather dish and on this site I have recipes for slow cooker chili and Instant Pot Chili. But sometimes I just like to make a pot of chili on the stove, and this stovetop recipe for chili with black beans and beef is one I've been making for years! But I know some people love using the slow cooker, so check in the recipe for tips if you'd like to make it that way.
It's partly the combination of beef and black beans that makes me love this recipe so much. And definitely the fresh-squeezed lime juice and chopped cilantro stirred in at the end gets a big thumbs up from me. But what really puts this Chili into over-the-top status for me is the creamy avocado-cilantro-onion salsa, something I can imagine myself adding to all my Chili recipes from now on.
What ingredients do you need?
What is Chili?
For anyone not familiar with the cuisine of the Southwestern United States, the stew-like dish called Chili may be a bit puzzling. Yes, it does usually contain chiles (small red or green hot peppers) as well as chile powder (powdered dried chiles). But there are lots of other things that define chili. Sometimes Chili has meat, and it could be beef, pork, chicken, or turkey, but Chili can also be a vegetarian dish. There are Chili recipes with or without beans, (and some purists say that true Chili should never have beans!) But for recipes that use beans, many types will work, including red beans, black beans, white beans, pinto beans, and more. Besides chile peppers, meat and possibly beans, most Chili recipes also include include tomatoes and onions.
When should you serve chili?
Chili is a great party food, as well as something that's nice to have in the freezer for quick dinners. But it's especially good when the weather is cold outside. And of course Chili is the ultimate game-day food!
What if you prefer a chili without beans?
Check out my round-up of Low-Carb Chili Recipesor Pumpkin Chili with Beef, Peppers, and Olives if you'd prefer a chili without beans.
Want more tasty ideas for chili?
You can check out Healthy Chili Recipes Your Family Will Love or 10 Amazing Low-Carb Chili Recipes for more delicious chili recipes like this one. Also check out The BEST Low-Carb and Keto Instant Pot Chili at my Slow Cooker or Pressure Cooker site.
How to make Black Bean and Beef Chili:
(Scroll down for complete printable recipe including nutritional information.)
Start by rinsing the two cans of black beans and letting them drain.  (These photos are from a double batch of Chili I made for my family Superbowl party, so divide by two in your mind.)
Puree the third can of black beans with the tomatoes in a food processor (affiliate link) or blender.
Brown the ground beef, then remove and add to a heavy soup pot.
Heat the oil and saute half the onion until it's starting to soften; then add the chile powders (and ground chipotle chile pepper if using) and ground cumin and cook a minute or two until the spices are fragrant.
By now I realized that the double batch of Chili was not going to fit in the pan I was using so I transferred the meat and onion to this bigger pot, added the beef stock and drained beans, and let the chili start to simmer.  (Remember, this is a double batch!)
Dice the avocados and toss it with 1/4 cup lime juice. Then stir in the rest of the chopped onion. Add half the chopped cilantro. You can keep the salsa in the fridge if you don't think your Chili is done yet.
This Chili will cook in about 30 minutes, but I like to simmer it on very, very low heat for a couple of hours. It will thicken a bit and cook down slightly. 
Stir in the lime juice and chopped cilantro when the chili is as thick as you'd like it and serve hot, with a generous scoop of salsa on top.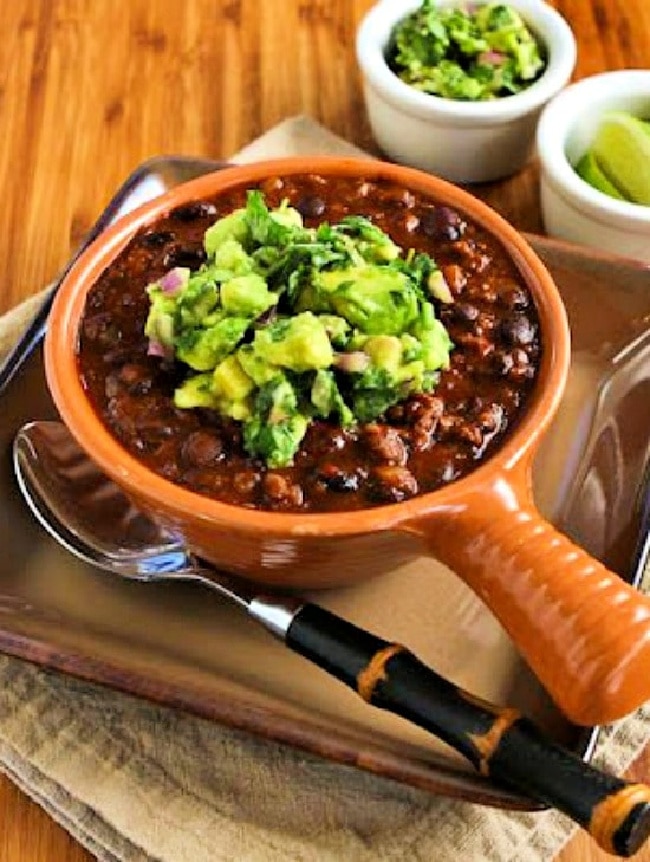 More Chili Recipes You Might Like:
Pumpkin Chili with Ground Beef (Slow Cooker or Instant Pot)
Amy's Amazing White Chicken Chili (Instant Pot or Stovetop)
Beef Chili with Sausage, Mushrooms, and Olives (Stovetop)
Weekend Food Prep:
This recipe has been added to a category called Weekend Food Prep  to help you find recipes you can prep or cook on the weekend and eat during the week!
Ingredients
2 14 ounce cans black beans
1 T olive oil (or more, depending on your pan)
1 lb. lean ground beef
1/2 cup very finely diced red onion
1 T or more regular chile powder (preferably New Mexico chile powder )
1 T or more ground Ancho chile pepper (Ancho chile powder adds great flavor, but can use more regular chile powder)
about 1/4 tsp. ground Chipotle chile pepper (see notes)
2 tsp. ground cumin (or more)
2 cups homemade beef stock or 1 can beef broth
2 T tomato paste
1/4 cup fresh-squeezed lime juice (I used my fresh-frozen lime juice)
1 can black beans (to thicken)
1 14.5 oz. can diced tomatoes (to thicken)
pinch of ground Chipotle chile pepper or one diced chipotle chile from a can (optional)
Salsa Ingredients:
1/2 cup finely diced red onion (or less)
1/4 cup fresh lime juice (I used my fresh-frozen lime juice)
1 bunch cilantro, chopped
2 avocados, finely diced
salt and fresh ground black pepper to taste (I didn't use any salt)
Instructions
Drain 2 cans black beans into colander and rinse well, until no more foam appears.
Let beans drain while you use a food processor (affiliate link) to puree the third can of undrained beans and the can of diced tomatoes and liquid, (plus another pinch of Chipotle chile if you really like it hot). Process the beans and tomatoes about 2 minutes, until they are fairly smooth.
In bottom of heavy soup pot, heat 1-2 tsp. olive oil and brown beef, using the back of the turner to break it into small pieces.
Remove beef to bowl, then add a bit more olive oil and 1 cup red onion.  Lower heat a little and cook onions until they are softened but not starting to brown. Add all the chile powders and cumin (affiliate link) and saute about 30 seconds.
Add beef stock, browned ground beef, pureed bean mixture, drained beans from colander and tomato paste and simmer, uncovered, 30 minutes or longer. (I actually simmered my Chili at very low heat for nearly two hours. Halfway through the cooking time, taste to see if you want additional chile powder. I think chile powder is something you need quite a bit of in a dish like this.)
While Chili simmers, dice avocados and place in plastic bowl with 1/4 cup fresh lime juice. (I used Elise's method to chop the avocado inside the skin, which was easy and not messy.)
Rinse and finely chop the cilantro. Mix 1 cup red onion and half the chopped cilantro (about 3/4 cup) into the avocado-lime juice mixture. (This can be kept in the refrigerator while the Chili cooks, but be sure to mix the lime juice with the avocado as soon as you cut it to keep the avocado from turning brown.)
Just before serving Chili, stir in the other 3/4 cup chopped cilantro and 1/4 cup lime juice and cook about 5 minutes. Taste and season with salt and black pepper if desired.
Serve Chili hot, with a generous scoop of avocado salsa on top of each serving.
To Adapt for the Crockpot:
Reduce the beef stock to 1 or 1 1/2 cups (depending on how thick you want the chili.)
Use an extra tsp. of regular and ancho chile powder. (I wouldn't increase the chipotle chile powder; you can add hot sauce at the table if you want more heat.)
Cook 3-4 hours on high or 7-8 hours on low (depending on how hot your Crockpot cooks.) Turn to low when you add the lime juice and cilantro.
Notes
Chipotles are smoked Jalapenos, and the ground chipotle is very hot so use sparingly.
This recipe was adapted slightly from Fine Cooking Annual 2008.
Nutrition Information:
Yield:
8

Serving Size:
1

Amount Per Serving:
Calories: 412Total Fat: 17gSaturated Fat: 4.2gTrans Fat: 0gUnsaturated Fat: 10.9gCholesterol: 50mgSodium: 919mgCarbohydrates: 39gFiber: 16gSugar: 5.3gProtein: 29g
Nutrition information is automatically calculated by the Recipe Plug-In I am using. I am not a nutritionist and cannot guarantee 100% accuracy, since many variables affect those calculations.
Low-Carb Diet / Low-Glycemic Diet / South Beach Diet Suggestions:
Made with low-fat ground beef, this Black Bean and Beef Chili would be a great main dish for any phase of the original South Beach Diet. Dried beans are a limited food for Phase One, but in a dish like this with ground beef, tomatoes, and beef broth you can have a larger serving size than dishes that contain only beans. To make this a lower-carb recipe, double the beef and use less beans, but check out 10 Amazing Low-Carb Chili Recipes for a chili recipe that's truly low in carbs.
Find More Recipes Like This One:
Use Soup & Stew Recipes to find more recipes like this one! Use the Diet Type Index to find recipes suitable for a specific eating plan. You might also like to Follow Kalyn's Kitchen on Pinterest to see all the good recipes I'm sharing there.
Historical Notes for this Recipe:
This recipe was posted in 2008. The photos were updated in 2012 and the recipe was last updated with more information in 2021.
We are a participant in the Amazon Services LLC Associates Program, an affiliate advertising program designed to provide a means for us to earn fees by linking to Amazon.com and affiliated sites. As an Amazon Associate, I earn from qualifying purchases.