This website may contain affiliate links and advertising so that we can provide recipes to you. Read my privacy policy.
This chicken fried rice has moist and tender chicken with flavorful peas and carrots and long rice cooked together. Make this unique and your own with this favorite Chinese rice!
So many varieties of fried rice can be made. These better than takeout fried rice recipes are a collage of all my favorites!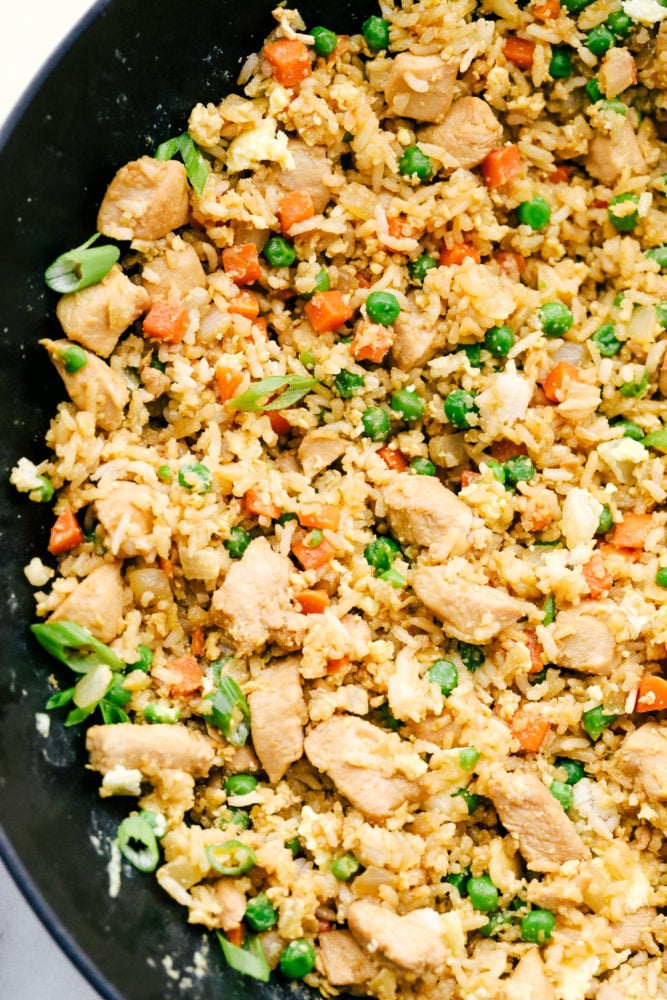 Chicken Fried Rice
I mean really. Who doesn't like fried rice? Ok maybe my six year old doesn't because of the veggies inside, but I am pretty sure he is the only one out there. 🙂 For my birthday dinner with my family I chose to go to our favorite little chinese restaurant. And it was the bomb. But their fried rice was excellent. But I kept thinking, I can make this just as good at home and I have been craving it ever since!
Since I learned a few awesome tricks on how to get the perfect fried rice in my recipe here, I wanted to make a big old batch for myself for lunch. The baby was craving it that day. But I thought, why don't I add in some protein and make a meal out of it. You guys. The chicken gave it such amazing flavor! I really couldn't believe how good it turned out. I promise that you can stay at home and have this better than take out chicken fried rice. You will really be impressed with yourself.
Get Ready to Make Some Rice:
Vegetable Oil: This helps with cooking the chicken and adding flavoring at the same time.
Soy Sauce: Chinese favorite sauce that is authentic and brings rich flavoring.
Chicken: Cut into small pieces and add into the skillet or wok.
Cooked Rice: It is best to have already cooked rice that has been cooled in a refrigerator.
Sesame Oil: Brings in a subtle and rich flavoring.
Onion: Small white onion chopped up.
Peas and Carrots: Frozen vegetables work best then leave them overnight to be thawed.
Soy Sauce:

 

More of this delicious sauce! 

Eggs: Lightly beaten and added in the wok.
Green Onions: Chopped and sprinkle in for added texture, color and flavoring!
Cooking Fried Rice:
Cook in a skillet: In a

large skillet

or

wok

, add vegetable oil and soy sauce. Add in the chicken and cook until lightly brown and cooked throughout. Remove and set aside.

Add oil and vegetables: Pour

sesame oil

in the bottom. Add white onion and peas and carrots and fry until tender.

Pour egg mixture: Slide the onion, peas and carrots to the side, and pour the beaten eggs onto the other side. Using a

spatula

, scramble the eggs. Once cooked, mix the eggs with the vegetable mix.

Stir in remaining ingredients: Add the rice and chicken to the veggie and egg mixture. Pour the soy sauce on top. Stir and fry the rice and veggie mixture until heated through and combined. Add chopped green onions if desired.
The Recipe Critic Pro Tip:
I cooked my chicken in this teriyaki sauce recipe here. It added amazing flavor to the chicken and it just shredded apart. Other wise, you can boil your chicken, or even cook it in a medium skillet until no longer pink.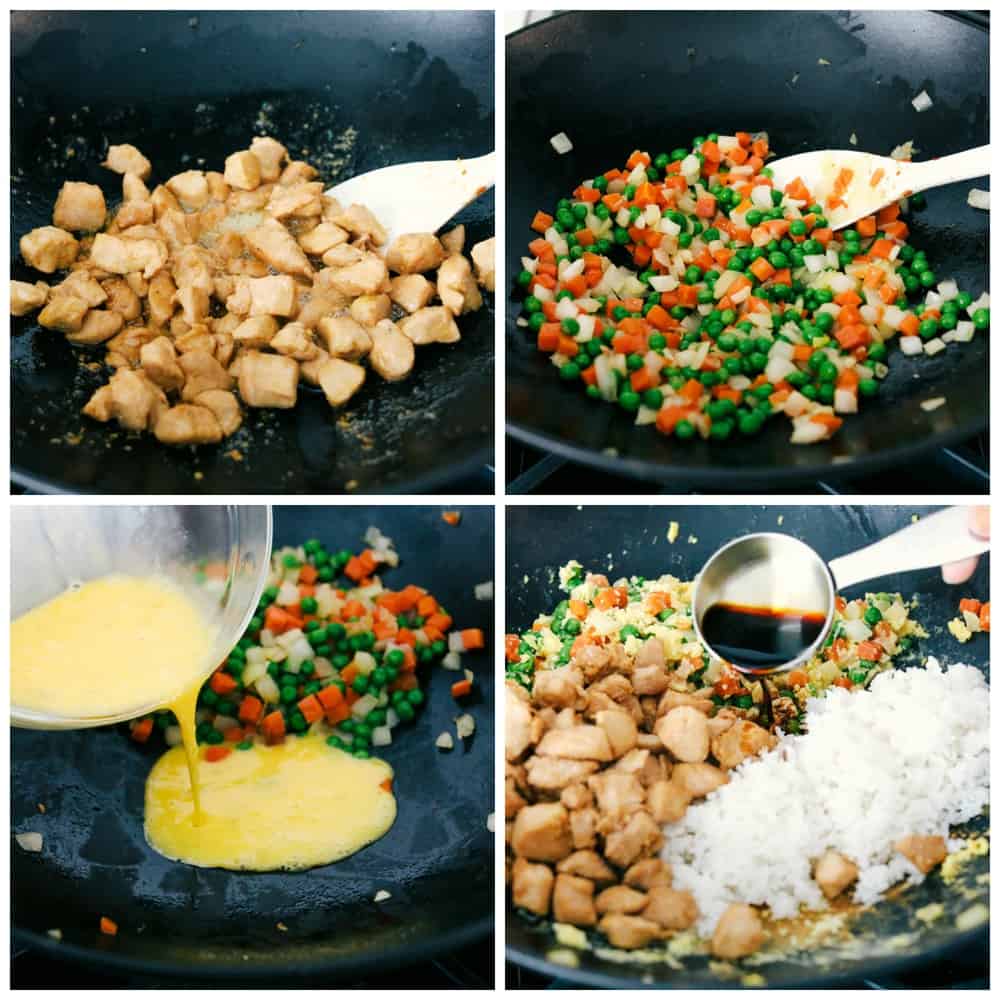 Tips for Making the Best Fried Rice:
Enjoy making the this fried rice using these tips to help accomplish the authentic Chinese taste. It is simple to make and comes together quickly and easily. Once you make it you will be making it over and over again!
Cold Rice: To make the best rice you have to plan a little bit ahead of time. Chilled cooked rice is the best way to use up left over rice as well as fried rice. Rice that is cooked and still warm does not cook well when making fried rice. It tends to turn out mushy and very sticky.
Make Cold Rice: If you are on a time crunch and craving fried rice simply place the warm rice on a sheet pan and stick it in the refrigerator for 30 to 45 minutes or until cold. For an even quicker remedy, place the rice in the freezer for 10 to 15 minutes long. Just enough for it to chill but not be frozen.
High Heat: It is best to cook on high heat to help fry and brown the rice and veggies throughly. Try not to have the rice steam in the pan or stick together too much. Stir frequently.
Soy Sauce: Add in extra soy sauce towards the end as you are trying the fried rice as you are cooking it. A light soy sauce is what I prefer for flavor.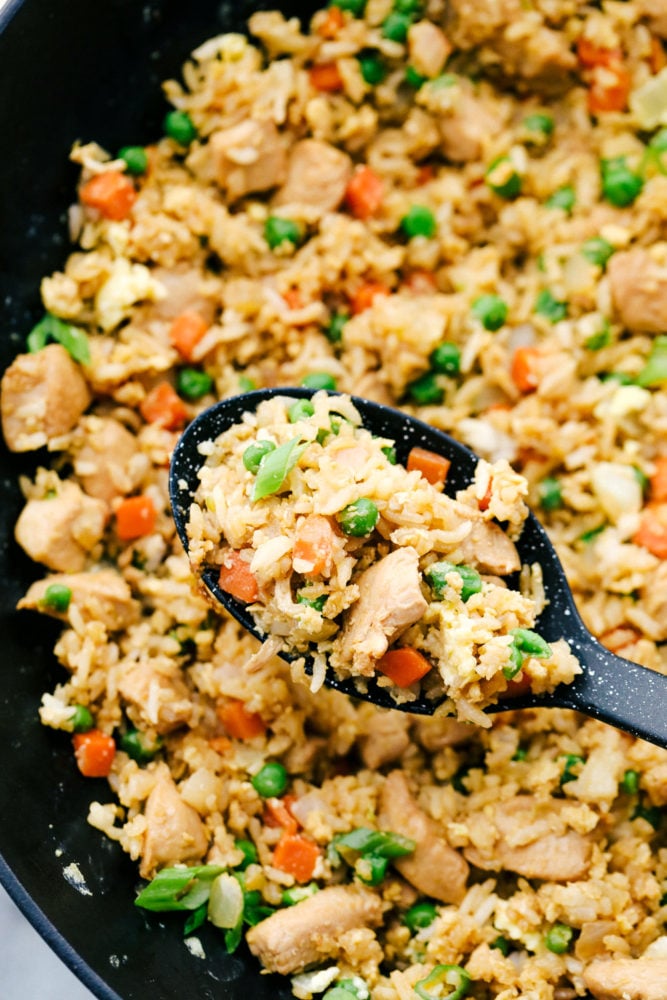 Variations:
Try new things and mix it up with all these new and fun variations when making the best fried rice recipe. The best part is using up the leftover rice. Find more left overs that can be added into this chicken fried rice recipe to make it easier. Mix and match ingredients and create more delicious flavors of rice.
Protein: Mix up your protein with ham, shrimp, bacon or enjoy it with vegetables.
Oil: Instead of adding in all the oils, butter is just as great! Add in butter to create a rich, flavorful taste.
Rice: It is best to have cold or chilled rice for this recipe. Quinoa or long grain rice are great ways to enjoy a variety.
Vegetables: Create a combination of a few to several of your favorite vegetables to enhance this recipe. Broccoli, cauliflower, snap peas or water chestnuts are great vegetables to add in.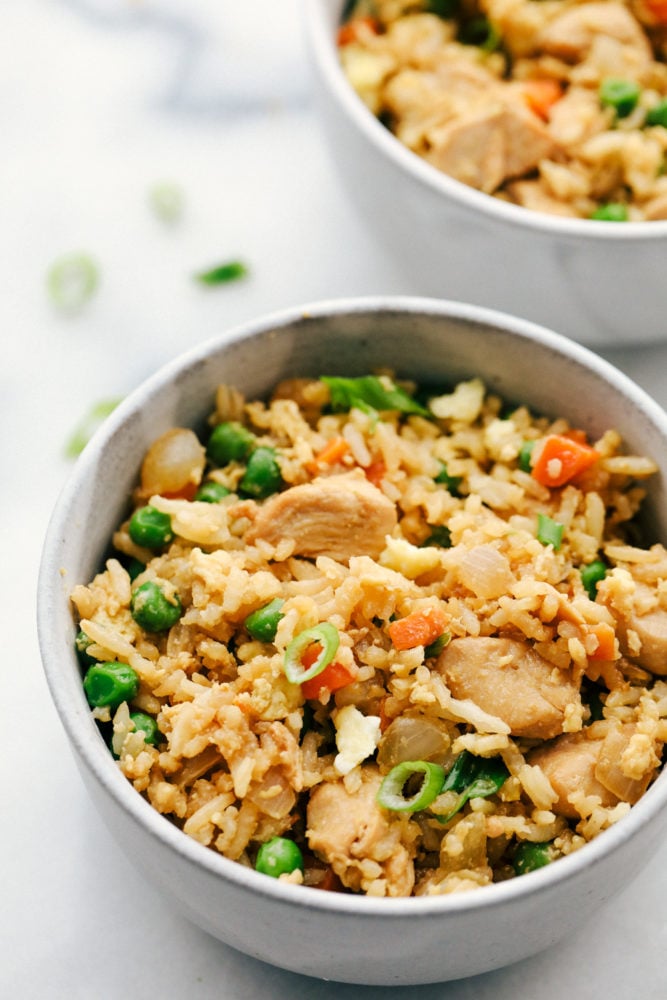 More better than take out recipes!