This website may contain affiliate links and advertising so that we can provide recipes to you. Read my privacy policy.
A delicious basil pesto chicken sandwich that is quick and easy and one of the tastiest sandwiches you will eat!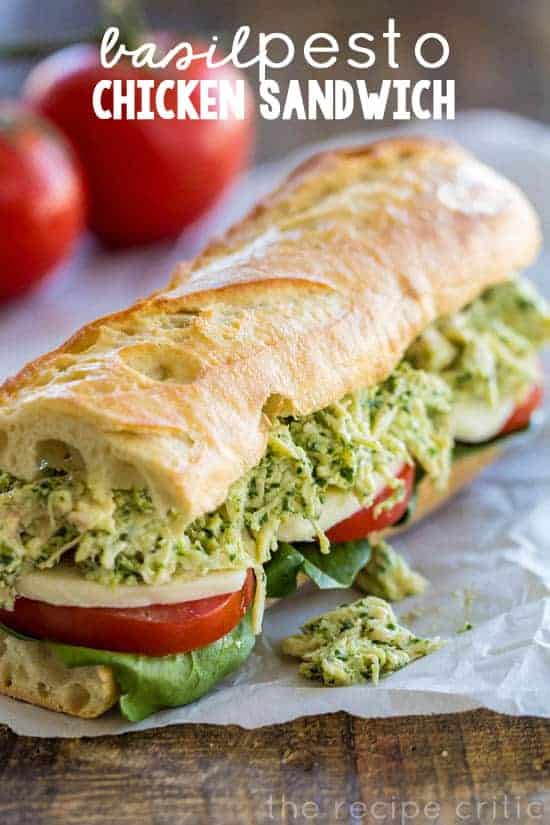 Yesterday was my birthday. And it was quite the busy day. My hubby is on a 7 day cruise. I was one week to far in my pregnancy to go with him. Life is hard sometimes. But I am so excited for this little girl to get here I would totally sacrifice not going on a cruise. So my friends and family helped to make the day special for me. And some of my favorite blogger friends came in town to go out to dinner with me. It made my day great, and not feel quite as bad that my hubby is on Mexican excursions and getting massages. 🙂
I have seen a similar pesto chicken sandwich recipe over at one of my favorite blogs Damn Delicious. When I saw it my mouth was just watering and I knew that I had to make it! I absolutely love anything that has pesto in it. I especially love the pesto recipe that I have used to make this chicken here. Lets just say this was probably the best sandwiches that I have ever made. The pesto was so delicious and really gave the chicken amazing flavor. I couldn't get enough of it. The flavors in the sandwich were all so incredible. This came together within 10 minutes and was seriously one of the best sandwiches I have ever put into my mouth!