This website may contain affiliate links and advertising so that we can provide recipes to you. Read my privacy policy.
Delicious breaded chicken coated in a sweet and spicy sauce with peppers and peanuts hidden throughout. This is WAY better than any takeout you will have!
As you know I am pretty obsessed with Chinese food! My favorite all time recipe is this baked sweet and sour chicken. I mean seriously. It is better than any takeout you will ever have! Since then I have created many versions of this recipe including Honey Sesame Chicken, Firecracker Chicken, Orange Chicken, and I had to create a Kung Pao Version. And let me tell you… this will blow your mind!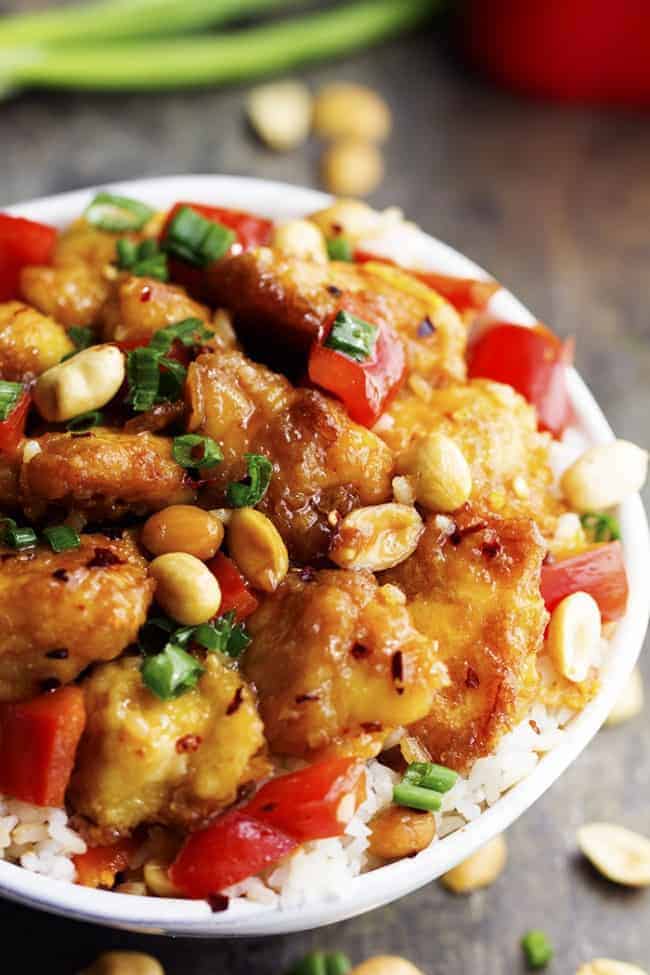 Baked Kung Pao Chicken
The breading on this chicken is exactly what you would order at a nice chinese restaurant. The technique is spot on and couldn't be better. My favorite comment that I have gotten about this chicken is, "My husband was checking the garbage because he didn't believe that I made this. He thought that I ordered take out because it was so good!"  The chicken bakes at a low temperature and it browns the chicken up perfectly and thickens up the sauce. Of course, you can just cook the chicken on the stove and toss it in the sauce, but I love how it comes out of the oven and is so delicious.
This chicken is one of my families favorite chicken recipes to make. They are always requesting it and I love to bake it. It is simple and comes together quickly. Plus the left overs are the best part. I can even make it into a meal plan with some white or fried rice. It makes for a complete meal with vegetables and rice as a side! One of the best chicken dinners your family will love!
Kung Pao Chicken Ingredients:
Kung Pao is one of my favorite kinds. I love how it has just enough of a kick but isn't too spicy. The peppers and peanuts throughout add a delicious texture and crunch. This dish was absolutely incredible! The ingredients are simple but it is so full of flavor. You won't even be able to believe how yummy it is when you make it!
Chicken: The main ingredient
Salt and Pepper: To taste
Cornstarch: This will thicken the sauce.
Eggs:

 

Creates a crispy outside while having a tender inside. 

Canola Oil: Crisp up the chicken while cooking the chicken.
Soy Sauce: This is the base of the sauce.
Vinegar: Adds a little tang in the sauce.
Red Chili Paste: Spicy add in.
Garlic: minced
Brown Sugar: A sweet and sugary sauce flavoring.
Cornstarch: A thickener for the sauce as it cooks.
Red Pepper: More of the spice
Peanuts: Crunchy, sweet and salty texture.
Green Onions: Colorful garnish
Let's Bake Some Chicken:
As soon as I pulled it out of the oven and had my first bite my mind was blown. This is hands down one of the best things that I have ever made. The flavor turned out perfectly and this is going to be a dish that your family will love! Try it out for yourself. You won't regret it.
Prepare chicken: Preheat oven to 325 degrees. Cut chicken breasts into bite-sized pieces and season with salt and pepper.
Coat chicken: In separate bowls, place cornstarch and slightly beaten eggs. Dip chicken into cornstarch and then coat in egg mixture. (Yes you dip the chicken in cornstarch first, then the egg.. trust me.)

 

Cook chicken: Heat canola oil in a large skillet over medium-high heat and cook chicken until browned. Place the chicken in a 9 x 13 greased baking dish.
Mix sauce together: In a medium sized mixing bowl, combine soy sauce, vinegar, red chili paste, minced garlic, brown sugar, and cornstarch. Pour over chicken and toss to coat. Add the chopped red peppers and peanuts on top. Bake for 1 hour.
Stir the chicken in the sauce: I stirred the chicken every 15 minutes so that it coated them in the sauce.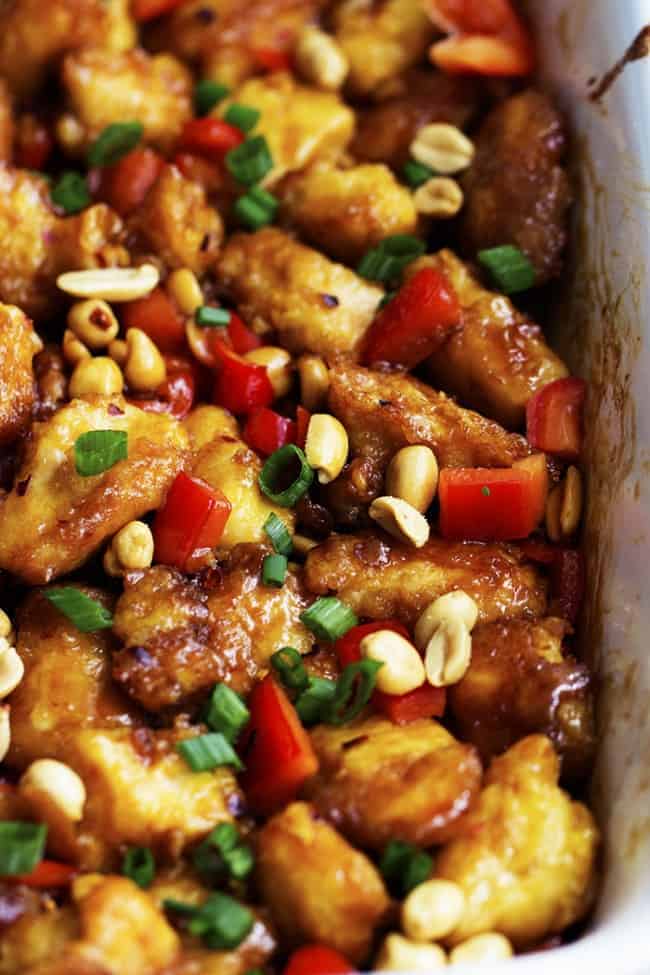 Chinese Kung Pao Varieties:
There are a few ways to make this favorite dinner recipe. Skinny slow cooker Kung Pao Chicken is simple to make and the slow cooker does all the work. It makes for an easier way of enjoying this Chinese favorite. Change up the protein and add in some shrimp and this Kung Pao shrimp is awesome! Change up the protein and add in your favorite meat to the recipe and have a few different varieties!
Make it Ahead:
Making this kung pao chicken ahead of time is so simple and will give you extra time that you need for more things to do each day. Have it as a meal prep and plan ahead or a quicker dinner ready in minutes. Enjoy it in more ways than one!
Prepare chicken: Cut chicken breasts into pieces then add them to a ziplock freezer bag or airtight container. Place in the refrigerator up to 3 days.
Vegetables: Chop and prepare the vegetables and place in a separate bag and add in the refrigerator.
Sauce: Mix together sauce and store in a small airtight container. Sit in the refrigerator.
Bake together: When ready to make follow the instructions in the recipe card.
Chinese Food is the Best:
I have created this video for you to see the process! You can skip to the kung pao sauce at 5:35 or straight to the baked chicken technique at 6:52!"