This website may contain affiliate links and advertising so that we can provide recipes to you. Read my privacy policy.
This Firecracker Chicken is sweet, spicy and adds a nice kick to your meal. The chicken is super tender and juicy!
Serve this restaurant worthy dish with a side of Easy Fried Rice, Vegetable Egg Rolls and Cream Cheese Wontons for a meal you'll have on repeat.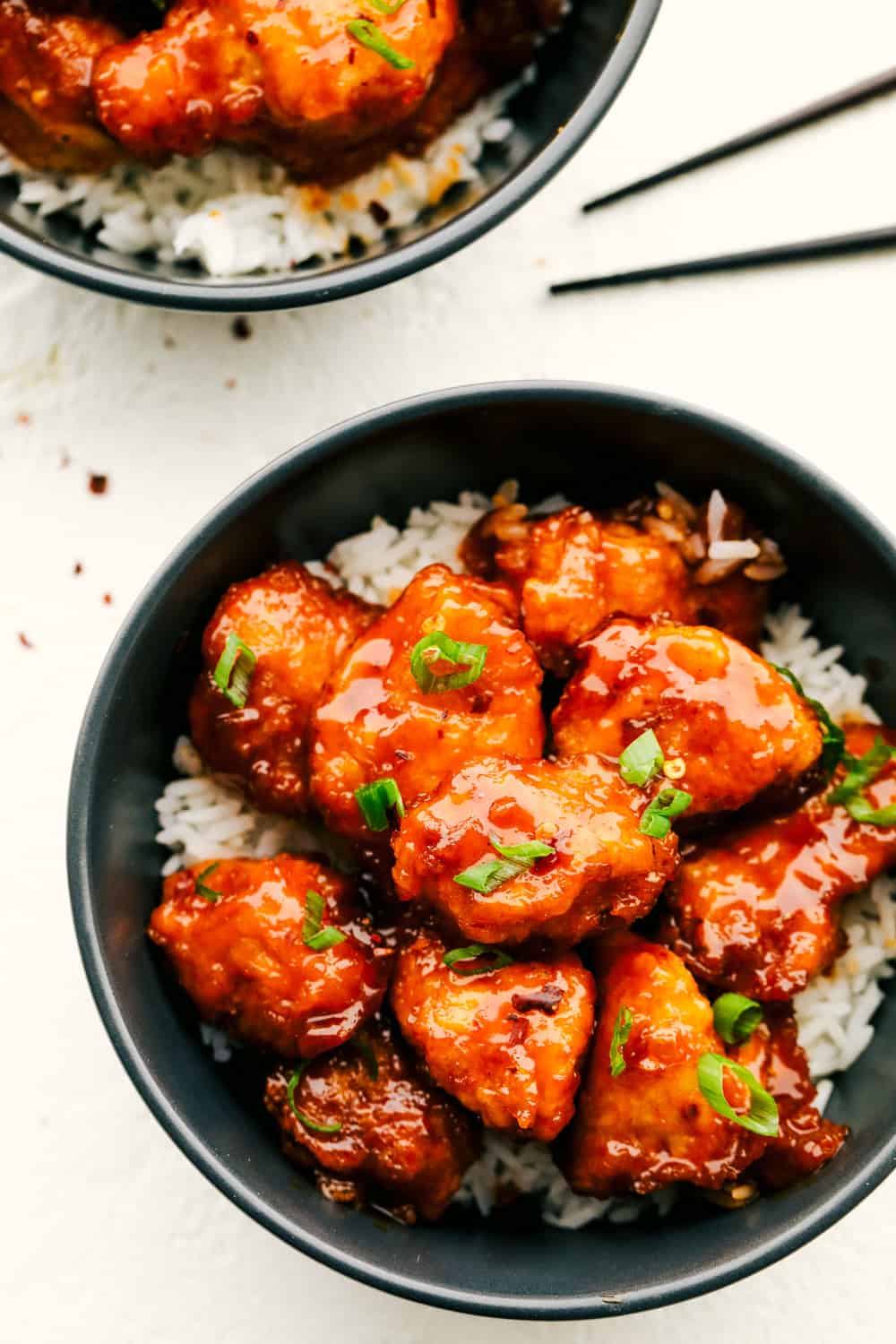 Firecracker Chicken Recipe
This is a perfect marriage of sweet and spicy. It's not too hot and it's not too sweet. The chicken is flash fried so the outside browns beautifully. Then it finishes cooking as it marinates in the sauce. The sauce will thicken beautifully as it cooks. It is just so GOOD!
This is such an easy recipe as well. It takes time, but it's so worth it. It comes together quickly then finishes in the oven while you get the rest of what you need to done. You will not regret trying this. You'll give up take out and it's better for you too. Give it a try tonight!
Baked Firecracker Chicken Ingredients
The sauce is a perfect balance of heat and sweet and that will knock your taste buds off, but not burn them off.  Your family and loved ones are going to love this!
Canola oil: Just enough to flash fry the chicken in.
Chicken Breasts: Boneless skinless make prepping a breeze.
Salt and Pepper: Add to taste
Cornstarch: Cannot sub for flour, this is the secret to amazing coating
Eggs: Well beaten
Making the Sauce! 
Buffalo Sauce: Use your favorite brand, if you want it really spicy use a hot sauce like Frank's brand
Brown Sugar:This brings the sweet to the fire.
Water: Helps dissolve the sugar
Apple Cider Vinegar: Needed for that tang
Salt:Creates a balance in the sauce
Red pepper Flakes: These add extra heat, leave out if you want to
How to Make Easy Firecracker Chicken
It's so easy and tastes so much better than take out. Now take out begins at home!
Prepare: Preheat oven to 325 and cut the chicken into bite sized pieces. Season with salt and pepper.
Bowls: In two separate bowls place the cornstarch, the beaten eggs. dip chicken into cornstarch then coat in egg mixture.
Flash-Fry: Heat the oil in a large skillet on medium high heat. Cook the chicken till just the outside is browned. Place in a greased 9×13 pan.
Sauce: In a separate bowl mix the ingredients for the sauce, pour over the chicken.
Bake: Bake for 1 hour. Stirring every 15 minutes.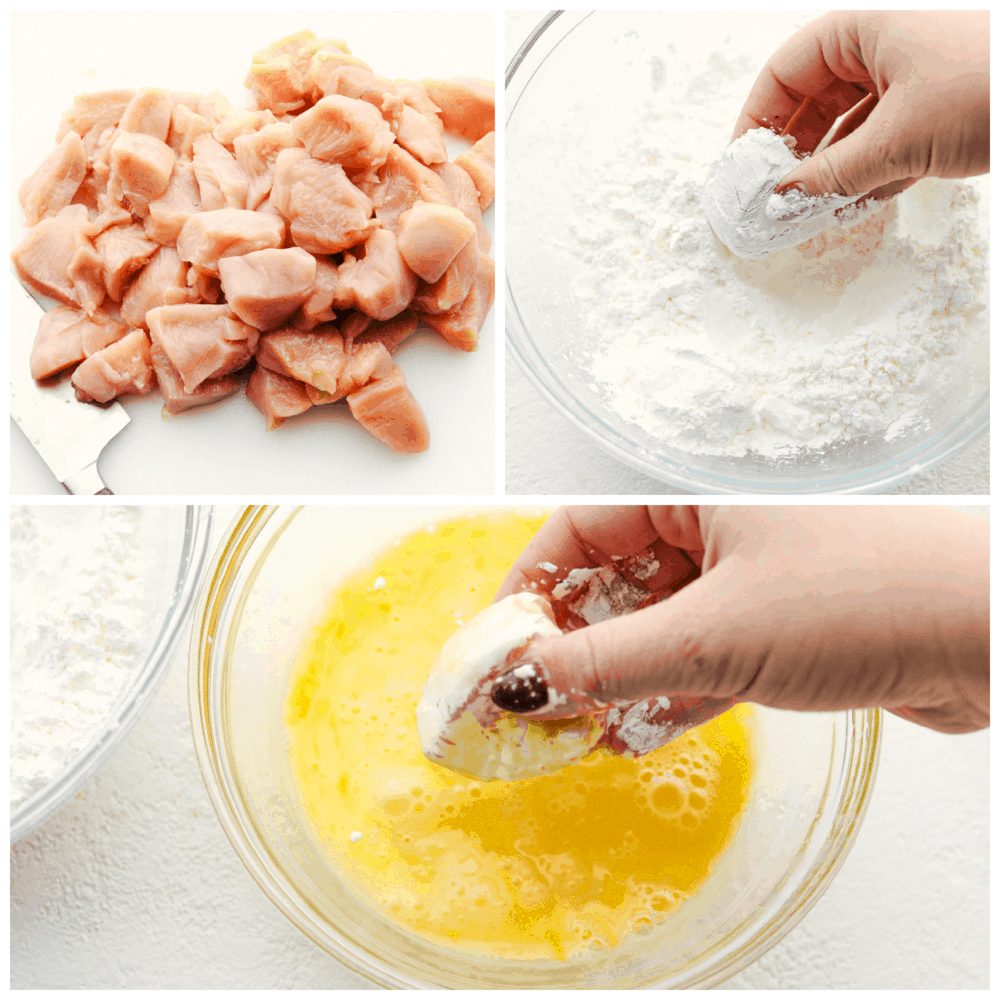 Trust Me on these Tips!
This is the same method as my Baked Sweet and Sour Chicken so it shares my same tips.
Method to the Madness: Make sure you first coat your chicken in the cornstarch and then the egg. This method makes the perfect breading for the chicken.
Fast: Do not cook the chicken all the way through before baking.  You just want to get the chicken lightly brown on the outside, and then it bakes to perfection.
Low and Slow: Baking the chicken at a low temperature will not over cook the chicken. This helps to cook the chicken all the way through and thicken up the sauce.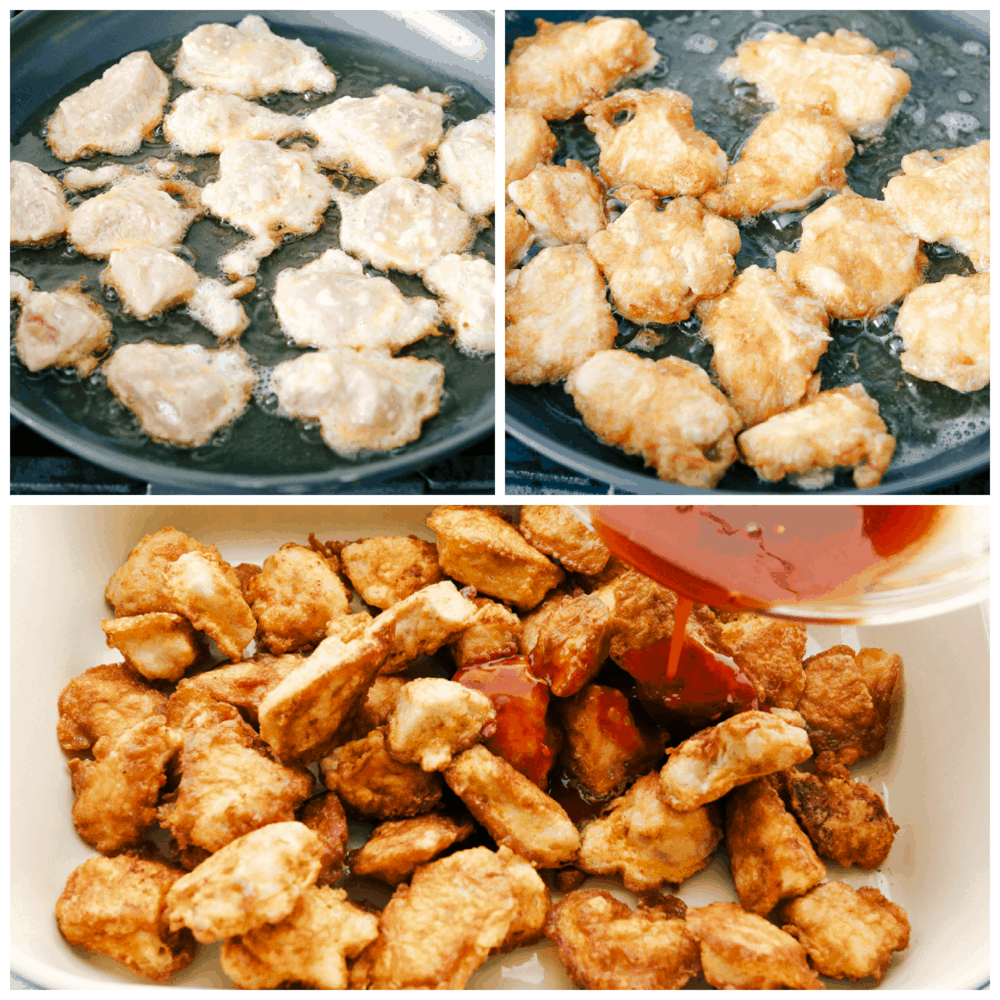 More Hints and Helps for a Perfect Firecracker Chicken Dish
Spice: You can take the heat up or down depending on your tastes. Use hot sauce or sriracha for a hotter dish. Use a buffalo sauce for a milder heat.
Vegetables: Add peppers, broccoli or other vegetables to the baking for variety.
Fruit: Add some pineapple chunks to help with the heat and give it a bit more sweetness
Chicken: Cut the Chicken into even bite sized pieces so it'll cook evenly. Using thighs might result in uneven cooking as light and dark meat cook differently.
Pork: This recipe would also work perfectly with pork.
Saucey:  If you like your dish saucey, double the sauce recipe and place half on the chicken and another half on the stove in a pot at a simmer for 8-10 min till thickened.
Serve:  This dish is perfect on a bed of rice, stir fried veggies, quinoa or over a bed of lettuce for an Asian inspired salad.
Storing Firecracker Chicken Leftovers
Fridge: Place leftovers in an airtight container in the fridge for up to 3-4 days.
Freezer: This can be frozen too. Just place in a freezer safe container or bag and freeze for up to 3 months.
Reheat: Sweet and Sour Chicken is best reheated on the stove. Reheating it in the microwave can make the chicken rubbery and overcooked. Place leftovers in pan on the stove top and heat on medium heat, stirring often, till heated through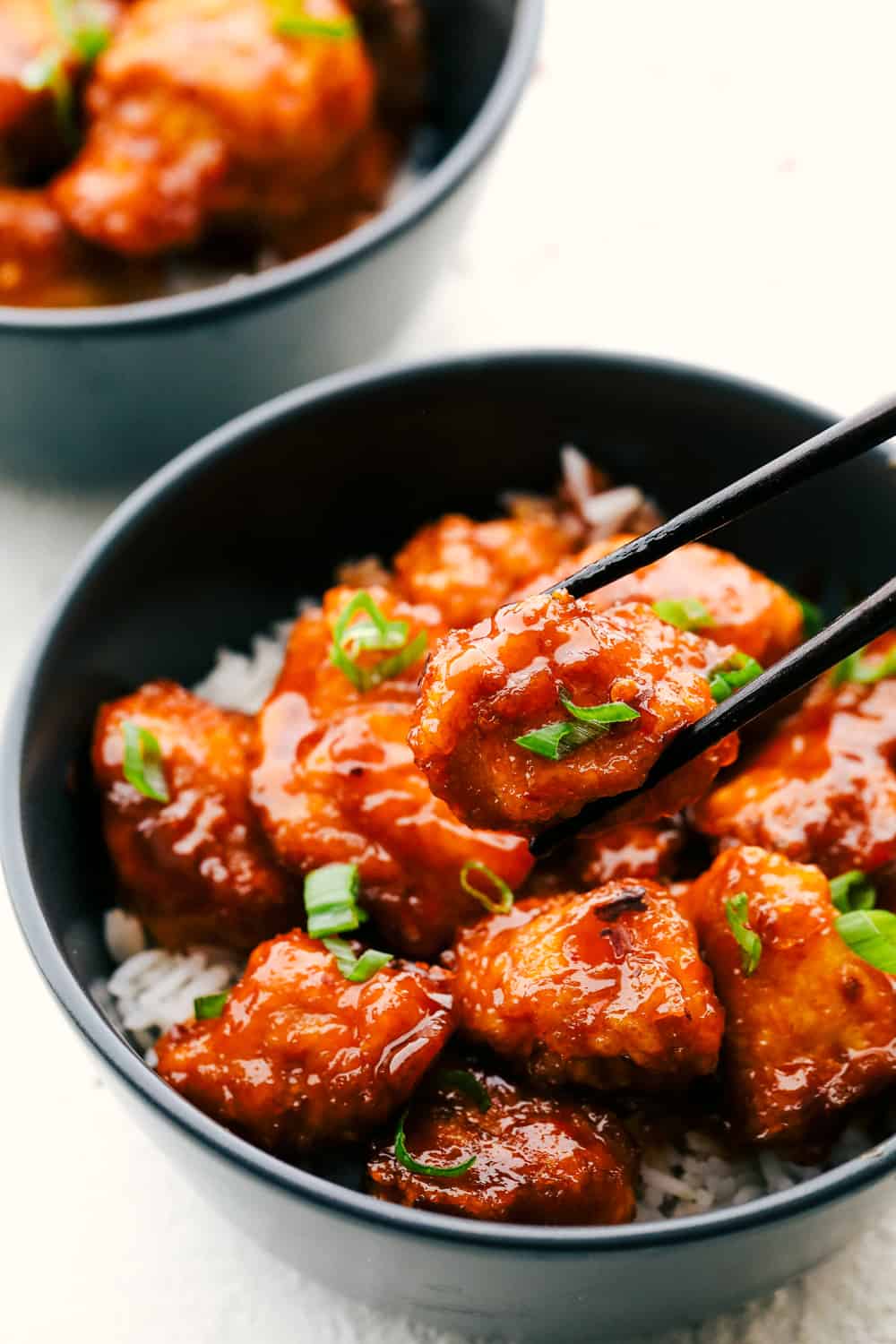 More Easy Homemade Asian Inspiration
Save