Low-carb and Keto Baked Chicken Nuggets are flavored with mustard, almond, and Parmesan and served with your favorite Ranch dipping sauce. These chicken nuggets are kid-friendly and delicious and this is a meal the whole family will enjoy!
PIN the Baked Chicken Nuggets to make them later!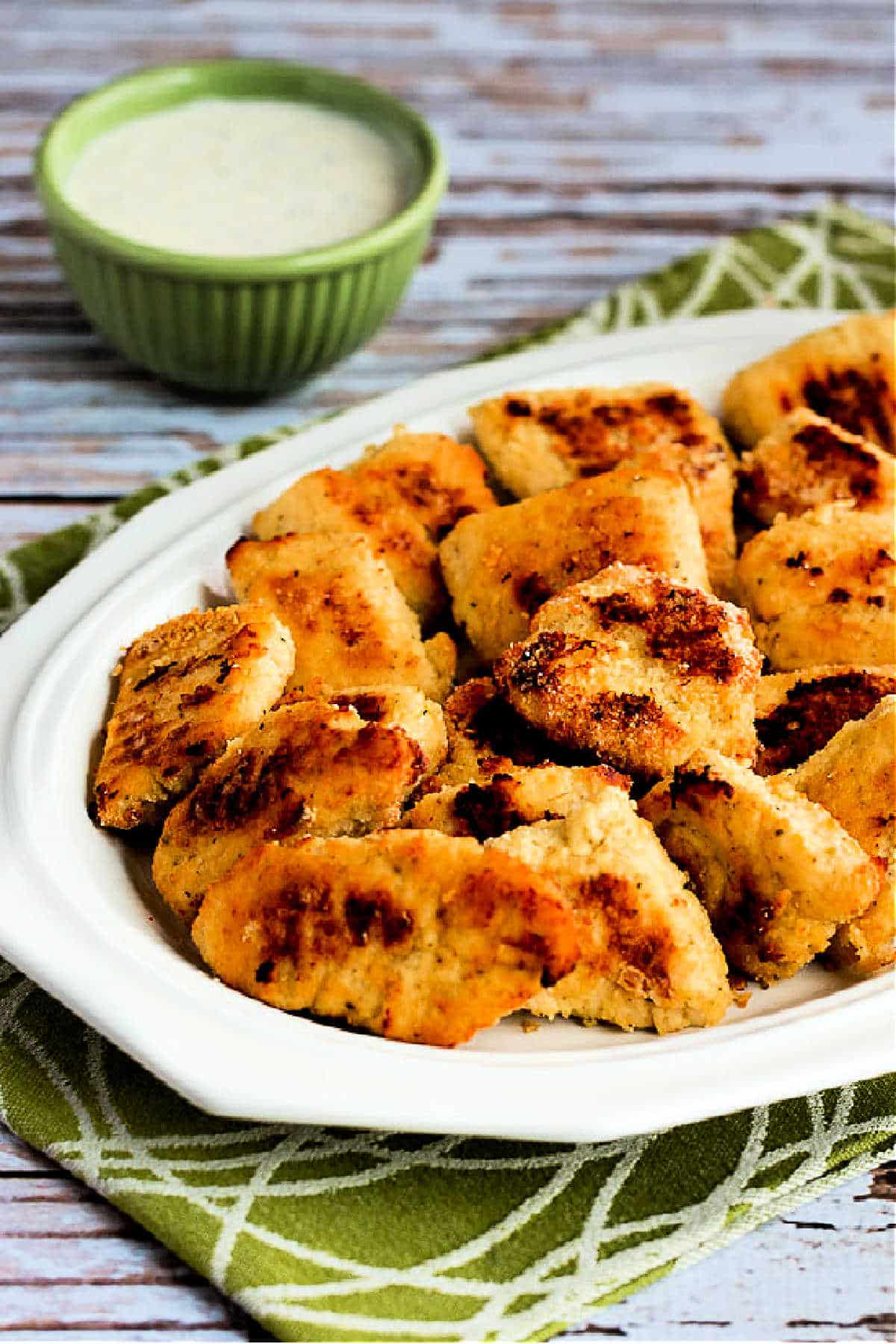 For today's Friday Favorites pick I am reminding you about these favorite low-carb and Keto Baked Chicken Nuggets that I've made so many times since I first came up with the recipe. Of course, I'm always updating older recipes with better photos that show off the food more effectively, and when I make an older recipe again I can't stop myself from improving it! And that's what happened when Kara and I worked on this one.
We discovered that using Parchment Paper (affiliate link) to cover the pan when we baked them made a big difference in keeping the chicken nuggets from sticking to the pan. We also used finely ground Almond Flour (affiliate link), which helped the coating stick better.
And although the baked chicken nuggets looked a bit messy when they were cooking, we absolutely loved these tasty pieces of chicken! And if you're a mom who's trying to follow a lower carb eating plan and looking for things the kids will eat, I promise, you'll love this recipe! If you wanted to serve some raw veggies to go with the nuggets and dip, that might make a healthy and kid-friendly dinner!
What ingredients do you need for this recipe?
What Dipping Sauce did we serve with the baked Chicken Nuggets?
We served the low-carb Baked Chicken Nuggets with Grandma Denny's Homemade Ranch Dip, which was perfect with the chicken.
More Ideas for Low-Carb Dipping Sauces:
If you wanted some more options for tasty dipping sauce for the chicken you could try Greek Yogurt Dip, Southwestern Ranch Dip, Tzatziki Sauce, Remoulade Sauce, Roasted Red Pepper and Garlic Aioli Sauce, Double Dill Homemade Tartar Sauce, or Sriracha Dipping Sauce.
Want more options for low-carb baked chicken?
Check out Low-Carb and Keto Baked Chicken Recipes for lots more options for tasty oven dinners made with chicken.
How to Make Baked Chicken Nuggets:
(Scroll down for complete printable recipe, including nutritional information.)
Trim the chicken breasts and pound each one just until they are close to an even thickness and not much more than 1/2 inch thick.
Cut the pounded chicken breasts into nuggets.
Mix the mayo, Dijon mustard, white balsamic vinegar (affiliate link), water, Garlic Powder (affiliate link), and Poultry Seasoning (affiliate link) to make the marinade; then put the chicken into a Ziploc bag and let the chicken marinate 3-4 hours or all day in the fridge. (You could cut up the chicken and mix the marinade the night before and keep them in the fridge; then just add the the marinade to the bag before you go to work or leave for the day.)
When it's dinner time, dump the chicken into a colander placed in the sink and let the excess marinade drip off while the oven heats.
Line the sheet pan with Parchment Paper (affiliate link).
We used a Food Processor (affiliate link) together the Parmesan cheese, Almond Flour (affiliate link), poultry seasoning, salt, and pepper, but you can probably just mix it with a fork if your almond flour and Parmesan is finely ground.
One at a time, dip nuggets in the almond flour mixture and place on the parchment paper.
Bake the nuggets without turning for 12-15 minutes or until they're starting to get browned. Then turn then and cook about 10-12 minutes more. Total cooking time will be 20-25 minutes, depending on your pan and oven temperature.

Serve Low-Carb Baked Chicken Nuggets hot, with 

Grandma Denny's Homemade Ranch Dip

, or another dip of your choice. (See more dipping sauce ideas above.)
Make it a Low-Carb Meal:
The baked chicken nuggets would taste great with Cucumber Salad with Avocado and Feta, Sweet and Sour Cucumber Salad, Marinated Zucchini Salad, Sugar Snap Pea Salad, or Spinach Salad with Bacon and Feta for a tasty low-carb meal!
More Tasty Baked Chicken Recipes:
Chicken Thighs with Mushrooms
Greek Chicken Bake
Baked Buffalo Chicken with Melted Blue Cheese
Salsa Verde Chicken Bake
Easy Baked Pesto Chicken
Ingredients
Ingredients:
4 very large boneless, skinless chicken breasts
Marinade Ingredients:
2 T mayo
2 T Dijon mustard (see notes)
1 T white balsamic vinegar (see notes)
1 T water
1/2 tsp. garlic powder
1/2 tsp. poultry seasoning
Coating Ingredients:
4 T Parmesan cheese (see notes)
1 cup  almond flour
1/4 tsp. poultry seasoning
salt and fresh ground black pepper to taste (see notes)
Instructions
Trim any undesirable parts from chicken, then put each chicken breast into a Ziploc bag and pound with a meat mallet (affiliate link)(or something heavy) until the chicken is an even thickness, not much over 1/2 inch thick.
Cut the chicken breasts into nugget-size pieces.
Whisk together mayo, Dijon, white balsamic vinegar, water, garlic powder, and poultry seasoning.
Place chicken strips and marinade in plastic bag and marinate in refrigerator for at least 3-4 hours or as long as all day.
When ready to cook, dump chicken into a colander placed in the sink so the excess marinade runs off and let chicken come to room temperature while you preheat oven to 450F/230C.
If needed, use a food processor to finely grind the almond flour (affiliate link), Parmesan, poultry seasoning, salt, and pepper, and put coating in large flat bowl. (If your almond flour and Parmesan are both finely ground you can probably just stir it together with a fork.)
Cover baking sheet with Parchment Paper (affiliate link).
Dip each chicken piece into coating, turning to coat both sides, and arrange in single layer on baking sheet.
Bake without turning for 12-15 minutes, or until the chicken is starting to look a little brown on the top.
Then use metal turner and go under each piece of chicken to carefully turn each piece.
Cook 10-12 minutes more on the second side until chicken is well browned and cooked through.
Total cooking time will be 20-25 minutes, depending on your pan and oven temperature.
Serve hot.
If you're reheating this in the microwave, be careful not to overcook or it will get dry. It is definitely best reheated in a hot pan or toaster oven.
Notes
If you don't like Dijon, use any mustard that appeals to you.
Use slightly less than 1 T white vinegar if you don't want to buy white balsamic vinegar just for this.
Freshly grated Parmesan is best, not the kind that comes in a can. Parmesan is salty so I didn't use much salt.
Recipe adapted from Cooking New American.
Nutrition Information:
Yield:
6

Serving Size:
1

Amount Per Serving:
Calories: 293Total Fat: 17gSaturated Fat: 3gUnsaturated Fat: 13gCholesterol: 73mgSodium: 382mgCarbohydrates: 6gFiber: 3gSugar: 1gProtein: 30g
Nutrition information is automatically calculated by the Recipe Plug-In I am using. I am not a nutritionist and cannot guarantee 100% accuracy, since many variables affect those calculations.
Low-Carb Diet / Low-Glycemic Diet / South Beach Diet Suggestions:
I'd consider these Low-Carb Baked Chicken Nuggets to be a good option for any low-carb eating plan, including all phases of the South Beach Diet. For the South Beach Diet, be sure to consider the almond meal as your allowance of nuts for the day if you're eating this for phase one.
Find More Recipes Like This One:
Use Oven Dinners to find more recipes like this one. Use the Diet Type Index to find recipes suitable for a specific eating plan. You might also like to follow Kalyn's Kitchen on Pinterest, on Facebook, on Instagram, on TikTok, or on YouTube to see all the good recipes I'm sharing there.
Historical Notes for this Recipe:
The tasty baked chicken nuggets were first posted in 2008! The recipe was updated with new photos in 2016, and it was last updated with more information in 2022.
We are a participant in the Amazon Services LLC Associates Program, an affiliate advertising program designed to provide a means for us to earn fees by linking to Amazon.com and affiliated sites. As an Amazon Associate, I earn from qualifying purchases.