We are living our best bowl life this week. Seasoned sweet potato wedges and chicken meatballs or rotisserie chicken all piled onto a plate with a little puddle of punchy green avocado mojo sauce. Yes, wow, repeat.
This is a brand new recipe that's part of our Spring 2023 SOS Series – in other words, EASY recipes! View our full collection of SOS recipes here.
---
In This Post
---
---
Lindsay's Notes
Want to watch your family melt into a puddle of happiness? Make a pan of these sweet potato wedges.
Yes, the sauce, too. I am never not licking every last drop out of the jar.
But the fries, man. They are my husband, kids', and office neighbors' greatest joy right now. I swear I am never more loved than when I am pulling a pan of these out of the oven.
And they're not wrong about the fries – they are strangely simple and just divine. But for me, it's also about the layering here. Can we all agree that we should definitely be eating more meals where dipping things into a punchy green sauce is just BUILT RIGHT IN? This method of sauce-on-the-bottom will be my guiding light for bowl-building this summer.
You grab your cilantro, some vinegar, some garlic. You make a mojo-inspired sauce (with avocado! yum!) and you pour it on the plate. Yes. Sauce on plate. It's fun.
Then: everything you love in the world gets piled right on top. You get the crispy bits from the roasted sweet potato, you get the golden brown caramelized spots on those yummy little meatballs that (if you're me) you picked up at Costco thank you very much, and you swipe each bite generously through that electric sauce.
It's a meal for flavor lovers, easy lovers, and sauce lovers. And luckily I am all three.
---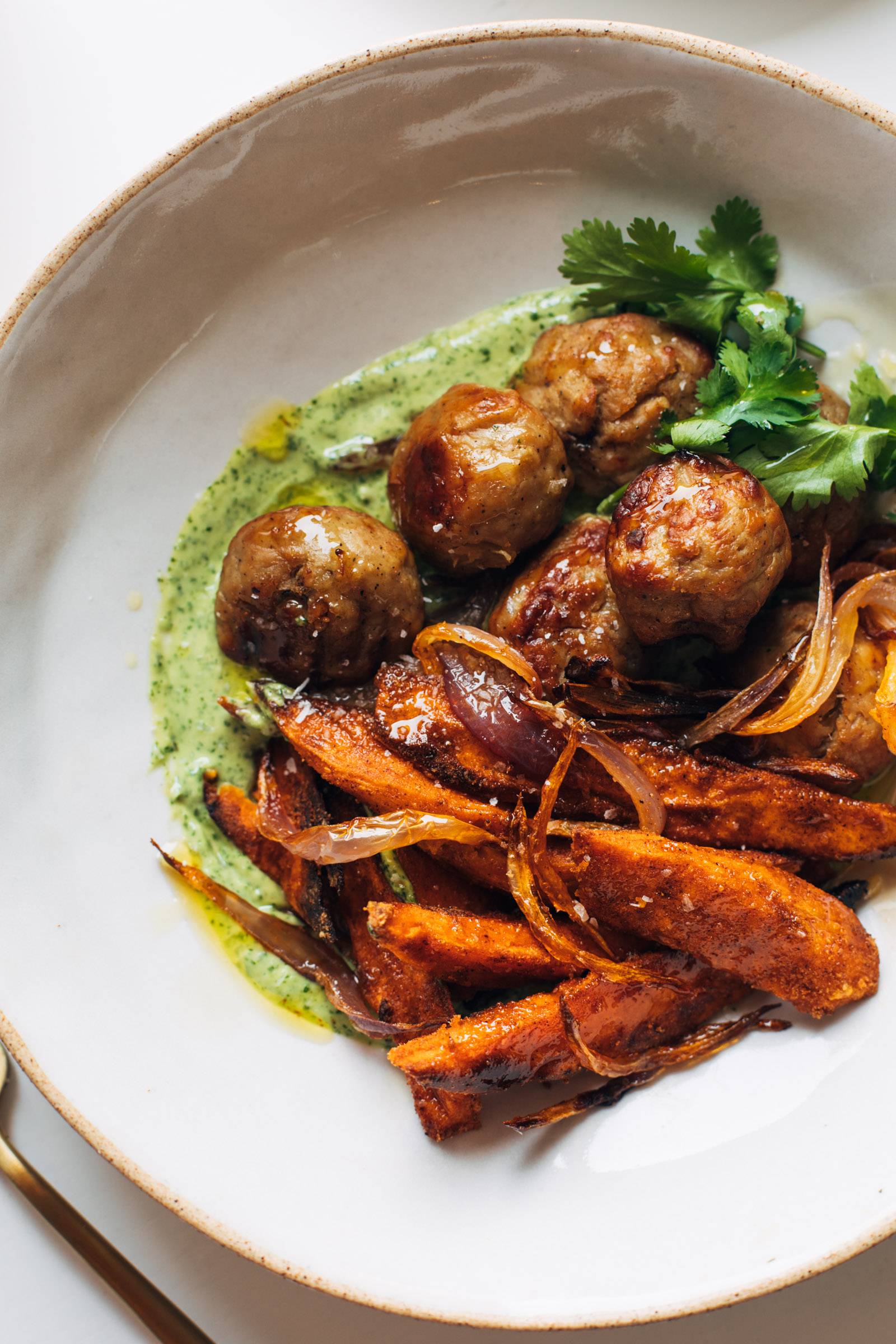 Print
Description
We are living our best bowl life this week. Seasoned sweet potato wedges and chicken meatballs or rotisserie chicken all piled onto a plate with a little puddle of punchy green avocado mojo sauce. Yes, wow, repeat.
---
Avocado Mojo Sauce:
The Stuff for the Bowls:
---
Sweet Potatoes: Preheat the oven to 425 degrees. Peel and cut the sweet potatoes – I like to cut them into wedges because they feel like thick, happy fries and my family loves them, but any shape will work. Place on a large baking sheet and toss with the oil and taco seasoning until coated.
Onions: Peel the onion and cut it into thin wedges. Tuck them onto the baking sheet in and around the sweet potatoes.
Roast: Transfer the whole pan to the oven and bake for a total of 35 minutes. I usually take them out at 20 minutes to flip the pieces and add my meatballs. *If using store bought pre-cooked meatballs, you can just scoot everything over and add your meatballs so they get those last 15 minutes of bake time.
Sauce: While the sweet potatoes are roasting, blend up the sauce ingredients – I use my Ninja mini chopper (affiliate link). Taste, adjust, and set aside. (Or at least try. It's so good.)
Serve: Pour some sauce on a plate or bowl. Pile it up with meatballs, sweet potatoes, and onions. Total comfort food with saucy dipping built right in!
Notes
If you like more of a creamy sauce, you can add the mayo to it! Sauce will last for two days in the fridge. 
As written, the sauce is not spicy but it would be really good with a jalapeño thrown in there. 
If your taco seasoning does not have corn starch or corn flour listed in the ingredients, I would suggest adding just a light sprinkle (1 teaspoon) with the taco seasoning – this just helps the sweet potato fries develop that more crispy golden exterior.
Prep Time:

10 minutes

Cook Time:

30 minutes

Category:

Bowl

Method:

Roast

Cuisine:

Caribbean-Inspired
Keywords: mojo sauce, meatball recipe, avocado sauce
Recipe Card powered by
What Is Mojo?
Mojo refers to a sauce that is found in many cultures around the world – Puerto Rico, Canary Islands, Cuba, and the Caribbean. I first had it in Puerto Rico as a dipping sauce for fried plantains, but my understanding is that it's often served with meat, like pork, to add a citrusy, vinegary flavor (and sometimes heat). You can read more about the roots and variations of mojo here.
Is It Spicy?
No, as written this one is not spicy. But if you WANT it to be spicy, it would be amazing with a jalapeño in there! I just keep it mild for my kids.
What Protein Is Best?
The two things I've been using are chicken meatballs or rotisserie chicken. I also served this with shredded pork once and really enjoyed it (but that makes it non-SOS because it takes a bit more time to make).
Meatballs: I've been kind of on a run with the Amylu chicken meatballs lately, and both the teriyaki pineapple and the mango jalapeño ones are delicious here. We also love the POY baked chicken meatballs, obviously!
Rotisserie Chicken: Needs no explanation. My family loves a juicy, roasty, piping-hot rotisserie chicken and SO DO I.
What Do You Use To Blend Up The Sauce?
I LOVE my Ninja mini chopper (affiliate link). It's not meant for sauces necessarily, but I use it for all kinds of quick sauce blends – it's so great. I've always been a die-hard food processor fan, and still am, but I would say 75% of the time I am reaching for this little guy when I just need to make a quick sauce!
How Can You Make This Dairy-Free and Gluten-Free?
It should be dairy-free and gluten-free as is!
Things to double-check: your taco seasoning and your meatballs or rotisserie chicken for any added dairy or gluten.
How Can You Make This Vegetarian?
Throw more veggies on the pan with those sweet potatoes and go for an all-veg lineup! Cauliflower, zucchini, mushrooms, bell peppers… so good!
For a veg protein, we really enjoy the ALDI meatless meatballs!
How Can You Add More Veggies To This?
I am never not going to try to influence you to make this simple green salad. It is my favorite add-a-veggie-to-a-meal solution.
---
More Delicious Recipes To Use Up Your Avocados