Even if you're not a fan of organ meats, I bet you would enjoy these healthy and delicious Asian-style chicken livers and onions with sticky honey soy and garlic sauce. Serve over cauliflower rice or stir-fried vegetables for a low-carb, paleo-friendly meal or with regular rice or noodles. 
---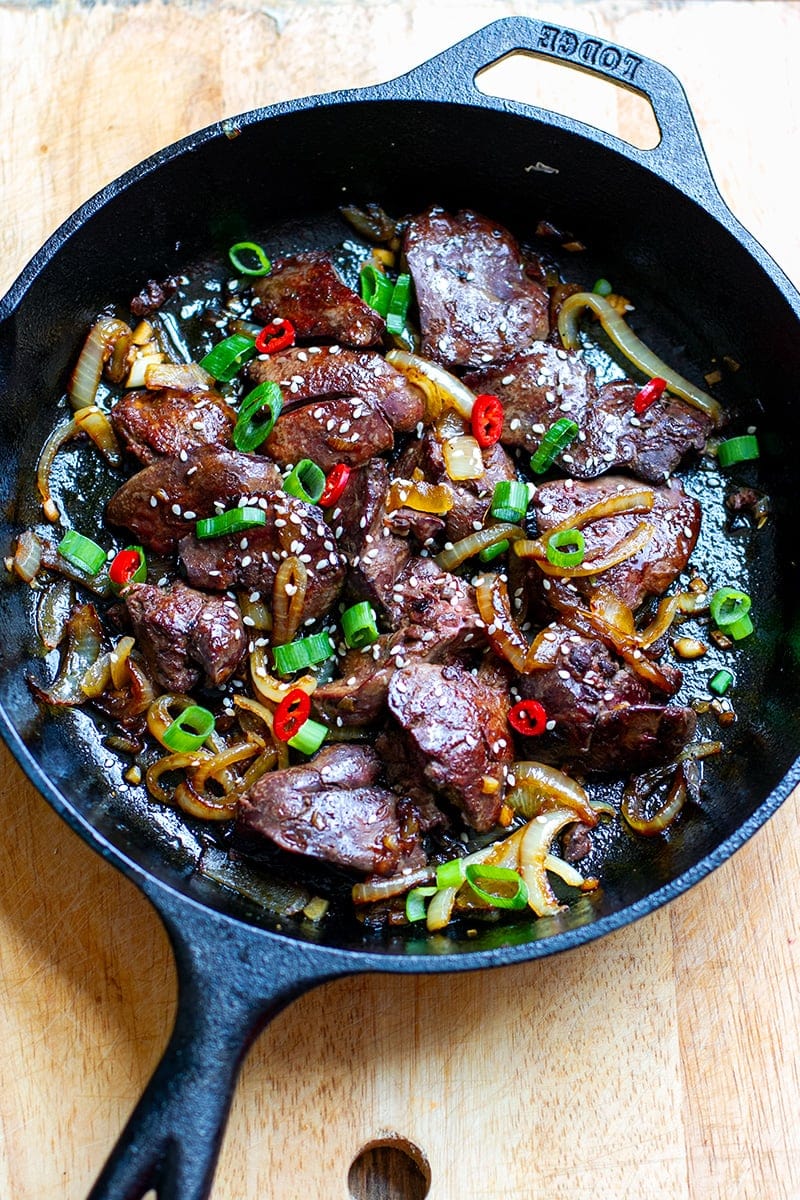 This recipe is included in my free paleo program meal plans. You can also enjoy it during my low-carb challenge.
Why Try Chicken Livers
If you're interested in including more organ meats in your diet, chicken liver is probably the easiest place to start.
As with most offal, chicken liver is highly nutritious and just one serving of these guys will give you a massive boost of B-vitamins, iron, folic acid, zinc and vitamin A.
Chicken livers have a milder flavour than other types of liver and are commonly available from your butcher and large supermarkets.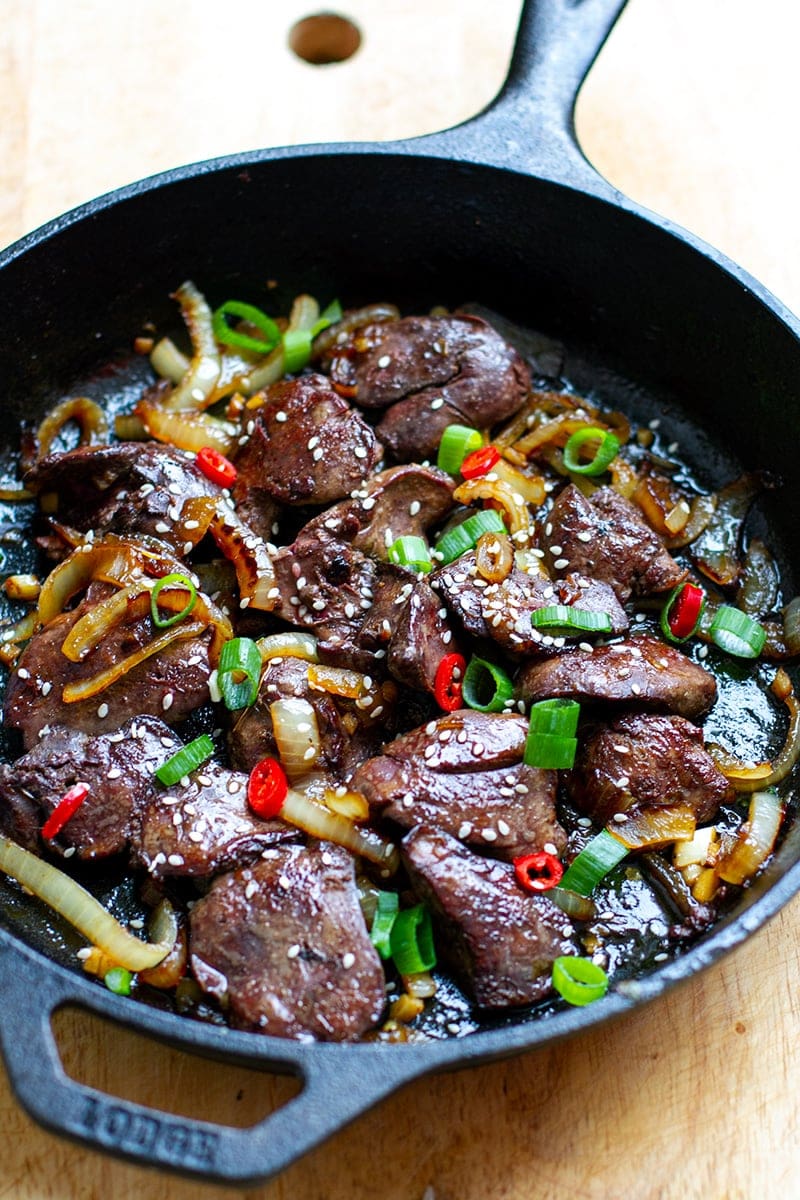 What Goes With Chicken Livers
The tastiest way to enjoy chicken livers, in my opinion, is when they are cooked with bold flavours, ideally something sweet and tangy.
They go superbly well with onions, bacon and fruit. In this Asian-style recipe, chicken livers are cooked with onions and finished with honey, garlic and soy sauce. I used gluten-free Tamari sauce and you can also swap for coconut aminos for a soy-free version. 
Note: Chicken liver should be consumed in small amounts when pregnant but totally fine when breastfeeding and is as a great way to top up those depleted nutrients!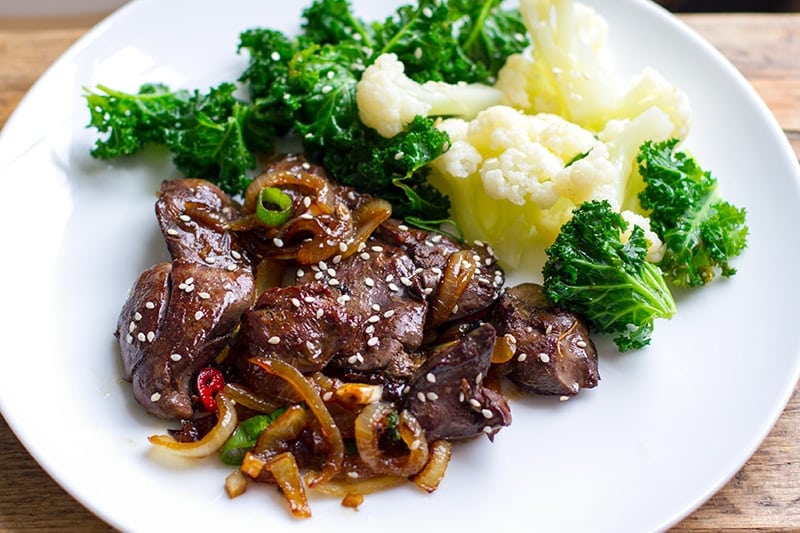 What To Serve With Chicken Livers & Onions
If you're trying to stay low-carb, I would serve these chicken livers with steamed or stir-fried vegetables, cauliflower rice or broccoli rice, or zucchini noodles.
They are rich in protein and are quite satiating. Otherwise, they are great with regular rice or rice noodles or on top of an Asian-style slaw salad or my rainbow red cabbage slaw. A simple side of potatoes is also delicious.
---
More Liver Recipes To Try
Print
---
Description
Healthy and delicious chicken livers and onions finished with garlic, honey and soy sauce. Serve over rice or noodles or with stir-fried/steamed vegetables or cauliflower rice for a low-carb version. This chicken liver recipe might change your mind about organ meats!
---
---
You will need two frying pans for this recipe, or do it in two parts.
Part 1.

In one frying pan, sauté the onions two tablespoons of olive oil 

and a pinch of salt for 4-5 minutes, until golden and softened. Then add

the garlic and stir for a minute. Follow by honey, tamari (or coconut aminos) and fish sauce. Stir through and take off the heat.

Part 2.

In another skillet, heat coconut oil or olive oil over medium-high heat. Once hot, add the chicken livers and sprinkle with salt and pepper. 

Cook over medium-high heat for 2 minutes on each side. Then transfer to

the pan with the onions and place back on the heat. Stir for about 20-30 seconds to coat the liver pieces in the onion and the sauce. Garnish with some chopped spring onions/scallions, sesame seeds and chilli.
---
Notes
Lamb or beef liver can be used instead of chicken livers. For AIP: Omit fresh chilli. For Whol30: replace honey with orange juice. For soy-free: use coconut aminos instead of Tamari soy sauce.
Serve with steamed or boiled veggies of choice (e.g. kale, cauliflower, broccoli and carrots) drizzled with some olive oil and, lemon juice; or, with cauliflower rice or regular rice.
Nutrition
Serving Size:

About 200 g livers with half of the onions

Calories:

451

Sugar:

11.9 g

Sodium:

1395.3 mg

Fat:

26 g

Saturated Fat:

7 g

Carbohydrates:

18.5 g

Fiber:

1.1 g

Protein:

36 g

Cholesterol:

690 mg
Keywords: Chicken livers, liver, organ meats, offal, gluten-free, low-carb