This website may contain affiliate links and advertising so that we can provide recipes to you. Read my privacy policy.
Chicken Enchiladas are saucy, cheesy and super scrumptious. These are made with my Enchilada sauce, which makes them even better than store bought!
Combine these enchiladas withCorn, Rice and of course Horchata. It will be the perfect Mexican Style Restaurant meal at home!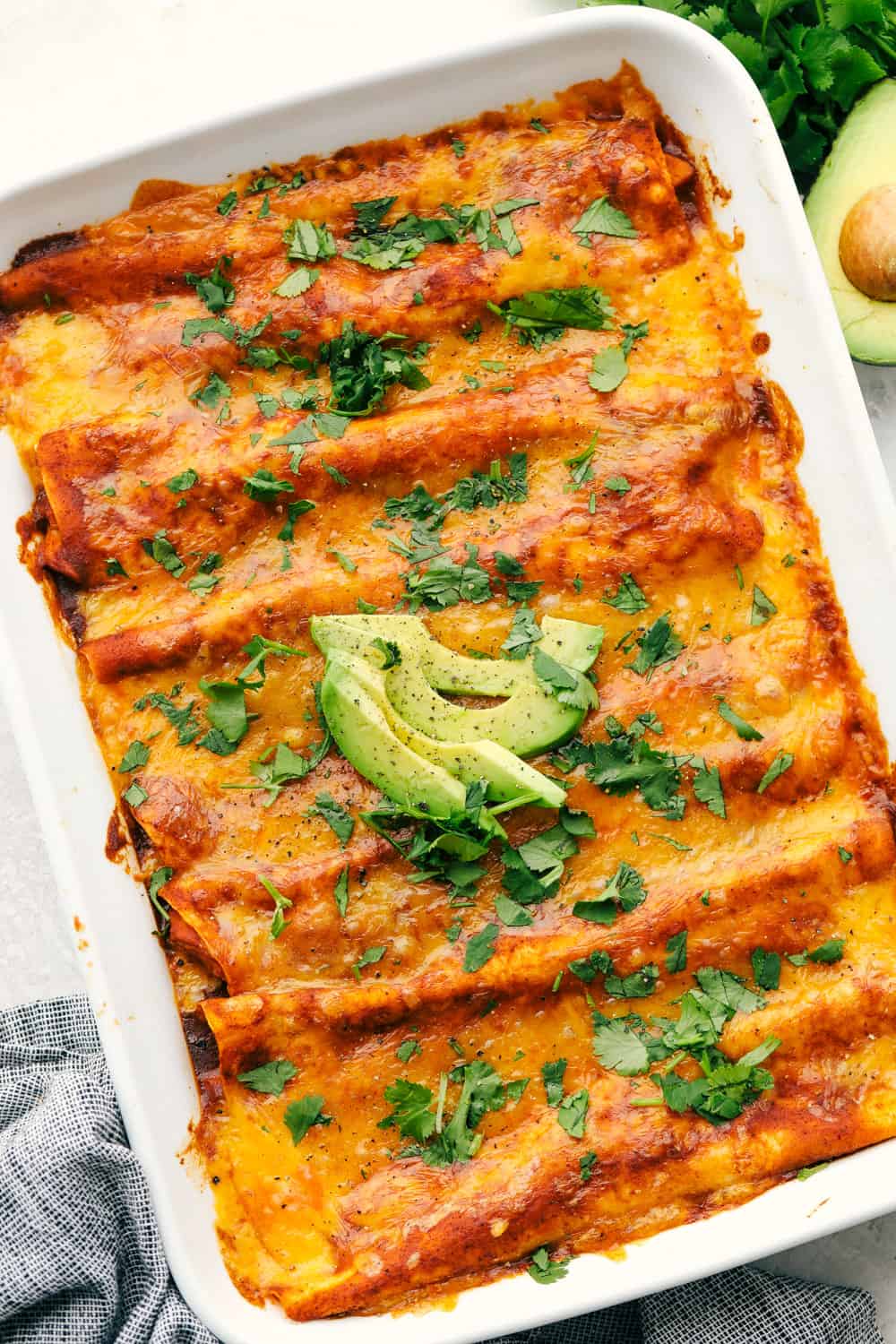 Homemade Chicken Enchiladas
When I start making my enchilada sauce, my family gets excited because they know what's for dinner! The quick and easy sauce takes minutes to make so I love taking that extra step. The sauce is super rich and velvety smooth. You are going to love it! Chicken enchiladas are a classic hit. They are cheesy, smothered in a rich sauce and then topped with more cheese. These are so yummy.
I love making big batches so we have plenty of leftovers. They make great lunches served with chips and salsa or pico de gallo. Since this is easy to double, it's perfect for a big crowd or a large family gathering. Serve some ultimate Skillet Queso with chips, Hominy Casserole and Mouth Watering Cowboy Caviar for appetizers.
What You Need For Enchiladas
Whether you use corn or flour tortillas, these are going to be incredible. Especially with the homemade sauce. It hardly takes any time and the ingredients are super simple.
Olive Oil: This will help roast the flour and chili powder.
Flour: This will thicken the sauce and bring texture.
Chili Powder: The must have spice for enchilada sauce.
Tomato Sauce: This is the base of the sauce, bringing flavor and color.
Vegetable Stock: Vegetable stock has more neutral flavor than beef, chicken will also work.
Garlic Powder and Onion Powder: Incredible flavor enhancers.
Cumin: A classic mexican spice used in most dishes.
Salt and Pepper: Add to taste.
Chicken: Cooked and diced chicken.
Tortillas: Corn or flour tortillas will work.
Colby Jack Cheese: Use a block and shred your own.
How to Make Easy Chicken Enchiladas
Making enchiladas can feel like it's time consuming, but it's not and it's totally worth it! These are so dang delicious!
Prep: Preheat oven to 350 degrees.
Toast: In a medium sized skillet add the olive oil, flour and chili powder. Whisk until it starts to brown and becomes fragrant.
Add: Slowly whisk in the tomato sauce, vegetable stock, garlic powder, onion powder and cumin. Whisk until it starts to thicken.
Save: Reserve 1 ½ cups of the sauce.
Add: To the rest of the sauce add in the diced chicken.
Assembly: Warm tortillas as desired. Add about 2 Tablespoons of cheese to the center of the tortilla.
Scoop: Add about the same amount of the chicken in the sauce mixture.
Fold: Roll up and place seam side down in a 9×13 inch baking dish. Repeat.
Top it: Top with the reserved sauce and sprinkle the top with remaining cheese.
Bake: Place in the oven for 20-25 minutes or until heated through and bubbly.
Tips For Making Homemade Enchilada Sauce
This is the basic recipe for Enchilada sauce from my blog. Here are some of the tips and tricks to make it absolutely perfect.
Roux: Make sure to cook the flour and chili powder a good full 2 minutes at least. Wait till it's brown and fragrant before adding the broth. This will make sure the flour is good and toasted and you won't have any raw flour taste. It also allows the chili powder to bloom enhancing its flavor.
Slow:  Be sure to add the chicken or vegetable broth slowly, whisking constantly. Add it before you add the tomato sauce too. If you need to stop pouring to give yourself more time to work out the lumps do it. It'll be ten times easier to dissolve any lumps before you add the tomato sauce.
Reduce Heat: Speaking of lumps, it is a lot easier to work them out when the temperature isn't too hot. You may need to reduce the temperature while you add the chicken or vegetable broth. Once everything is fully incorporated turn the heat up to a good simmer.
Spice: This recipe is easy to manage how much heat you want in your homemade enchilada sauce. Pay attention to what kind of chili powder you are using. There are hot, medium and mild chili powders. Choose the one that best suits you and your family. You can dial it back or dial it up depending on your tastes. If you love a good smokey flavor try using chipotle chili powder for a nice smokey spicy twist.
Simmer: Simmer to your desired consistency. Some like it thinner and some like it thicker. The longer you leave it to simmer the thicker it will get. If it gets too thick thin it with some water or broth.
Making Sure These are Scrumptious!
The hardest part of making these enchiladas is waiting for them to bake and then cool. The aroma is going to make you super hungry, sorry about that.
Chicken: Any chicken will do really, it just needs to be chopped, diced or shredded. I like to use rotisserie chicken, or you can cook chicken breasts, and thighs and then cut them up too. Using thigh meat is a little bit more tender and juicy.
Cheese: We love using colby jack, but cheddar, or Monterey jack work just as well. For a bit of a kick try pepper jack cheese. Whichever cheese you use, buy a block and shred your own. It will be guaranteed to melt better and taste better. Pre-shredded often have additives that keep it from melting or hiding the flavor.
Tortillas: Whether you use corn or flour, make sure you heat them up a bit so that they are easy to roll and won't split when you do. Place the rolled tortillas seam side down in the pan.
Spray Your Pan: Make sure you spray your pan, you do not want them to stick to the bottom.
Toppings: We love to serve our enchiladas with a bit of chopped cilantro and a dollop of sour cream. Serve with this amazing guacamole for additional yumminess.
Variations and How to Store Chicken Enchiladas
Mix it up and customize it anyway you want. They will still be some of the best enchiladas you have ever had. It's all in the sauce.
Meat: Chicken is a go to for our household, but beef, pork and chorizo all make great substitutes.
Add Ins: Add in black beans, sautéed onions, and rice to give it bulk and flavor. I like to add these in especially when I need to make the filling stretch a bit.
Storing leftovers: Leftovers keep really well in a tightly sealed container in the fridge for up to 4 days. Reheat in the oven or microwave.
Freezing: I will sometimes make a double batch and after they have completely cooled I'll freeze it for a quick meal down the road. Freeze tightly wrapped in plastic then foil and place in a freezer safe bag. It will keep for up to 3 months. Thaw in the fridge overnight and then reheat in the oven or microwave.
More Mexican Food Fun!
We love mexican food at our house. It is so easy to make, customize and devour! Mexican food is always full of incredible flavors and is super colorful, making it a delight to eat. When you need a good Mexican dish for dinner, a side dish, appetizer or even dessert, I've got you covered. These are just a sampling of the list I have for you when you are craving something a little south of border.