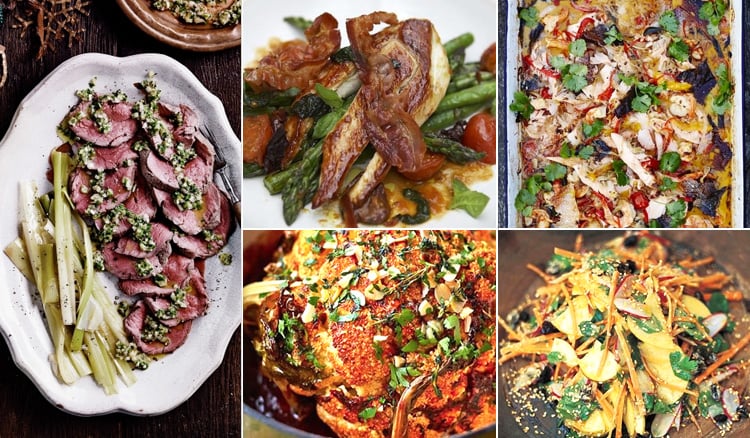 I've been meaning to do a series of posts on paleo friendly recipes from famous chefs and cooks. Yes, I do sometimes get stuck for ideas and inspiration in the kitchen and that's when I turn to some of my favourites – effortless Jamie Oliver, sensual Nigella Lawson, timeless Maggie Beer and fantastical Heston, to mention a few.
Today's post features twenty paleo friendly recipes from Jamie Oliver, with my notes on alternatives and substitutions, where needed. I hope you enjoy my selection as I absolutely adore what Jamie does with food, and I think his style of cooking is very similar to mine: lots of soul, measuring with you eyes and heart, spontaneous, focused on good quality produce. In no particular order, here is my selection of twenty Jamie Oliver recipes to tickle your senses.
Quick Crispy Chicken With Asparagus & Tomatoes
I love how quick and simple this meal is – perfect for a midweek supper. Olives are used to add a bit of saltiness and extra flavour, but other pantry staples like anchovies or sun-dried tomatoes would also work well.  Get the recipe here.
Moorish Crunch Salad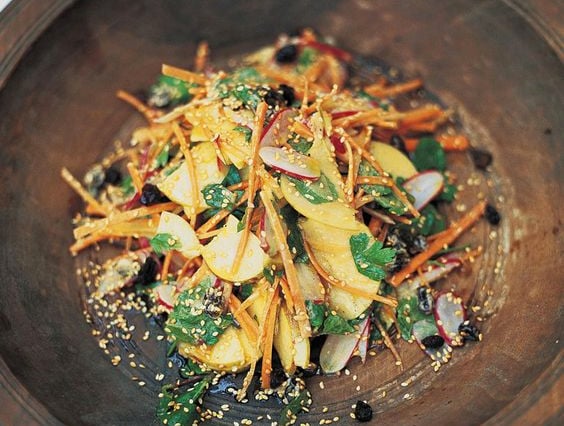 Full of crunchy goodness of radish, carrots, toasted sesame seeds and fresh herbs, this salad makes my mouth water. Get the recipe here
Fish in a bag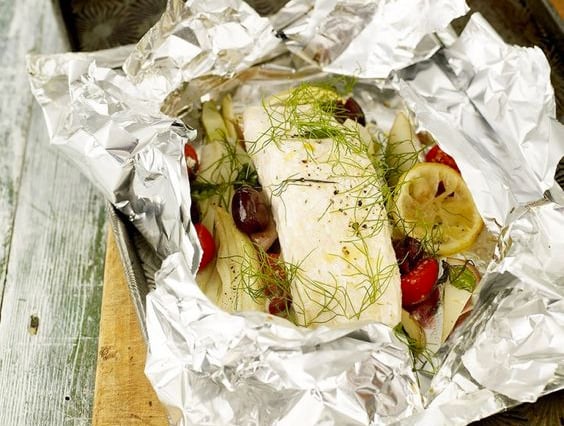 If avoiding white potatoes, replace with zucchini or sweet potato. To save time you can prepare the parcels in advance. Get the recipe here
Spiced lamb stew with walnuts & pomegranate
Walnuts. Pomegranate. Yum! Replace 2 spoons of plain flour with 1 tablespoon tapioca flour and add 1 teaspoon of butter or ghee at the end. Cook for a little longer with no lid on to thicken the sauce further. Get the recipe here.
Green Shakshuka
Shakshuka is traditionally a tomato-based dish but this twist freshens it up with spring greens, while still holding on to those core Middle Eastern herbs and spices. Brilliant for brunch or dinner. Omit cheese, if avoiding dairy.  Get the recipe here.
Roast chicken with all the trimmings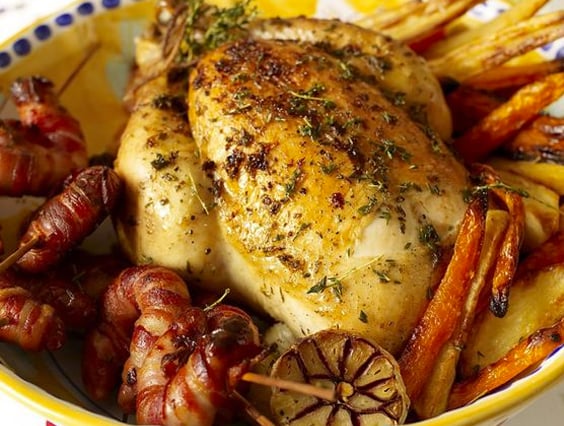 Use ghee instead of butter, if avoiding all dairy (although butter is often well tolerated due to its low lactose content). 'Higher-welfare' just means free-range. Get the recipe here.
Poached beef with herb vinaigrette & leeks
This gorgeous platter is great for a Sunday lunch gathering or Christmas. You can also serve the vinaigrette with sliced poached chicken or grilled fish fillets, such as swordfish or salmon. Get the recipe here.
Slow-roasted balsamic tomatoes with baby leeks & basil
I can taste this dish when I look at this picture. Add as much or as little sea salt as you prefer. This would be a great side to lamb roast or some roasted chicken. Get the recipe here.
Jools's favourite beef stew
This one-pot dish looks rich and perfect for a cold day. You don't really need to dust the meat with flour as you can thicken the sauce with a little tapioca or arrowroot flour at the end or by using an evaporation method (a.k.a cook with no lid on for the last hour). Peeled white potatoes are fine in small amounts, but feel free to replace with sweet potato, swedes, parsnips or throw in zucchini and cauliflower in the last hour. Get the recipe here.
Whole Roasted Cauliflower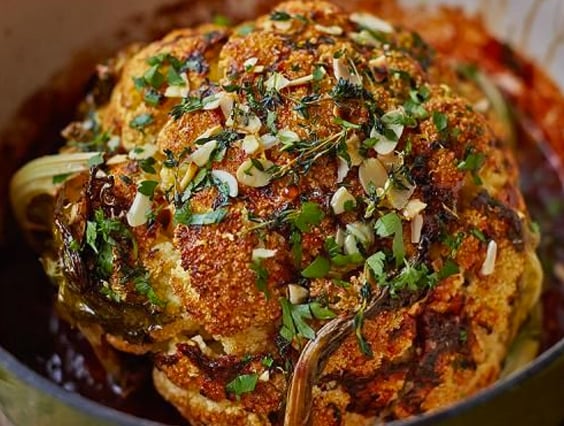 I wanted to include this recipe because I love when vegetables are served whole like this, and cauliflower is especially delicious when roasted. Get the recipe here.
Smashed celeriac
Celeriac is a root vegetable that has a firm tuber consistency and a smell of fresh celery. It's a great alternative to potato and pumpkin. Get the recipe here.
Simple roast salmon with summer leaves & a Marie Rose dressing
Marie Rose dressing is a British condiment commonly associated with the 70s – mayo and ketchup mixed together and used in a prawn cocktail or with other seafood. This recipe calls for yogurt, and I recommend to make the sauce using a combination of mayonnaise, chilli sauce or powder, a little apple cider vinegar or lemon juice, garlic and tomato paste instead of ketchup (or make your own ketchup, recipe below). That's how I often served cooked prawns.  Get the recipe here.
Stir-fried duck with sugar snap peas and asparagus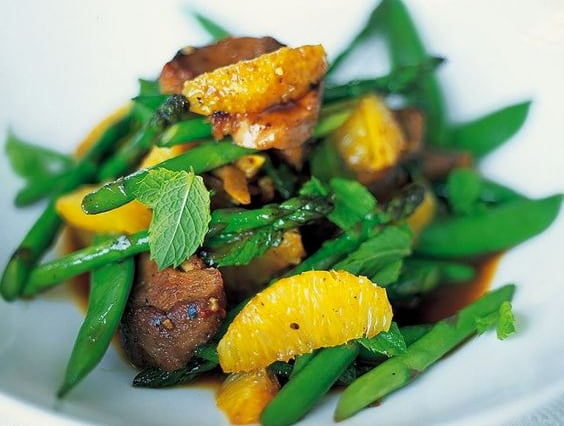 I love duck, especially when it's served with oranges. Bursting with flavour, duck is perfect for stir-frying – gorgeously juicy inside and crispy outside. Paired with simple green veggies, this is a midweek hit. Get the recipe here.
Roast chicken & pesto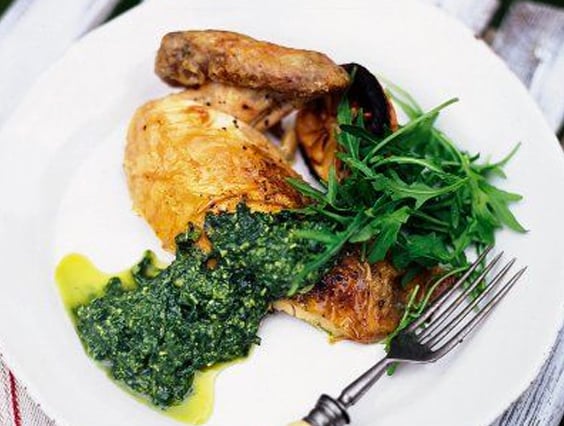 This is pretty straight forward but skip the Parmesan in the pesto if avoiding dairy. I would serve this with a giant arugula/rocket salad. Get recipe here.
Wild mushroom & venison stroganoff

This recipe contains dairy such as butter and cream, both of which are high-fat content and low-lactose so some of you might get away with it. Otherwise, you can use ghee and omit the cream, which will make it a little bit thinner in consistency but the flavour of the mushrooms will still be amazing. Beef meat and standard mushrooms can be used instead and you can add some dried porcini mushrooms for that wild forest flavour. Get the recipe here.
Traybaked Keralan Fish Curry

Creamy, rich and packed with spices, this traybake is fresh, flavoursome and super-comforting. Simply whack it in the middle of the table and let your guests help themselves. Get the recipe here.
The best tuna meatballs (Le migliori polpette di tonno)
Everyone's favourite meatballs with a difference – no meat! Fresh fish is used, which together with Sicilian herbs and spices creates a light and fresh dish. Get the recipe here.
Roasted concertina squid with grilled leeks & a warm chorizo dressing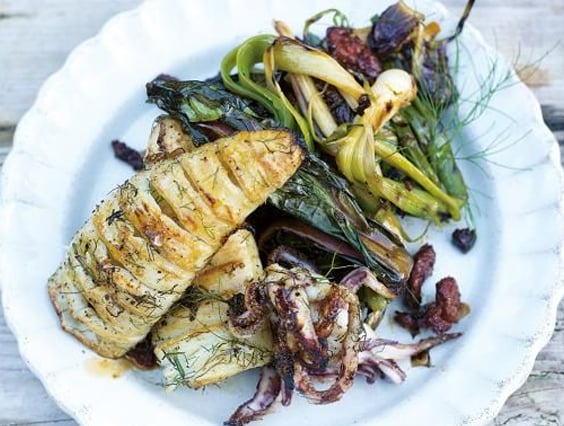 I love using chorizo to flavour dishes. Pork goes very nicely with prawns and squid, and I like the vegetables used in this dish. Get the recipe here.
Lovely tomato & rose petal harissa
I love a bit of harrissa and was very intrigued by the addition of rose petals. Jamie recommends it with oily fish but it would do wonders to lamb cutlets and grilled prawns. Get the recipe here.
Homemade tomato ketchup
The only thing you need to change in this recipe is the addition of sugar. Half the amount of sweetness and use maple syrup or coconut syrup instead. Rice malt syrup can also be used as it's pretty much glucose. Honey might give it a different flavour.  Get the recipe here.
Do you have a favourite Jamie Oliver recipe? Share with me in the comments. 
SHARE THIS RECEPE COLLECTION ON PINTEREST