Planning meals around a low FODMAP diet can be tough. Looking for low FODMAP dinner recipes can feel like you're running out of options pretty quickly, but the truth is there are so many unique options and adaptations without using the high FODMAP dishes!
---
Being on a low FODMAP diet can help heal IBS, SIBO, and more autoimmune issues with the gut.
In short, FODMAPs are types of carbohydrates found in various foods, especially fruits and veggies.
Two of the most commonly used high FODMAP foods are onion and garlic which can be tough to avoid when making dinner recipes. While you can get that flavour with infused olive oil or using the green parts of spring onion, most recipes don't take into account that anyone might want to omit it entirely.
These low FODMAP dinner recipes, on the other hand, have all been tried and tested without the high FODMAP foods at all. Therefore, we've got a few winners here including plenty of foods you would expect to have the forbidden ingredients.
---
Delicious Low FODMAP Dinner Recipes
1. LOW FODMAP Butter Chicken (GF & DF)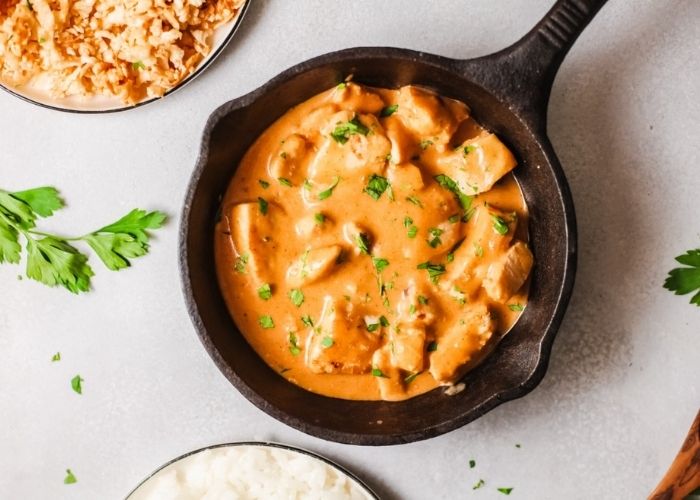 Butter chicken is a classic Indian dish that contains a blend of amazing flavours and rich texture. This variation omits dairy entirely and substitutes a much heavier dish with coconut milk instead. This recipe is made in a slow cooker for total ease from start to finish. Finally, there are variations included for both low-FODMAP and medium-FODMAP versions. Get the recipe from A Balanced Belly.
2. One-pot Chicken & Rice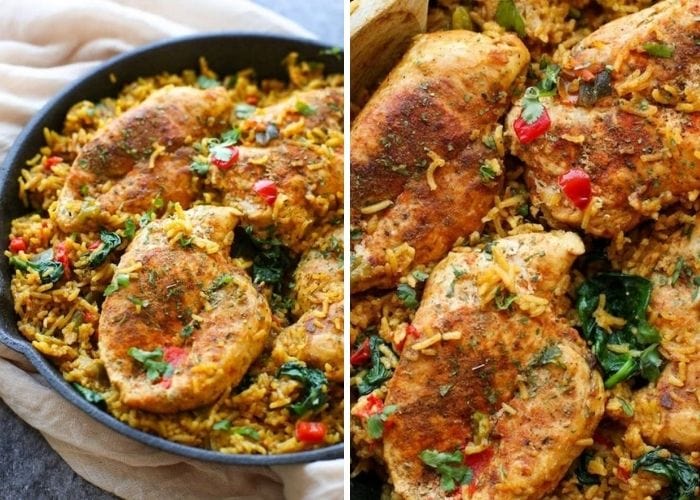 Who doesn't love a fabulous one-pot meal? This chicken and rice keeps it super simple, which is a high-value asset when you're eating a low FODMAP diet. Keep this one on standby for when you just need everything in one package. Get the recipe from A Saucy Kitchen.
3. Low FODMAP Beef Bolognese
Bolognese is a really simple low FODMAP dinner recipe whether you choose to serve it over regular noodles, zoodles, or your favourite spaghetti alternative. Not every tomato sauce is FODMAP-friendly, but you can rely on this recipe to bring the flavour to the table. Get the recipe from Hint of Helen.
4. Maple Mustard Chicken 
This nutritious dish is simple and straightforward, sure to be a contender for regular weeknight meals. It's also budget-friendly and makes for great leftovers. The secret is in the flavour combination of mustard and maple. Get the recipe from A Saucy Kitchen.
5. Low FODMAP Chicken Cacciatore
Chicken cacciatore is an undeniably delicious and popular Italian dish featuring chicken thighs, a host of veggies, olives, and a herb-heavy sauce. This is a great low FODMAP dinner recipe for entertaining guests or making in a big batch for leftovers. It's also paleo-friendly and gluten-free. Get the recipe from Feed Me Phoebe. 
6. Beef Stew (Slow Cooker Or Instant Pot) 
Everyone needs a go-to beef stew, especially those of us who need low FODMAP dinner recipes. You won't be disappointed, as even without FODMAP foods, you can have your favourite one-pot, family-friendly stew on the table. Get the recipe from Fun Without FODMAPs.
7. Italian Zucchini Boats
Stuffed zucchini usually contains onions, but this recipe is FODMAP friendly without sacrificing flavour. These boats are loaded with tasty ingredients and you can swap out sausage for ground beef or whatever you have handy making it pretty versatile. Get the recipe from Paleo Running Momma.
8. Slow Cooker Stuffed Bell Pepper Soup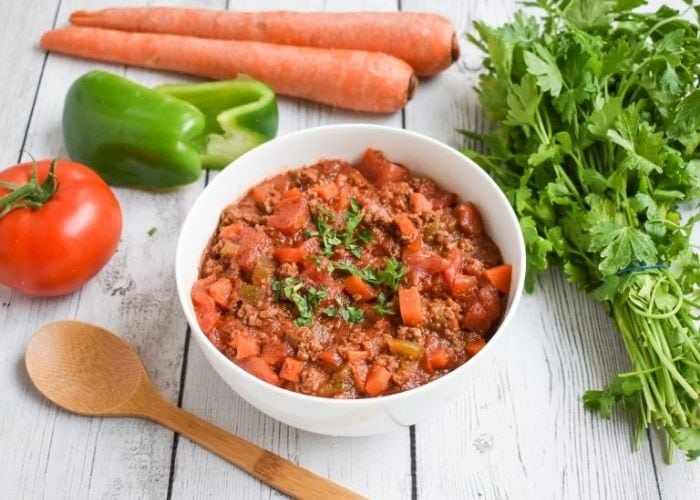 Who doesn't love a great slow cooker recipe? Instead of stuffing bell peppers, you can simply add all the ingredients to the slow cooker and let it work its magic. This hearty recipe has it all – veggies, protein, and starch. This one is great for batch cooking. Get the recipe from Rachel Paul's Food.
9. Crispy Pork Belly With Peanut Sauce & Bok Choy 
This delicious recipe is simple in terms of ingredients, but the flavour has that wow factor you might be missing when looking for low FODMAP dinner recipes. From the peanut sauce to tender greens to coconut rice, this meal has it all. Of course, the pork belly is the star of the show with the mouth-watering peanut sauce! Get the recipe from A Little Bit Yummy.
10. Shrimp With Green Peppers & Feta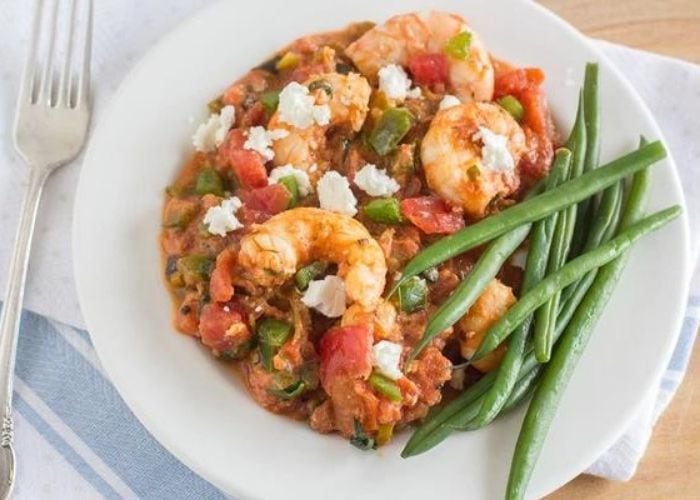 Seafood is a great option if you're looking for low FODMAP dinner recipes. This simple shrimp dish is packed with flavour and unique ingredients for something light and healthy but packed with protein and veggies. Get the recipe from Fody Foods.
11. Baked Cod Loin With Miso-Red Curry Sauce & Vegetables
If you're missing flavour in your life without FODMAPs, look no further than this beautiful and vibrant seafood dish. Miso is a great way to amp up the excitement of a dish, and roasting the ingredients gives it what it needs to really stand out! Get the recipe from Feed Me Phoebe.
12. Low FODMAP Vegan Chilli 
Chilli is a classic staple in many kitchens whether you like to experiment with new recipes, have an old family favourite recipe, or even if you have strict dietary preferences! This chilli is both FODMAP-friendly and vegan with all the ease, flavour, and comfort of a "normal" chilli recipe. Get the recipe from Level Up Nutrition.
13. Eggplant Parmesan (Vegetarian)
Eggplant parm is oh-so-delicious – even without FODMAPs. This recipe is one that requires quite a few pans and a little bit of patience, but the pay-off is so worth it when you have this quintessential Italian dish ready to serve on the dinner table. While this recipe contains dairy, you can always swap them for dairy-free choices. Get the recipe from FODMAP Everyday.
14. Cabbage Fried Rice (Vegetarian)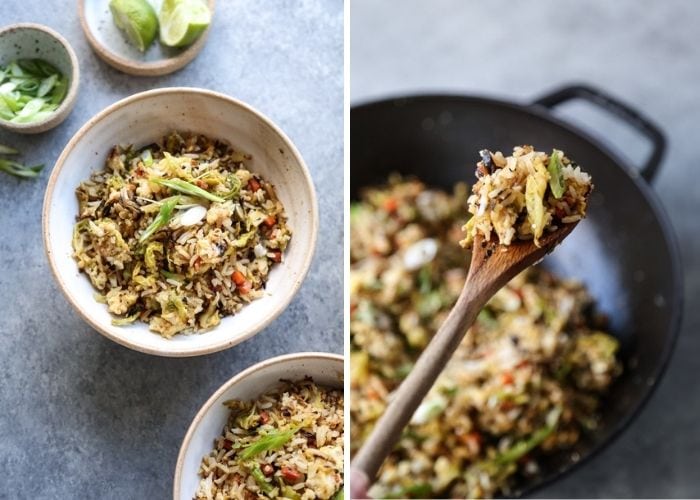 Fried rice is an inexpensive way to get in some healthy ingredients, use up veggies, and load up with your favourite toppings. This recipe includes FODMAP-friendly cabbage, scrambled eggs which you can omit to make it vegan, and a tasty stir-fry sauce. You can also swap regular white rice for brown rice or cauliflower rice. Get the recipe from Feed Me Phoebe.
15. Pad Thai With Tofu (Gluten-Free & Vegan)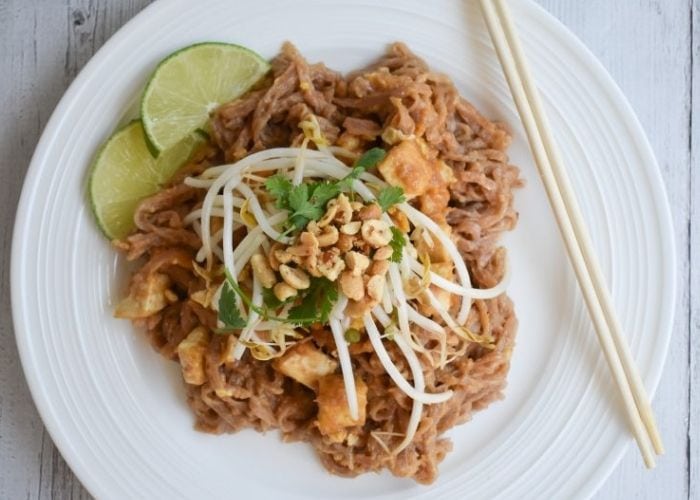 If you love Thai food or noodle dishes, you're likely no stranger to Pad Thai. It's a zesty and flavourful blend of tofu (or chicken if you like), noodles, egg, and the perfect blend of ingredients to make the sauce that gives it its unique taste. It's naturally gluten-free and made with rice noodles, but you can swap them for zoodles to make it low-carb/paleo-friendly too. Get the recipe from Rachel Paul's Food.
Low FODMAP can be a bit tricky to start with; however, there are so many amazing recipes out there to get your culinary creative juices flowing, and this is just a small handful of those. Who knows, you might even discover a new favourite ingredient to use in your cooking! Which one of these did you like the most?