Vegetarian Mushroom Stew has red bell pepper, onion, paprika, and sour cream and this is delicious plain, or over Cauliflower Rice! And the stew is low in carbs and gluten-free.
PIN Low-Carb Vegetarian Mushroom Stew to try it later!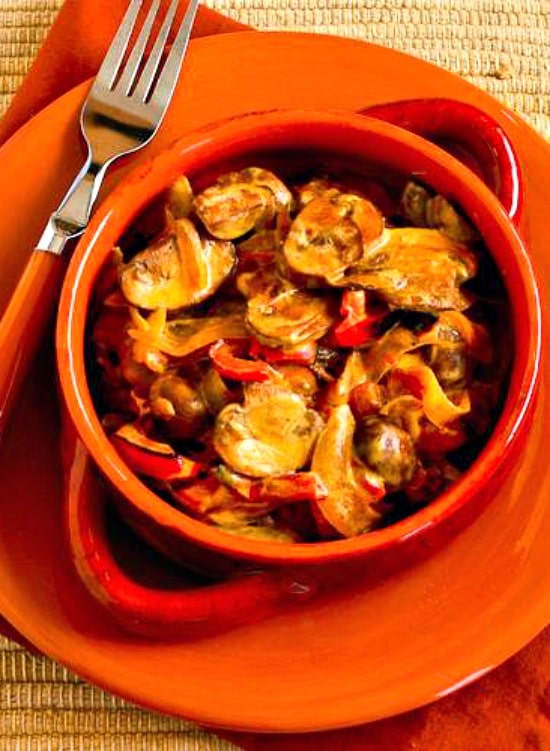 I know low-carb eating can be challenging for vegetarians, so I'm feeling happy to share this delicious and low-carb Vegetarian Mushroom Stew. I'm not sure if I should be calling it a stew, because actually all the veggies are sauteed separately at relatively high heat, and then some paprika and sour cream is stirred in at the end, but the finished dish feels like a stew to me, so that's the name I'm going with.
This mushroom stew would be delicious served over Cauliflower Rice if you wanted a more substantial meal, and if you're doing that I might cut the veggies a bit smaller. And I wouldn't mind a bit more sour cream added at the table either. But no matter how you eat it, this is so tasty!
What ingredients do you need for this recipe?
onion
red bell pepper
olive oil
brown Cremini mushrooms
paprika, preferably Szeged Paprika (affiliate link) Hungarian
salt and fresh ground black pepper to taste
sour cream
How to Make Vegetarian Mushroom Stew:
(Scroll down for complete recipe with nutritional information.)
Cut the red bell pepper and the onion into short strips or slivers.
Heat oil and cook the onions about 5 minutes, until they are starting to brown. Remove onions to a bowl.
Add a little more oil and cook the bell pepper about 5 minutes, until a few edges are starting to char. Remove red peppers to the bowl with the onions.
While the onions and peppers are cooking, wash mushrooms, dry, and cut into slices about 1/2 inch thick.
Put a little more oil in the pan and cook the mushrooms until they're well browned. Remove mushrooms to a separate bowl.
Put the onions and peppers back into the pan, sprinkle over the paprika and cook a couple of minutes. Season with salt and pepper to taste.
I would always use Szeged Paprika (affiliate link) for a dish like this.
Add the mushrooms back to the pan and heat until any accumulated juice has evaporated, then reduce heat to low and stir in the sour cream. 
Heat just until it is warmed through (do not boil) and serve immediately.
Want more ideas using mushrooms?
Check out Mushroom Recipes to see more tasty ideas for mushroom fans!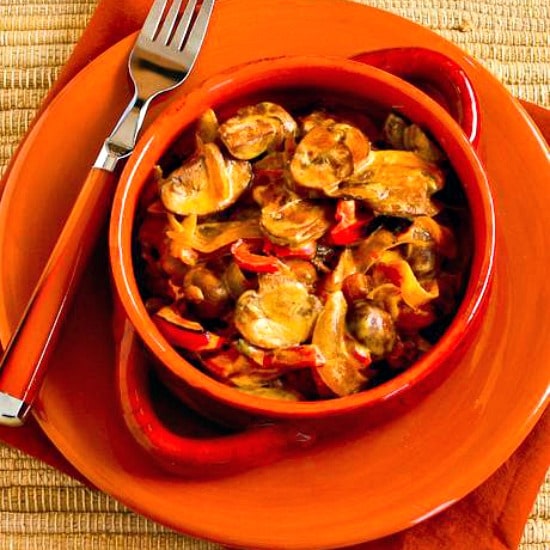 Make it a Low-Carb Meal:
This would taste great served over Cauliflower Rice or served with Cauliflower Rice with Basil, Parmesan, and Pine Nuts as a low-carb side dish.
More Low-Carb Recipes with Mushrooms:
Kale, Mushrooms, and Cheese breakfast Casserole
Stuffed Mushrooms with Olives and Feta
Roasted Green Beans with Mushrooms, Balsamic, and Parmesan
Ingredients
1 large onion, peeled and cut into short strips
1 large red bell pepper, seeds cut out and cut into short strips
6 tsp. olive oil, divided
1 lb. brown Cremini mushrooms, washed and cut into 1/2 inch slices
2 tsp. Hungarian paprika, or more (see notes)
salt and fresh ground black pepper to taste
1/2 cup sour cream
Instructions
Cut the onion and the red bell pepper into short strips or slivers.
Heat 2 tsp. oil in a large heavy frying pan over medium-high heat, add the onions and cook until onion is starting to brown, about 5 minutes.
Remove the onion to a bowl.
Add another 2 tsp. olive oil, add the bell pepper and cook until done and starting to char, about 5 minutes.
While onions and bell peppers cook, wash the mushrooms, dry, and cut into 1/2 inch thick slices.
Add a 2 tsp. more oil to the pan, heat the oil, and then cooked the mushrooms until they are and well-browned.  (You might need to do this in two batches if your pan isn't large enough but I fit them in the big frying pan I used.)
Remove the mushrooms to a different bowl.
Put the onions and red peppers back into the pan, turn heat to medium, sprinkle paprika over the veggies, and saute for about 2 minutes, until the paprika is fragrant.
Season to taste with salt and fresh ground black pepper.
Then add mushrooms and any accumulated juice and cook until the liquid has evaporated.
Turn heat to low, wait about one minute, and then add the sour cream and gently stir to combine with the vegetables.
Cook just until the sour cream is heated through, do not boil.
Serve hot, over cauliflower rice if desired.
Notes
You can use sweet or sharp paprika, but I used sweet. I would always use Szeged Hungarian Paprika (affiliate link) for a recipe like this, and might even increase the amount of paprika a bit.
Recipe adapted from Mushroom Paprikas' found in Fine Cooking Magazine; I could not find the recipe online.
Nutrition Information:
Yield:
4

Serving Size:
1

Amount Per Serving:
Calories: 168Total Fat: 13gSaturated Fat: 4gTrans Fat: 0gUnsaturated Fat: 7gCholesterol: 17mgSodium: 164mgCarbohydrates: 12gFiber: 2gSugar: 6gProtein: 4g
Nutrition information is automatically calculated by the Recipe Plug-In I am using. I am not a nutritionist and cannot guarantee 100% accuracy, since many variables affect those calculations.
Low-Carb Diet / Low-Glycemic Diet / South Beach Diet Suggestions:
This Vegetarian Mushroom Stew is loaded with healthy low-carb vegetables, and should be approved for low-carb diet plans as well as any phase of the original South Beach Diet. South Beach would recommend low-fat sour cream; other low-fat diets will prefer full-fat.
Find More Recipes Like This One:
Use Stew Recipes to find more recipes like this one. Use the Diet Type Index to find recipes suitable for a specific eating plan. You might also like to Follow Kalyn's Kitchen on Pinterest to see all the good recipes I'm sharing there.
Historical Notes for this Recipe:
This recipe was posted in 2012. It was last updated with more information in 2021.
We are a participant in the Amazon Services LLC Associates Program, an affiliate advertising program designed to provide a means for us to earn fees by linking to Amazon.com and affiliated sites. As an Amazon Associate, I earn from qualifying purchases.