Inspired by the Japanese miso eggplant, this healthy and delicious recipe features soft, creamy oven-roasted eggplant topped with umami-rich tomato miso sauce. SOOO good, it's like a flavour explosion in your mouth. This eggplant recipe is vegan, vegetarian, gluten-free and low-carb friendly. 
---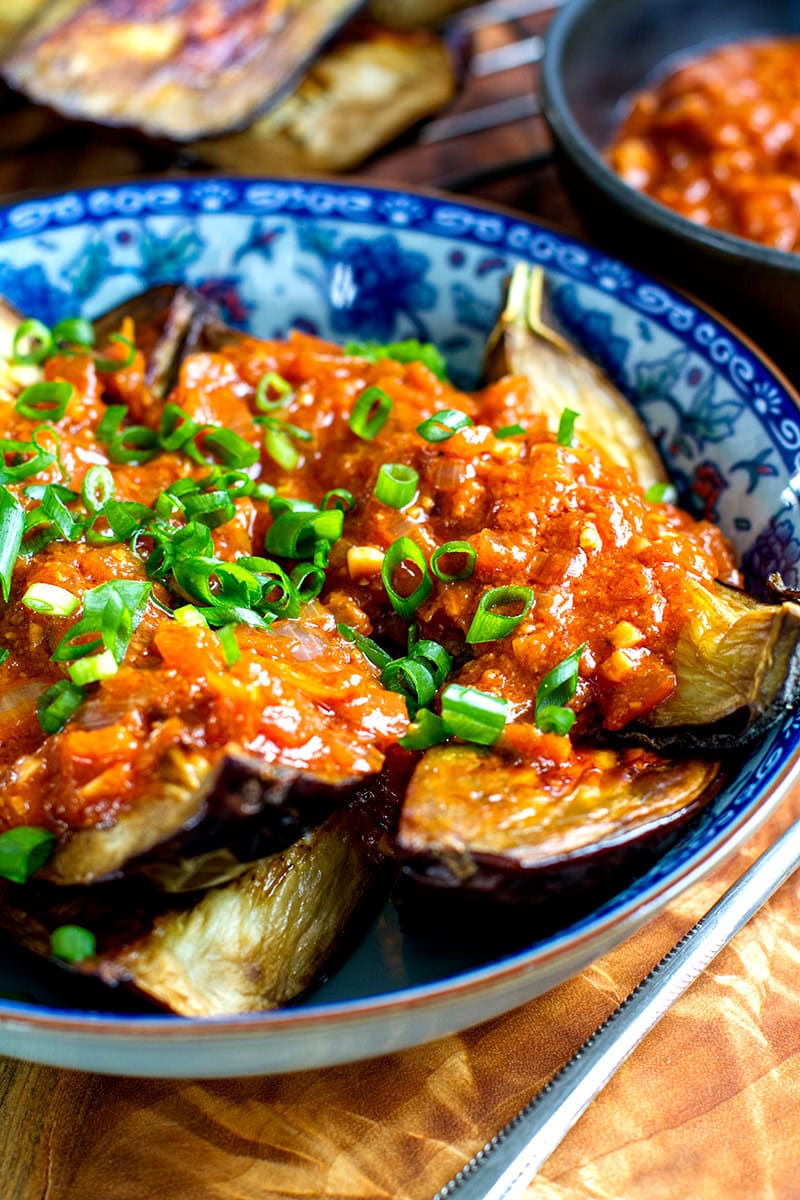 What Is Miso Eggplant?
Miso eggplant, also known as Nasu Dengaku, is a classic Japanese side dish made with eggplant (aubergine) sliced in half, grilled or baked and brushed with a sweet and savoury miso glaze. It's a dream dish for any eggplant lover and can be served as a side or a main with rice, quinoa or noodles.
My version features roasted eggplant with a slightly different sauce made with white or light brown miso, tomato paste, onion and garlic. The eggplant is nicely caramelised and golden brown with creamy flesh and the sauce is like a flavourful condiment that really brings out the taste of the vegetable.
It's a plant-based, vegan recipe that is also gluten-free and low-carb (lots of fibre, so net carbs are low). I usually serve it with regular rice or quinoa or cauliflower rice if I am eating low-carb.
What You Need For Tomato Miso Eggplant
For four servings or 8 decent pieces, you will need two large eggplants cut into quarters. I like to roast it for about 30 minutes until golden brown and soft in the middle but you can also slice it or dice it and grill/pan-fry in a little oil.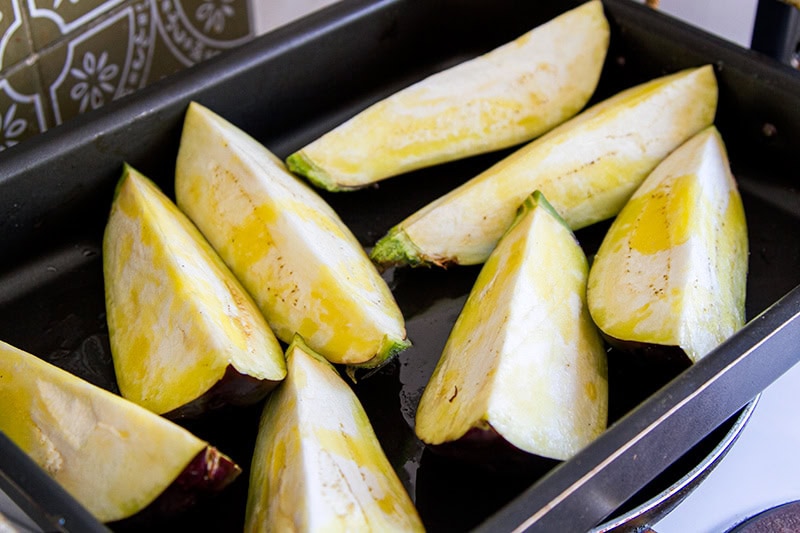 Tomato Miso Sauce
The sauce is made with sauteed, soft onions, garlic, tomato paste and miso paste, plus some water. You can add a splash of soy sauce or Tamari sauce or a little salt for extra seasoning. I also add a pinch of chilli flakes or powder. 
Try to get freshly fermented miso from the refrigerated section of a health food store or supermarket as it will be unsaturated and beaming with good bacteria (probiotics). You can use white or light brown miso or a combination. If you only have dark miso, that's fine as well but the flavour will be a little more intense. If you can't find fresh miso, the paste from the packets will do the trick. Read my article on types of miso and health benefits here.
Make-Ahead Tip
This dish can be made ahead of time. Store the pre-cooked eggplant and the sauce separately in the fridge and reheat just before serving. The sauce will freeze well, not so much for the eggplant.
Turn It Into A Dip or Spread
Another cool idea is to puree the eggplant and mix it with the tomato miso sauce for a Japanese babagnush, eggplant dip creation. Serve with seaweed crackers or sesame crackers or spread on toasted sourdough with avocado for a delicious plant-based breakfast or lunch.&
---
More Eggplant Recipes
---
Full Recipe 
Find the full list of ingredients, instructions, and a nutritional breakdown below. If you have questions or cook this recipe, please let me know in the comments, and make sure to rate this recipe so it's easy for others to find.
Print
---
Description
Roasted eggplant with tomato miso sauce is rich in umami flavour, slightly salty and sweet with just a touch of acidity. It's my take on the classic miso eggplant dish and perfect as a side dish or a main with rice or quinoa. It's a vegetarian, vegan, gluten-free and low-carb friendly eggplant recipe.
---
---
Preheat oven to 190°C (375°F).

Sprinkle the eggplant pieces with a little bit of salt. Leave for 5 minutes to draw out some of the moisture. Use a kitchen roll or kitchen towel to pat dry the flesh side.

Brush the eggplants with olive or coconut oil and roast on a flat baking tray for 20 minutes. Turn them over and roast for a further 10 minutes.

In the meantime, sauté the onions in olive oil over medium heat for 7-10 minutes, until soft and translucent. 

Add garlic and stir for a minute. Add tomato paste, chilli and water. Stir and cook for 8-10 minutes until thickened. Turn the heat off, add the miso paste and stir until well incorporated into the sauce. You can use a fork, a whisk or a potato masher to help dissolve the miso into the sauce.

Spoon the sauce over roasted eggplant and garnish with chopped spring onion. 
---
Notes
Instead of roasting the eggplant, you can slice it into thinner circles or strips and pan-fry them in a little oil until golden brown.
The sauce can be made ahead of time.
Nutrition
Serving Size:

2 pieces of eggplant with the sauce

Calories:

231

Sugar:

11.5 g

Sodium:

300.7 mg

Fat:

16.6 g

Carbohydrates:

21.6 g

Fiber:

9.2 g

Protein:

3.8 g

Cholesterol:

0 mg
Keywords: Eggplant, Aubergine, Miso, Tomatoes, Side, Vegan, Vegetarian