This healing and nutritious thirty-clove roasted garlic soup is full of anti-inflammatory, antibiotic and gut-loving properties. It's a great soup for colds and flu or if you need to give your gut a little care. This recipe is paleo, gluten-free and vegan-friendly.
---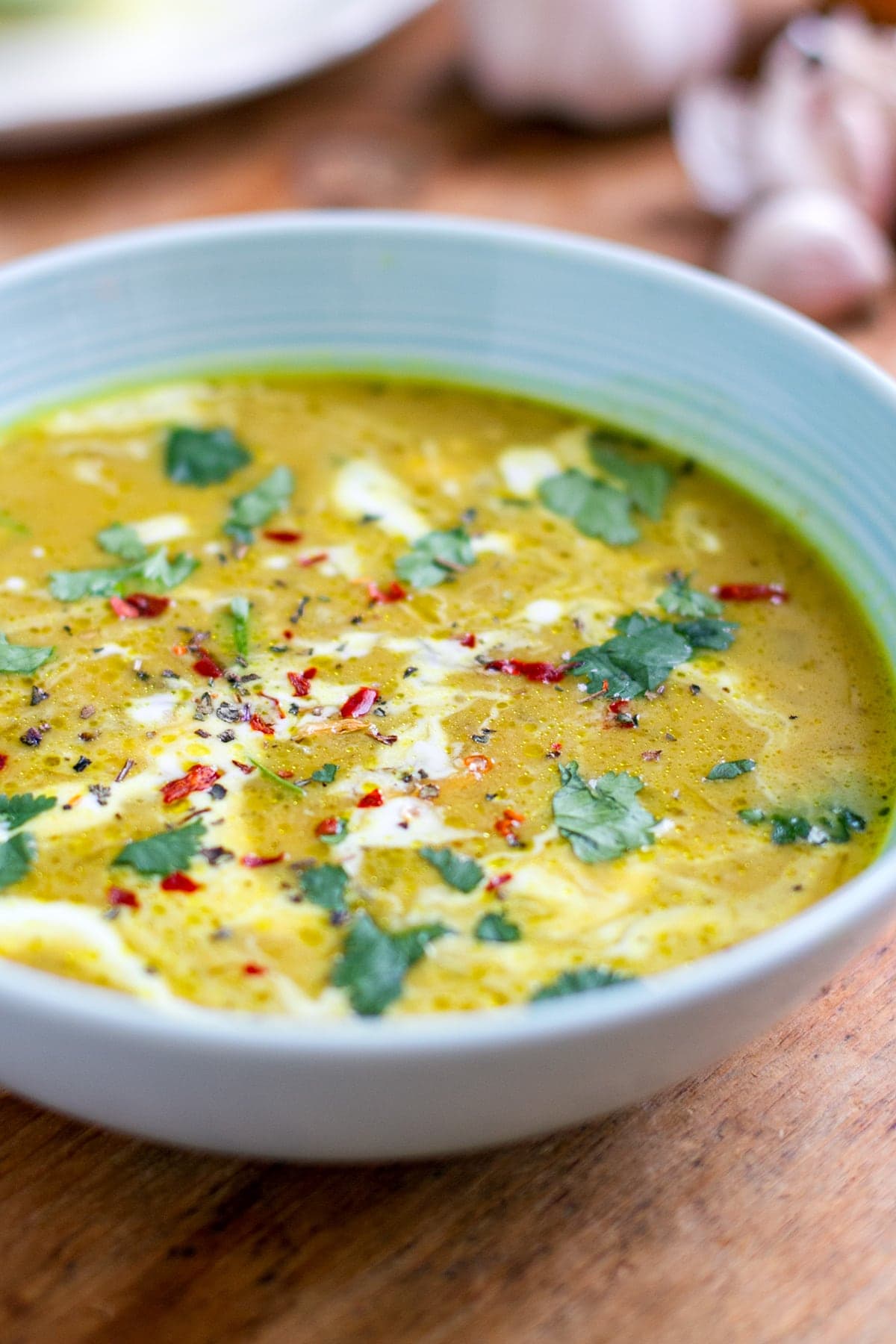 Thirty-Clove Garlic Soup
When I first received Lee Holme's book Heal Your Gut, this was the first recipe I bookmarked. I love garlic for both its health benefits and the flavour, and I was intrigued by a recipe that used so much of it.
To my surprise, the garlic flavour in the soup wasn't overpowering at all. I think mainly because the cloves are roasted first, which mellows out the garlic and makes it sweet and nutty. All I can say is this soup is freaking delicious!
Garlic and onion are the main ingredients in the soup, and although I think it's lovely on its own, you can turn it into a more substantial meal by adding chopped-up carrots or pumpkin, broccoli, some chicken or strips or fish.
Make a large batch and use as a base for stews and vegetable braises too. It's also AIP friendly, simply omit any chilli and if you're following strict AIP, omit cumin too; use coconut oil instead of butter.
Here is what Lee says about this soup in her book Heal You Gut, "Garlic is one of the most powerful medicinal foods. Its anti-inflammatory, anti-parasitic, antibiotic and antiviral properties make it an incredibly important ingredient in the defence against digestive assaults of all varieties. Load on garlic's goodness with this bold and flavourful soup."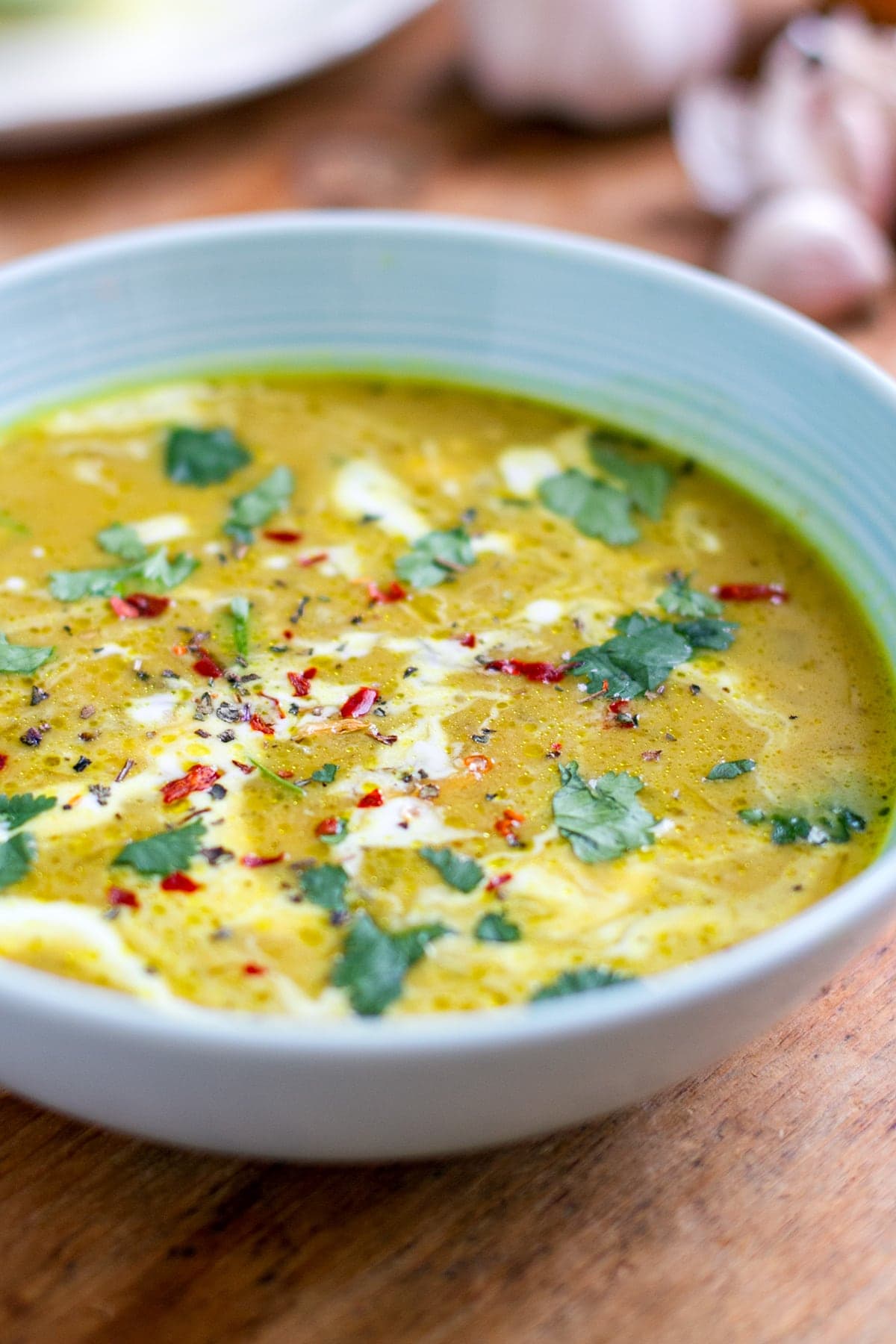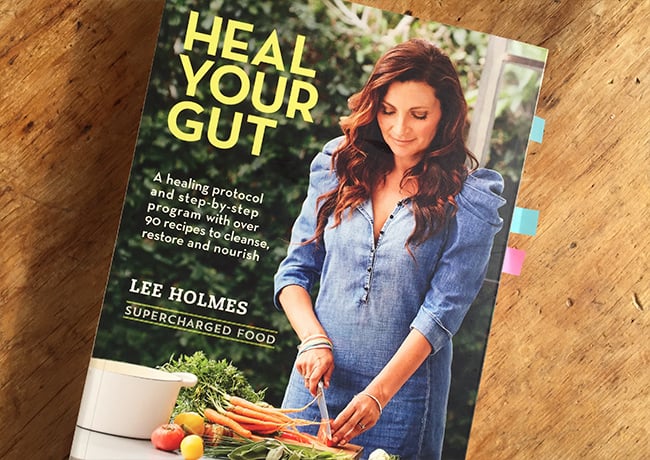 I've bookmarked a few other recipes to cook and I've been reading through all the insightful gut health info in the book. I was familiar with Lee's eBook version of Heal Your Gut and her online program but it's really nice to have the book in printed form. It's full of great tips and knowledge, a multi-phase gut healing program, meal plans and gorgeous recipes. Check it out when you get a chance.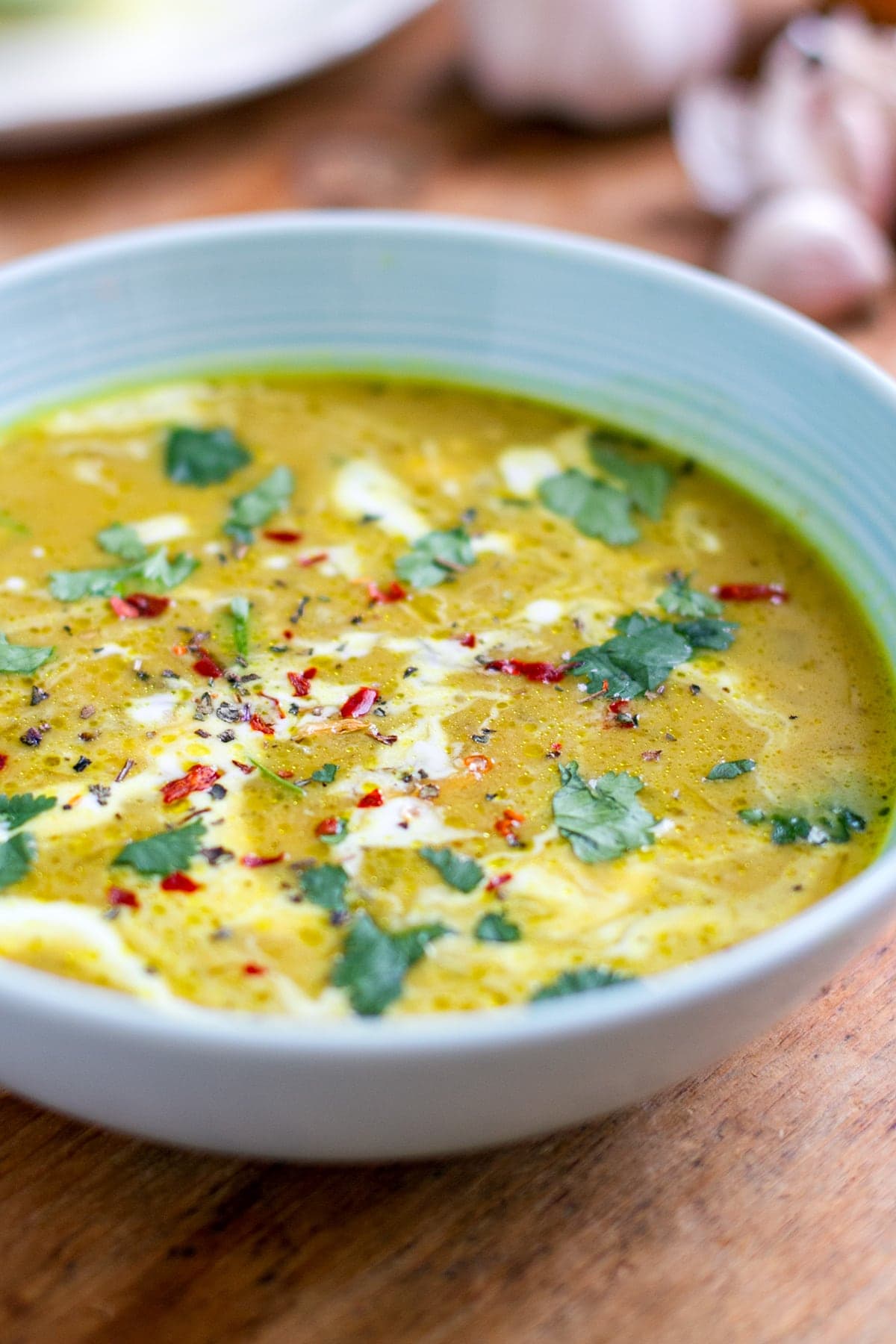 Notes For Making Roasted Garlic Soup
Below is the original recipe from the book, which I followed pretty closely except that I made a smaller batch. I used 2 bulbs of garlic instead of 3 and less stock, apple cider vinegar etc, but kept the cumin and turmeric in the same amounts because I love those spices.
I roasted the garlic for 30-35 mins as I think my oven is a little hotter and it looked like it would burn, I recommend keeping an eye on that part as burnt garlic goes a bit bitter and you want soft, golden brown, sweet garlic. I also cooked my soup for about 15 minutes, instead of 30, simply because I was short on time. It turned out great anyways.
I will definitely make this garlic soup again. It did feel very comforting and healing when I was eating it – garlic, turmeric, coconut milk – all the good stuff!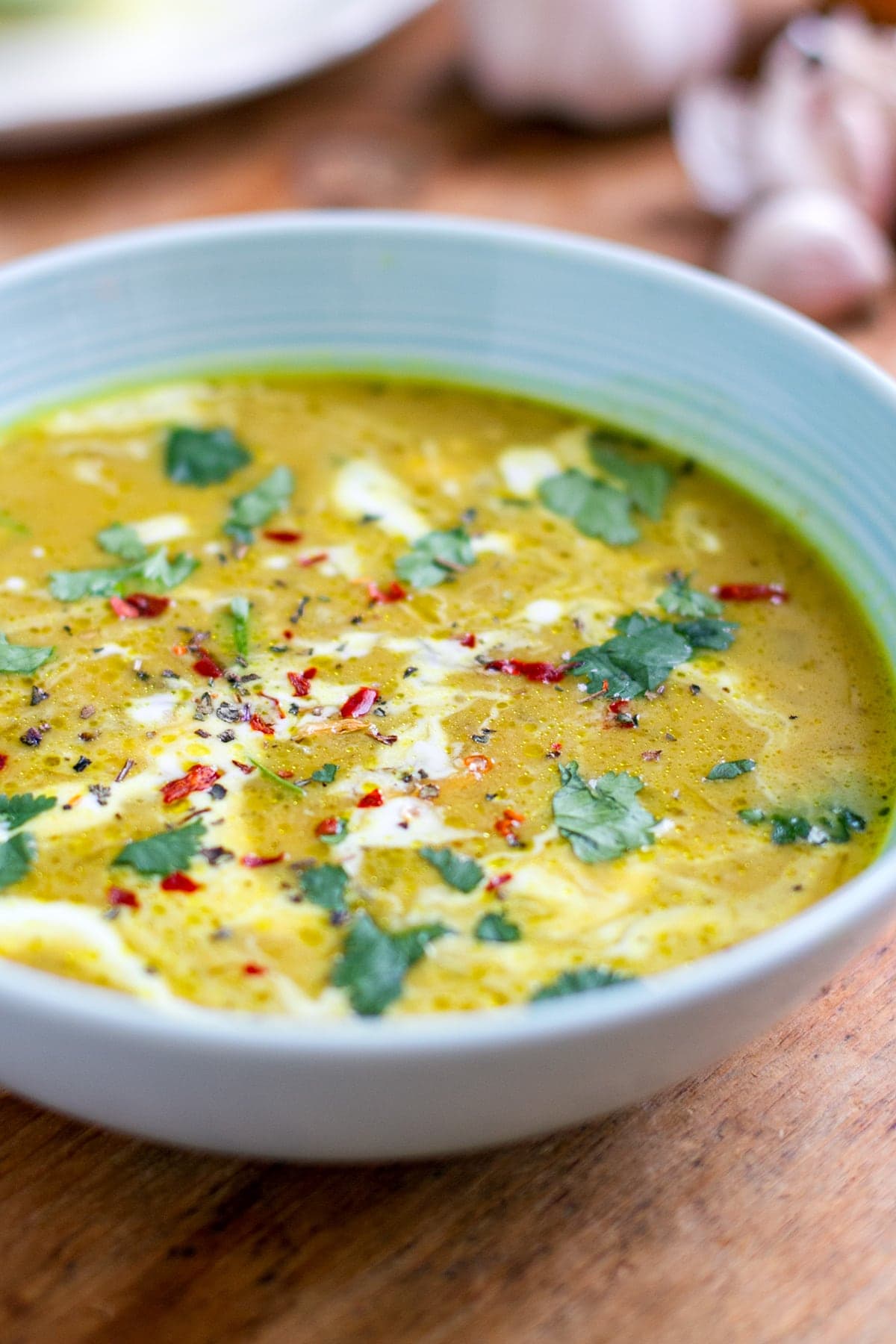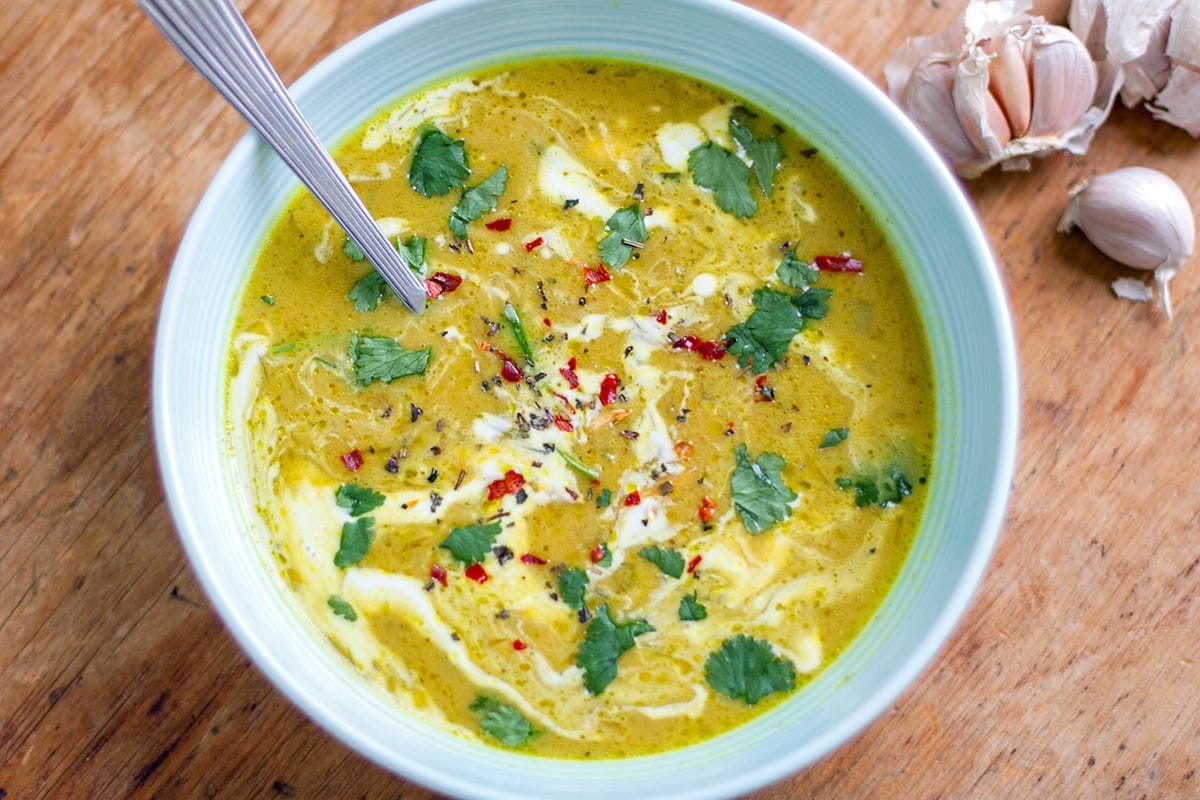 Print
---
---
Preheat the oven to 175 C / 345 F.
Slice 1 cm (1/2 inch) off the top of each garlic bulb to expose the cloves, then place cut side down on a baking tray. Drizzle with the olive oil, then roast for 45 minutes (I did mine for 30-35 minutes as they were getting to brown). Remove from the oven and set aside to cool. Once cool enough to handle, squeeze the garlic cloves out of their skins into a bowl of a food processor or a blender. I add some of the stock or broth and then whizzed for a few seconds. Set aside.
Meanwhile, heat the butter in a large saucepan over medium heat. Add the onion and cook, stirring frequently, for about 5 minutes, or until translucent. Add the stock or broth, turmeric, cumin, vinegar, tamari, lemon juice, blended garlic and broth, and herbs, if using, then bring to the boil. Reduce the heat to low-medium, then simmer, uncovered for 15 minutes (the original recipe says 30 but mine worked very well in 15, in case you're short for time).
Finally, I added the coconut milk and stirred through. Taste for salt and add a little more if needed. My stock was salty enough that I didn't need to add any more but I did add some chilli and cracked pepper. I garnished my soup with fresh coriander.
---