This website may contain affiliate links and advertising so that we can provide recipes to you. Read my privacy policy.
Air Fryer Whole Chicken is going to change the way you do chicken! Super easy, it comes out perfectly tender, juicy and full of flavor!
Air frying is an easy way to get dinner done, and done right! Serve with Potatoes, Salad, and some Rolls for a winner, winner, chicken dinner!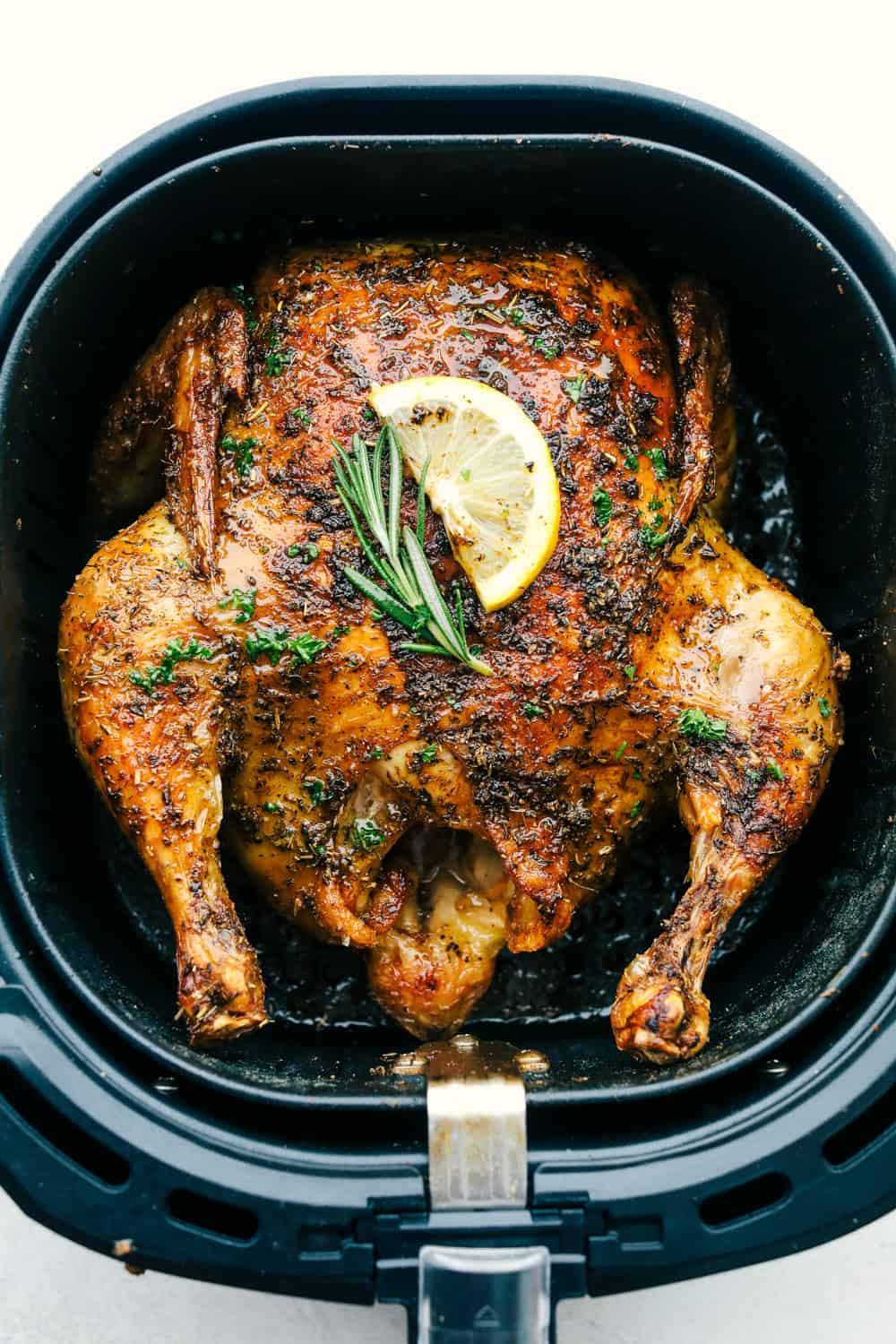 The Best Air Fryer Whole Chicken
Everyone loves those succulent rotisserie chickens you can buy at the grocery store. You pick one up and you can do so many things with it. Well, I have the perfect recipe that completely puts those rotisserie chickens to shame. Air frying a whole chicken, is super easy and it gives you this incredible crispy full of flavor outside. And tender, juicy, flavorful inside. I used to be intimidated by cooking a whole chicken, but it is so easy and the air fryer guarantees delish results every time.
Air frying whole chicken is also cheaper than buying one and you can have it on your time. I also love the fact that I can customize the spices if needed to. My whole family loves this chicken and I can use it so many different ways. Use the chicken all by itself or use it to make soups, casseroles, wraps, and more. You have to try this air fryer chicken recipe today!
What You Need For Air Frying
With just a few ingredients, you can have a rotisserie style chicken in no time. Change up the seasonings to your likings.
Whole chicken:  4-5 pounds and with the giblets removed.
Olive Oil: For coating the chicken to help it fry and the seasoning to stick.
Italian Seasoning: A wonderful combination of spices that will are delicious on chicken. You can make your own here.
Garlic Powder: Garlic and chicken are a good match, they will taste incredible.
Paprika: Adds color and flavor to the chicken.
Salt and Pepper: Add to taste.
How To Air Fry A Whole Chicken
You are going to love how hands off this chicken is. Just flip it once and you end up with impeccable juicy chicken every time.
Prep the Chicken: Rub the chicken with the oil.
Seasoning:  In a small bowl combine Italian seasoning, garlic powder, paprika and salt and pepper. Rub all over the chicken
Air Fry: Place the chicken breast side down in the air fryer. Cook at 360 degrees for 30 min.
Flip: Turn the chicken and cook for an additional 30 minutes or until the chicken reaches an internal temperature of 165 degrees.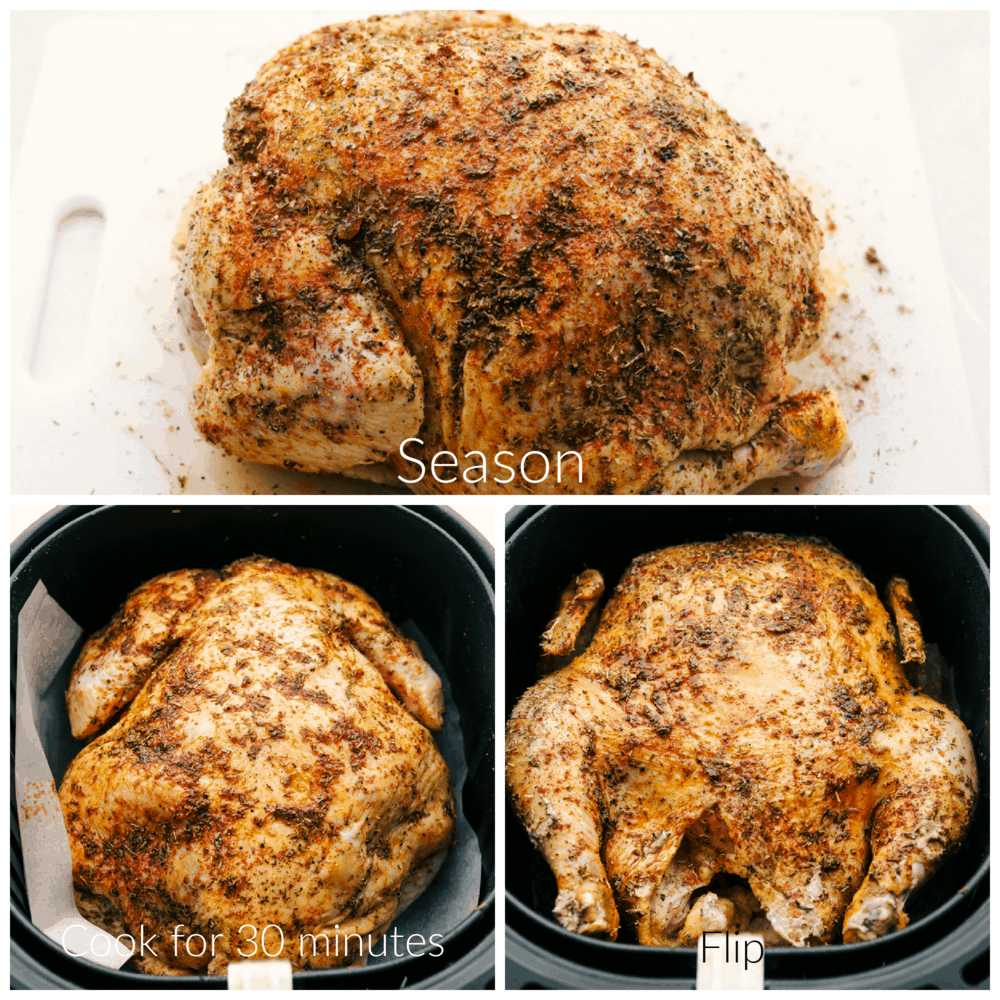 Tips For Tender and Juicy Whole Chicken
Truly air frying a whole chicken could not be any easier. And with just a few tips you can have the best chicken ready in about an hour.
Pat It Dry: After you remove the giblets from the inside, pat the chicken dry. This will help the oil and seasonings stick to the chicken. It will also crisp the skin up better because if there is extra moisture on the skin it will just steam.
Season: When you season the chicken, do it generously and completely. You want to cover the bird well so it will taste amazing all over.
Internal Temperature: This is super important, you want to cook the chicken till it 165 degrees inside. Insert the meat thermometer into the thigh area of the chicken and away from the bone. The temperature will continue to rise 1-3 degrees after the chicken is removed.
Start with Breasts down: You will want to place your chicken breast side down at first. This will help the juices keep the white, drier part of the chicken juicier as it cooks. Starting with the breasts up will result in a drier bird.
Flip: But you do want to flip the chicken halfway through to make sure the skin gets crispy all over. Trust me you don't want to miss that step.
Let it Rest: Once the chicken is done, you can either leave it in the basket and cover or remove and place on a cutting board and tent the chicken with foil. Let the chicken rest 10-15 minutes to allow the juices to reabsorb in to the meat before cutting.
Variations of Seasonings
With this recipe being so easy, it also amazingly customizable and you can use the chicken in so many ways. Depending on what you want to use it for, your spices and seasonings can be changed up.
Mexican: If you are using it in Mexican dishes, use cumin, chili powder, garlic, smoked paprika and even a taco or fajita seasoning blend.
Italian: For a more Italian flavor, keep the Italian seasoning, and add some extra oregano and basil
Dry Rub: Use ranch or Italian dry dressing as a rub with the olive oil or this French onion soup mix would be incredible.
Mix it Up! Other ideas include lemon pepper, Asian 5 spice, or any other flavoring you think will be good.
How to Serve Air Fryer Chicken
Possibilities are almost endless, besides being delicious on its own, this chicken taste scrumptious in so many things.
Soups: This chicken is so nice to add to soups to make your recipes go faster. Think Chicken Noodle, Chicken Taco Soup, and White Chili.
Sandwiches:  Chicken from the air fryer will make amazing sandwiches. Add it to Basil Pesto, Chicken Caesar Wraps or this Avocado Chicken Salad recipe.
Other: For everything else in between, it will work too. Think tacos, enchiladas, burrito bowls, pastas, salads and casseroles.  Try it in Chicken Spaghetti Bake, Cheesy Chicken Bacon and Broccoli Ranch Pasta, and Queso Chicken Skillet.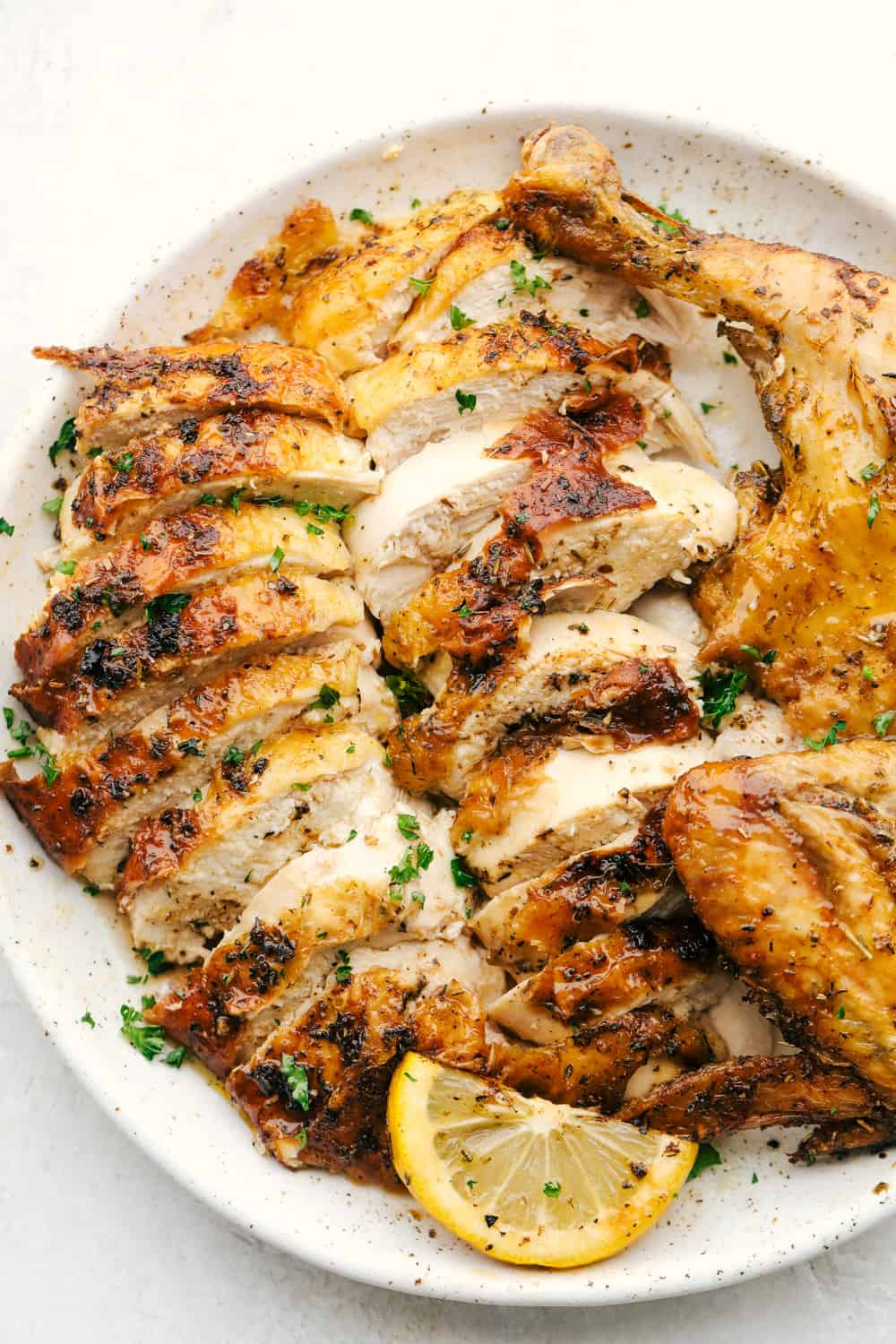 More Chicken Dinners to Love
Chicken for dinner is one of the best things you can have. It is easy to cook, super versatile and good for you too. Lower in fat and calories it is a favorite protein among everyone. I always have chicken in the freezer and I usually don't go home from the store without buying some. Because it is so fast to cook, it is awesome for those busy nights and you can dress it up so easily to make it super fancy if you need to. BBQ, baked, fried, it does not matter how you cook it, I have a recipe for you.