This website may contain affiliate links and advertising so that we can provide recipes to you. Read my privacy policy.
These Thai chicken skewers are marinated in coconut milk, curry, and spices and then grilled to perfection. It's a quick and easy meal that's packed full of flavor!
Eating and grilling meat on a stick is just easy and fun! You have to try these other skewers recipes Asian Garlic Steak, Hawaiian Teriyaki Chicken, and Cajun Shrimp and Sausage.
Thai Chicken Skewers with Peanut Sauce
I love Thai food, so I decided to recreate some of my favorite restaurant flavors at home with these grilled chicken skewers. Chunks of chicken breasts are marinated in coconut milk, curry paste, ginger, and lime, then threaded onto skewers and grilled. The marinade takes just 5 minutes to put together, and the chicken should sit in the marinade for at least one hour, or up to 8 hours if you like to plan ahead!
You can find all the ingredients you need for the marinade in any major grocery store. The red curry paste comes in small jars and is typically found in the ethnic foods aisle. If it's not grilling weather, you can either broil the chicken skewers or use a grill pan on your stovetop. After the chicken comes off the grill, it gets sprinkled with cilantro and chopped peanuts. These are so good, you are going to love them!
Ingredients for Thai Chicken
I serve these Thai chicken skewers with a quick and easy peanut sauce. If you're in a hurry, you can use a store-bought peanut sauce, but the homemade sauce tastes so much better and takes just minutes to put together. For the meaurements and full recipe see the recipe card below.
Boneless skinless chicken breast: Cut the chicken into 1 inch pieces
Coconut milk: You can find this int he Asian aisle by the soy sauce. It is often found in a can.
Brown sugar: Adds a bit of sweetness to the spice.
Red curry paste: Add more or less depending on how spicy you want it.
Knob of ginger: Peel and cut into 3 slices.
Zest of one lime: Wash and use a zester or the smallest holes of a cheese grater.
Salt and Pepper: Add to taste.
Chopped cilantro and peanuts: These are a garnish that you are going to want to make sure you use.
Peanut Sauce Ingredients
Creamy peanut butter: You can use natural peanut butter but the consistency will vary.
Soy sauce: Use low-sodium soy sauce if you desire.
Brown sugar: Adds a bit of sweet to the tang.
Lime juice: Use the juice of the lime you zested for the chicken.
Sesame oil: This is a finishing oil that adds incredible flavor.
Minced garlic: Use fresh for the best flavor but jarred will work when you are in a hurry.
Warm water: Add more or less to thin or thicken the sauce.
How to Make Thai Chicken Skewers
The next time you're craving Thai food, skip the take-out and make these chicken skewers at home instead, you'll be glad you did!
Make the Marinade: Place the coconut milk, brown sugar, curry pasta, ginger, lime zest, salt and pepper in a resealable freezer bag. Seal and shake to combine.
Marinate Chicken: Place the chicken in the bag. Marinate in the refrigerator for at least one hour or up to 8 hours.
Skewer: Remove the chicken from the marinade and thread onto skewers.
Grill: Preheat the grill or a grill pan to medium heat. Place the chicken skewers on the grill and cook for 4-5 minutes on each side or until cooked through.
Garnish: Sprinkle the cilantro and peanuts on top of the chicken and serve with peanut sauce.
Make the sauce: Combine the peanut butter, soy sauce, brown sugar, lime juice, sesame oil, garlic and warm water in a bowl. Whisk until smooth and serve alongside the chicken.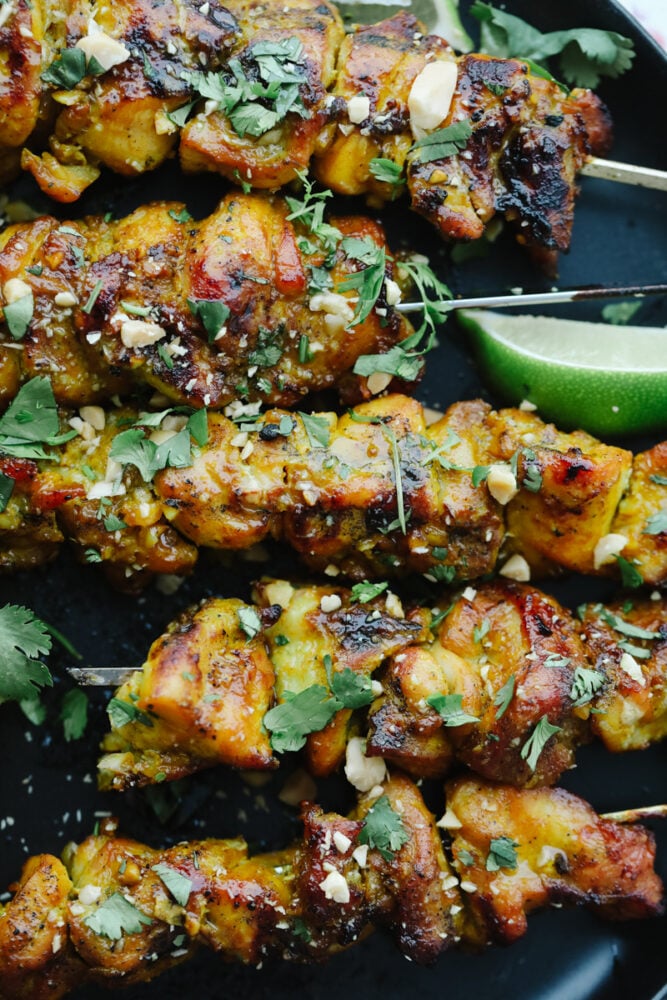 The Best Thai Chicken Skewer Tips
I typically serve my Thai chicken skewers with steamed rice and a green veggie to round out the meal; all of my kids happily devour this dinner which never happens!
Chicken: You can use boneless skinless chicken thighs as well as the breasts. Be sure to keep the cuts even and bite sized for fast even cooking. The chicken can be swapped out for pork, beef or shrimp. Cooking times will vary.
Marinate: The longer you can marinate the chicken the better the flavor it will have, so plan ahead and make sure you have ample time.
Skewers: Soak the skewers for at least an hour and up to overnight. No need to dry them before skewering the meat on.
How You Know it's Done: The internal temperature of chicken should reach 165 degress when done.
Baking and Serving Thai Chicken Skewers
You are going to want to keep ingredients for this handy so you can make it often.
Bake: If you want a hands off way to cook these chicken skewers try the oven. Bake on a baking sheet that has been lined with foil and sprayed. Make sure there is plenty of room between skewers so they do not steam. Bake at 350 for 15-20 minutes or till internal temperature is 165. For a charred finish broil for 1 minute on each side.
Serve: Thai Chicken Skewers go perfectly with rice or noodles. They can also be used to top salads, pizzas, vegetable stir fry, or make Thai tacos. Any way you make them they are going to be delicious!
How to Store Chicken Skewers
Leftover Thai Chicken can be stored in the fridge for up to 4 days or in the freezer for up to 3 months. Make sure they are placed in an airtight container or freezer-safe bag. Reheat in the microwave and then finish crisping in the oven or on the stovetop. Extra peanut sauce can be kept in the fridge for up to 4 days and can also be frozen for 3 months.