This website may contain affiliate links and advertising so that we can provide recipes to you. Read my privacy policy.
Slow Cooker Creamy Chicken and Broccoli over Rice is a super easy delicious meal the whole family will love!  Moist chicken and tender broccoli combine in a cheesy sauce that's absolutely divine. 
Slow Cooker meals are the best! Just put the ingredients in and let the slow cooker do the work and put a restaurant worthy meal on the table. It's perfect for busy days, lazy weekends and everything in between. Try these slow cooker dinner winners tonight. Slow Cooker Beef Bourguignon, Slow Cooker Jambalaya and the Best Slow Cooker Mongolian Beef.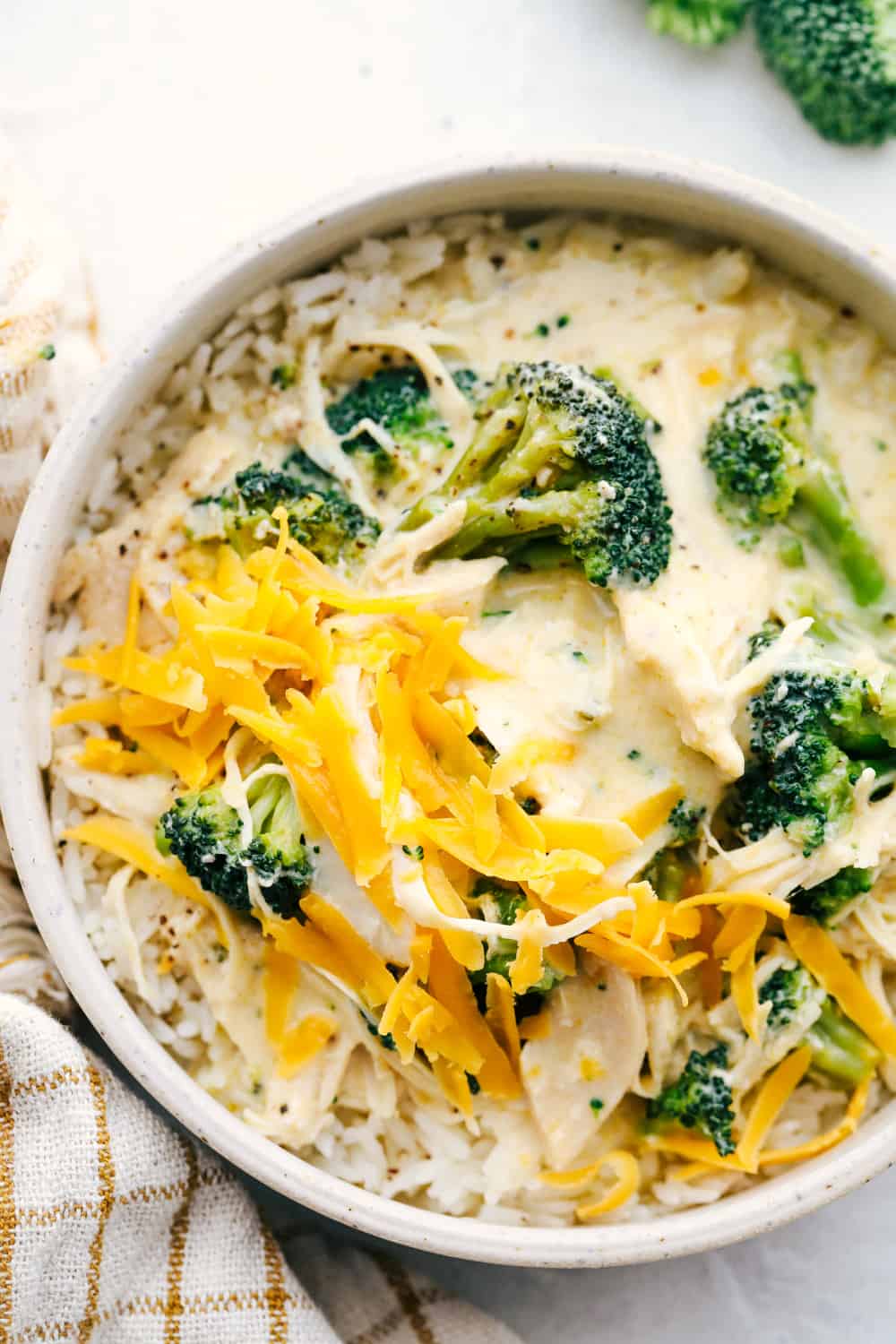 Creamy Chicken and Broccoli with Rice
Do you ever make something in the crockpot and think, wow this has been one of the best things that I have made? Yeah those thoughts came to my mind as I was eating this like a starving pregnant woman.
This is absolutely fantastic. As a food blogger, you are constantly making and trying new things. This will be made again and again at our house. And when you make something over and over as a food blogger you know that it is good! The cheesy cream sauce of this chicken and broccoli was the best. The flavors maintained though out the cooking process. Then you add in the broccoli and serve it over rice. A delicious meal all in one!
Creamy Chicken and Broccoli Ingredients
Pantry staple ingredients make this recipe easy and quick to throw together. My secret ingredient is the cajun seasoning. You'll add just enough to add a nice kick of flavor but not make it spicy. It's absolutely luscious.
Chicken Breasts: Use boneless, skinless chicken breasts for easier prep.
Cream of Chicken Soup: You can buy this at the store or make your own for a truly amazing sauce.
Cheddar Soup: This can usually be found near the canned cream soups in the soup section.
Chicken Broth: This will intensify the flavor of the chicken.
Salt: Just to taste
Cajun Seasoning: Adds a unique blend of spices for a dish that's divine.
Garlic Salt: Adds a nice bit of garlic flavor.
Sour Cream: Adds super creaminess and richness.
Broccoli Florets: You can use fresh or frozen.
Cheddar Cheese: I like to use medium cheddar for a good cheesy tang.
Making Slow Cooker Chicken and Broccoli
You are going to love how easy this to put together. It's always the best when you can sit back and let the slow cooker do all the work for you. Cooking it in the slow cooker melds all the flavors into the chicken creating moist tender chicken as well as packed with flavor. The broccoli is tender and not mushy which is perfect, and with an extra bit of cheese no one is complaining at the table when this is served!
Dump: Spray the crockpot with cooking spray and put in the cream of chicken soup, cheddar soup, chicken broth, salt, cajun seasoning and garlic salt. Stir to combine and until smooth.
Place: Put the chicken in the bottom of the crockpot, make sure it's covered with the soup mix.
Cook: Cover and cook on low for 4-6 hours or high for 3 hours. The last 30 minutes of cooking, shred the chicken with two forks.
Add: Add in the broccoli, sour cream and cheese. Cook for about 30 more minutes until the broccoli is tender and heated through.
Serve:  Serve over rice and garnish with more shredded cheese if desired. I would say you should desire more cheese.
Tips and Variations for Slow Cooker Chicken
Yes, this is a casserole, and yes I love casseroles. They are one of the best ways to have a complete meal on the table that tastes scrumptious. It has protein, it has veggies and it has a carb. All you need is a fruit salad and maybe some rolls and you are set.  You are going to love it!
Chicken: If you have extra time in the beginning, you can pre cut the chicken into bite sized pieces before cooking it and skip the shredding part at the end. Just add the sour cream, broccoli and cheese still the last half hour of cooking. Skinless, boneless chicken thighs would also work for this dish, but I would pre cut them, as they won't shred as easily.
Rice:  We love this served over white rice, but it can be served over other things with just as much success. Try subbing in brown rice, pasta, quinoa, riced cauliflower, a baked potato, or sweet potato to serve this over instead. All will taste amazing!
Broccoli: If you are worried about having crunchy broccoli you can partially steam your broccoli before adding it to the slow cooker. Both fresh and frozen might need it and it depends on your tastes. You can also add other veggies to mix it up a bit. Add in sautéed mushrooms, peppers and onions for flavor, color and texture.
Top it: Top this dish with extra cheddar cheese a dollop of sour cream or crumbled bacon. Any of these or all of them would be divine.
Turn up the Heat: You can add extra cajun seasoning if you want a spicer dish. Although I wouldn't recommend it if you're feed young ones.
Can I Make this in an Instant Pot?
Yes, you can! But it'll take a little tweaking, and you'll have to babysit it more. Because of that I do like this recipe as is in the slow cooker.
Add whole chicken breasts to a lightly greased instant pot. Add in the spices and chicken broth. Pressure cook for 15 minutes. Remove the chicken and shred. Add back to the pot and add in the broccoli, and soups.
Turn on the sauté feature of your instant pot and bring the dish to a boil. Stirring often let cook till broccoli is crisp tender.
Turn off the instant pot and stir in the sour cream stir till mixed in. Replace the lid and let the mix sit and heat through about 10 min. Serve over desired options.
More Slow Cooker Favorites For All Occasions
Slow cooker recipes are here to stay. We have instant pots, air fryers and such, but the slow cooker is still a favorite and always will have a spot in the kitchen. Slow cooking creates juicy main dishes with flavor and texture infused within. It's a wonderful way to have dinner ready for you when you get back from work or running errands. It's a method of cooking here to stay and these winners are exceptional in the slow cooker.