This website may contain affiliate links and advertising so that we can provide recipes to you. Read my privacy policy.
This Slow Cooker Crack Chicken (Cheddar Ranch Chicken) is an addicting concoction of chicken, cheese, bacon and perfectly seasoned with ranch dressing. Cooking this in the slow cooker takes all the work out of it and makes it a super simple hearty dinner on busy days.
Things are called "crack" for a good reason. They're just so good you get addicted. You just can't enough like this Best Christmas Crack Recipe. This Crack Chicken is amazing especially when made with Homemade Ranch Dressing Mix.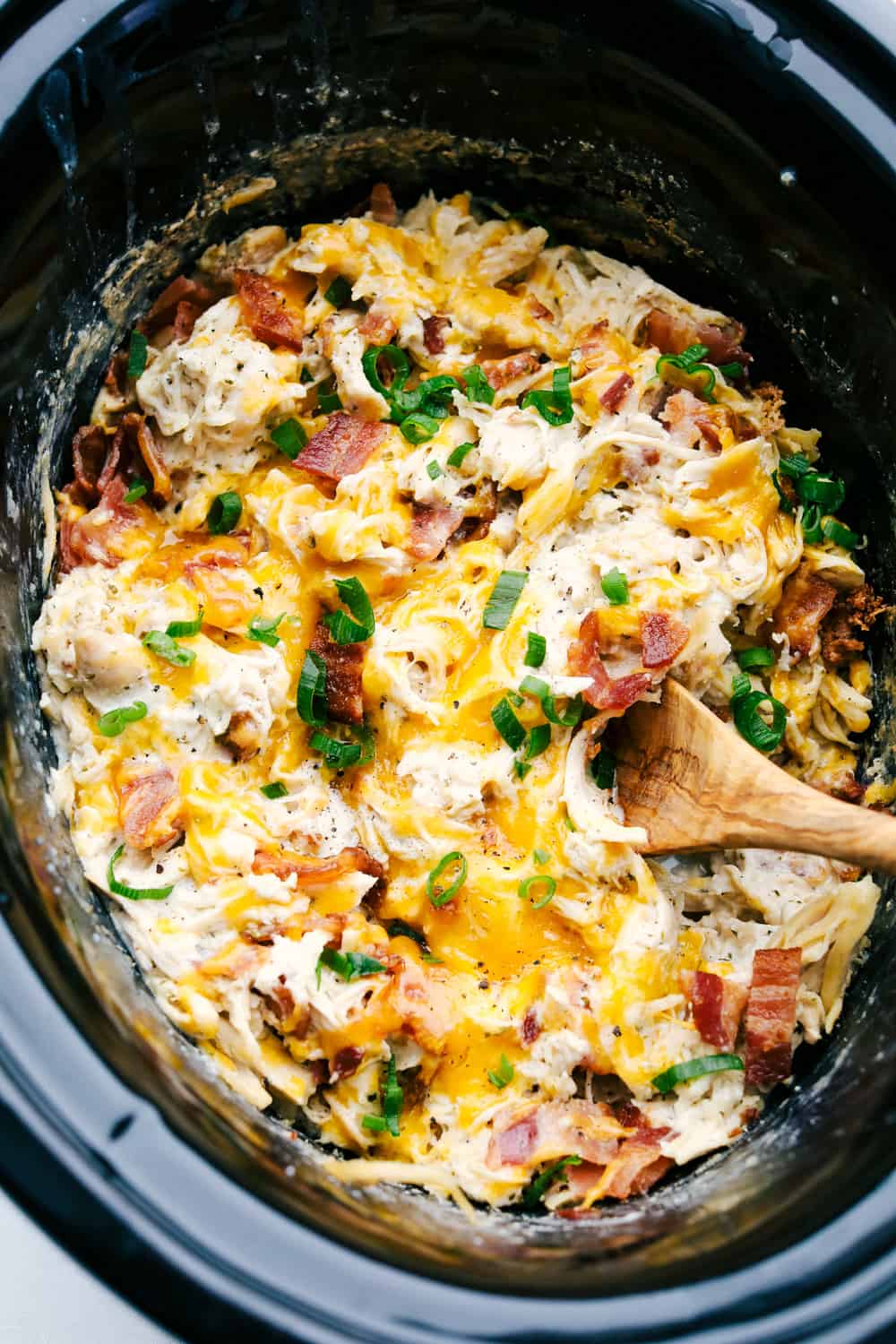 Crack Chicken Recipe
What exactly is "Crack Chicken?" It's that classic combination of cream cheese, ranch, cheddar and bacon. Similar to the Crack Dip, this has all the same delicious flavors, but made meal worthy by adding chicken. Now you can have a bowl full and not feel guilty, like you might if you had a whole bowl full of just dip.
This keto friendly dish is so versatile, and everyone loves it. It's a hearty, rich and creamy meal. Perfect for any occasion, it's like the little black dress of dinners. Dress it up or down depending on the occasion and it's a winner either way.
Cheddar Ranch Chicken Ingredients
Simple ingredients when put all together taste so amazing.
Boneless Skinless Chicken Breasts: I love that you don't have to pre cut these
Homemade Ranch Seasoning: This is the dry mix not ranch dressing. Using homemade is SO GOOD
Cream Cheese: Creamy and decadent filling
Bacon: Cooked and crumbled then stirred into the chicken mix.
Cheddar Cheese: Shredded over top and melted when warm.
Green Onion: Top it off as a garnish!
How to Make Crockpot Crack Chicken
This is so easy, you'll wonder why you haven't tried it sooner.
Slow Cooker: In the bottom of a slow cooker place the chicken. Sprinkle with dry ranch dressing. Cut the cream cheese into cubes and place over the chicken and seasoning.
Cook: Cook on low for 6-8 hours or high for 4.
Shred: Shred the chicken and top with bacon and cheese. Cover till melted. Garnish with green onions.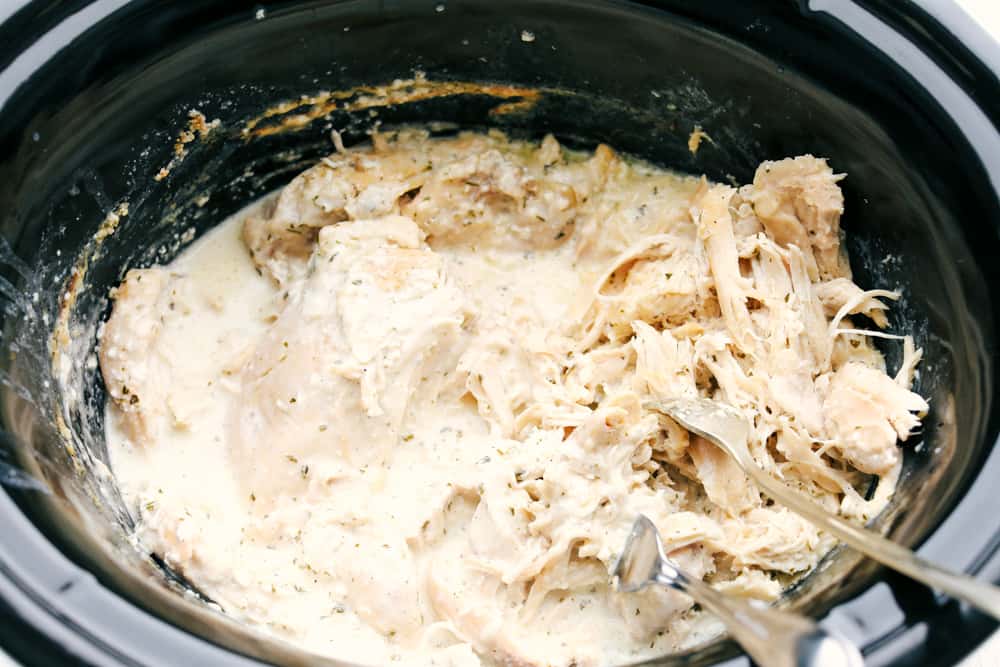 Tips for the Best Crack Chicken Slow Cooker
It's really difficult to mess up this Crack Chicken recipe but here are a few tips to help it be awesome.
Chicken: Use skinless and boneless chicken for less fat and grease. You can use boneless skinless chicken thighs with the same success as chicken breasts.
Bacon: For the best taste and texture use real bacon crumbles not bacon bits which can be pretty artificial tasting.
Keep it from Drying! This is definitely a recipe you don't want to over cook it. The best success is long and low.
Cream Cheese: Chunk the cream cheese and distribute evenly over the chicken for even melting.
Cheddar Cheese: Bacon and cheddar just go together but you can easily change it up, try jalapeno pepper jack for a kick, colby or even swiss.
Storing Cheddar Ranch Chicken: Keep this in an airtight container for up to 3-4 days and YES you can freeze it. Put it in a freezer safe airtight container and it will keep for up to 3 months.
Double: Double the recipe and freeze leftovers for quick dinners or even lunches.
Shredding Chicken: The easiest way to shred chicken is with your hand mixer right in crock pot. It's easy and fast. Or you can also just use two forks.
What Do You Eat Crack Chicken With?
Slow Cooker Crack Chicken is such a versatile dish. It can be served so many different ways, making it a new dish each time!
Over rice: This adds an asian twist.
Hamburger buns or Pitas: Place on oven toasted buns for a delicious sandwich.
Mashed potatoes: Over top for a rich and tasty meal.
Inside of baked potatoes: Split open your baked potato and insert the chicken right inside.
Crackers and veggies: Make a fun dip with a fun tray full of deliciousness.
Wrapped in a Tortilla: Something light but simple for a quick lunch or snack time.
Lettuce Wraps or on top of a salad: Add a little more to your greens with this hearty chicken and cheese.
In Pitas or Croissants: Another idea for a quick lunch or a gathering.
Pasta: Bring on something filling with noodles and this chicken.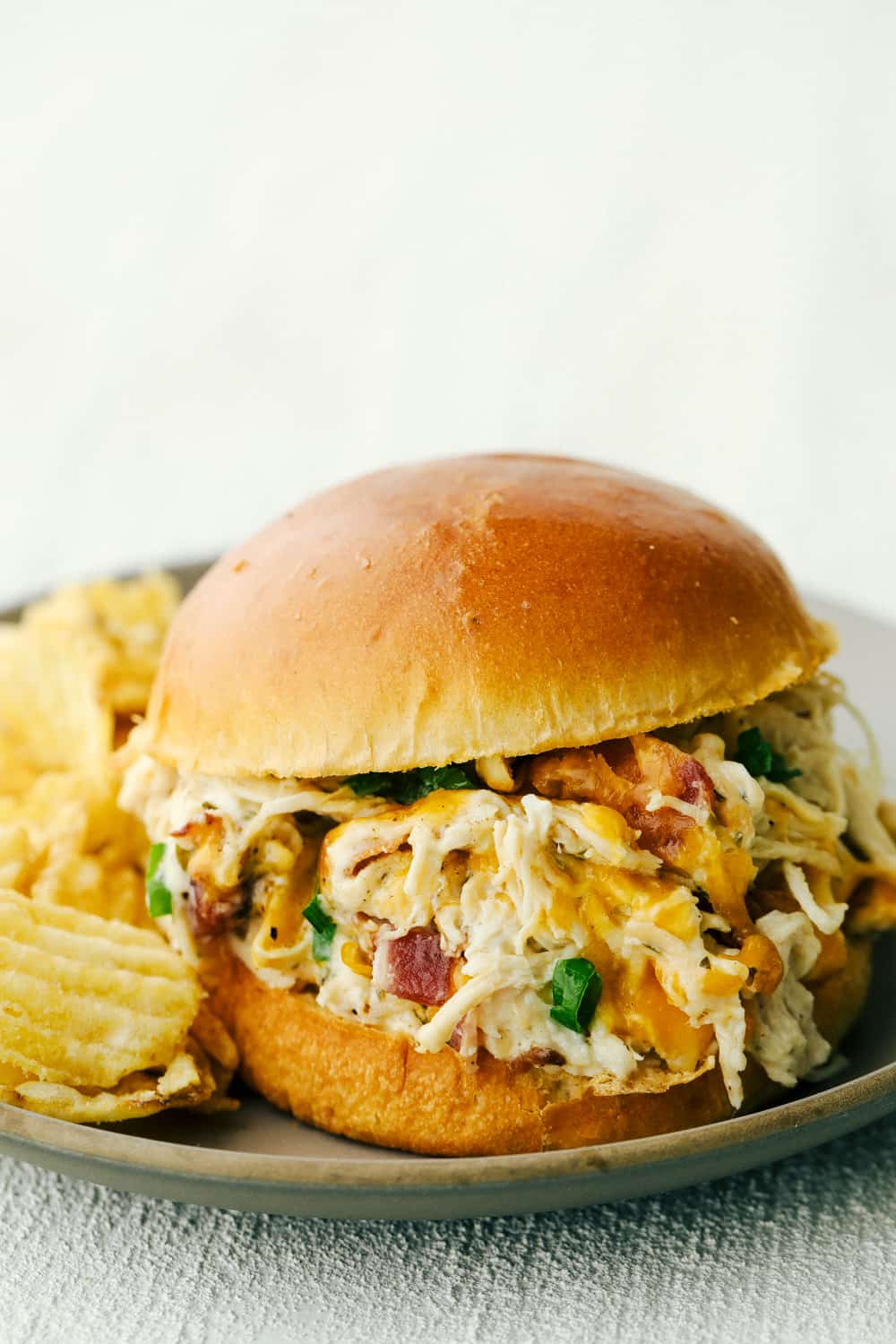 More Slow Cooker Chicken Recipes to Love
These chicken favorites are made so much easier in the slow cooker,  and that makes life so much easier.