This website may contain affiliate links and advertising so that we can provide recipes to you. Read my privacy policy.
Slow Cooker Brown Sugar Balsamic Chicken and Vegetables is a fantastic meal with tender and juicy chicken with a delicious sweet and tangy balsamic sauce. This slow cooks to perfection with veggies making an awesome meal in one!
Let the slow cooker do all the work! We love slow cooker meals in our family, try this Slow Cooker Mississippi Pork Roast (To Die For), Slow Cooker General Tso's Chicken, Slow Cooker Stuffed Bell Peppers or Slow Cooker Thai Peanut Chicken.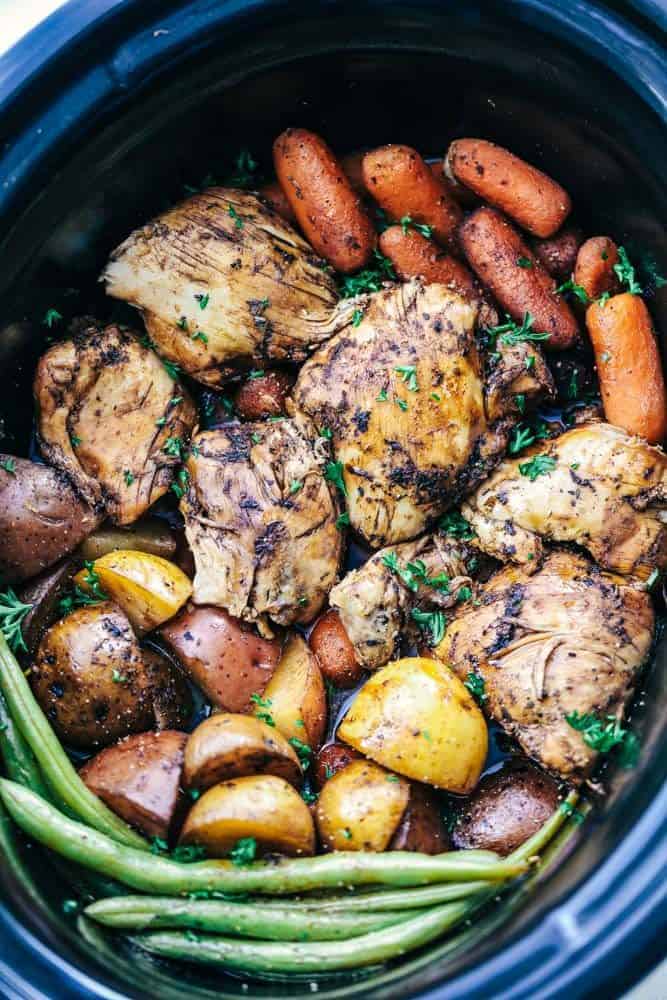 Slow Cooker Brown Sugar Balsamic Chicken
I know slow cookers are pretty popular in the winter time but I use mine all throughout the year.
There is just something about the slow cooker that I absolutely love.
The meat and veggies just slow cooks all day to tender perfection.
I am also a huge lover of balsamic vinegar.
You will not believe how minimal the ingredients are in this slow cooker meal and how incredible the flavors are.
What you need to make brown sugar balsamic chicken
You don't need a lot of ingredients when using balsamic vinegar and you just let it do its thing and add that tangy flavor that we all love.
Of course I do love using brown sugar with balsamic vinegar.
It is going to add just a bit of sweet making it sweet and tangy. It is incredible!
Olive oil: subtle hint of flavor while coating and blending the chicken and vegetables.
Garlic: added garlic flavoring.
Baby carrots: a classic vegetable in a slow cooker.
Red potatoes: love how red potatoes turn so tender in a slow cooker.
Boneless skinless chicken thighs: thick, rich and meaty chicken with all the flavor.
Brown sugar: a little sweetness for your chicken.
Balsamic vinegar: all the flavor cooked on top of the chicken and vegetables.
Green beans: fresh vegetable taste.
Parsley: garnish on top!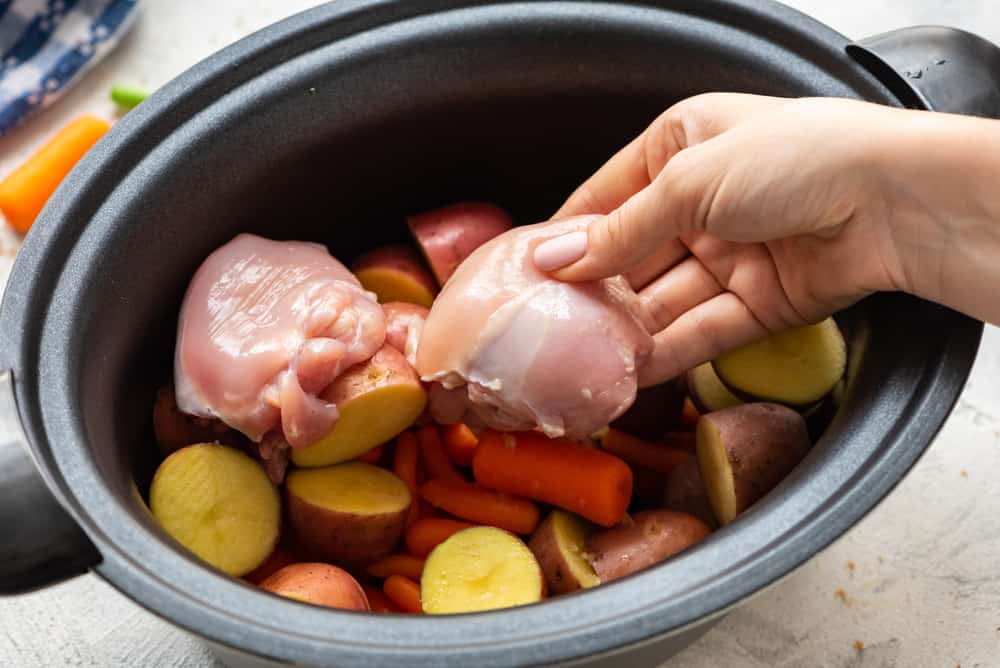 How to make slow cooker brown sugar balsamic chicken
So let's break this meal down.
An easy dump it in a slow cooker meal with minimal ingredients and it has incredible flavor. This meal is a no brainer!
The chicken is melt in your mouth tender and the veggies cook to perfect tender perfection.
This meal will become one that you make again and again. I know that your family will love it just as much as we did!
Prepare your slow cooker: Pour olive oil and garlic in the bottom of your 5-6 quart slow cooker. Line the bottom with baby carrots and potatoes. Add the chicken thighs on top.
Whisk balsamic vinegar: In a small bowl whisk together the brown sugar and balsamic vinegar. Pour it on top of the chicken thighs and veggies.
Slow cook your meal: Cover and cook on low heat for 8 hours or high for 4 hours. Add green beans during the last 30 minutes of cooking time. Garnish with fresh parsley. Enjoy!
Tips for making slow cooker brown sugar balsamic chicken
You can't go wrong with this tried and true dinner recipe!
It is an all in one combination and a complete meal for a busy weekday.
This chicken tastes amazing no matter what type of chicken you use or what variations of vegetables.
This will become a family favorite and it is so simple to make.
Let the slow cooker do all the work!
You can substitute the chicken for chicken breasts or chicken drumsticks if you prefer.
The chicken is done cooking when there is no pink inside and the juices run clear. It is hard to tell in a slow cooker with a glaze. I like to use a meat thermometer. Once the thickest part of the chicken reaches 165 degrees Fahrenheit, that is a good indicator that your chicken is cooked through.
If you prefer larger potatoes just cut them into quarters or about 1 inch pieces.
Adding in honey to the glaze sauce does add a hint of sweetness but it can also over bake and scald the bottom of the slow cooker. It is best to do a small amount and leave your slow cooker on low and not high.
Running out of time, switch your setting to high and cook for 4 to 5 hours with the lid on.
Needing a quicker way of baking your chicken, add your ingredients to a greased or foiled baking sheet and bake at 425 degrees Fahrenheit for about 15 to 20 minutes or until your chicken is cooked through and your vegetables are tender.
Slow cooker brown sugar balsamic variations
I am always a fan of meat and vegetables along with the classic chicken, carrots and potatoes. I do love a combination too!
Mixing up your vegetables is always a fun way to enjoy a regular meal but with a variety each week.
Kids love it too! They get to see what is new cooking in the slow cooker and get to enjoy more colors of vegetables on the dinner plate!
What is your favorite vegetable and meat combination?!
Potatoes: Try diced sweet potatoes or Yukon potatoes all diced into quarters or about 1 inch thick.
Vegetables: Use cauliflower, parsnips, broccoli, turnips, asparagus or Brussels sprouts.
Toppings: Always a fan of bacon, parmesan cheese or a drizzle of garlic butter for added flavor.
Storing slow cooker brown sugar balsamic chicken
I am not always a planner but I do love meal planning and this is the best chicken to meal plan with!
It already has 8 thighs ready to cook for you plus all the vegetables you need.
You can't go wrong making this meal as a dinner, meal plan, left overs or frozen for a quick meal later on.
Enjoy this meal as many times as you can!
Making ahead: this is a great make ahead meal! You can get it all ready and start the slow cooker even through the night. Once it is cooked you can leave it on warm in the slow cooker or portion it out for a weeks worth of meals for meal planning.
Refrigerator: once your slow cooker has cooked the chicken and vegetables, let it cool completely. Once it is cooled, you can add it to an airtight container or a ziplock bag that can be stored in the refrigerator for 5 days. If I am using a ziplock bag, I like to separate my vegetables and chicken so the chicken does not smash the soft vegetables.
Freezer: enjoy this meal now and later! Simply let the chicken and vegetables cool and place in an airtight container or a freezer bag. This will last in the freezer for about 1 month. When ready to warm up, simple place back in the slow cooker or bake in the oven until your chicken and vegetables are warmed through.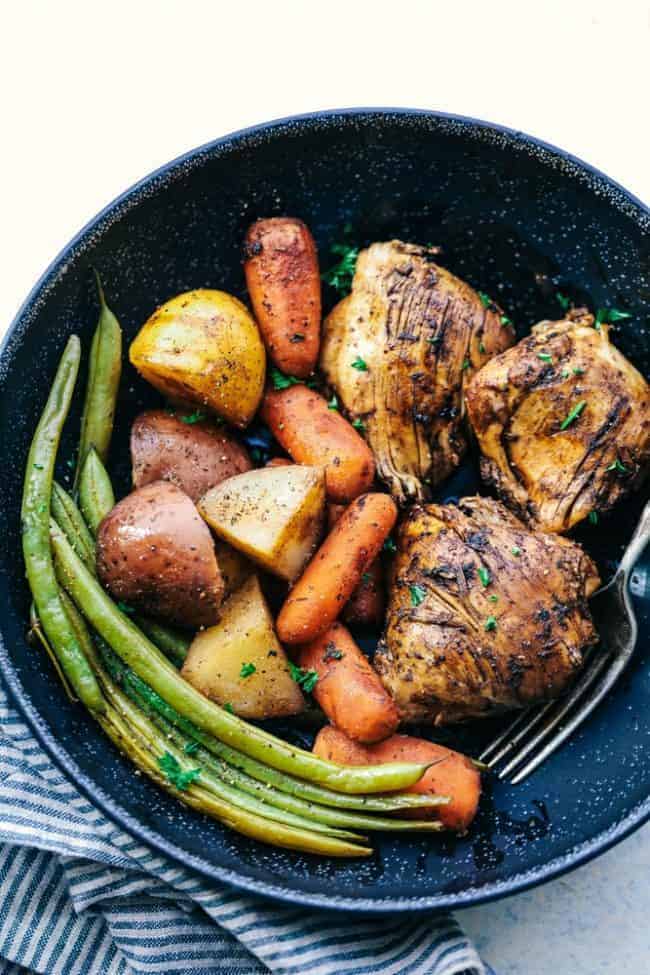 More balsamic chicken recipes