Learn how to make super easy roasted chicken thighs with Mediterranean-inspired oregano and garlic marinade. Serve with vegetables or a salad for a nutritious, family-friendly dinner meal. Gluten-free, paleo, Whole30, keto-friendly. 
---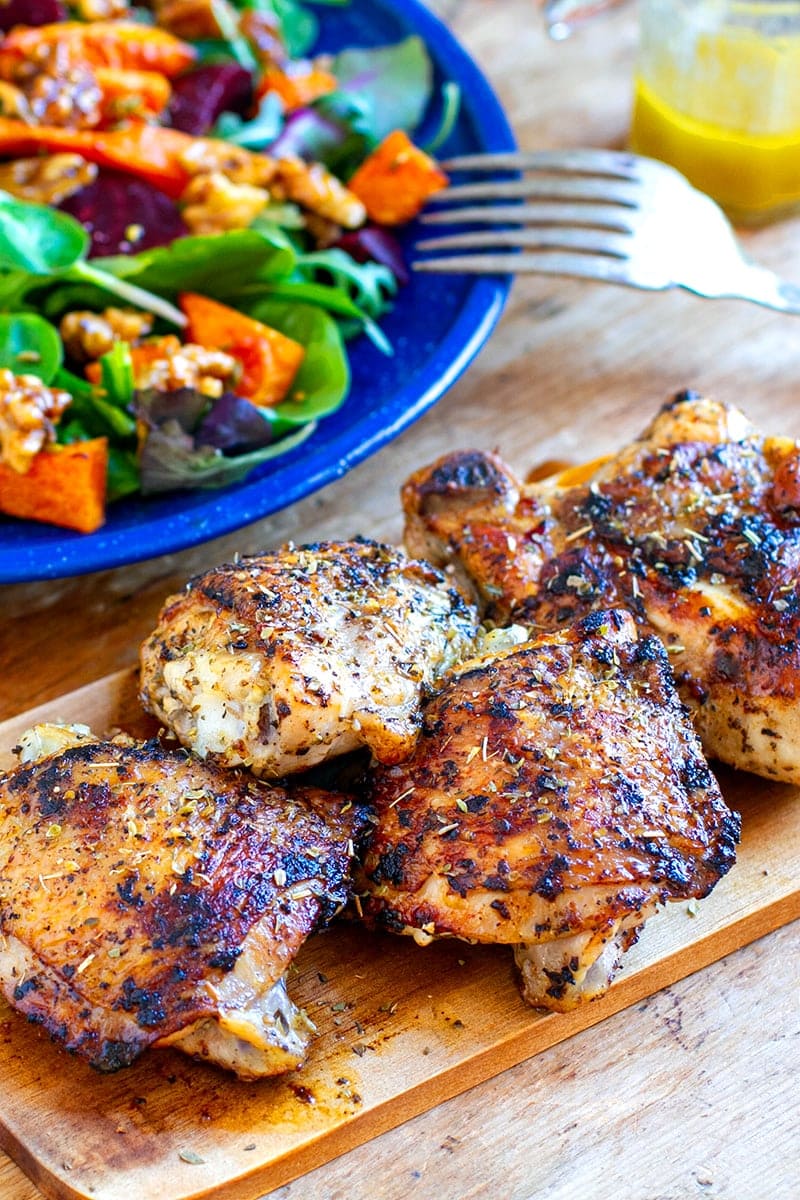 Chicken thighs are easily accessible and affordable making them a great choice for a family dinner. But, I also like to use them because they have much more flavour and juicier texture than chicken breast. For this recipe, you can use but you can, of course, use chicken breast or drumsticks as the marinade will work well for either.
I always recommend free-range chicken meat not only because it is more ethical but it tastes better and has a more superior nutrition profile. Given that chicken thighs are generally cheaper than other poultry cuts, free-range should be the default choice in my opinion.

How To Make Roasted Chicken Thighs
For this chicken thigh recipe, I am using meat with the bone and skin in. If you're trying to lower your calorie intake, I recommend removing the skin first. Thighs without the bone will need a few minutes less in the oven but will work fine following the instructions exactly. 
The meat is marinated using dried oregano, garlic and lemon juice – a classic Mediterranean combination that works so well with white meat. The longer you can marinate the chicken the better it will be but even 20 minutes will suffice.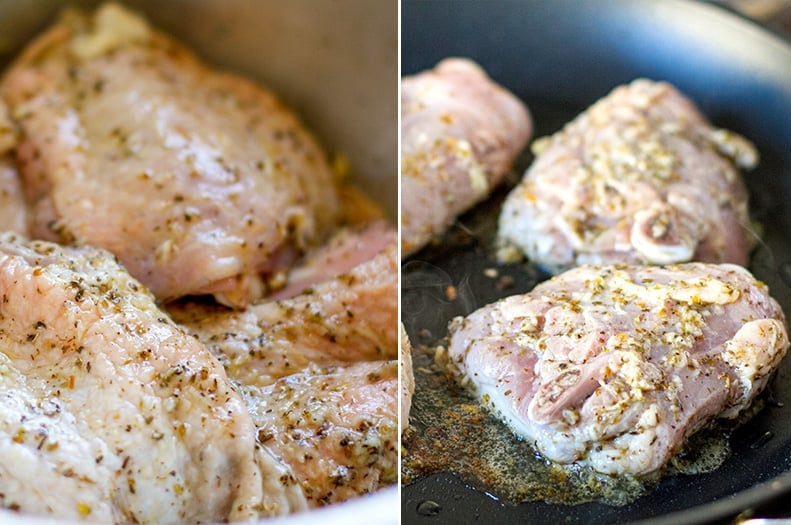 If oregano is not your speed, feel free to use some parsley, basil, thyme or coriander, or mixed dried Italian herbs. 
The chicken is first cooked in a frying pan to seal in all the juices and to brown the skin. It is then transferred to the oven to finish. If you have a cast-iron or another oven-proof skillet, you can do the pan-frying and roasting in the same dish. Otherwise, use a pan and an oven tray.
What To Serve With Oregano Garlic Chicken
Roasted chicken thighs will go well with a variety of side dishes. I served them with my pumpkin and beetroot salad as you can roast the vegetables at the same time as the chicken (give them a head start, though). A big, nutritious rainbow slaw salad or my Georgian salad will go great in summer or you can batch-cook my Spanish vegetable stew for a comforting, autumn or winter dinner.
For a more satiating meal, you can serve chicken thighs with quinoa, rice or sweet potatoes.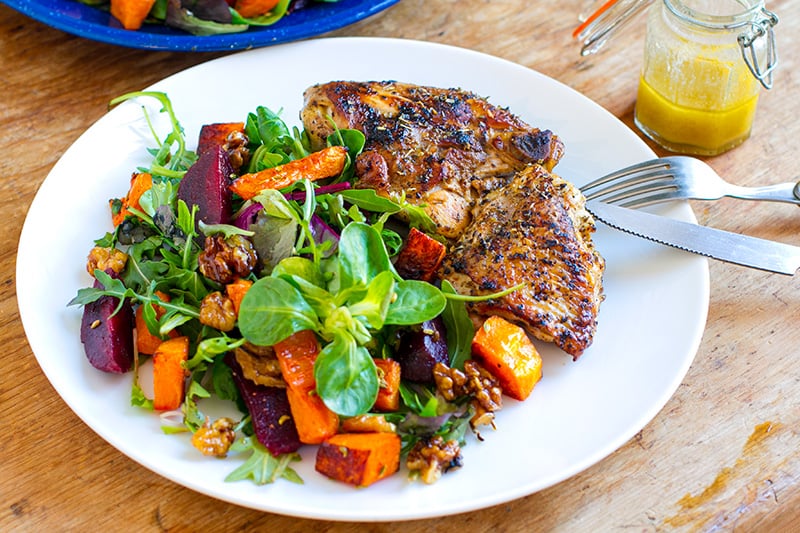 Print
---
Description
Juicy and full of flavour, these roasted chicken thighs are perfect for dinner or lunch. Marinted with oregano, garlic and lemon juices, the chicken is cooked in a pan and finished by roasting in the oven till perfectly crispy on the outside and tender on the inside.
---
---
Combine garlic, oregano, lemon juice, olive oil, salt and pepper in a mixing bowl and add the chicken. Rub the marinade all over the chicken and allow to marinade for 1-2 hours; if you can leave it overnight in the fridge, the flavours will be more developed. If in a rush, set aside for 15-20 minutes.
Preheat the oven the 200 C/ 400 F. If the chicken was in the fridge, remove and allow to come to room temperature for 20 miuntes before cooking.
Heat a tablespoon of oil in a large skillet or frying pan over medium-high heat. Rub off some of the chicken marinade from the skin side of the chicken (to prevent it from burning) and add the chicken pieces, skin side down to the hot skillet. Reserve the marinade in the bowl. Cook for 3-4 minutes each side, over medium high heat.
Now, it's time to transfer the chicken to the oven. You can place the pieces onto an oven proof tray or dish or a cast iron pan (you can fry in it as well). Keep the pieces skin side up and brush the top with the leftover marinade. Place in the oven for about 10 minutes, at 200 C / 400 F.
Remove from the oven and allow to rest for a few minutes before serving.
---
Notes
Please allow some time to marinate the chicken. I recommend minimum 20 minutes but ideally 1-2 hours or overnight.
Freezing: You can make a larger batch of chicken thighs and freeze them in the marinade for up to 3 months. Defrost in the fridge ovennight and cook as per instructions. They will be super flavorful.
Nutrition
Serving Size:

2 thighs

Calories:

457

Sugar:

0.3 g

Sodium:

910.9 mg

Fat:

37.1 g

Saturated Fat:

8.9 g

Carbohydrates:

2.6 g

Fiber:

0.5 g

Protein:

27.8 g

Cholesterol:

163.3 mg
Save This Chicken Thigh Recipe To Pinterest