This website may contain affiliate links and advertising so that we can provide recipes to you. Read my privacy policy.
Garlic roasted chicken with vegetables is a whole chicken rubbed with an herb butter then stuffed with a mixture of seasonings. Roasted in a large skillet combined with fresh, flavorful vegetables!
This combination is perfect for any dinner time meal! If you love your instant pot, you can also make this roast chicken recipe in less time.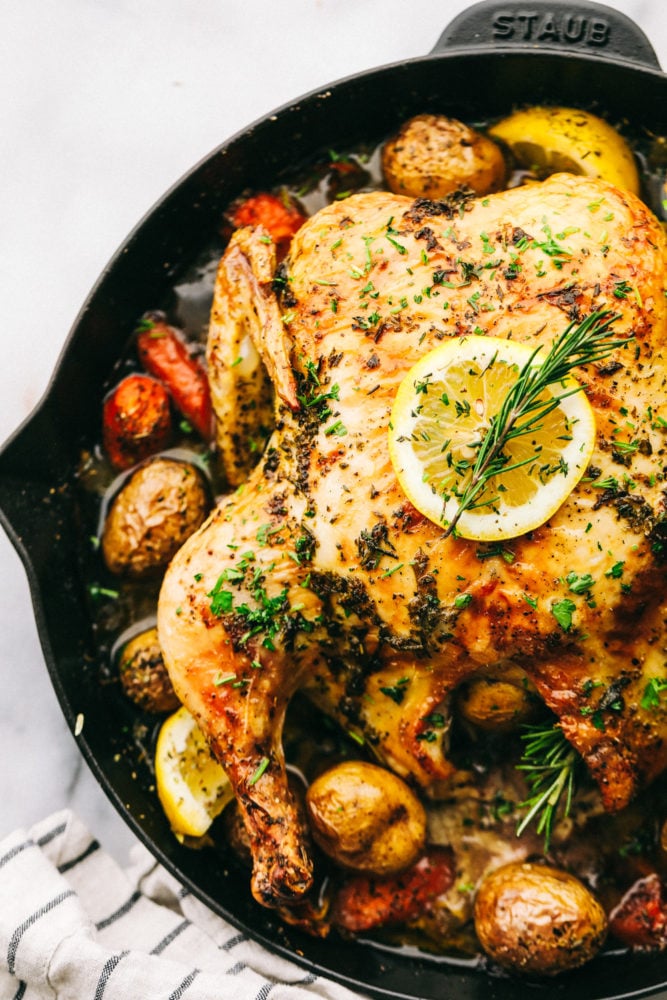 Garlic Roasted Chicken with Vegetables
The perfect combination of chicken with vegetables is just what every family loves at dinner time. It is big enough to feed a large family or nice to have the extra left overs to make sandwiches or more meals throughout the week. Garlic roasted chicken with vegetables is a tender and savory meal that is comforting and delicious all in one! The chicken is stuffed with rosemary, onion and lemon. Together they create a tender chicken with juicy meat.
Herb butter is made by mixing together herbs and garlic creating a thick buttery mixture. Rub on the outside of the chicken to create a golden brown skin that has a crisp texture. This chicken is out of this world! Add in vegetables and it is a complete meal for a family. It can't get any better than this! Pull apart your chicken piece by piece and smell, taste and enjoy each part of this perfect garlic roasted chicken with vegetables! This dinner will become a favorite in your home!
Ingredients to Make Chicken with Vegetables:
Don't let the ingredients list scare you! It is simple ingredients that are even easier to prepare. Each section is broken down and will take less than 5 minutes to prepare.
Chicken: A 5 to 6 pound chicken works well for cooking in a large skillet.
Salt and Pepper: To taste
Stuffing Ingredients
Onion: It is best to quarter an onion in order to fit it in the chicken.
Sprig of Rosemary: Fresh rosemary adds a subtle hint. 
Lemon: This will tenderize as well as add flavor to the chicken from the inside, out.
Herb Butter: 
Butter: Soften the butter by leaving it out on the counter at room temperature or microwave it for 10 seconds.
Garlic: Mince garlic is best.
Thyme, Oregano and Rosemary: All finely chopped and added into the herb butter.
Salt and Pepper: Just a pinch of each!
Vegetables: 
Onion: Cut up into quarters.
Baby Potatoes: Sliced in half
Carrots: Large carrots that are cut into chunks
Olive Oil: Drizzle olive oil over top the vegetables and mix it together
Salt and Pepper:

 

Seasoning the vegetables before adding them on the skillet. 
How to Make the Best Roast Chicken?
All together this chicken becomes a masterpiece from the smell, taste and texture of the crispy outside and tender, juicy inside. This will become a family favorite meal in no time!
Prepare the chicken: Preheat oven to 425 degrees. Remove the giblets from the chicken and salt and pepper. Place the chicken in a roasting pan or large cast iron skillet. Stuff the onion, rosemary and lemon inside of the chicken.
Mix together herb butter: In a small bowl combine the butter, garlic, thyme, oregano, rosemary, salt and pepper. Rub evenly on the outside of the chicken.
Add vegetables: In a medium sized bowl add the onions, potatoes, carrots and toss in olive oil, salt and pepper. Layer on outside of the chicken in the roasting pan.
Bake in the oven: Roast the chicken for 1 ½ hours or until the internal temp reaches 165 degrees.
The Recipe Critic Pro Tip:
Let the chicken rest at least 15 minutes before slicing into the it. This will have the juiciest results! 
How Long To Roast A Chicken? 
A 5 to 6 pound chicken takes about 1 ½ hours to cook through. If the chicken weighs more or less than that you will want to adjust the cooking times according to the weight of the chicken. Cooking chicken can vary depending on how cold the chicken is or the density of the chicken itself. It is best to start with 15 minutes then add 20 minutes per pound of chicken as a rule of thumb. Then using a meat thermometer checking for the internal temperature of the chicken to reach 165 degrees Fahrenheit.
Do You Cover Chicken When Baking?
For this chicken with vegetables recipe it does not need to be covered. Leaving the chicken uncovered will help the skin crisp up nicely in the oven. If you feel that the chicken is browning quickly create a loose fitting tent shape foil to prevent any further browning while it finishes cooking.
For a Crispy Roast Chicken:
Check on the chicken throughout the roasting process. If you see that the chicken is not browning simply brush it will more herb butter over top or baste with the juices from the bottom of the pan to keep the chicken moist and adding a crips outside layer. Using this method will make the chicken crispy quickly. Watch over the chicken after this process is done to make sure it does not brown too much.
More Chicken Recipes to Enjoy: