This easy Mexican Chicken Soup is flavored with lime and cilantro, and this is a delicious soup that's made from leftover rotisserie chicken! Make it with pinto beans, or omit the beans and add some frozen cauliflower rice to make a low-carb version of this tasty soup!
PIN Mexican Chicken Soup to try it later!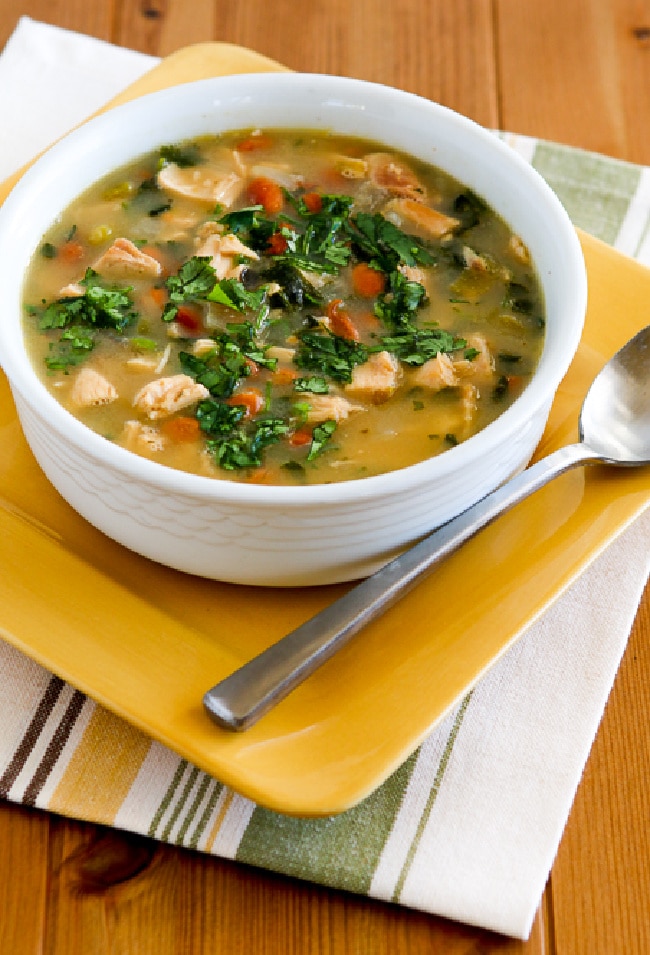 Food blogs are always a work-in-progress, and it's no secret I've been updating my photos on this blog for many years now. I was happy to improve the photos on this very delicious Mexican Chicken Soup! This soup is a good one to make with leftover rotisserie chicken, and I love the addition of lime and cilantro to bump up the flavors! And I'm updating the recipe to give you a low-carb version if you prefer that variation for this delicious soup with Mexican flavors.
What ingredients do you need for this recipe?
onion
chopped garlic
olive oil
chicken broth (see notes)
dried oregano, preferably Mexican Oregano (affiliate link)
ground cumin (affiliate link)
ground Chipotle chile pepper (affiliate link), or use your favorite hot sauce
canned pinto beans (or cauliflower rice for low-carb option)
diced, cooked chicken
canned diced green chiles
fresh-squeezed lime juice
chopped fresh cilantro (see notes)
How can you make a lower-carb version of this soup?
Of course you can make a lower-carb version of this recipe by simply cutting down the pinto beans to one can of beans. Or to make a similar and equally delicious soup that's low in carbs, replace the 2 cans of Pinto Beans with 2-3 cups of cauliflower rice. Add the cauliflower rice after the soup has simmered about 30 minutes.
What if you're not a cilantro fan?
If you're someone with the anti-cilantro tastebuds, simply replace the chopped cilantro with thinly-sliced green onion and the soup will be just as tasty!
More Soup with Mexican Flavors:
Instant Pot Low-Carb Taco Soup
Green Chile Turkey Enchilada Soup 
Instant Pot Chicken Tortilla Soup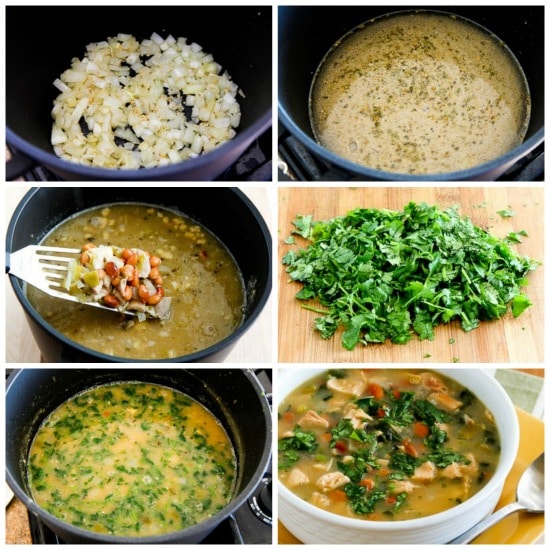 How to make Mexican Chicken Soup:
(Scroll down for complete printable recipe.)
I cooked the onions and garlic right in the soup pot, which saved dirtying another pan!
Then add the chicken stock, dried Mexican Oregano, ground cumin, and ground Chipotle chile pepper or hot sauce and simmer for about 15 minutes to blend the flavors.
Add the pinto beans with juice from the can and diced chicken. (If you're making the cauliflower rice version, don't add that yet.
Let the soup simmer on low for about an hour. 
If you're replacing pinto beans with cauliflower rice, add that when the soup has simmered about 30 minutes.
If you're not a cilantro fan, use thinly sliced green onions to add some color to the soup. Chop the cilantro or green onions just before you're ready to serve.
Stir in the chopped cilantro or thinly sliced green onions, turn off the heat, and let soup sit for a minute or two.
Serve hot, with extra lime to add at the table for those who like a lot of lime.
Weekend Food Prep:
This recipe has been added to a category called Weekend Food Prep  to help you find recipes you can prep or cook on the weekend and eat during the week!
Ingredients
1 onion, diced small
1 T chopped garlic
2 tsp. olive oil
8 cups  chicken broth (see notes)
2 tsp. dried Mexican Oregano
1 T ground cumin
1/2 tsp. ground Chipotle chile powder (or use your favorite hot sauce)
two 15 oz. cans pinto beans (see notes)
4 cups diced, cooked chicken
one 4 oz. can diced green chiles (see notes)
1/4 cup lime juice
1 cup chopped fresh cilantro (see notes)
Instructions
Heat olive oil in frying pan or in the soup pot, then cook onion 2-3 minutes.
Add garlic and cook a couple of minutes more.
In large soup pot combine homemade chicken stock or canned chicken broth, onions, garlic, oregano, ground cumin (affiliate link), and Chipotle chile powder and let simmer on low about 15 minutes.
Add pinto beans with juice, cooked chicken, and diced green chiles and simmer 30 minutes or a little longer, until flavors are well combined, and beans are quite soft.
If you're using cauliflower rice, add it for the last 20 minutes of cooking time.
Turn off heat and stir in lime juice (I use my fresh-frozen lime juice) and chopped cilantro or sliced green onion.
Serve hot, with more chopped cilantro and lime juice to be added at the table if desired.
Notes
If you don't have homemade chicken stock use 4 1/2 cans chicken broth, or put the whole 5 cans and just simmer a bit longer.
Be sure to buy Anaheim chiles, not Jalapenos unless you really like it hot!
Nutritional information is for the version with two cans of pinto beans. Use one can of pinto beans for a lower-carb soup, or replace pinto beans with 2-3 cups cauliflower rice for a low-carb soup.
You can substitute thinly sliced green onion if you're not a cilantro fan.
Recipe created by Kalyn.
Nutrition Information:
Yield:
6

Serving Size:
1

Amount Per Serving:
Calories: 460Total Fat: 15gSaturated Fat: 4gTrans Fat: 0gUnsaturated Fat: 9gCholesterol: 91mgSodium: 1303mgCarbohydrates: 45gFiber: 14gSugar: 4gProtein: 38g
Nutrition information is automatically calculated by the Recipe Plug-In I am using. I am not a nutritionist and cannot guarantee 100% accuracy, since many variables affect those calculations.
Low-Carb Diet / Low-Glycemic Diet / South Beach Diet Suggestions:
Pinto beans are considered a "good" carb for the original South Beach Diet and this Mexican Chicken Soup would be approved for all phases of South Beach. Pinto beans are too high in carbs for the original version of this to be suitable for most low-carb eating plans, but you can make this lower in carbs by using only one can of beans or make it a low-carb soup by replacing beans with 2-3 cups cauliflower rice.
Find More Recipes Like This One:
Use Soup Recipes to find more recipes like this one. Use the Diet Type Index to find recipes suitable for a specific eating plan. You might also like to Follow Kalyn's Kitchen on Pinterest to see all the good recipes I'm sharing there.
Historical Notes for this Recipe:
This recipe was first posted in 2007! The photos were updated in 2014 and the recipe was last updated with more information and two different options for fewer carbs in 2021.
We are a participant in the Amazon Services LLC Associates Program, an affiliate advertising program designed to provide a means for us to earn fees by linking to Amazon.com and affiliated sites. As an Amazon Associate, I earn from qualifying purchases.