This website may contain affiliate links and advertising so that we can provide recipes to you. Read my privacy policy.
Comforting and hearty, this crockpot chicken noodle soup is so easy to make, and right in the slow cooker. Let the house fill with the most wonderful aroma knowing a cozy dinner is on the way!
For more easy slow cooker soups try this pasta e Fagioli, lentil soup and potato soup.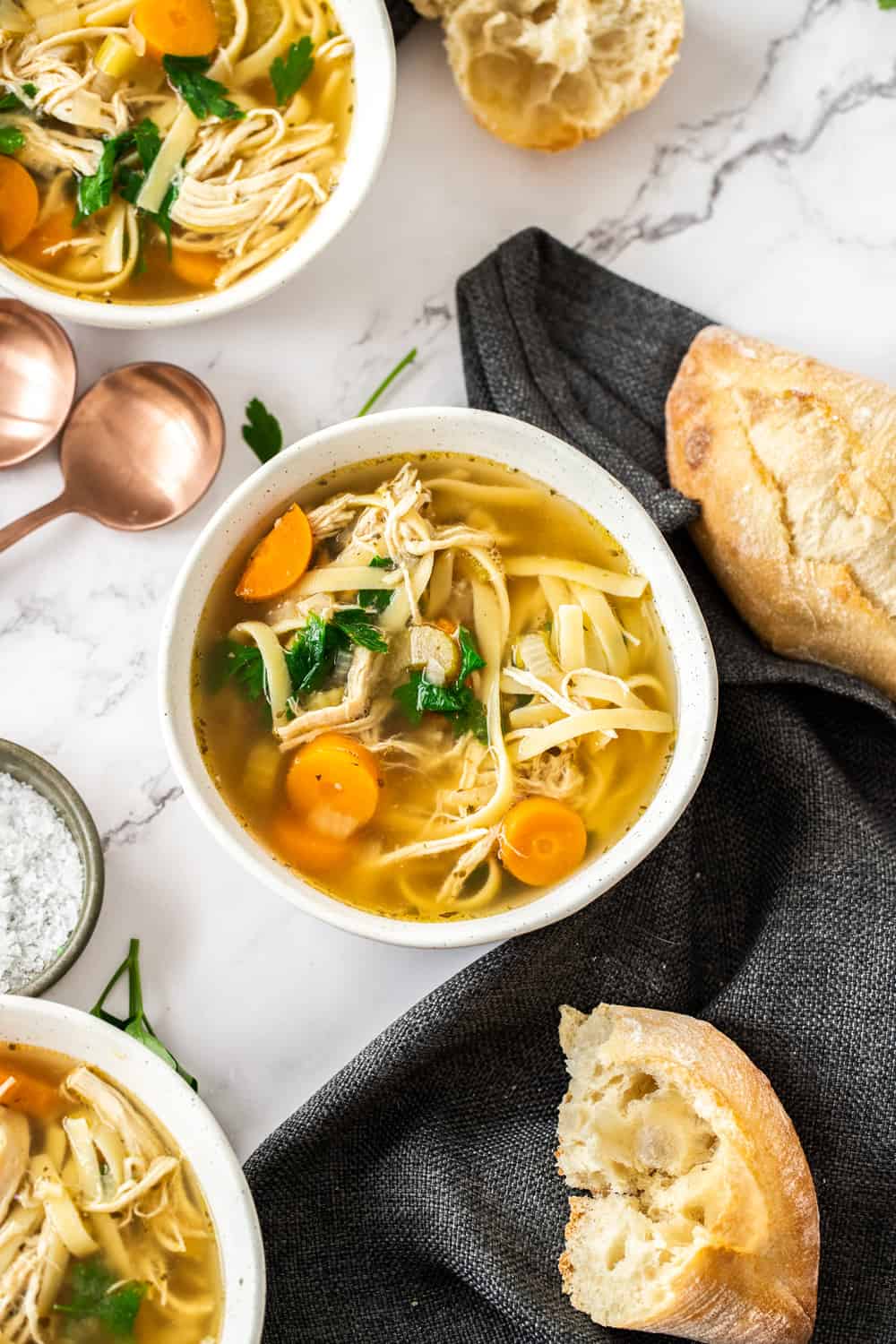 Crockpot Chicken and Noodles
When the cold weather sets in there's nothing quite like a big bowl of soup to warm you up and is there any soup more classic than chicken noodle soup? What makes this one even better is the fact that it's made completely in a slow cooker or crockpot.
This flavorful soup is as easy as throwing ingredients straight into the slow cooker and just letting it do it's thing, while you're off running errands or maybe even putting your feet up. You deserve it. Towards the end of the cooking time, you'll just shred the chicken and add some dried pasta and it'll be ready for the table in another 30 minutes.
Chicken Noodle Soup Ingredients
Chicken: While I've used chicken breast here, thighs will work too. Remove the skin and any excess fat as this could leave an unsightly scum on top of the soup when it's done.
Onion, Celery, Carrot, Garlic: This 4 ingredient vegetable combination gives most of the flavor base to the soup. It's a classic combo for a reason.
Chicken Stock: All chicken stocks are not equal. Make sure you purchase a good quality one as it will make a huge difference to the flavor of the soup. If the stock is completely clear, it likely doesn't have the flavor we're after here. Use a cloudier stock and notice the difference.
Dried herbs: This version uses dried oregano and thyme which give a good herby flavor without being overpowering. You could use herbs like basil, sage or rosemary too but note rosemary will give a more intense herbiness to the soup.
Salt & Pepper: It's always important to season your soup. Add these in as per the recipe but taste test before serving and add a little more to your taste before serving if needed.
How To Make Slow Cooker Chicken Noodle Soup
Perfect for a busy and cold day, this soup only has two steps and the longest amount of time you'll need to spend on it is chopping vegetables and shredding chicken. It couldn't be easier.
Add vegetables, dried herbs, seasonings and chicken to a slow cooker and pour over the stock.
Cook on low for 7 hours (or until the chicken can be easily shredded).
Remove the chicken and shred it using two forks then add it back to the slow cooker.
Break dried pasta, like fettucine or spaghetti, into 3 and add it to the slow cooker, leaving it on low.
As different pastas are different thickness' check to see if it's done after 20 minutes but it should take no longer than 30 minutes.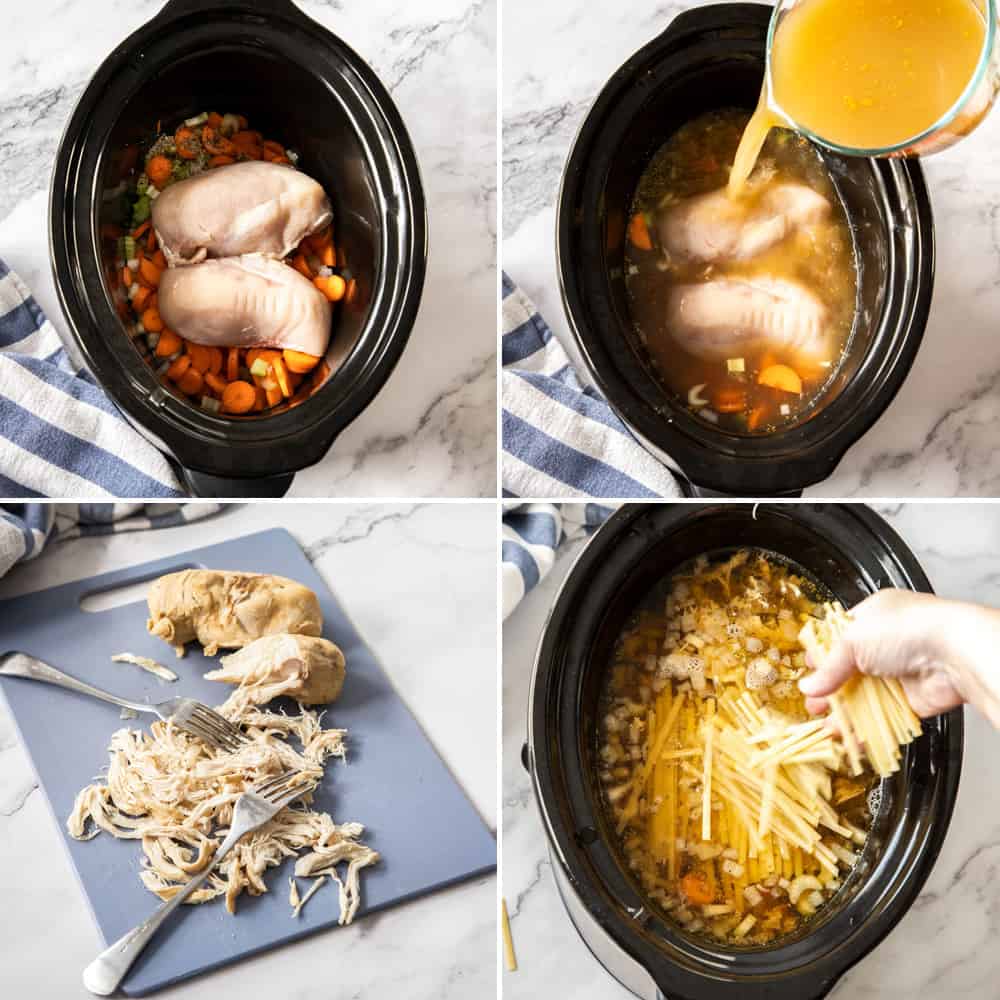 Can I Add More Vegetables?
You can certainly add more vegetable to your slow cooker noodle soup. I wouldn't change the base of celery, onion and carrot due to the flavor they impart though. Try adding some diced bell pepper along with them or adding frozen peas with the pasta at the end. Just know if they are still frozen, it will cool the soup down so you may need to cook it longer for the pasta to cook through.
If you want to get really fancy, saute some mushrooms in butter at any point during the day, keep them in the fridge and add them in the last ½ an hour. This is exactly what I do in my slow cooker beef stroganoff which also happens to work great with chicken thighs.

How to Store Leftovers
This is definitely best eaten fresh. The pasta will continue to swell and soften the longer it sits in the soup so will be much softer the next day. However, leftovers can be stored in an airtight container in the fridge.
If you want to freeze the soup, it's best to freeze it without the pasta, then cook the pasta up when you heat the soup.
More Recipes You Will Love