These delicious and mostly healthy ground beef meal prep ideas will help you get ahead in the kitchen and stay on track with dietary or budget goals. Ground beef is a versatile ingredient that can be used in a variety of dishes, from classic meatballs to spicy tacos and with these tips and recipe ideas, you'll be able to create great meals in no time.
---
17. No-Food Processor Protein Balls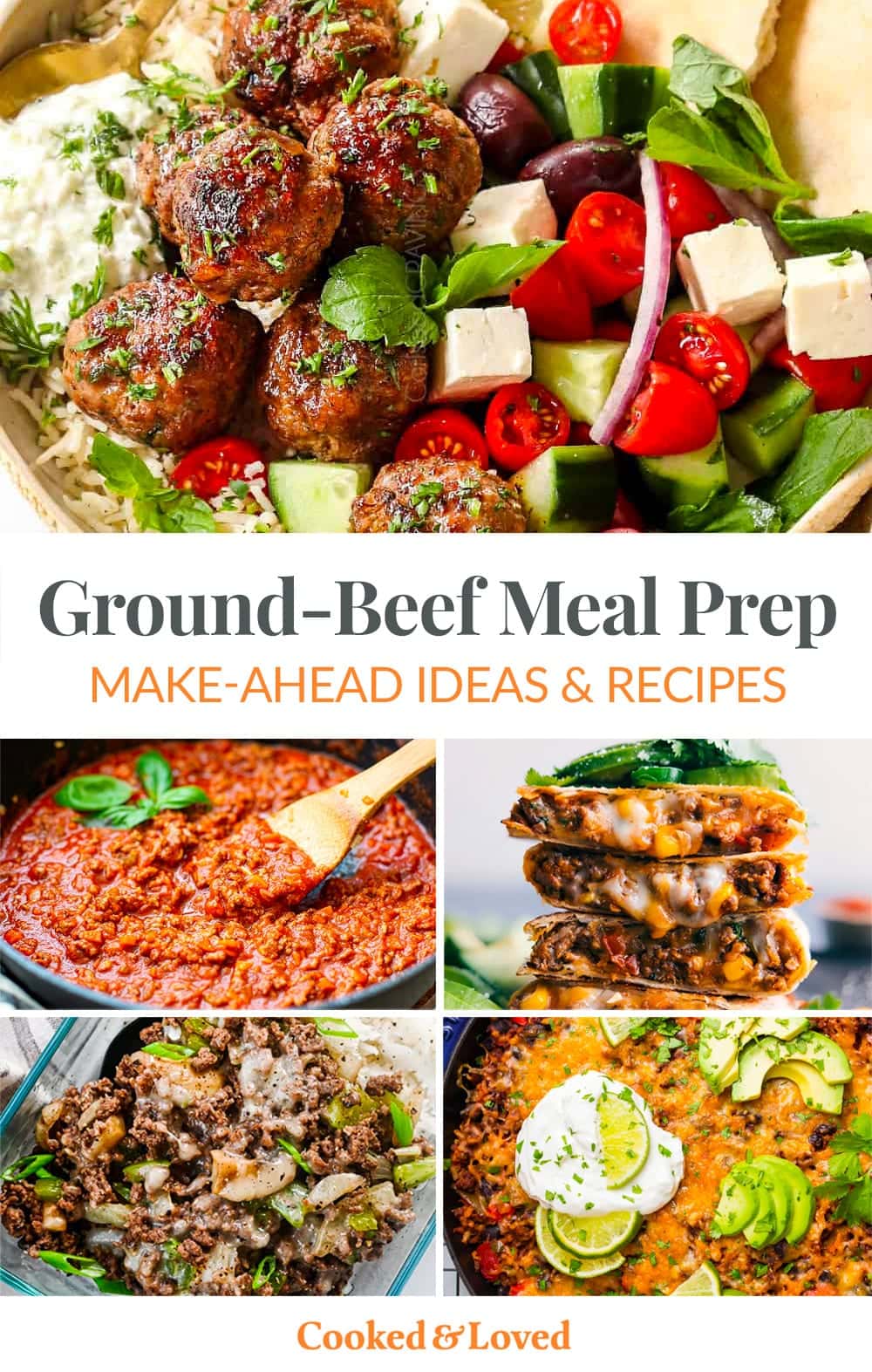 I've wanted to put together this collection of recipes for a long time because ground beef is my favourite meal prep ingredient. I know that if I use it so much for batch cooking and creating a variety of meals, it sure will be handy to share these ideas with you guys.
Please note, in Australia, we refer to ground beef as beef mince so from time to time I might call it by tat name. Ground beef and mince are the same thing.
---
17. No-Food Processor Protein Balls
Why Meal Prep With Ground Beef
Firstly, it's a great source of protein, which is essential for building and repairing muscles. Secondly, ground beef is versatile, making it easy to incorporate into a variety of dishes. Thirdly, it's easy to batch cook and freeze for later use, which makes meal prep a breeze. 
Finally, ground beef is affordable and widely available, making it an accessible ingredient for meal prep on a budget. Whether you're looking to create a batch of meatballs, chilli or a delicious meatloaf, ground beef is a reliable ingredient that can help make meal prep easier and more enjoyable.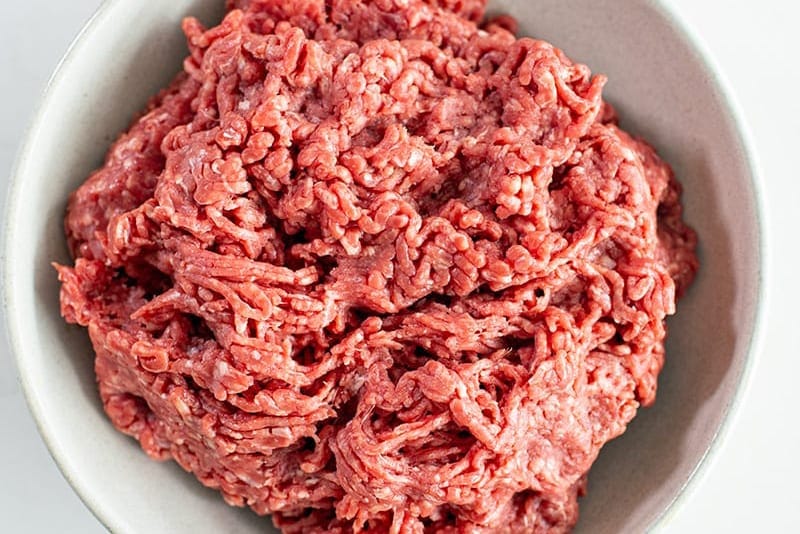 Ground Beef Nutrition
When it comes to nutrition, ground beef is packed with essential vitamins and minerals, including iron, zinc, and B vitamins. However, it's important to note that different types of ground beef can have varying levels of fat content. Grass-fed beef, for example, tends to be leaner and has a higher nutrient content compared to regular beef.
If calories and fat intake is something you need to watch, opt for leaner ground beef. For example, 80% lean ground beef will have more fat content than 93% lean ground beef. On some packages, it shows the percentage of fat instead. 
Do note that the fat also adds flavour and keeps it very moist and tender. In some recipes, like meatballs and burgers, that extra fat is what will make the meat juicier and tastier once cooked.
Tips For Using Ground Beef In Meal Prep
Look for ground beef that is at least 90% lean if you want to keep your meals lower in calories.
Choose grass-fed beef if you can afford it, it's more nutritious and tastes better. Oftentimes, buying in bulk will save a few $$$.
Cook a large batch of ground beef at once and freeze it in portions for later use. This saves time and makes meal prep more efficient.
Ground beef can be quite bland on its own, so use spices and seasonings to add flavour and variety to your meals.
Adding vegetables to ground beef not only increases the nutritional value of your meal, but it also helps to stretch the beef and make it more filling. The same can be said for mixing it with legumes. 
After cooking the ground beef, be sure to drain any excess fat to reduce calorie and fat intake if that matters to you. I leave it all in for extra flavour.
Before we get into some inspiring ground beef meal prep ideas and recipes, here are some dishes that work well with ground beef and can be made ahead of time:
Meatballs, patties, hamburgers, rissoles, meatloaf.
Taco meat, savoury mince, Bolognese sauce.
Use it in stuffing for peppers, cabbage rolls, and so on.
Make stews and curries with ground beef instead of diced steak.
Mix it into rice, pasta and potato casseroles to create more affordable meals for a big family.
---
17. No-Food Processor Protein Balls
Ground Beef Meal Prep Ideas & Recipes
From delicious taco beef bowls and Asian stir-fries to mini meatloaf muffins, these ideas and recipes will inspire you to take your meal prep to the next level. 
3 Meals With 1 Kilo Of Ground Beef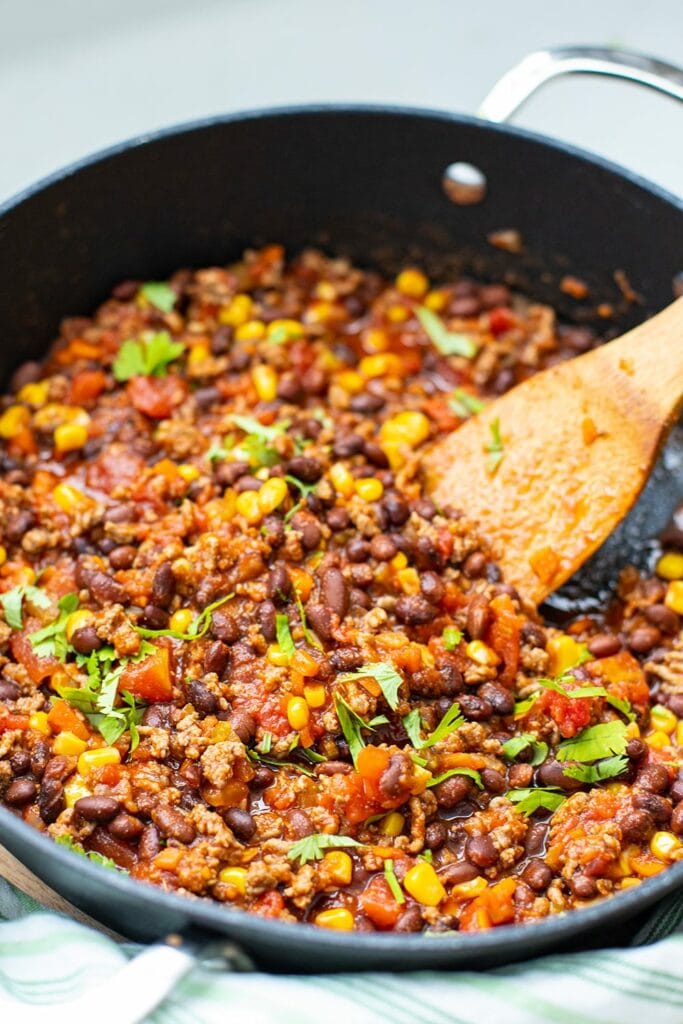 Learn how to pre-make three delicious, cheap and easy ground beef recipes for dinner in 2 hours: Bolognese, Shepherd's Pie and Mexican Beef Rice Casserole. You only need 1 kilo (2.2 pounds) of ground beef mince and a few pantry and freezer staples. Video and shopping list included! Get the full recipe here.
Burgers, Garlic Kale & Sweet Potatoes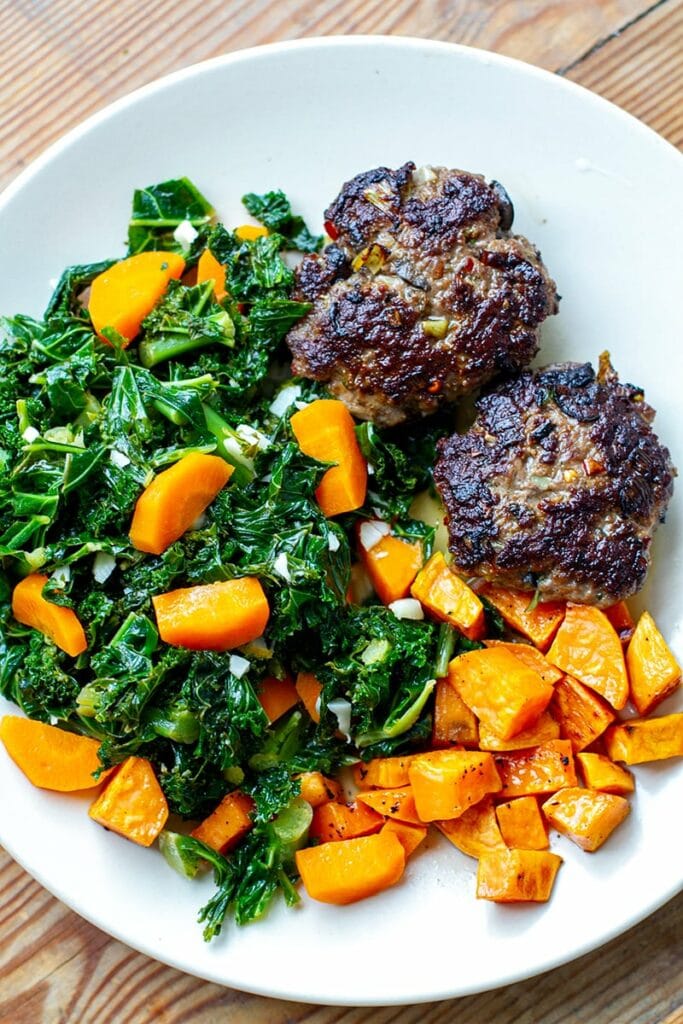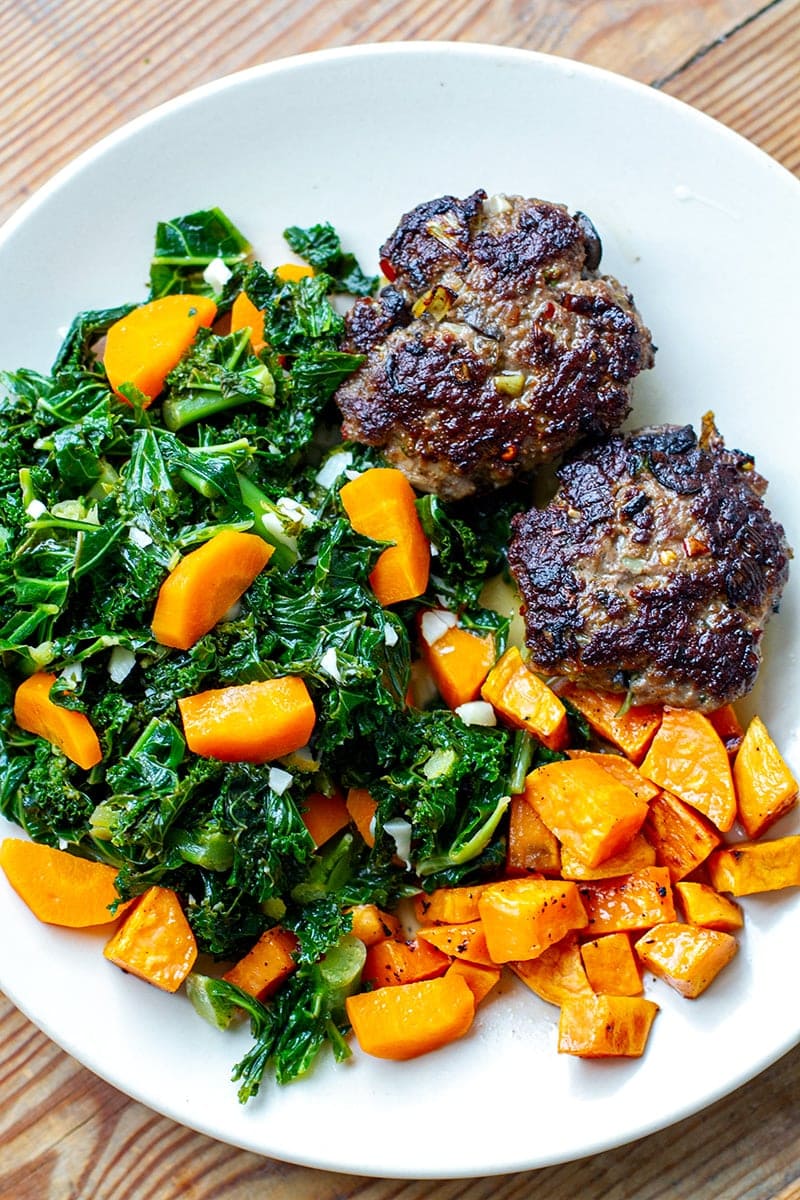 This nutrient-dense meal of homemade beef burger patties with garlic kale and carrots and roasted sweet potatoes can be made ahead of time and stored in individual containers for 3-4 days in the fridge. The patties can be frozen for later use as well. Get the recipe here.
---
17. No-Food Processor Protein Balls
Healthy Korean Ground Beef With Vegetables
These easy beef bowls come together in less than 20 minutes! Packed with the most delicious Korean-inspired ground beef, tons of fresh vegetables, and rice, all of which can be made ahead of time. Korean beef can be frozen on its own for future meals. From Slender Kitchen.
Ground Beef & Broccoli Skillet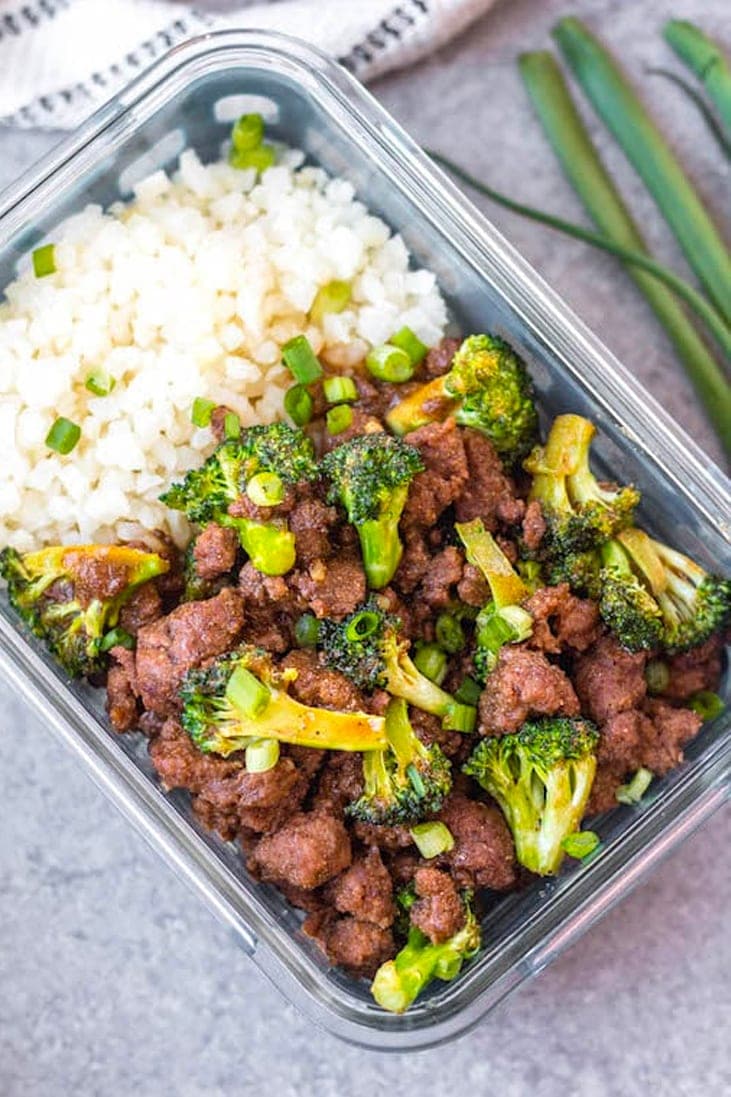 This affordable beef and broccoli skillet is perfect for a quick weeknight meal or meal prep recipe. It comes together in under 30 minutes, has a simple ingredient list that makes it budget-friendly, and reheats well! It's paleo, low-carb, Whole30, and gluten-free. You can add quinoa or rice to it for extra carbs. From Whole Kitchen Sink.
---
17. No-Food Processor Protein Balls
Philly Cheestake Meal Prep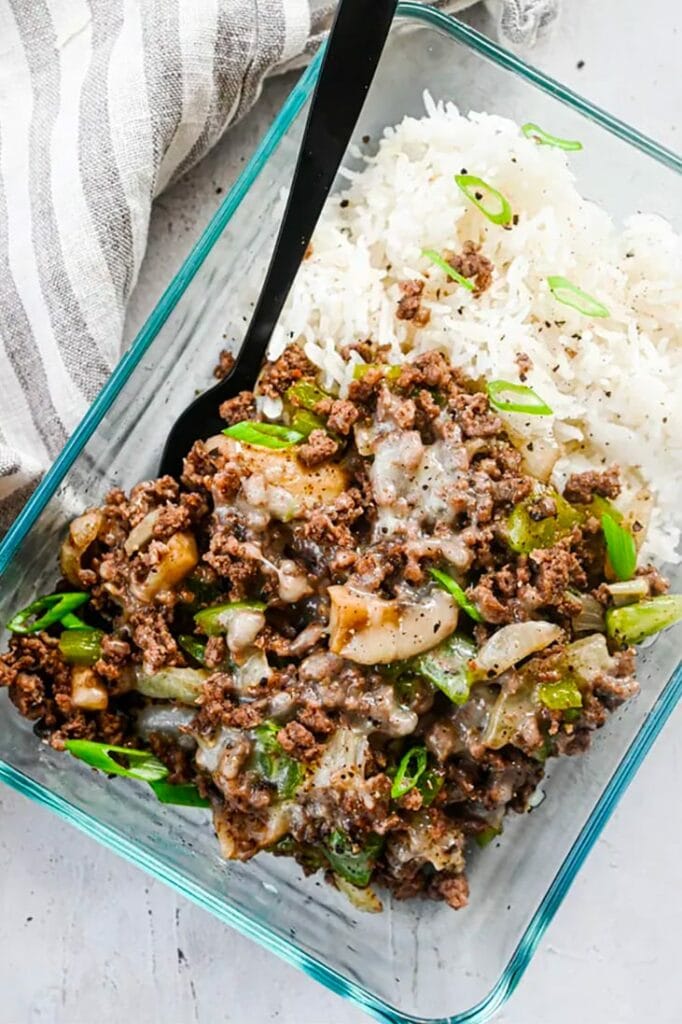 The ground beef version has the classic flavours of a traditional cheesesteak sandwich but is made in under 20 minutes and is more affordable. Make it low-carb by swapping out the rice for cauliflower rice or steamed veggies. You can freeze the beef component with unmelted cheese portioned into containers, then thaw it out and reheat it in the oven. From Meal Plan Addict.
Mini Meatloaf Muffins (Great For Freezer)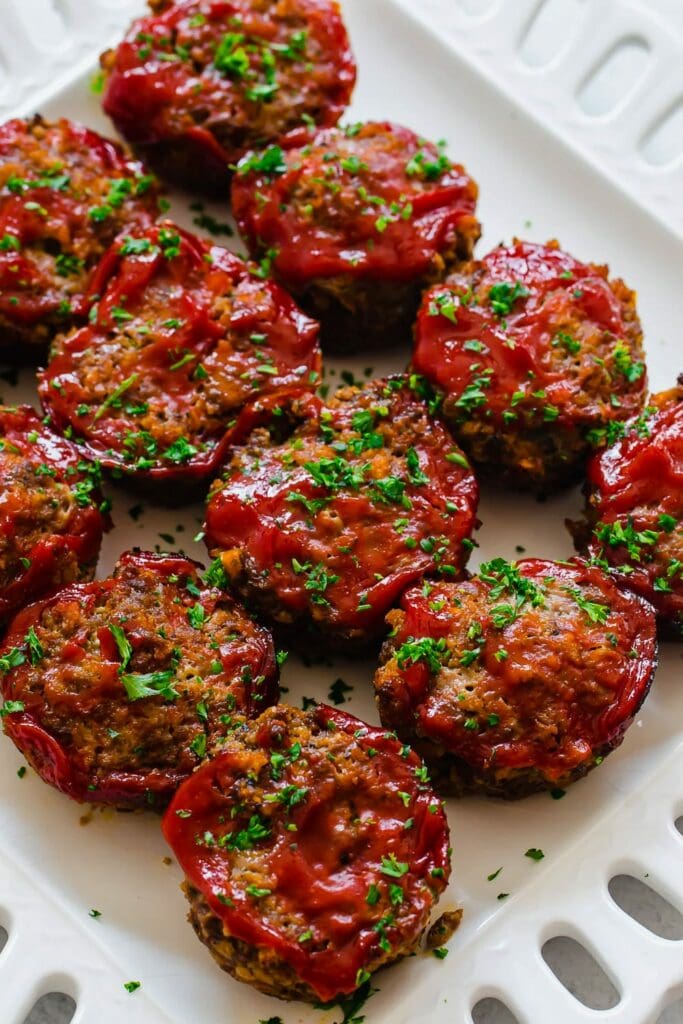 One of my favourite ground bee meal prep ideas is these meatloaf muffins, which are a twist on your average meatloaf recipe. Prep ahead for healthy lunches, whip up for a quick dinner, and even make a double batch so you can freeze one for later. All ages love this meal! From Thriving Home Blog.
---
17. No-Food Processor Protein Balls
Beef Taco Skillet
This taco skillet is a one-pan pleaser made with lean, healthy ground beef, rice, black beans, and whatever other Mexican-ish ingredients you care to throw its way. It's a great fridge surprise dish and great for meal prep and freezing. From Well Plated.
---
17. No-Food Processor Protein Balls
Thai Basil Beef Lemongrass Bowls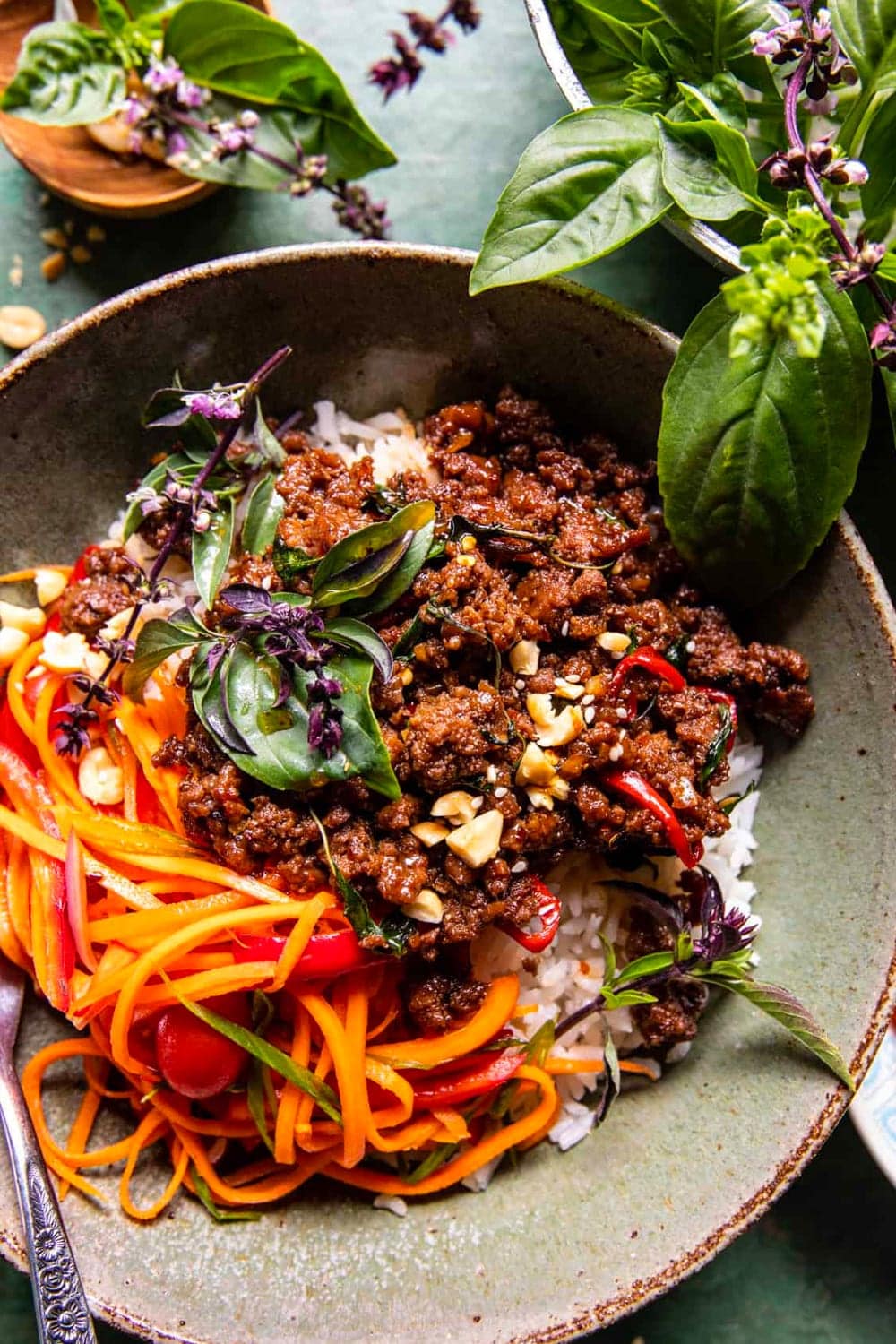 These colourful bowls are full of Thai flavours and are so simple to make. The beef is cooked in a sweet Thai basil chilli sauce until caramelized around the edges, then added to bowls of lemongrass rice with crunchy vegetables and aromatic herbs. The rice and beef components freeze well. From Half Baked Harvest.
---
17. No-Food Processor Protein Balls
Sheet Pan Meatballs With Green Sauce & Salad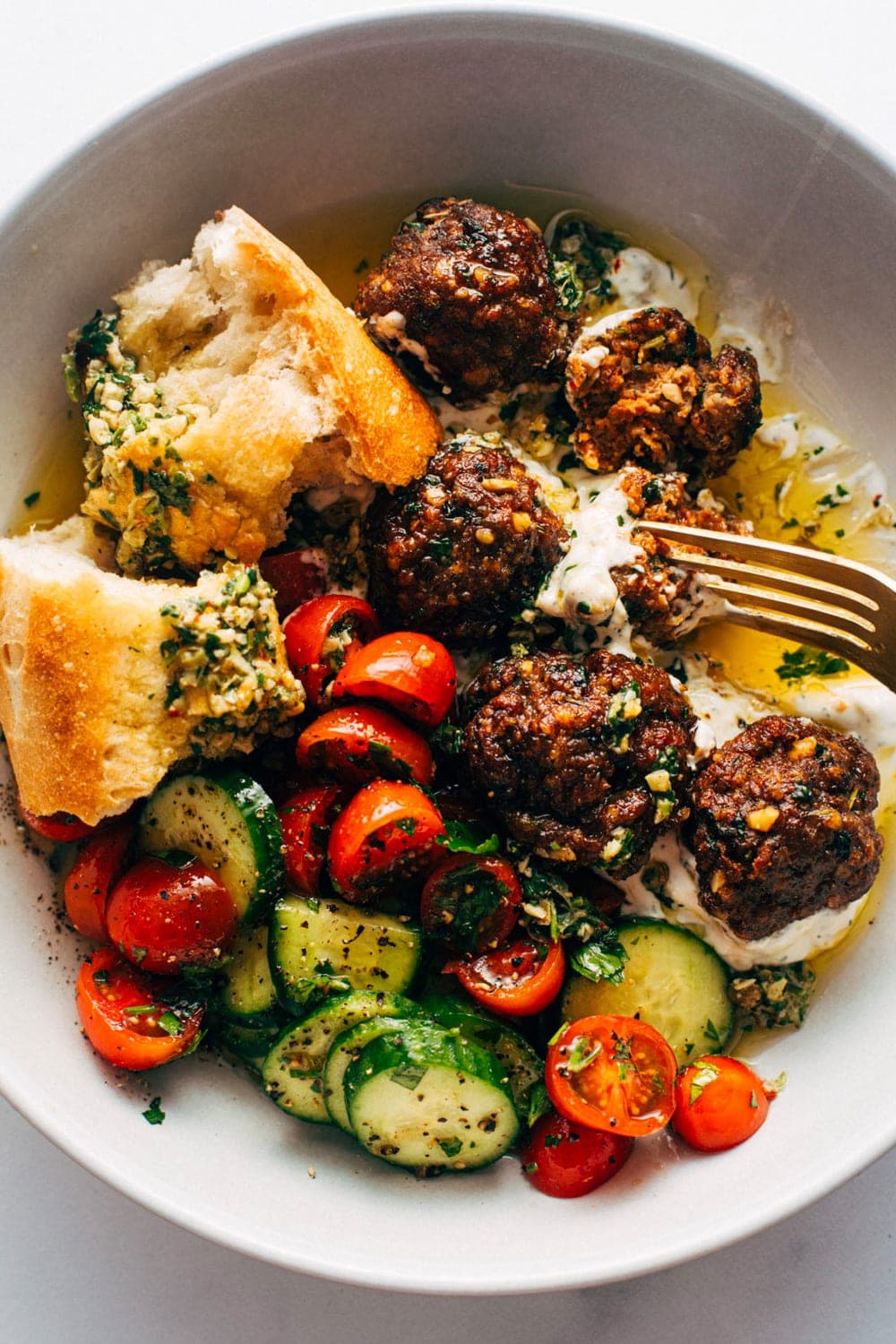 Juicy little sheet pan meatballs that are salty, zesty, briney, and so so delicious. Make them and the punchy green sauce ahead of time. Then pile into bowls with extra tzatziki and a simple salad. Feel free to add rice, quinoa, or a handful of chickpeas. From Pinch Of Yum.
---
17. No-Food Processor Protein Balls
Five-Spice BBQ Meatballs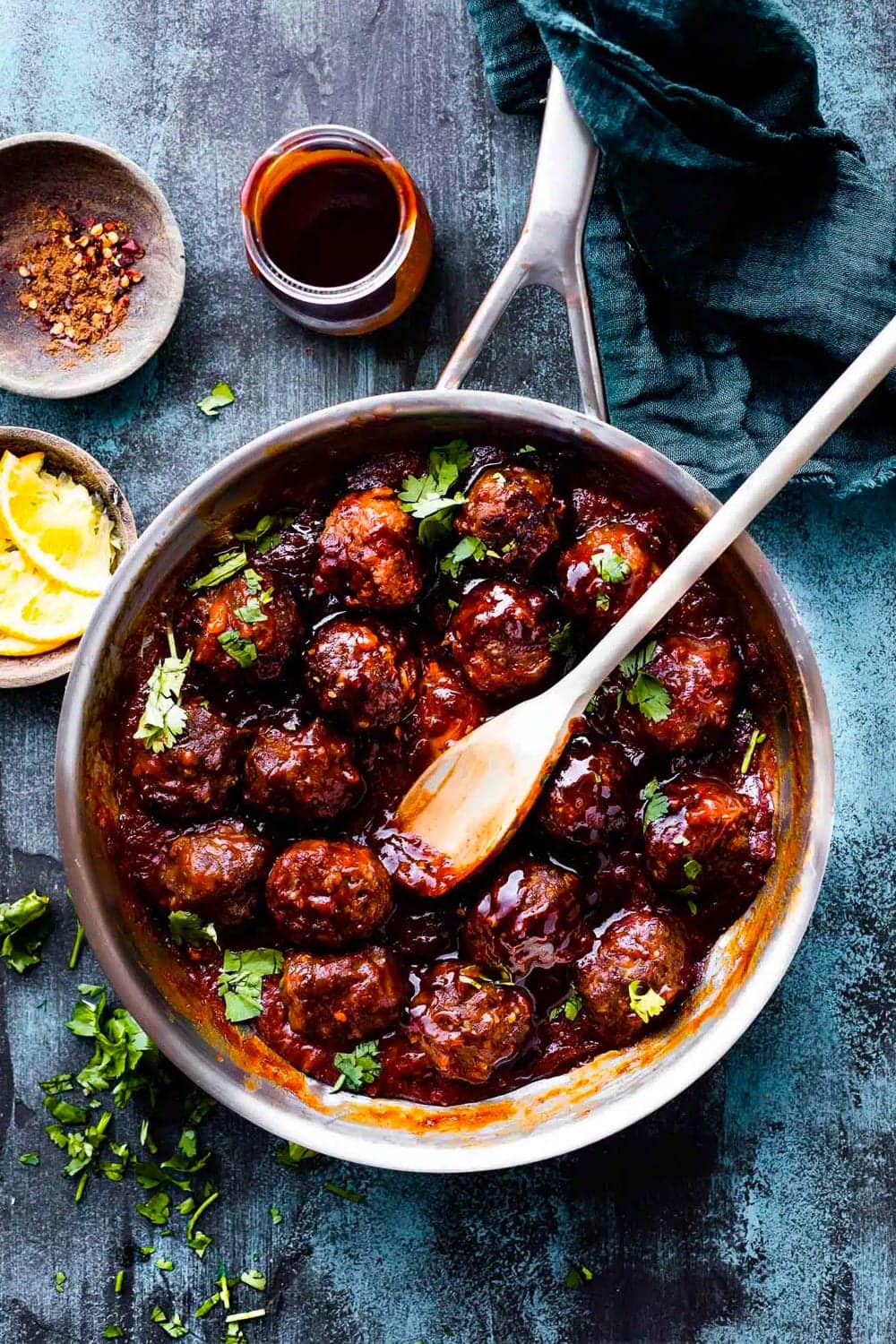 These Asian Style BBQ meatballs with zippy orange hoisin sauce are quick to prep and cook in just 30 minutes. Natural ingredients, no refined sugar options, and packed with lean protein, they are great for meal prep planning and freezer-friendly. From Cotter Crunch.
Ground Beef & Potatoes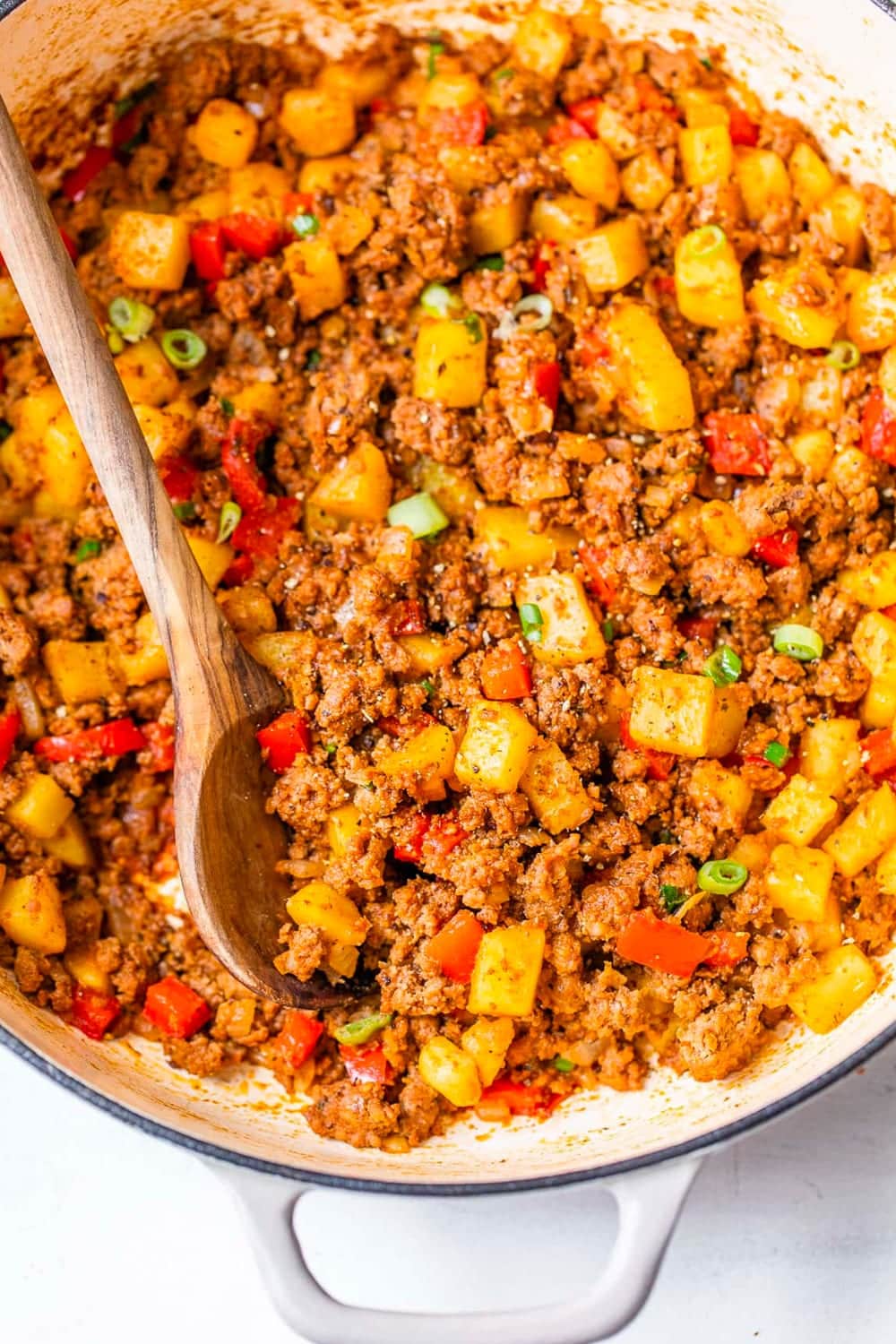 With a mixture of potatoes, lean ground beef, onion, bell pepper, and spices, this beef and potatoes skillet will appeal to picky eaters and discerning palates alike. It's nutritious and great for making ahead. From Well Plated.
---
17. No-Food Processor Protein Balls
Hamburger Casserole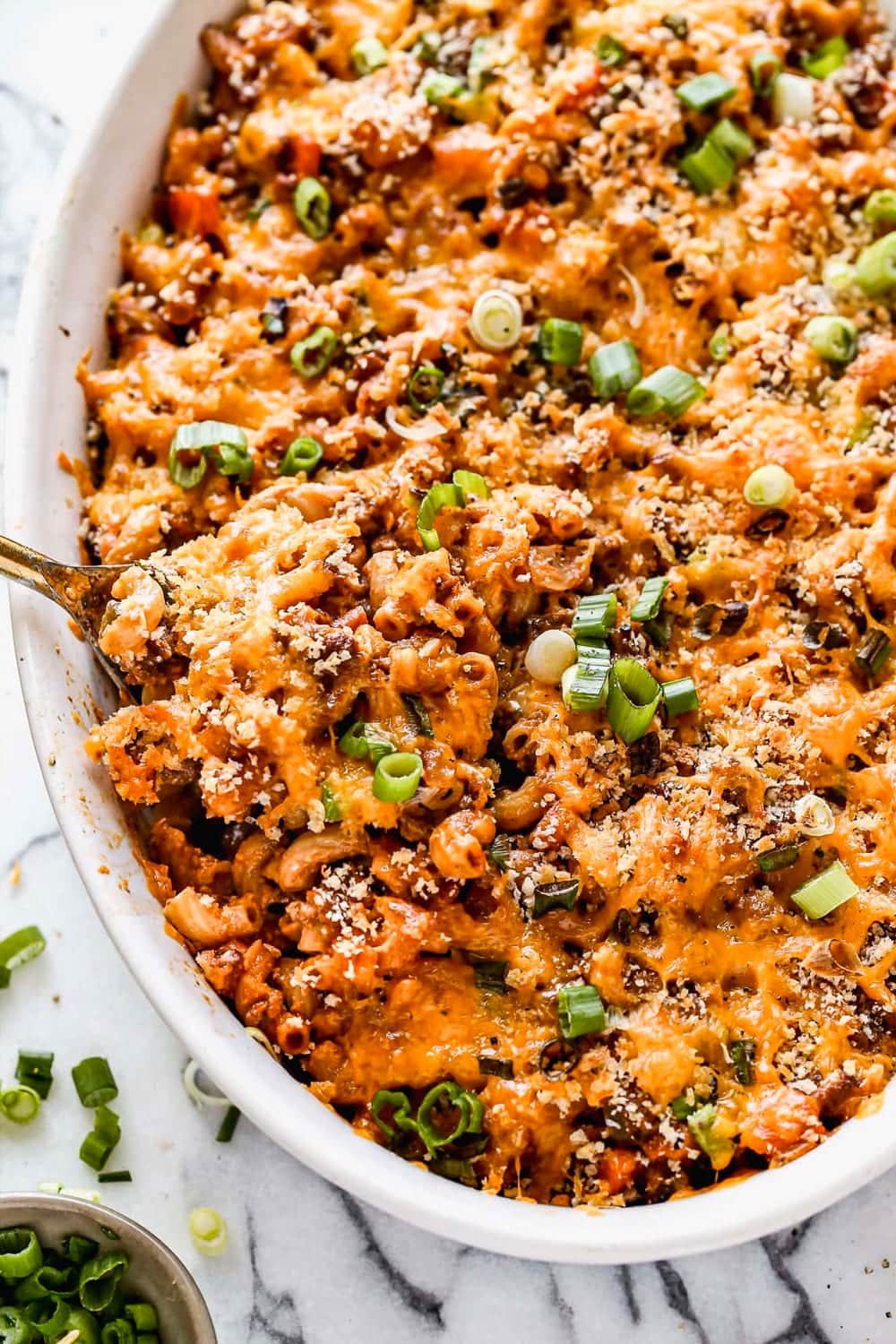 Cheesy noodles and ground beef wrapped in a creamy sauce and topped off with crispy breadcrumbs, this old-fashioned pasta casserole is the very definition of family-friendly. From Well Plated.
---
17. No-Food Processor Protein Balls
Sweet Potato Chilli Casserole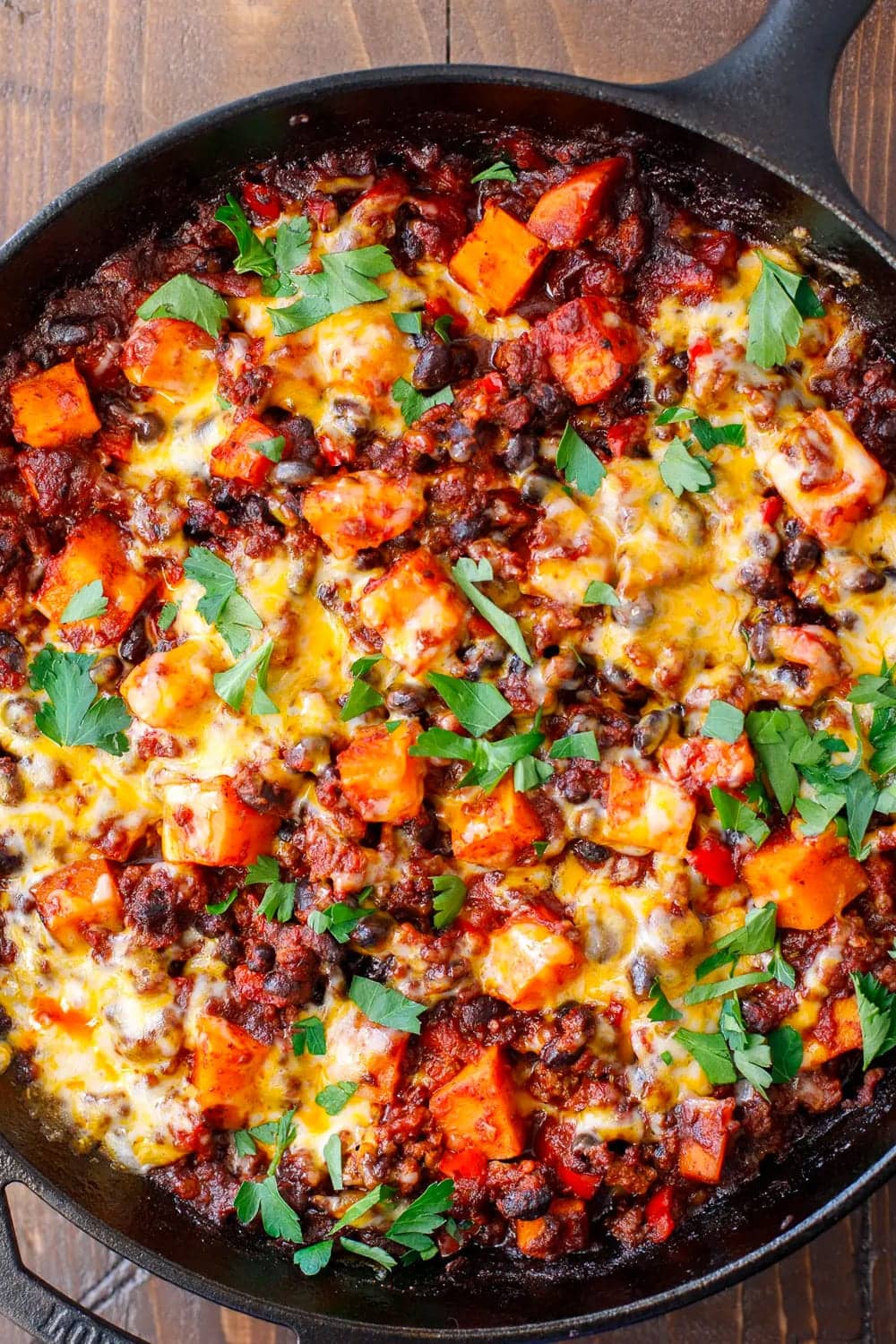 This scrumptious sweet potato chili casserole is a unique take on a family favourite and delivers much flavour and just the perfect amount of sweetness. Great for storing and freezing! From Dear Crissy.
---
17. No-Food Processor Protein Balls
Ground Beef Stroganoff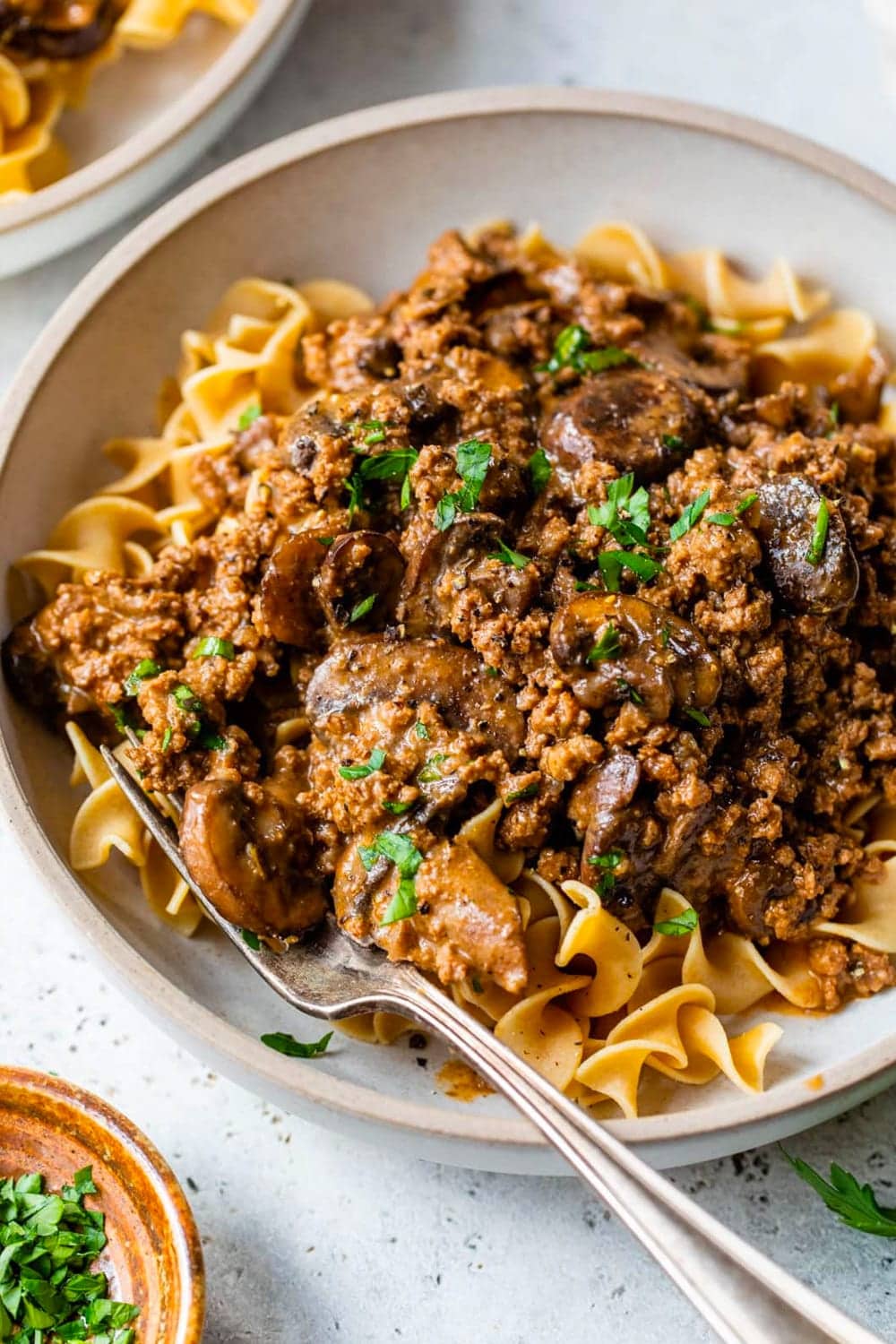 This creamy ground beef Casserole will have your family asking for seconds. It's easy, and cheesy yet still healthy and can be served over pasta, noodles, rice, cauliflower rice or veggies. From Well Plated.
---
17. No-Food Processor Protein Balls
Ground Beef Quesadillas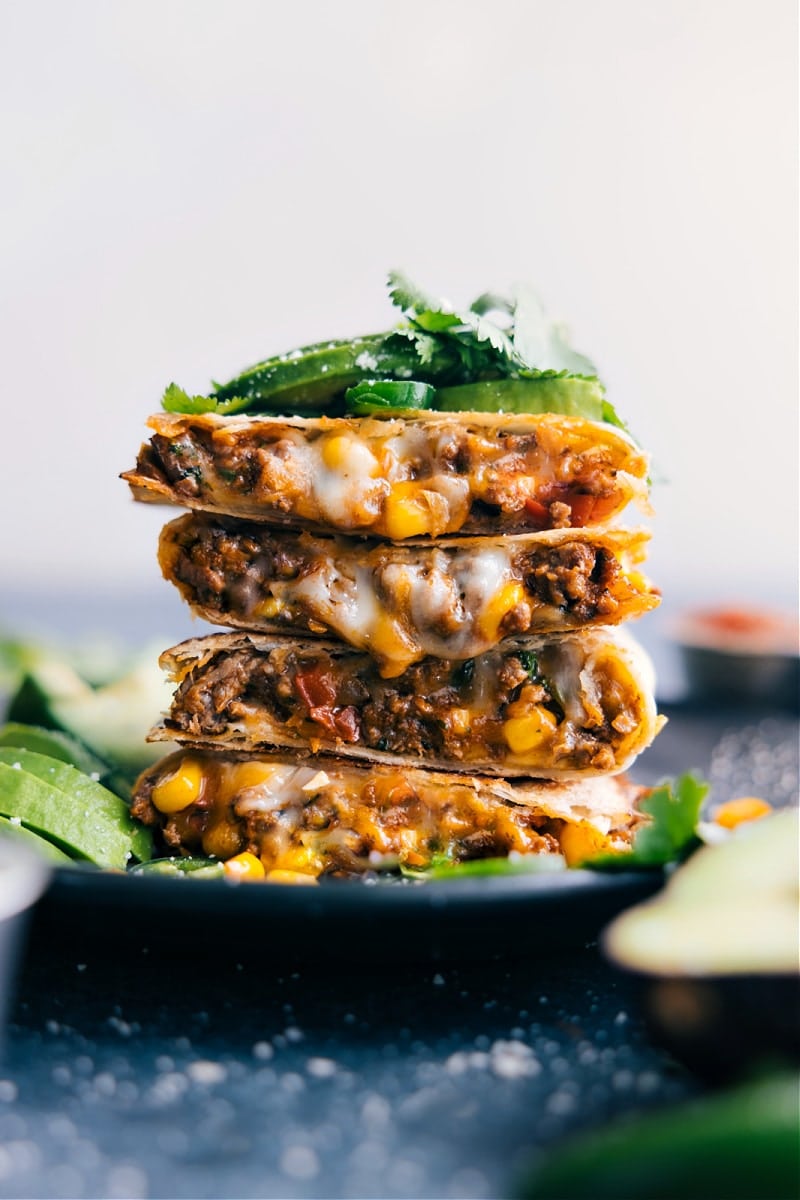 Quesadillas are great for making ahead and it was one of the meals I made while pregnant and planning for post-partum days. Fill tortillas with perfectly-seasoned ground beef dotted with crisp corn and sweet bell peppers, top with cheese and fold. Wrap in foil and freeze or refrigerate! If frozen, thaw out in the fridge or out on the counter, or pop in a microwave for a minute. Otherwise, pan-fry in a tiny bit of oil, covered with a lid, until browned on each side and the cheese gets gooey and melted inside. From Chelsea's Messy Apron.
Vegetable Beef Soup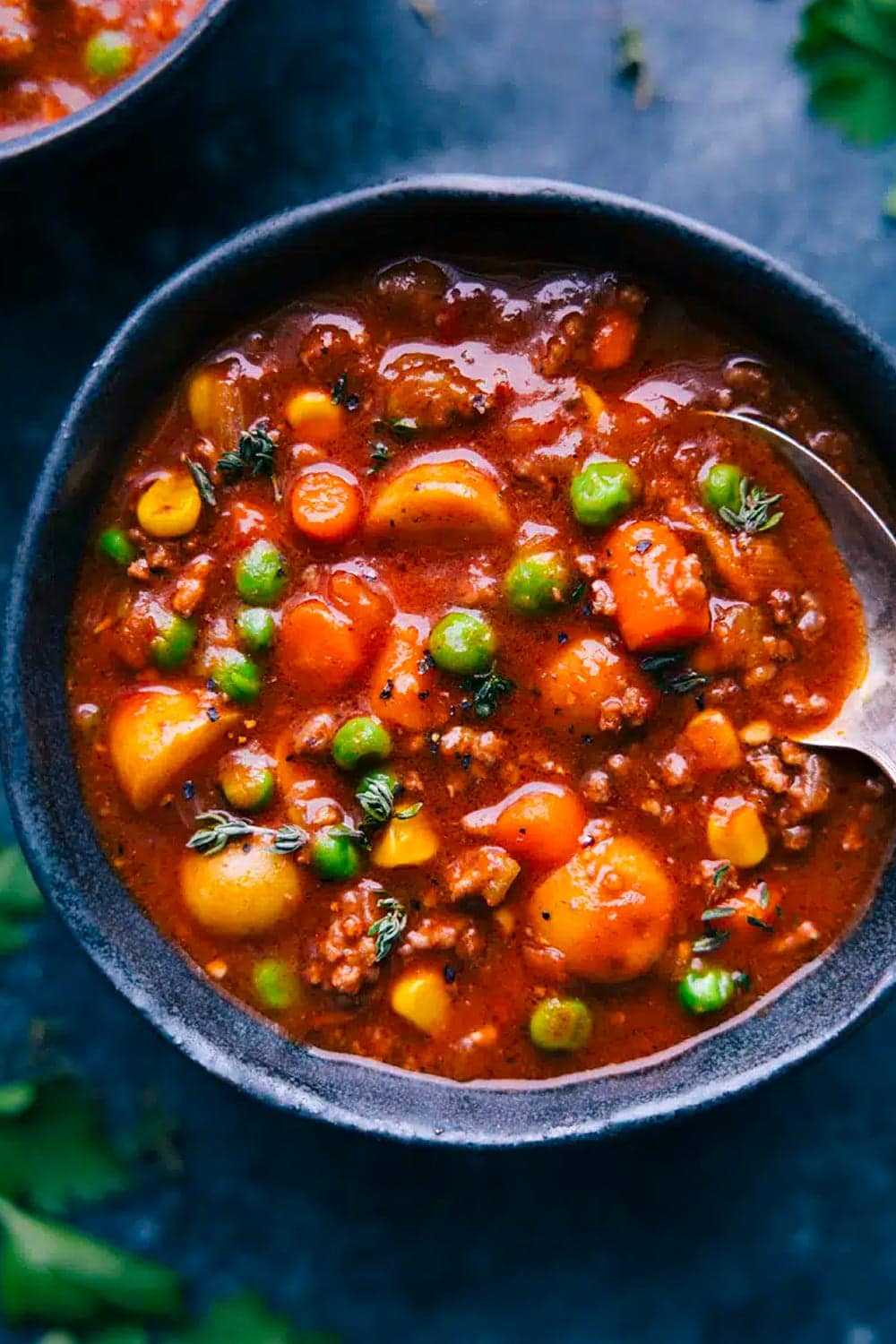 This soup is a deeply savoury, rich, and thick soup, complete with tender ground beef, loads of colourful veggies, and the most delicious broth! It's a great candidate for making ahead of time– it only gets more flavourful as it sits! It reheats well and freezes great. From Chelsea's Messy Apron.
---
17. No-Food Processor Protein Balls
Beef Picadillo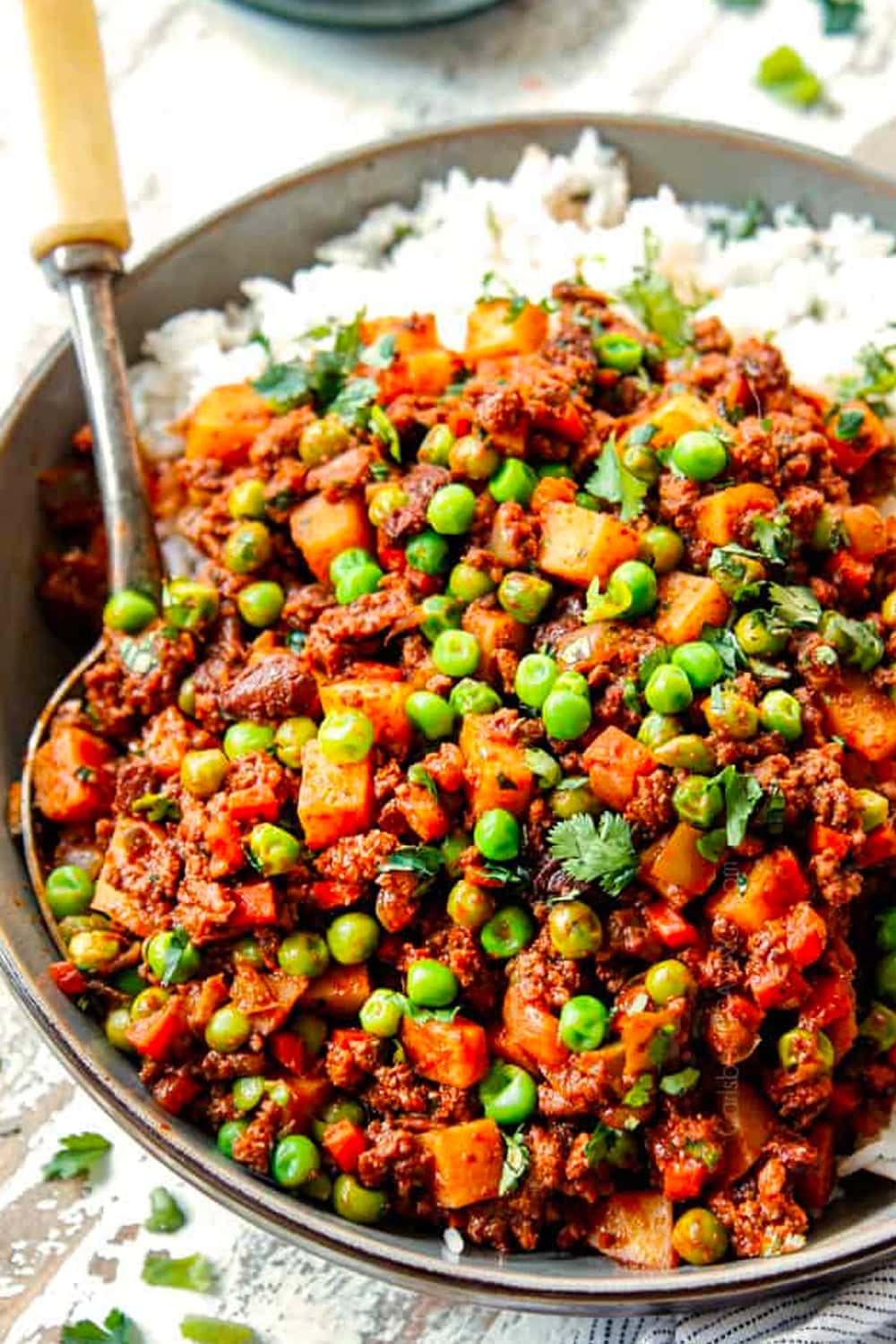 Picadillo is a warm, satisfying, intensely flavorful Latin American dish made with ground beef, potatoes, onions, bell peppers, carrots, and raisins all simmered together in a seasoned tomato sauce. Serve with rice or in a taco, stuffed peppers, tostadas, burritos, enchiladas or empanadas. You can see how it's the perfect meal prep dish! From Carlsbad Cravings.
Greek Meatballs (Keftedes)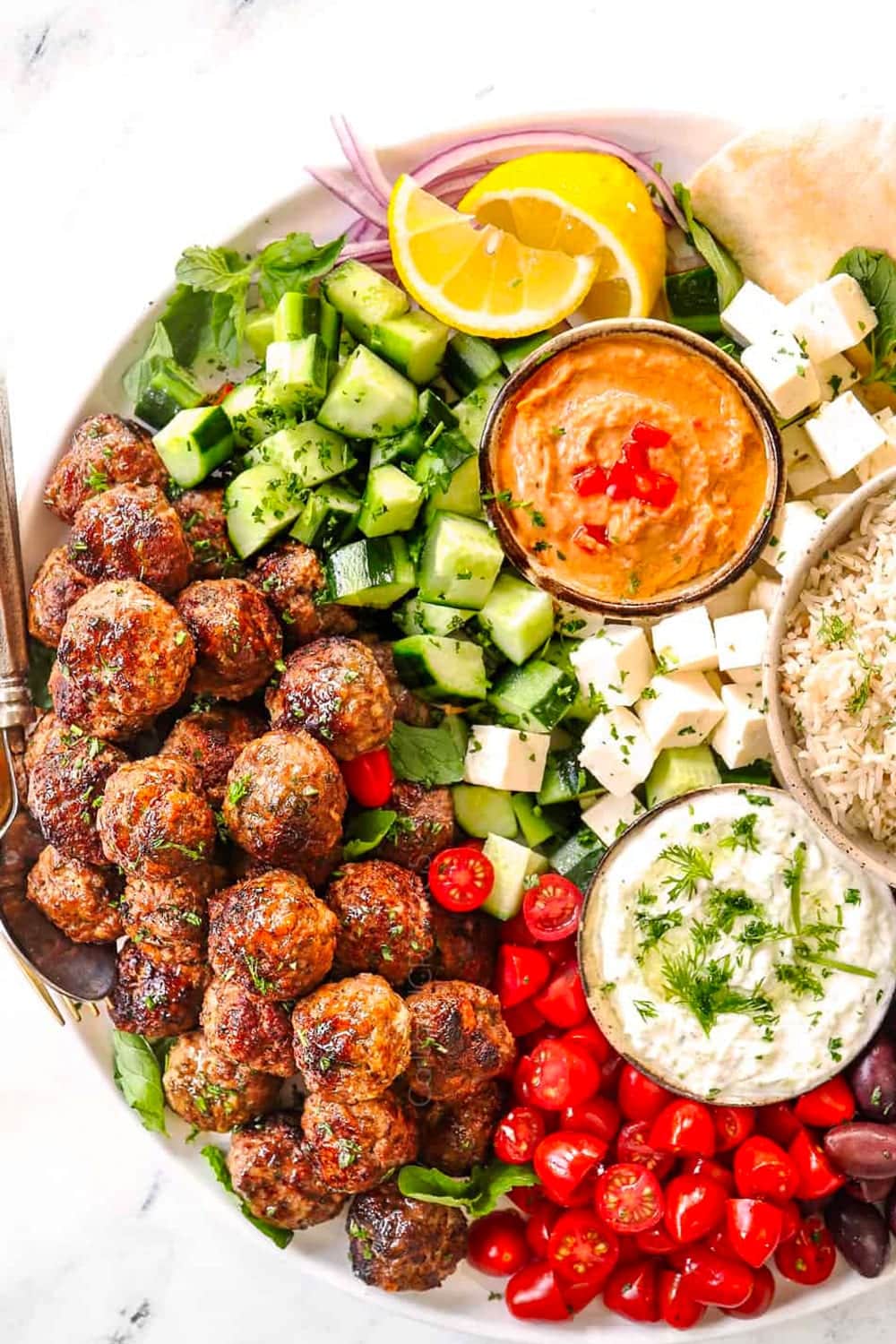 These Greek Meatballs (Keftedes/Keftethes) are tender, juicy, bright, satisfying and dripping with lemon, garlic, dill and oregano flavours. They are easy to whip up and can be cooked on the stove or in the oven. Refrigerate or freeze and serve when needed with a side of lemon rice or quinoa, Greek salad and a dollop of Greek yogurt or refreshing tzatziki. You can also add them to wraps, salads, lunch bowls, pasta and so on. From Carlsbad Cravings.
---
17. No-Food Processor Protein Balls
I hope these ground beef meal prep ideas and recipes were inspiring and appetizing. I will certainly be adding some of these to my upcoming menus. Let me know in the comments if you have a favourite dish using ground beef mince.