This website may contain affiliate links and advertising so that we can provide recipes to you. Read my privacy policy.
Super easy and super delicious, you are going to love these juicy Grilled Tomatoes! Each slice is cooked to perfection and bursting with luscious, savory flavors in every bite.
Serve both standalone and as a side dish for a healthy and delicious treat ready to impress. I love the way fresh tomatoes enhance my summer cooking- the flavor pairs perfectly in sandwiches, skewers, and skillets.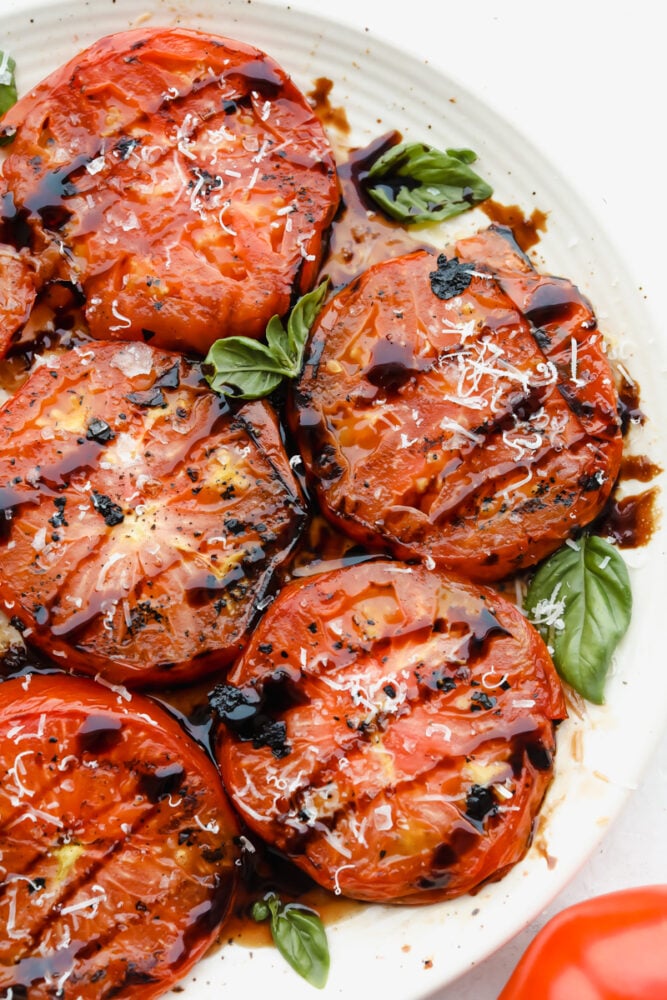 Easy Grilled Tomatoes Recipe
To me, grilling brings out the best in tomatoes. You start with fresh slices of tomatoes and in just a couple quick and easy steps, you have created a soft, smoky masterpiece while still retaining all of the health benefits of this versatile fruit. When tomatoes are cooked, it boosts the power of their natural antioxidants so you are left with something that tastes scrumptious but is great for your body, too! They have the best flavor and texture, so I love eating them as-is, but I also love putting them on bread for a super simple bruschetta that tastes just as delicious as what you can get from top-tier Italian restaurants.
Now, I know that tomatoes aren't everyone's favorite. But if you use any recipe as a gateway drug, let it be this one. The simple addition of fresh herbs, sea salt and balsamic glaze really transform plain old tomatoes into a sophisticated treat. I love the sweet, tangy balance these tomatoes give when paired with grilled meats at a barbecue. These grilled tomatoes really add the most amazing summery flavor!
Grilled Tomatoes Ingredients
Since these grilled tomatoes recipe only requires a few ingredients, it is best to make sure they are all extra fresh to have the best outcome!
Tomatoes: You will need 3-4 that are large and firm.
Salt and Pepper: To taste.
Olive Oil: Adds moisture and flavor to your tomatoes.
Freshly Shredded Parmesan: Adds a pinch of sharp, salty flavor to your tomatoes. You can also substitute Parmesan for fresh Romano cheese.
Flaky Sea Salt: I like using sea salt to sprinkle on top for added flavor and texture.
Balsamic Glaze: Use balsamic vinegar to cook down into a smooth glaze.
Basil: To add a light, slightly sweet flavor to tomatoes.
How to Make The Best Grilled Tomatoes
Making grilled tomatoes is as easy as it sounds. Simply pop them on the grill and add fresh toppings for a decadent treat!
Preheat Grill and Prep Tomatoes: Preheat grill to high heat. Slice the tomatoes into ½ inch slices. You can seed the tomatoes but it is optional, I left mine with the seeds. Drizzle with olive oil.
Grill: Add the sliced tomatoes to the grill. Grill on each side for 2-3 minutes.
Add Toppings: Remove from the grill and serve with optional toppings if desired.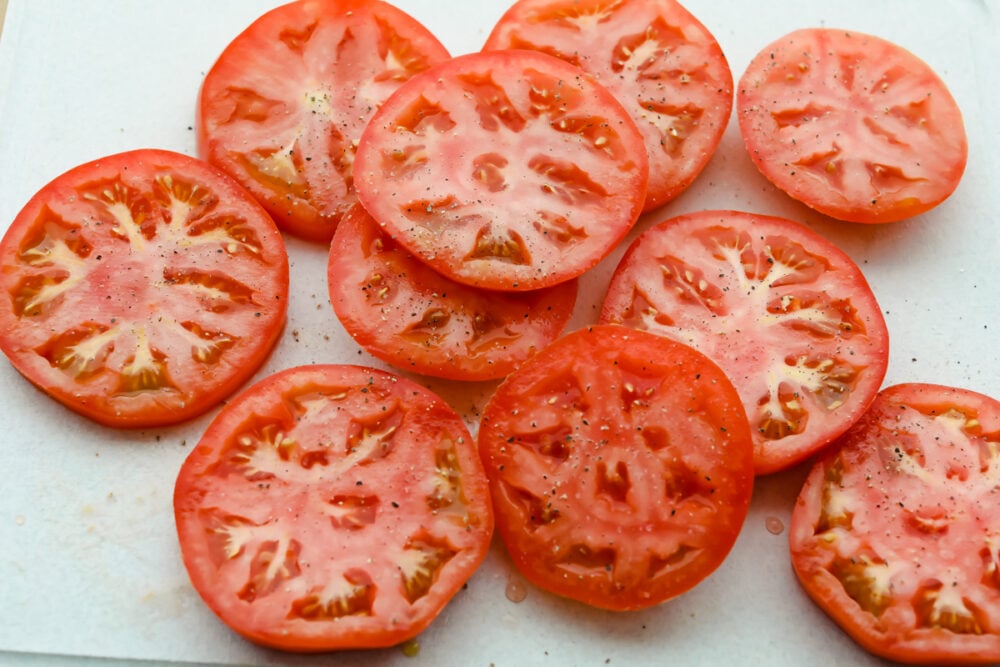 Tips and Tricks for Grilled Tomatoes
Up-level your tomatoes with just a few simple tips! These grilled tomatoes will be a favorite side dish or appetizer.
Tomatoes: Look for tomatoes with a consistent, deep red coloring. You will also want to make sure your tomatoes are large and heavy. Since this recipe works best with fresh ingredients, try to purchase no earlier than a day before grilling.
Toppings: In addition to basil, you can add rosemary, oregano or cilantro to your tomatoes for a pinch of cool, crisp flavor. You can also use fresh dill for a summery kick!
Cheese: Instead of Parmesan or Romano, try sprinkling fresh feta over your tomatoes for a Greek twist on the dish.
Caprese-Style: Serve your tomatoes up alongside fresh mozzarella for a classic Caprese Salad.
Cooking on High Heat: Be sure to grill your tomatoes on high heat. This will give them the perfect smoky flavor and char.
Perfect Grilled Tomato Pairings
For a barbecue-ready meal, I like to serve my tomatoes alongside steak, grilled chicken, and pasta salad. For quick weeknight dinners, you can also use leftover tomatoes to create sandwiches and skewers for delicious meals that come together in minutes. I cannot get over how tasty and versatile grilled tomatoes are!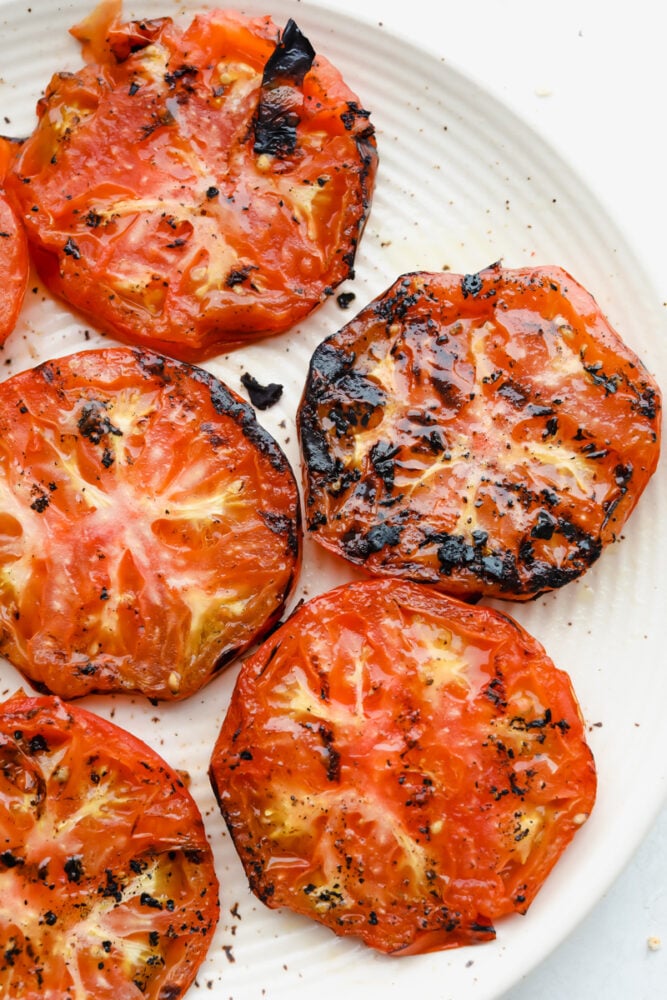 Storing Grilled Tomatoes
In the Refrigerator: Grilled Tomatoes are best served fresh, but can also be kept in an airtight container in the fridge for up to 3 days.
To Reheat: Grilled tomatoes taste best reheated in either an oven or toaster oven to keep from becoming soggy. Place your tomatoes on a baking sheet and bake at 450 degrees Fahrenheit for 5 minutes for best result.