This website may contain affiliate links and advertising so that we can provide recipes to you. Read my privacy policy.
This grilled lemon pepper chicken is the perfect summer grilling recipe! This juicy chicken is packed with lemon, garlic and onion flavors that will make your mouth water and keep you coming back for more!
I love cooking on the grill all summer long! Pair this chicken with some delicious sides to make it a meal! I love this grilled asparagus, this delicious melon side and this delicious strawberry cheesecake salad to go with it!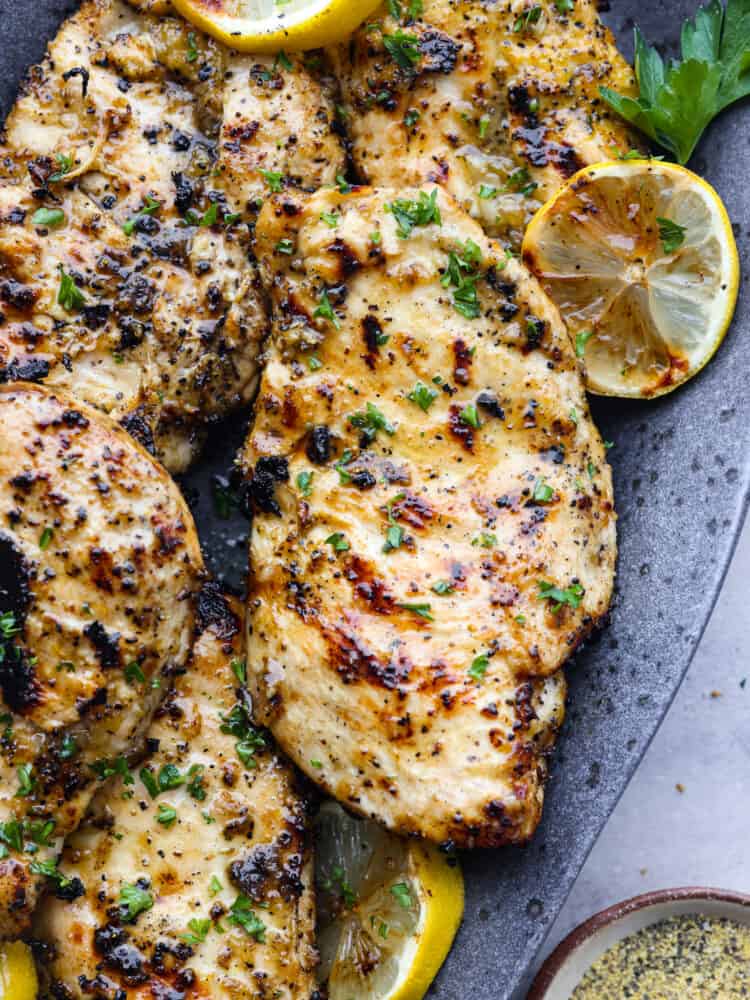 Grilled Lemon Pepper Chicken Recipe
One of my favorite things about the summer is having BBQ's. Even though my hubby is king of the grill, I am pretty good at it myself! I love lemon pepper seasoning so I was excited to try out some chicken to put on the grill. I already had a back up plan for my picky kids if they didn't want this for dinner. But to my surprise (and delight!) they ate the entire piece of chicken and asked for seconds! If my kids loved it then I know that your family will too!
This lemon chicken is marinated overnight in an amazing lemon pepper chicken marinade. It has a delicious balance of sweet and tart and the lemon flavor is very subtle. The chicken grilled up perfectly and was so tender and juicy with just the right amount of flavor. I cut up some lemon slices and grilled them on the grill and they made the perfect lemon zest garnish to this amazing dish!
Ingredients in Lemon Pepper Chicken
This whole recipe (marinade included) only uses seven ingredients! And that's including your chicken! Check out the recipe card at the bottom of the post for exact measurements.
Chicken Breasts: I always use boneless, skinless chicken breasts for this recipe.
Olive Oil: The online oil acts as a base to the marinades and will help make your chicken moist
Lemon Juice: Don't worry, the amount of lemon flavor is just perfect! not overwhelming but you can definitely taste it. You can use fresh lemon juice or lemon juice from a bottle.
Garlic: I used minced garlic straight from my fridge which makes it so easy!
Onion: Dice up your onion into small pieces so that you can have that flavor in every bite!
Salt and Black Pepper: These will enhance all of the flavors in the marinade.
How to Grill Lemon Pepper Chicken
Plan on making this recipe ahead of time so that you can enjoy tender and juicy chicken the next day! It's so good and make a simple and delicious meal.
Whisk: Whisk together olive oil, lemon juice, minced garlic, salt, and pepper. Add the diced onion.
Marinate OVERNIGHT: Put chicken in a gallon sized bag with marinade. Allow to marinate overnight.
Cook: Place chicken on preheated grill and sprinkle with additional pepper. Cook for about 20 minutes on the grill or until no longer pink in center. **You can also grill additional lemon slices for garnish.**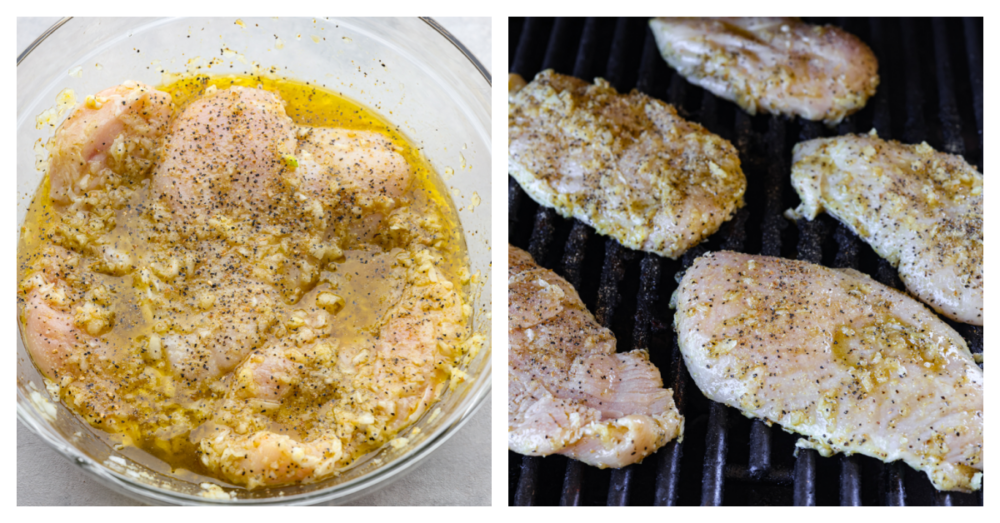 Tips for Grilling Chicken
Over the years I have learned a lot of tips and tricks for grilling chicken. Through my learning process, I have compiled everything you need to know to make the perfect grilled lemon pepper chicken!
How hot does my grill need to be? Your grill needs to be at least 350 degrees before you begin cooking your chicken.
Where do I place the chicken on the grill? You want to aim for indirect heat on the chicken, so do not place it directly over a flame.  The inside of the chicken needs to have time to cook completely without burning the outside.
How long do I cook my chicken? Depending on the size or thickness of your chicken, every piece will be different. The average is 5-8 minutes per side.  For example, a ¾-inch thick breast would cook 5 minutes per side.  Add more time for a thicker piece or a bone-in chicken.
Do I need to turn the chicken as it cooks? Only flip it once while cooking. Any more than that and your chicken may start to break apart or stick to the grates.
How do I know when my chicken is done? Chicken is done when the internal temperature reaches 165 degrees Fahrenheit. Always use a meat thermometer to check and make sure it's done.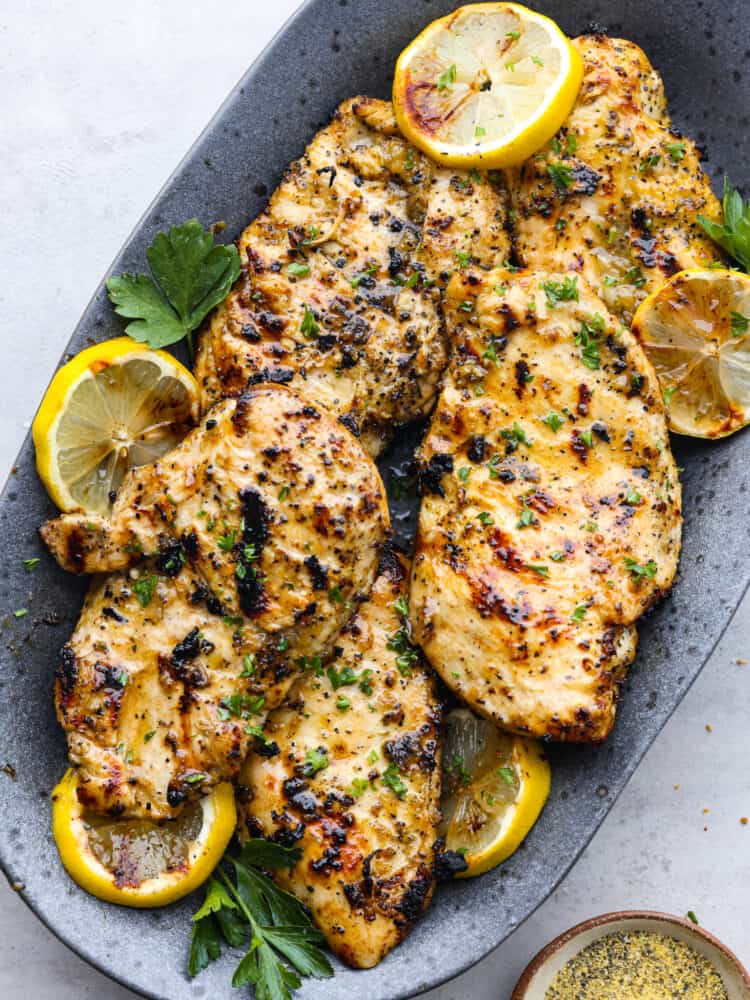 How to Store Leftovers
We all know how good that leftover lemon pepper chicken can taste the next day! The key is to store it correctly! Here are some tips so that your chicken doesn't dry out the next day.
Refrigerate: Once your chicken has cooled completely then place it in an airtight container and store it in your fridge. It will last about 3 days.
Reheat: Place the chicken in a baking dish and put it in the oven at 350 degrees Fahrenheit. Cook it for about 5-10 minutes or until it reaches the desired temperature.