This website may contain affiliate links and advertising so that we can provide recipes to you. Read my privacy policy.
Grilled Key Lime Chicken is tender and juicy chicken marinated in key lime flavor and grilled to perfection on a skewer.  It is quick and easy to make and enjoy with your family on a warm summer night!
So many ways to enjoy this chicken dinner! Try adding this key lime chicken to a fresh homemade salad like my Chili Lime Chicken Salad or grill it and serve it alongside sweet Grilled Coconut Lime Pineapple.
Grilled Key Lime Chicken
We absolutely love BBQ's at our house in the summertime!  So, new grill recipes are always a big hit.  As soon as I made this Key Lime chicken, it became an instant favorite! The marinade is amazing and it has the perfect hint of lime in it. This is the perfect summer dish and the flavor is incredible.
It was easy to grill the chicken to perfection and it turned out so juicy and tender. Simple to make and comes together in less than 20 minutes. This is a MUST make grilled chicken recipe. Your family will love this key lime chicken!
What's in Key Lime Chicken?
The secret to this light and fresh grilled chicken is the made from scratch marinade.  The salty, sweet, and sour notes are all perfectly balanced and easy to achieve using a few simple ingredients that come together flawlessly!
Soy Sauce: Mixes into the marinade to add salty flavor.
Honey: Adds sweetness to the marinade.
Vegetable Oil: Keeps the chicken moist as it grills.
Lime juice: Adds a fresh citrus lime flavor that sets this recipe apart.
Minced garlic: Whisk together with the marinade to add more flavor to the chicken.
Chicken breasts: Use boneless skinless
Garnish: Limes are optional.
How to Grill Chicken Perfectly:
Grilling this favorite chicken is quick and easy to do!  It takes just a few minutes to whisk together this delicious and simple marinade.  Then, let the chicken marinate for at least 30 minutes and you are ready to grill!  The smell of this chicken as it cooks is so good!  You can have a healthy and delicious meal your entire family loves on their plates in less than an hour!
Prep chicken: Cut chicken into one inch squares.
Whisk marinade: Mix soy sauce, honey, vegetable oil, lime juice, and garlic in small bowl.
Allow chicken to marinate: Place the chicken breasts in gallon sized bag. Now, let the chicken marinate in the sauce for at least 30 minutes.
Load skewers: When marinated, slide chicken chunks on skewers. You can also slice thin slices of lime and fold in half and slide in between chicken.
Grill chicken: Baste chicken with sauce once you place them on the grill, then grill for 5-10 minutes on each side until no longer pink in center.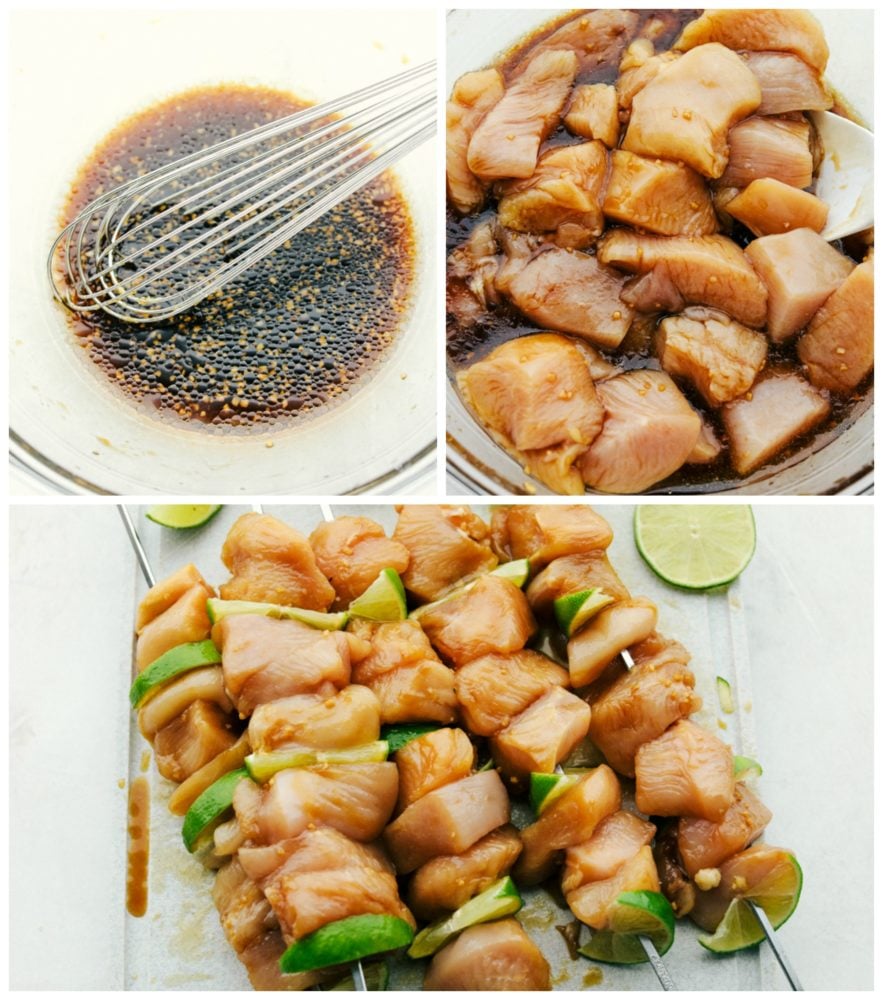 Tips for the Best Grilled Chicken:
The bright and tangy flavors of this key lime chicken are amazing!  The blend of flavors make this chicken an instant favorite.  Keep in mind these tips as you prepare this super easy chicken.
Serve with: This chicken is amazing sliced and served in tacos.  It also livens up a fresh green salad.  Grilled pineapple and mango salsa are great sides to serve with the citrus chicken as well.
How do you know when the chicken is done: The chicken is done when the juices run clear.  To be sure, check to make sure the chicken has reached an internal temperature of 165 degrees.
Rest: Allow the chicken to rest 10 minutes before serving.
Storing Key Lime Chicken:
You may be tempted to think the longer the chicken sits in the marinade the better.  However, do not leave chicken marinating in the refrigerator for longer than 2 days.  The chicken can actually get tough if left in the marinade too long.
Once cooked, allow the chicken to cool completely, then place your chicken in a tightly sealed container with as little air as possible.  Shallow containers work great or you can wrap the chicken tightly with aluminum foil.  The leftover chicken will remain good for 3-4 days in the refrigerator.  If you do not plan to eat it right away, it can be stored in the freezer for up to 4 months.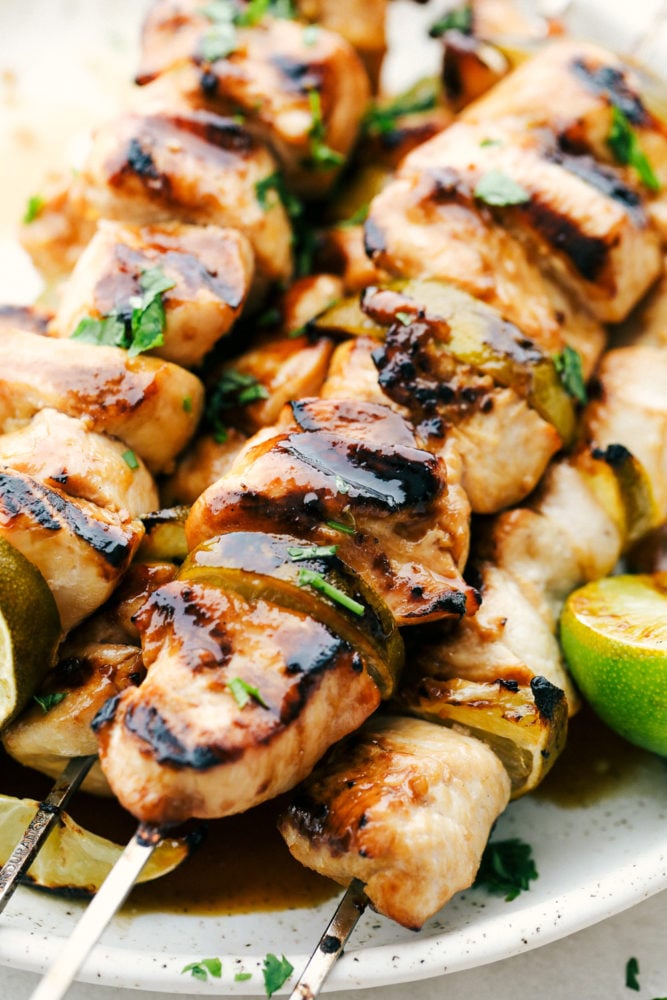 More Amazing Lime Chicken Recipes: