This website may contain affiliate links and advertising so that we can provide recipes to you. Read my privacy policy.
Grilled Hawaiian barbecue chicken in foil has the most amazing sweet and tangy pineapple barbecue sauce! It grills to perfection with fresh pineapple and delicious summer veggies!
If you love recipes like this that you can cook up on your grill, then you MUST TRY this amazing grilled asparagus, these grilled kabobs and this delicious grilled shrimp!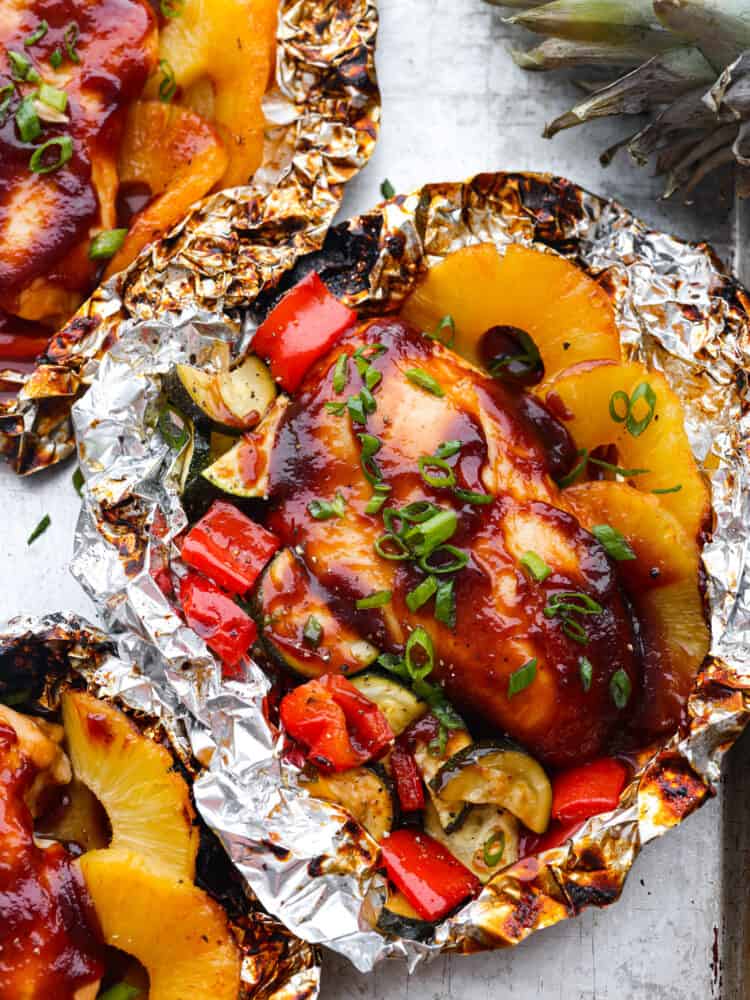 Grilled Hawaiian BBQ Chicken in Foil Recipe
A tragedy happened in our house and our grill died. You all know by now how much I love that thing. Summer BBQs happen at our house quite regularly so I need my grill! But don't worry, I had a grill delivered to my front porch in just two days and I was back to grilling in no time!
One of our favorite things to grill this summer has been foil packets. They are the perfect serving for each member of the family. Each little packet is complete with tender and flavorful meat and veggies. I loved this Hawaiian BBQ recipe here on the blog so much that I decided to turn it into a delicious foil packet. It turned out so delicious and the flavor was amazing. The sweet and tangy pineapple barbecue sauce smothered on the chicken cooked with delicious pineapple and summer veggies. Every single one of us loved these delicious foil packets. I know your family is going to love them too!
Ingredients in Grilled Hawaiian Barbecue Chicken
This recipe has so many fresh flavors from the fruits and veggies that you combine with your chicken. Check out the recipe card at the bottom of the recipe car for exact measurements.
Chicken Breasts: I like to use boneless, skinless chicken breasts for this recipe.
BBQ Sauce: I like to make my own BBQ sauce using this recipe. But if you are going for store bought then Sweet Baby Ray's is my favorite!
Pineapple Slices: Don't drain your pineapple slices, keep the juice!
Soy Sauce: This adds a great zing of flavor to the sauce.
Garlic: I used minced garlic in this recipe.
Vegetables: You can use whatever vegetables that you like but I love pairing red bell pepper, zucchini, and green onions with the pineapple.
How to Make Hawaiian BBQ Chicken Foil Packets
These are so easy and turn out perfectly tender and juicy every single time. They are perfect for any summer BBQ but you know me, I like to cook foil packets in the winter too using my oven! See the instructions below on how you can change this up and make them all year long!
Prepare foil packets: Heat grill to medium heat. Cut 4 sheets, enough to wrap the chicken and veggies, of heavy-duty foil. Then, place chicken on the center of aluminum foil and divide the veggies and add 2-3 pineapple slices into each packet.
Whisk sauce: In a bowl, whisk together bbq sauce, juice from the can of pineapple slices, soy sauce, and garlic. Spread about 2 Tablespoons of the sauce on the chicken and make sure to reserve about ¼ cup.
Grill and garnish: Place chicken packets onto grill and grill for 13-15 minutes flipping at about 7 minutes.To serve carefully open packets, baste with reserved sauce, and garnish with green onions.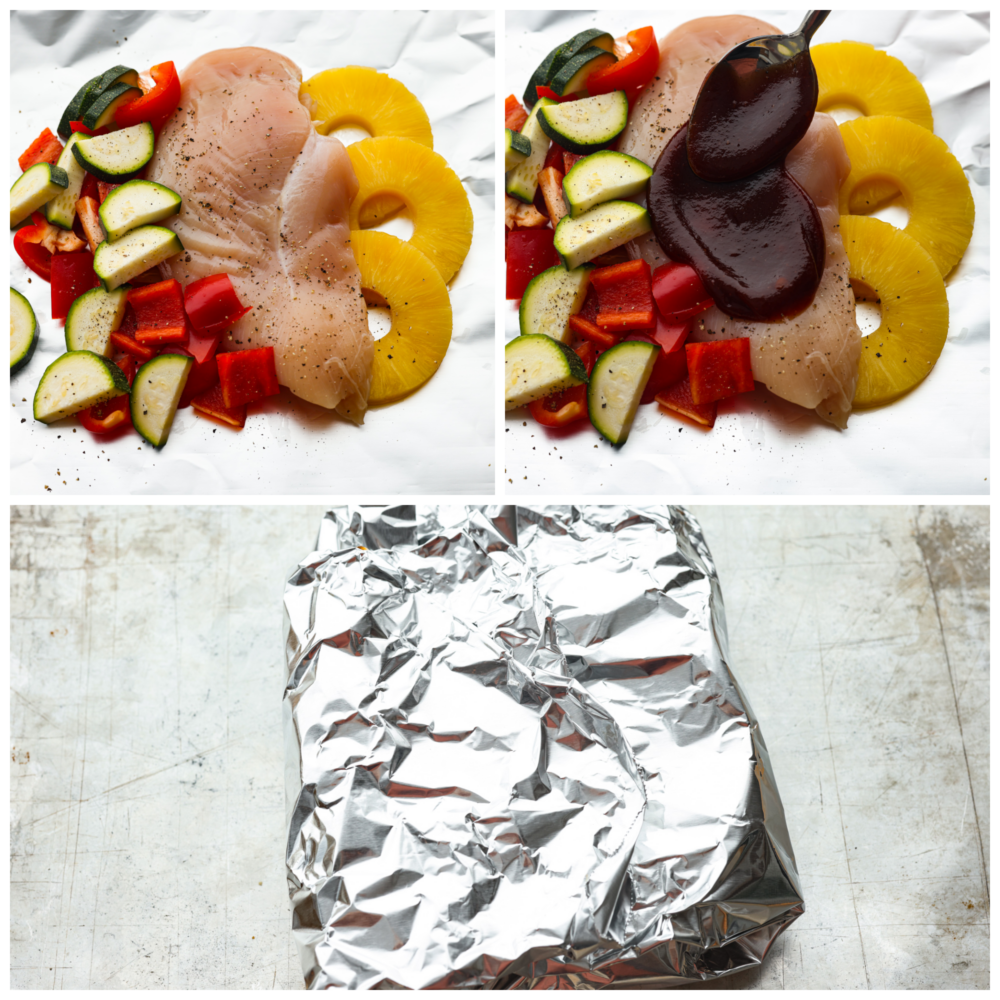 Can I cook foil packets in the oven?
Yes! You can actually cook this grilled Hawaiian barbeque chicken in your oven if you prefer that or don't have a grill to use!
Pre-heat oven to 400F and make your packets. Make sure to seal the foil around all ot the ingredients nice and tight. Bake for 20 minutes or until chicken is cooked through. The internal temperature of cooked chicken is 165 degreed Fahrenheit.