Learn how to make a healthy grilled chicken piccata infused with lemon, garlic and capers marinade using a barbecue grill or a stovetop pan rather than deep-frying or shallow-frying the meat dredged in flour batter. Succulent and juicy chicken thighs with chargrilled finish are served with buttery lemon caper sauce on top and a little mint for freshness.
This modified Italian classic is gluten-free, low-carb and keto, paleo and Whole30-friendly and is great for any time of the year but especially in summer when you feel like cooking outdoors.
---

What Is Chicken Piccata?
Chicken piccata (sometimes spelt picatta or pichotta) is a popular Italian dish of sliced chicken dredged in flour and deep-fried or shallow-fried in butter or oil, then finished with a sauce containing lemon and capers; often garlic or shallots are added and fresh herbs like parsley are used to finish the dish.
There are many variations of chicken piccata such as the popular Olive Garden version in the US that is saucier and features the additions of dried-tomatoes and heavy cream or the more rustic Italian version of almost chicken schnitzel like dish with a very simple sauce of butter, lemon and capers.
My recipe is kind of like a healthy chicken piccata because the meat is marinated in the sauce and grilled without the addition of any flour. The sauce is then made from the excess marinade and a touch of butter or ghee, depending on your dietary preferences. What you get is the essence of traditional piccata flavours but with more freshness and that lovely chargrilled finish.
How To Make Grilled Chicken Piccata
You will find the full list of ingredients, instructions and nutritional breakdown for this dish in the recipe card below. Here are handy step-by-step photo instructions to guide you along the way.
I decided to use chicken thighs because they are more tender and flavoursome but you can slice a few chicken breasts instead. The marinade would also work with chicken wings or drumsticks that could be roasted or/finished on the grill.
Step 1. Prepare the marinade by chopping garlic and capers and combining with lemon juice, zest and olive oil.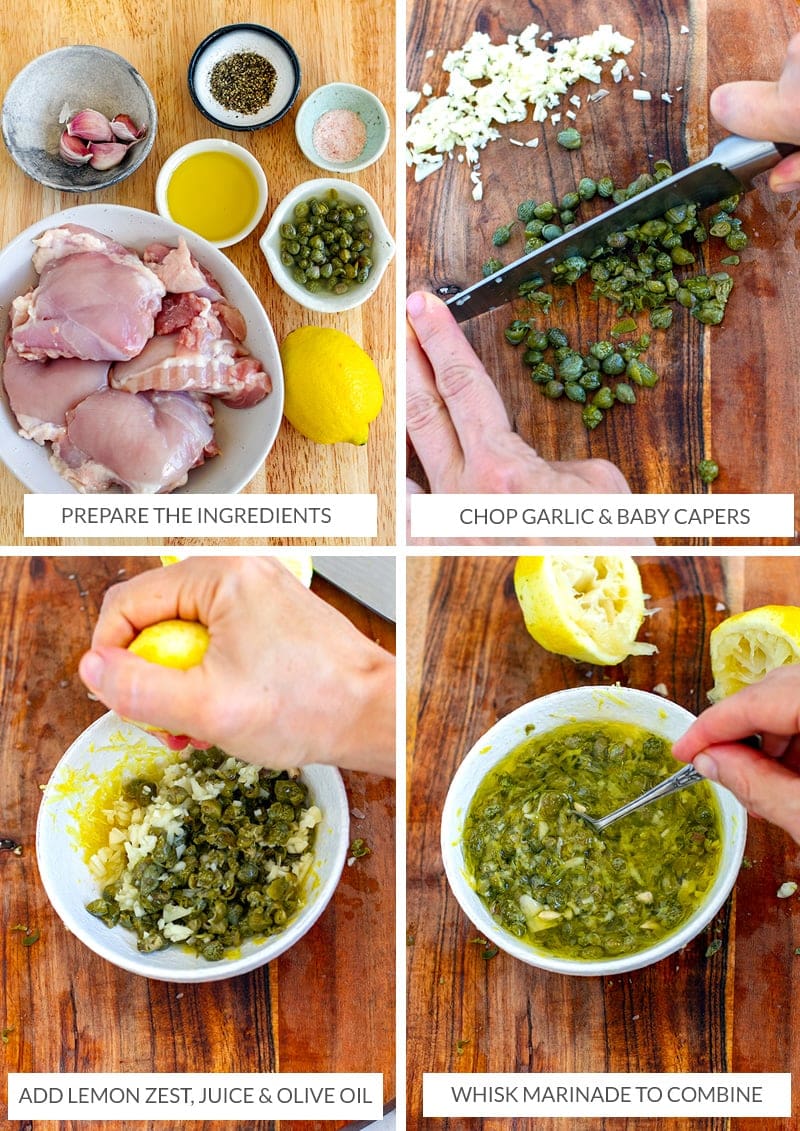 Step 2. Cut chicken thighs in halves and season with salt and pepper. Then mix with the marinade and transfer to a Ziplock bag or a container. Refrigerate for at least 1-2 hours but ideally 4-6 hours or overnight to marinate and infuse with all those gorgeous flavours.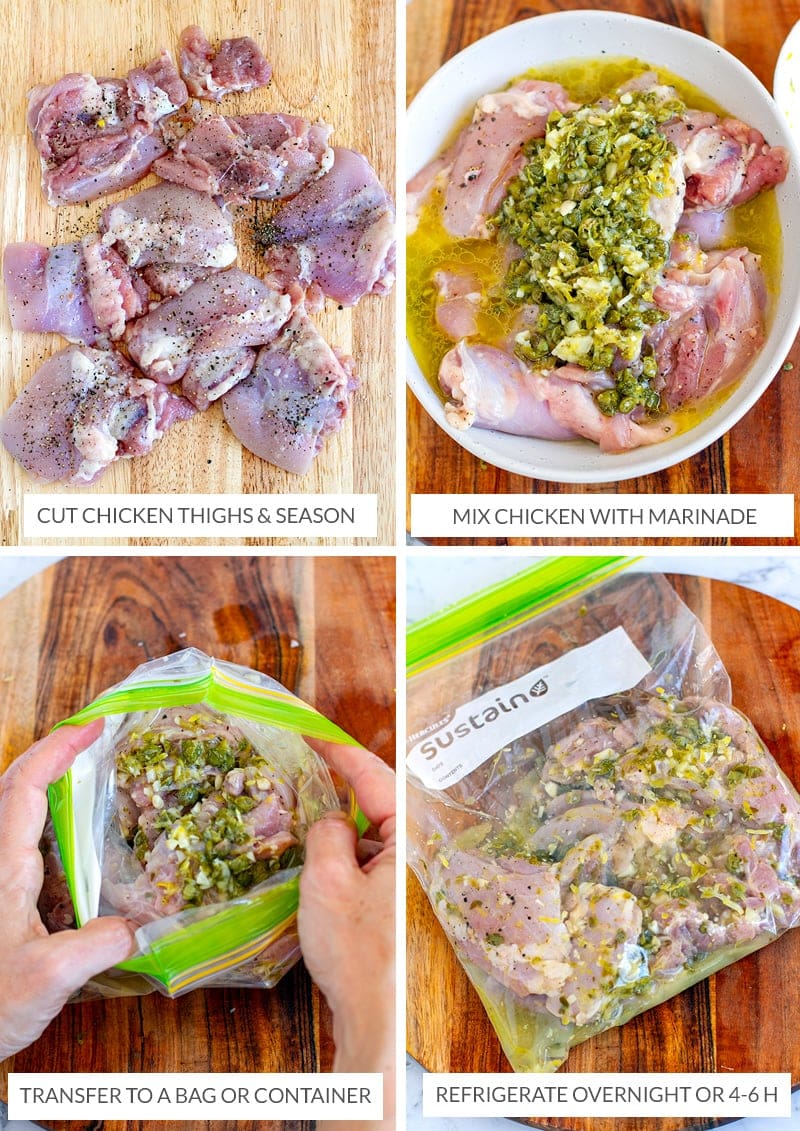 Step 3. Remove chicken from the fridge to come to room temperature. Heat a BBQ grill or a frying pan to medium-high heat. Shake off excess marinade, garlic and capers off the chicken pieces to a plate.
Place the meat on a hot barbecue grill for 8-10 minutes on each side (I usually do 2-3 minutes uncovered and a few minutes covered with a hood) or about 7-8 minutes on each side in a hot frying pan but make sure to not overcrowd the pan or the meat will stew rather than grill; do them in batches if needed. 
This is optional, but I like to grill a few lemon slices at the same time. They look great as a garnish on a finished dish and can be used for extra acidity.
Step 4. While the chicken is grilling, make the piccata butter sauce. Add the remaining marinade with all the garlic and capers to a frying pan together with a tablespoon or two of butter (or ghee). Cook over medium-high heat for a minute or two until thickened and fragrant; turn the heat off when the garlic starts to turn golden. Set aside.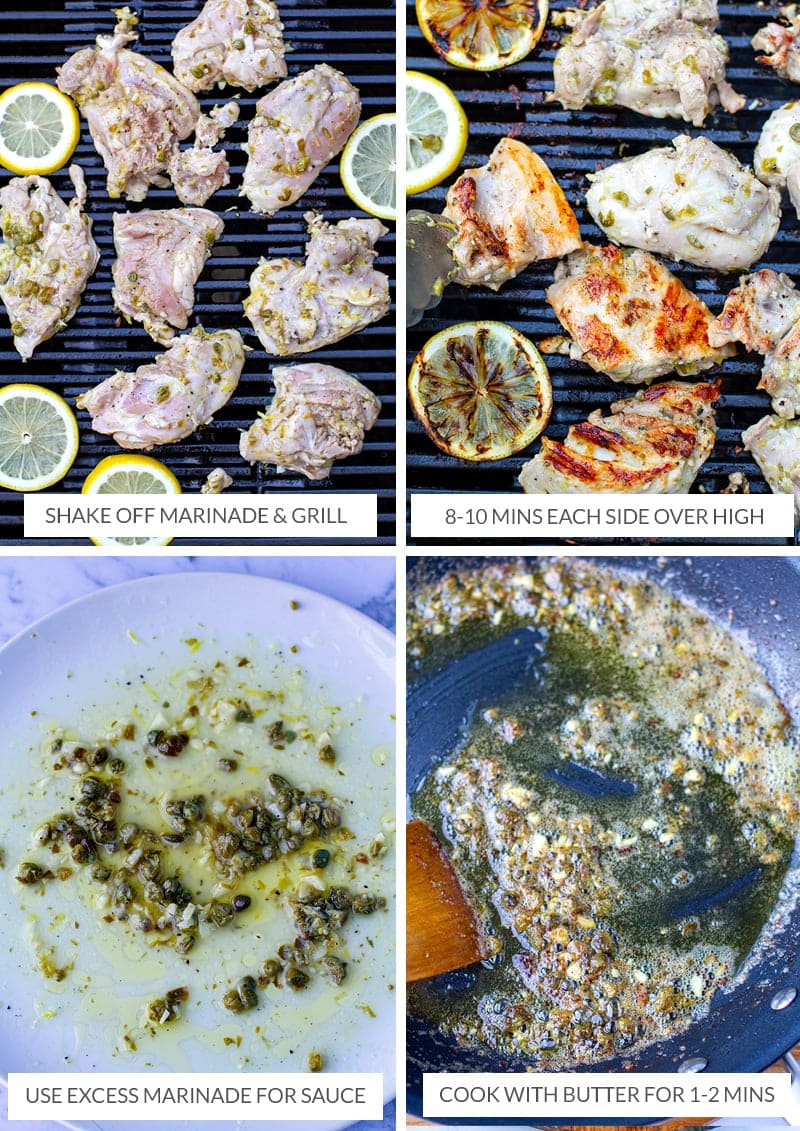 Step 5. To finish the dish, serve grilled chicken on a platter and drizzle with buttery lemon sauce all over. Top with freshly chopped mint or parsley. 
Cooking away from the kitchen? If you're cooking outdoors with no access to a stove, you can make the sauce in a small pan on the barbecue grill or simply finish the dish by melting the butter over the cooked chicken; drizzle a little extra lemon juice and scatter a few capers on top.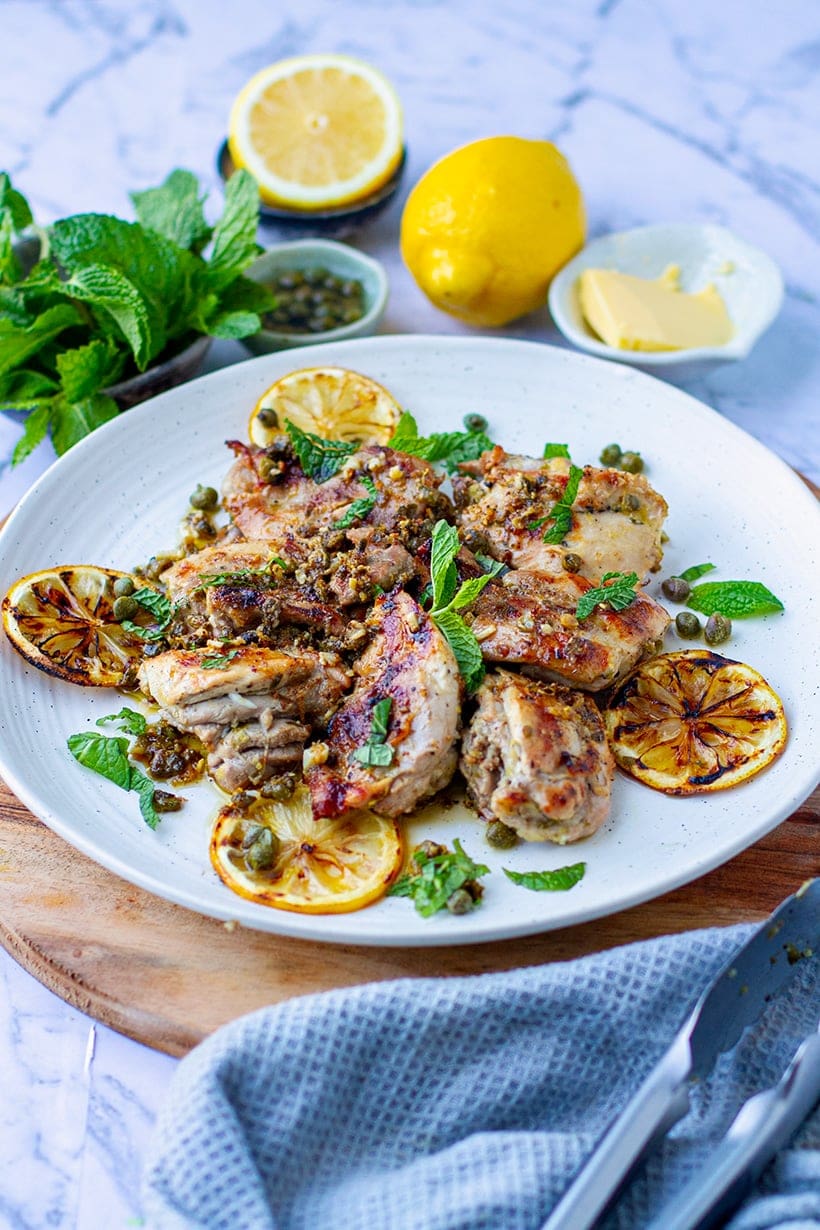 What To Serve With Chicken Piccata
The saucier chicken piccata like in the US is often served with things like pasta, polenta or rice or some vegetables. In Italy, veal or chicken piccata is a secondo dish and would be served after the pasta (or other starch) course, usually on its own or maybe with a fresh salad.
This grilled chicken piccata can be served with any vegetable side but is especially good with potatoes (sweet or white) and a salad. Because the meat is lemony, you want something a little less acidic on the side. Roasted or boiled potatoes or a potato salad would be wonderful as would a creamy mash; sweet corn on the cob would be a nice compliment and simple cauliflower rice or zucchini noodles for a low-carb side dish. 
Leftover chicken piccata is great in a salad, wraps or cold straight out of the lunchbox. Mmmm!
---
More Healthy Chicken Recipes
---
Print
---
Description
My grilled chicken piccata recipe is a healthy variation on the classic Italian dish. Using barbecue or pan to grill rather than deep-fry or shallow-fry the meat in flour batter, you get succulent and juicy chicken infused with lemon, garlic and capers flavours of the marinade, plus that lovely chargrilled finish. This is as a paleo-friendly, gluten-free, Whole30, low-carb and keto chicken piccata that can be enjoyed in summer or in winter.
---
---
Cut the chicken thighs in halves and place on a cutting board or a plate. Season evenly with salt and pepper. 

Combine roughly chopped capers, garlic, lemon zest and juice and olive oil in a bowl. Pour over the meat in a larger bowl and mix. Transfer to a container or a Ziplock bag. Refrigerate to marinate overnight or for about 4-6 hours (at least for 1-2 to get all those flavours in the meat). 

To cook the chicken, you have two options: barbecue grill or stove grill/electric grill indoors. In my case, we grilled on our Webber BBQ outdoors. In both cases, it is super important to remove the chicken from the fridge for at least 15-30 minutes to come to room temperature so that it cooks evenly. 

BBQ: 

Heat BBQ to medium-hot, make sure the grill is clean from any burnt bits from the previous grill. Shake excess marinade off the chicken pieces (brush off some of the garlic capers onto a plate, reserve the juices) and places on a hot grill plate. Cook for about 8-10 minutes each side or until well browned and feels cooked to touch (you can cut one of the pieces to check). Depending on how evenly hot your grill plate is, you might need to move the pieces around. 

Stovetop:

 If you're using a grill pan or a frying pan, brush it with some fat or oil and heat over medium-high heat. Cook the chicken for about 8 minutes each side. Make sure 

not to overcrowd the pan

 so that it grills rather than braises in too much juice/liquid that might get released initially. 

Prepare the piccata butter sauce: 

While the chicken is grilling, let's prepare the sauce with our remaining marinade. Traditionally, the piccata sauce is made with butter and that's what I used, but you could also go with ghee for a Whole30 or more dairy-free version. 

Stovetop accessible: 

Heat a separate pan over medium-high heat and add all the excess lemon caper marinade together with any bits of garlic and capers. Stir in 1-2 tablespoons of butter and cook for 1-2 minutes, allowing it to bubble away and crisp up a little. Once you see garlic is changing colour, turn the heat off and set aside.  

Cooking outdoors:

 If you're cooking outdoors and have no stove, you have two options. Bring a small pot or a pan that can go on the BBQ grill and do it in that. OR, once the chicken is ready, place a few dollops of butter on top of the hot chicken pieces and drizzle with extra lemon juice; sprinkle some capers out of the jar. It won't be quite the same sauce but you will get that buttery lemon finish. 

Finish the dish by sprinkling freshly chopped mint or parsley over the top. I love personally love mint here as it's a little different and adds a beautiful aroma to the dish. 
---
Notes
This recipe is for 4-6 servings, depending on what else you're pairing this dish with. In my photos, I only used 4 chicken thighs but adjusted ingredients for 8 chicken thighs. If making more meat, simply increase the marinade ingredients and the salt and pepper for seasoning chicken.
I decided to use chicken thighs because they are more tender and flavoursome but you can slice a few chicken breasts instead. Breast meat can overcook quickly so depending on the thickness of the slices, you may only to grill them for 4-5 minutes each side. The marinade would also work with chicken wings or drumsticks that could be roasted or/finished on the grill.
Butter can be replaced with ghee for a Whole30/Paleo or more dairy-free version. Otherwise, I would recommend sticking with butter as it really gives it that lovely authentic flavour.
Nutrition
Serving Size:

1.5 – 2 chicken thighs + the sauce

Calories:

383

Sugar:

2 g

Sodium:

1057.6 mg

Fat:

18.3 g

Saturated Fat:

5.8 g

Carbohydrates:

6.7 g

Fiber:

0.7 g

Protein:

47.5 g

Cholesterol:

234.8 mg
Keywords: Chicken thighs, BBQ, Barbecue, Grilling, Italian, Lemon, Capers, Chicken, Low-Carb, Keto, Paleo, Whole30