This website may contain affiliate links and advertising so that we can provide recipes to you. Read my privacy policy.
Grilled Asian Garlic Steak Skewers are marinated in a delicious Asian garlic sesame sauce and grilled to tender and juicy perfection.  Perfect for any BBQ or gathering!
Great grill meals for outdoor entertaining are a must at my house.  When I am in the mood for steak with delicious Asian flavors, I also love Grilled Flank Steak with Asian Marinade because it is unbelievably good!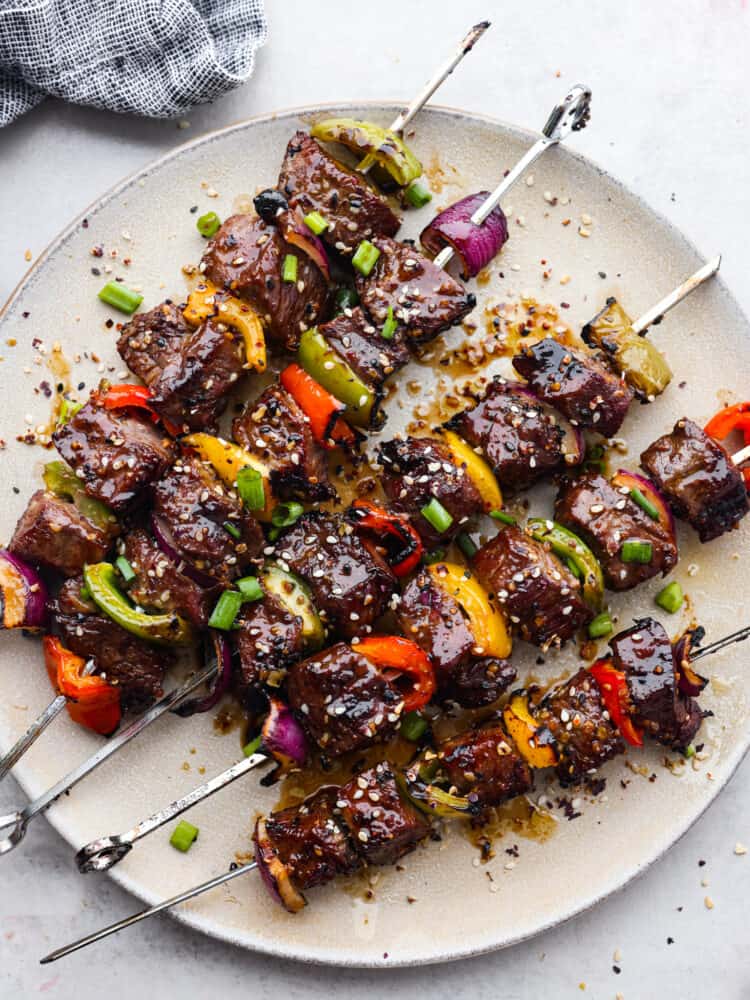 A Reader's Review
Excellent! Juicy and perfectly seasoned!
-Chloe
Grilled Asian Garlic Steak Skewers
Ok, ok I admit that I have a bit of an obsession with Asian foods. But this recipe was FANTASTIC! Anything that involves soy sauce, garlic, and sesame oil is an instant favorite in my book. This recipe was simple to put together and the flavor is out of this world good.
I am pretty picky when it comes to steak. It has to be tender and melt in your mouth. I just can't do the tough and chewy but it takes cooking the steak just right. Also buying a high-quality steak helps too you just can't overcook it. Tenderloin can be a little expensive but it will get the best results. A chuck roast is a little less expensive but can tend to be a little tough and chewy I have found. A sirloin tip is a good balance between the two and will deliver amazing results and a great kabab.
What do I need to Make Garlic Steak Skewers?
Top sirloin steak: Lean and fits into a balanced diet, and it's budget friendly.  (If you have room in your budget, filet is a great option as well!)
Red onion: Mild flavor and great color!
Soy sauce: It brings out meat's natural flavors and also tenderizes it.
Garlic cloves: minced
Sesame oil: Nutty and toasty flavor in the marinade.
Olive Oil: Mix together with sesame oil and soy sauce for marinade.
Sugar: Adds sweetness
Grated ginger: Keep ginger root in your freezer and grate some whenever you need it.
Sesame seeds: Sesame flavor combined with the ginger is trademark Asian flavor!
Bell Peppers: I love using yellow green and orange because of their taste and color!
Green onions: For garnish
Skewers: If using wooden, soak 30 minutes ahead of time in water.
How to Make Asian Garlic Steak Skewers:
Cut steak: Cut steak into one inch cubes. Cut the red onion into large chunks and set aside.
Wisk sauce: In a large bowl whisk together soy sauce, garlic, sesame oil, vegetable oil, sugar, ginger and sesame seeds. Add the steak and toss to coat in marinade. Marinate for 3 hours or overnight.
Make Skewers: Preheat the grill to medium high heat while you thread the meat and the red onion onto the skewers.
Grill: Cook for 8-10 minutes until the meat is done to desired liking.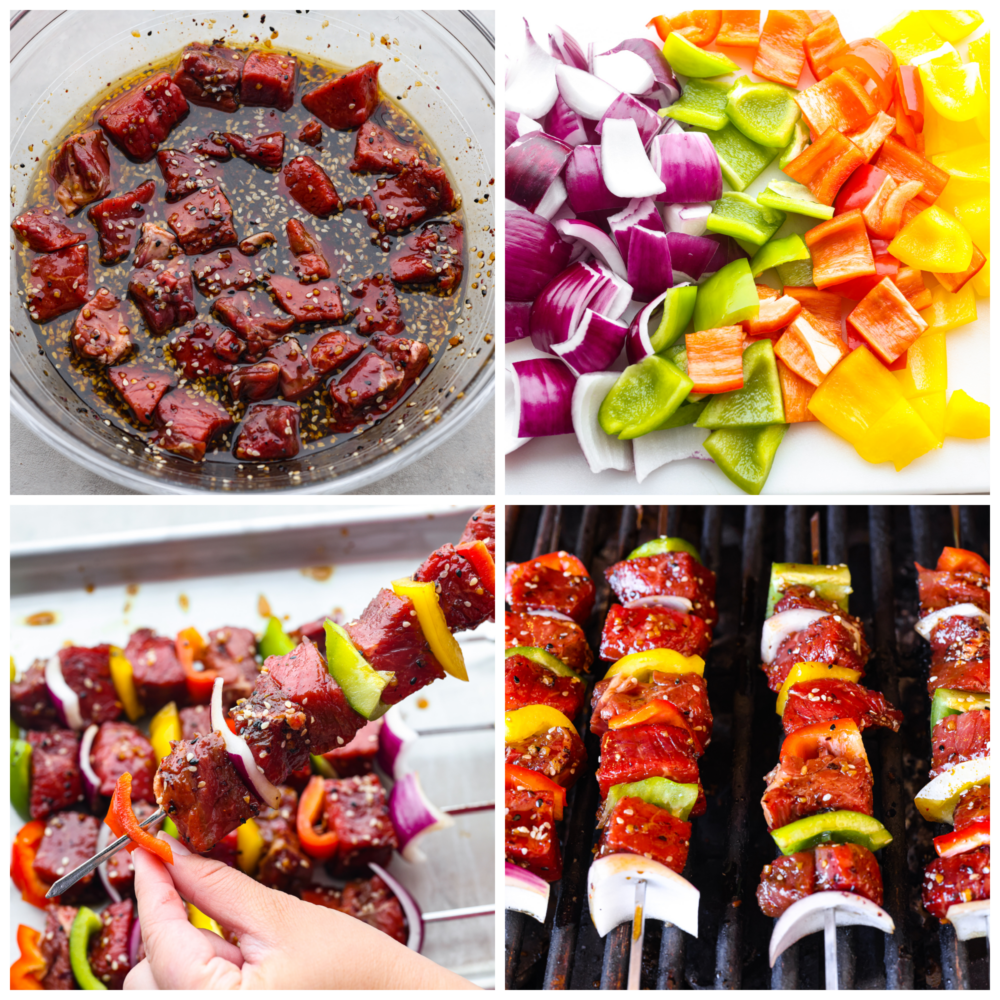 How do you cook with wooden skewers?
While the meat for your grilled Asian steak skewers is marinating, soak the wooden skewers in water for at least 30 minutes.  The temperature of the water does not matter.  If you find yourself using skewers in your cooking a lot, then I would suggest pre-soaking the skewers.  Soak a bunch of them overnight, drain, wrap in plastic, and freeze. Then you will have some ready whenever you need them.
What temperature do you grill kabobs?
On a grill: Cook your kabob directly over the flame or coals.  Keep the lid open since you are cooking on direct heat.  Grill on medium-high heat (about 375 degrees) for 8-10 minutes.  Rotate approximately every 2-3 minutes until all sides are browned.
In the oven: Preheat the oven to 450 degrees Fahrenheit.  A higher temperature is necessary since the kabob will not be on direct heat.