This grilled pork cutlets recipe with fennel is a mouth-watering and easy-to-prepare meal perfect for any night of the week. The pork cutlets are seasoned with the licorice-like taste of fennel and grilled to juicy perfection. The roasted apples and onions add a sweetness and depth of flavour that perfectly complements the savoury pork. It's one of the most popular recipes from one of my programs and I am finally sharing it on the blog.
---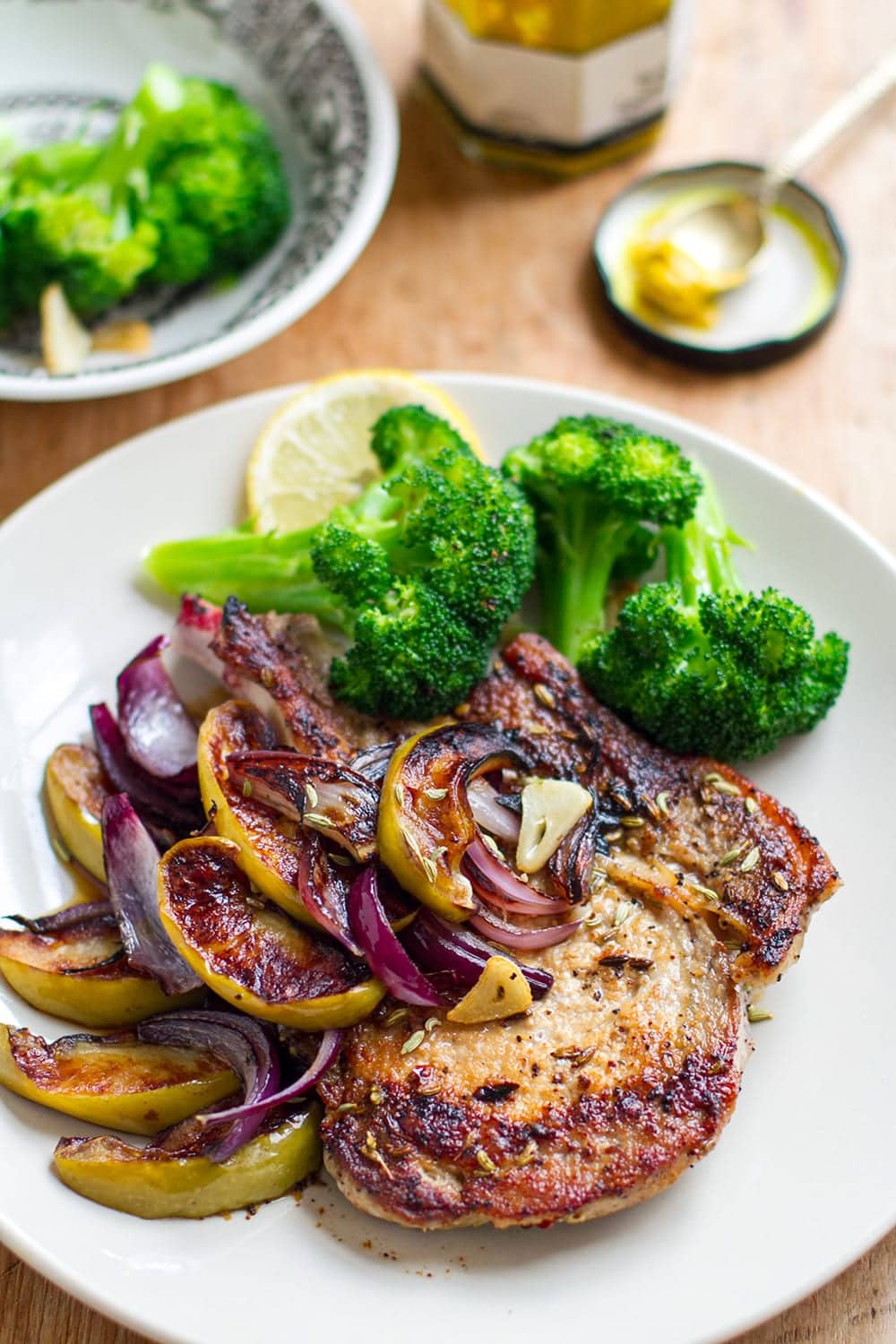 Grilled Pork Cutlets With Fennel
Get ready to fire up the grill or your frying pan and tantalise your taste buds with my grilled pork cutlets (also known as pork chops). I am taking juicy, tender pork cutlets and giving them a flavour boost with the oh-so-delicious fennel seasoning.
And to take things to the next level, I am serving it up with a side of roasted apples and onions that add a sweet and savoury twist.
This dish is perfect for those who love the taste of grilled meat with a touch of sweetness and is sure to be a crowd-pleaser for any dinner party or family meal. You can make it using a barbecue grill, frying pan or oven.
Plus, this pork cutlets recipe is gluten-free, paleo, Whole30 and low-carb friendly. Enjoy a satisfying and nutritious dinner with this delicious dish!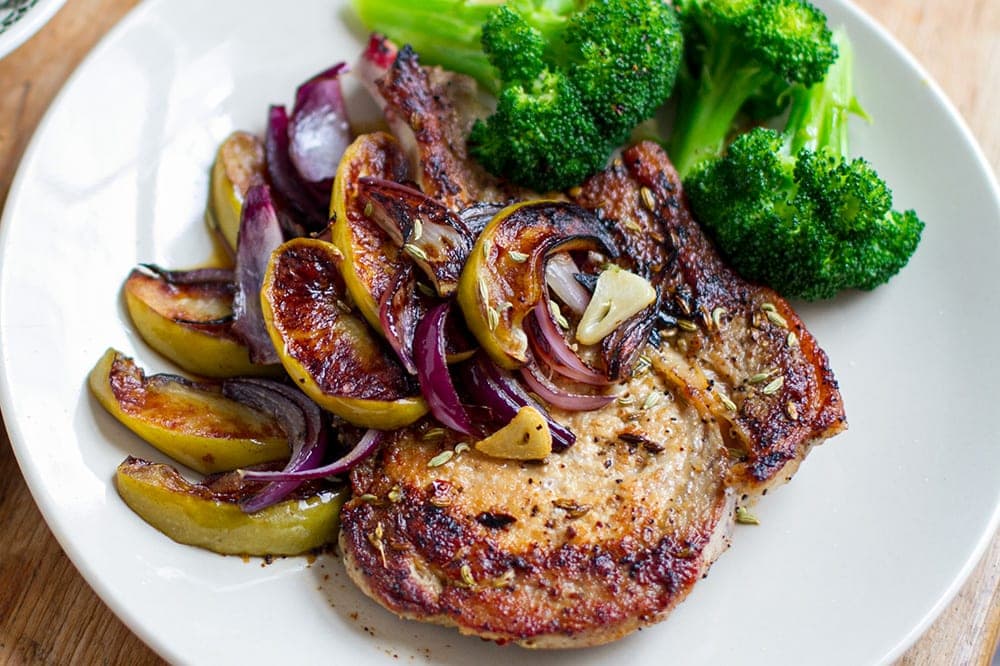 Pork Cutlets vs Pork Chops
Pork cutlets and pork chops are similar cuts of meat, but there are some differences between the two.
Pork cutlets are thinner. This makes them a quick-cooking option that is ideal for recipes that call for searing or sautéing. Pork chops, on the other hand, are thicker cuts of meat that come from the rib or loin area of the pig and often have a bone in the center. Pork chops are generally more flavourful and juicier than pork cutlets and are often grilled, roasted, or pan-fried.
In summary, both cuts can be delicious in different ways, but pork chops are often preferred for their flavour and juiciness, while pork cutlets are a good choice for quick, easy meals. You can use either in this recipe and simply cook the pork chops for a little longer.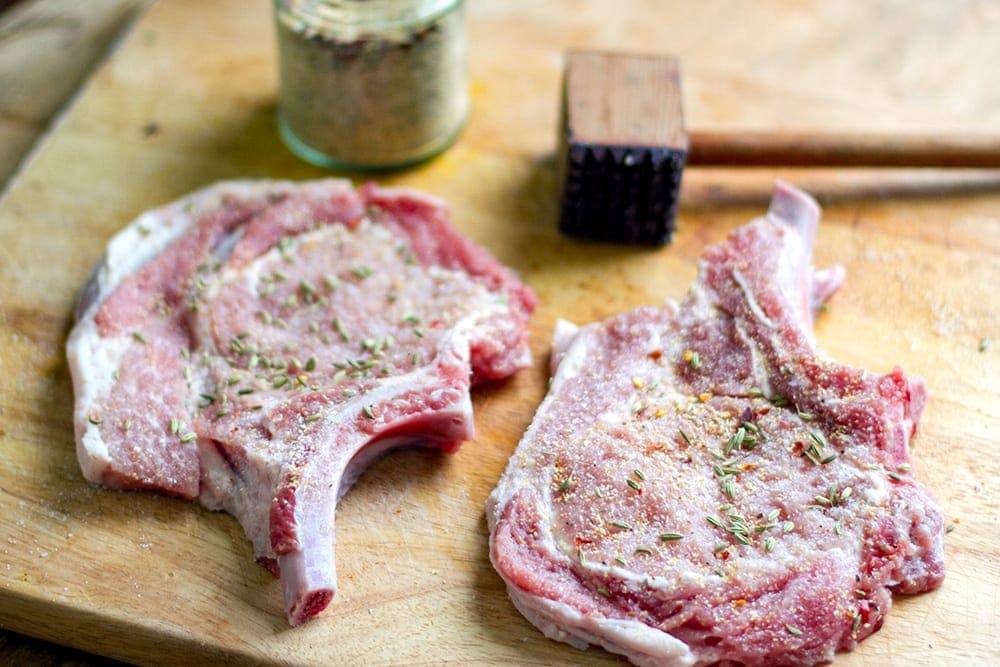 ---
More Delicious Pork Recipes
---
Full Recipe 
Find the full list of ingredients, instructions, and a nutritional breakdown below. If you have questions or cook this recipe, please let me know in the comments, and make sure to rate this recipe so it's easy for others to find.
Print
---
Description
This Grilled Fennel Pork Cutlets With Apples & Onions recipe is a flavour-packed and healthy meal that's perfect for any night of the week. The pork cutlets are seasoned with the licorice-like taste of fennel, and then grilled to juicy perfection. The sweet and savoury combination of roasted apples and onions is the perfect complement to the delicious pork. Get ready to fire up the grill or your frying pan and enjoy a delicious and nutritious meal that's sure to become a new family favourite! Paleo, gluten-free, Whole30.
---
For the cutlets
Apples & Onions
For the broccoli
---
Prepare the pork cutlets ahead of time if you like. Place the cutlets on a cutting board. Put a layer of cling film under and over the top. Using a rolling pin or a meat hammer, pound the cutlets a few times until slightly flattened.
Sprinkle each side with spices, salt and chilli/pepper. If doing this ahead of time, place the cutlets in a ziplock bag or a container and keep them refrigerated for up to 3 days before use, or freeze and thaw out overnight.
Make the apples and onions. Oven method: Preheat oven to 200 C/400 F. Grease an oven tray with coconut or olive oil and scatter the apple and onion slices evenly. Sprinkle the onion with a little salt. Roast for 20-25 minutes. Check halfway and turn the pieces over for even browning. Stove top method: Heat coconut oil in a large frying pan over high heat. Once hot, reduce the heat to medium-high. On one side, scatter the apple slices, flat side down. On the other side, add the onion wedges. Cook for 2 minutes on each side, until browned and soft. Remove to a plate. Depending on the size of the frying pan, you might need to do this in batches or use two frying pans.
Cook the cutlets. Heat oil in the frying pan or heat up the grill, making sure it's hot. Add the cutlets, two at a time if needed to avoid overcrowding, and cook on medium-high heat for 4 mins on each side. Rest off the heat for a minute.
Prepare the broccoli. While the cutlets are cooking, bring a pot of water to boil. Add the broccoli and cook for 2 minutes, or until just tender. Drain and leave in the strainer. Place the pot back on the heat and add the olive oil and the garlic. Cook over medium heat for just one minute, until the garlic, is fragrant and slightly golden. Add back the broccoli, drizzle with lemon juice and sprinkle with a little salt, if you wish. Stir through to coat the broccoli in the oil.
Serve the cutlets with apples and onions, and broccoli on the side.
---
Nutrition
Serving Size:

1 pork cutlet with apples, onions & broccoli

Calories:

502

Sugar:

17.8 g

Sodium:

848.7 mg

Fat:

24.9 g

Carbohydrates:

31.2 g

Fiber:

6 g

Protein:

40.7 g

Cholesterol:

107.1 mg
Keywords: Pork chops, pork cutlets, fennel, pork recipes, apples, onions, paleo, gluten-free, whole30
More Whole30 Dinner Recipes