East meets West in this fusion keto recipe for ground chicken pizza crust topped with spicy tomato sauce, crispy salad vegetables and aromatic, fresh herbs. Slice it up to serve as an appetizer or finger food, or enjoy it as a main dish.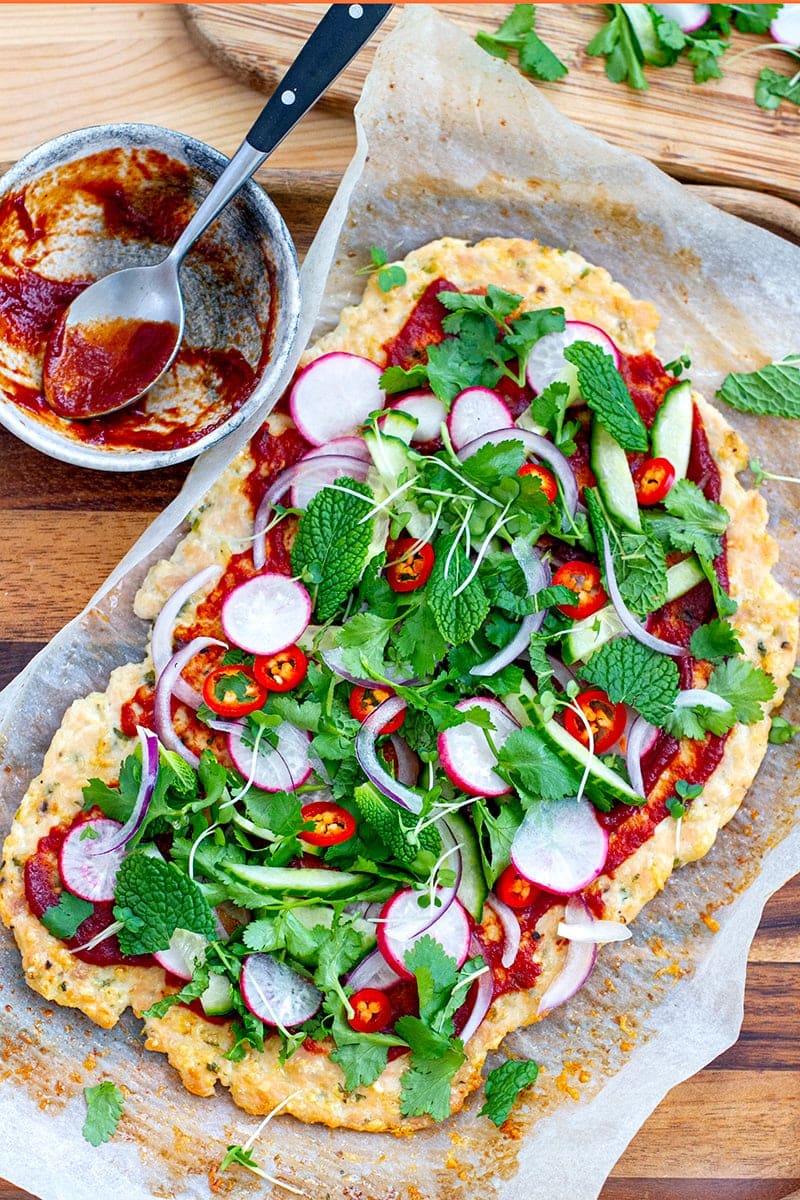 I don't personally eat keto, but I know many of my readers follow a very low-carb diet. I love creating recipes that help all my followers on their healthy eating journeys (paleo, keto diet, gluten-free and vegan), and this ground chicken pizza crust is one of those. It's perfect for anyone looking for low-carb, keto alternatives to their favourite comfort foods like pizza. And, in my true style, it's a fusion of cuisines.
CHICKEN PIZZA CRUST MACROS
You will find the full nutritional breakdown in the recipe card below but here are some quick numbers for those counting their macronutrients. If you serve the dish for 2 people, each serving comes with 480 calories, 27-28 g fat, 9 g carbs (8 g net carbs), 49 g protein. If you add more cheese to melt on top or some diced avocado as an extra topping, you can add a few more calories and increase the fat percentage.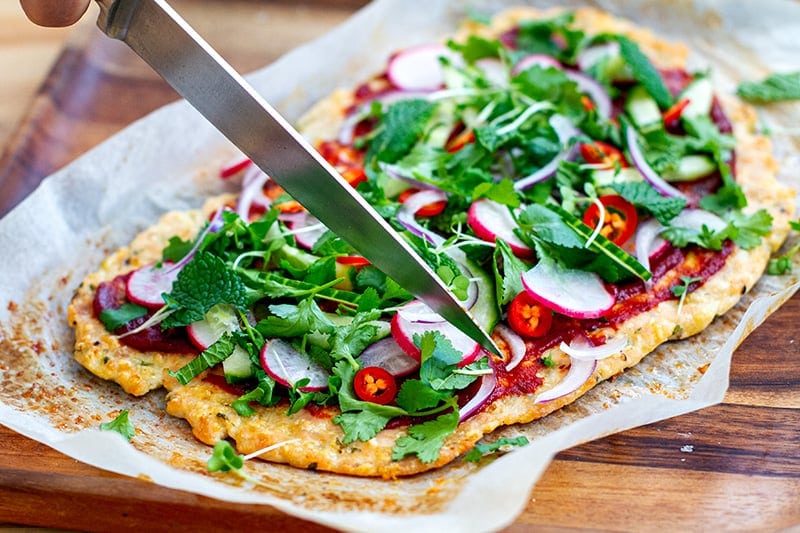 HOW TO MAKE KETO CHICKEN PIZZA CRUST
The pizza crust base is made with ground chicken (I recommend a mix of thighs and breast meat) and grated cheeses with a little addition of aromatic ginger and coriander. This mixture forms a low-carb 'dough', which spreads thin like a pizza and bakes like one.
When you cook chicken in any form, it gives out juices. To get the best results for the chicken pizza crust, without overcooking the meat too much, is to have the oven very hot and to keep an eye on any liquid that might ooze into the baking tray. You have to take the pizza out and pour out the liquid!!! This will ensure that the crust bakes rather than braises or poaches in the juices. I had to do this twice during the cooking process.
Here is a handy video on how to make this keto chicken pizza crust, and you can find the full list of ingredients, instructions and nutritional breakdown in the recipe card below.
FINISHING THE PIZZA
You have two options here. Since I already added cheese to the chicken pizza crust mixture, I decided to top with the spicy sauce and fresh salad bits. Another option is to take the crust out halfway and top it with a sauce of choice and more grated Mozzarella; then, pop back to finish baking for that perfect melted cheese result.
You can stick with my Asian-inspired toppings or add sliced salami/pepperoni, tuna or salmon, olives or anything else you like.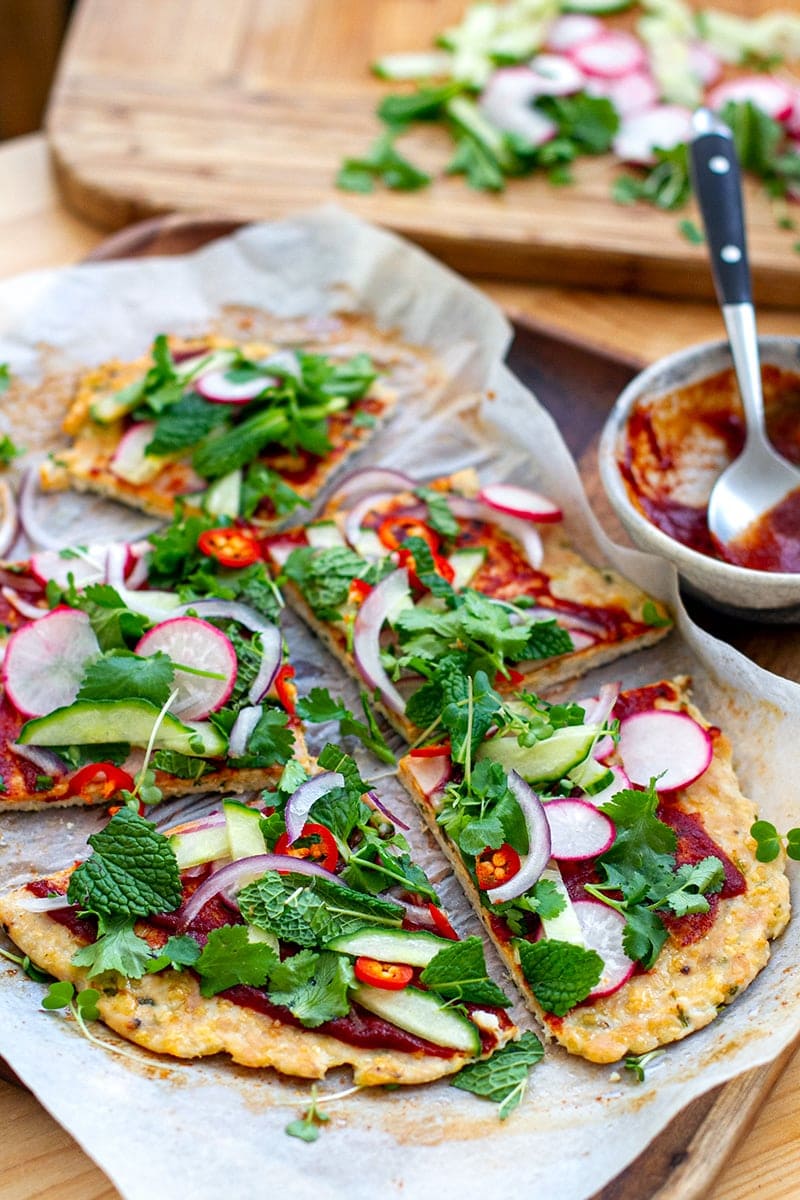 MORE KETO-FRIENDLY RECIPES
Print
---
Description
This Asian-fuision ground chicken pizza crust is topped with spicy tomato sauce and fresh aromatic herbs, radishes and cucumbers. This low-carb, keto recipe can be served as a main between 2 people or sliced for an appetizer/finger food. You can make it with extra cheese melted on top.
---
---
Preheat the oven to 220 C / 425 F. Line a pizza base or flat baking tray with parchment paper and brush lightly with oil. 

Combine ground chicken with grated cheese, chopped coriander, ginger and pepper. Mix well; it should turn into a very thick, dough-like consistency.

Transfer the meat dough in the centre of the baking tray and flatten into a pancake. Place another piece of parchment paper on top and use a rolling pin to spread the mixture into a thin crust. Peel off the top paper.

Place the tray in the oven, closer to the top grill element. Bake for 5 minutes, then remove the sheet and discard any cooking juices.

Pop back in the oven for 5 more minutes, then discard any juices again. 

Finally, cook for 5 more minutes until lightly brown on top. 

In the meantime, mix the spicy sauce ingredients in a bowl and set aside; prepare the toppings.

Remove the pizza crust and spread the sauce over the top. Scatter the fresh herbs, radishes, cucumber and onions, and a little chilli if you like.

Serve right away. 
---
Notes
Using ground chicken breast meat only will result in a slightly drier crust, while chicken thighs (being more tender and fattier) will produce juicer, softer pizza crust. I find using a mixture of both works well. If you can't find pre-ground chicken mince, you can use a food processor to make your own from chicken meat.
Nutrition
Serving Size:

1/2 of the pizza

Calories:

477

Sugar:

2.4 g

Sodium:

676.2 mg

Fat:

27.5 g

Saturated Fat:

10.6 g

Carbohydrates:

9 g

Fiber:

1.3 g

Protein:

49.1 g

Cholesterol:

219.4 mg
SAVE THIS CHICKEN PIZZA CRUST TO PINTEREST