This website may contain affiliate links and advertising so that we can provide recipes to you. Read my privacy policy.
Delicious summer veggies come together in this mouthwatering salad. Topped with cajun chicken that adds a little bit of heat and creamy avocado ranch helps to cool it down. This is one incredible salad!
If there is one thing that I love in the summer time it is a good salad. With all of the fresh veggies that are popping up in my garden, what better way to use them then in a mouthwatering salad? With the help of some flavorful McCormick spices and fresh veggies, I was able to create one unforgettable salad!
It has been so hot around here lately that all I look forward to is a fresh and cool salad to eat. With some fresh veggies from my garden and some chicken added, it can make one delicious and healthy meal. One thing that I absolutely love is McCormick's Cajun Seasoning. It is awesome! I use it in quite a few recipes because it is full of such great flavor and just enough of a kick.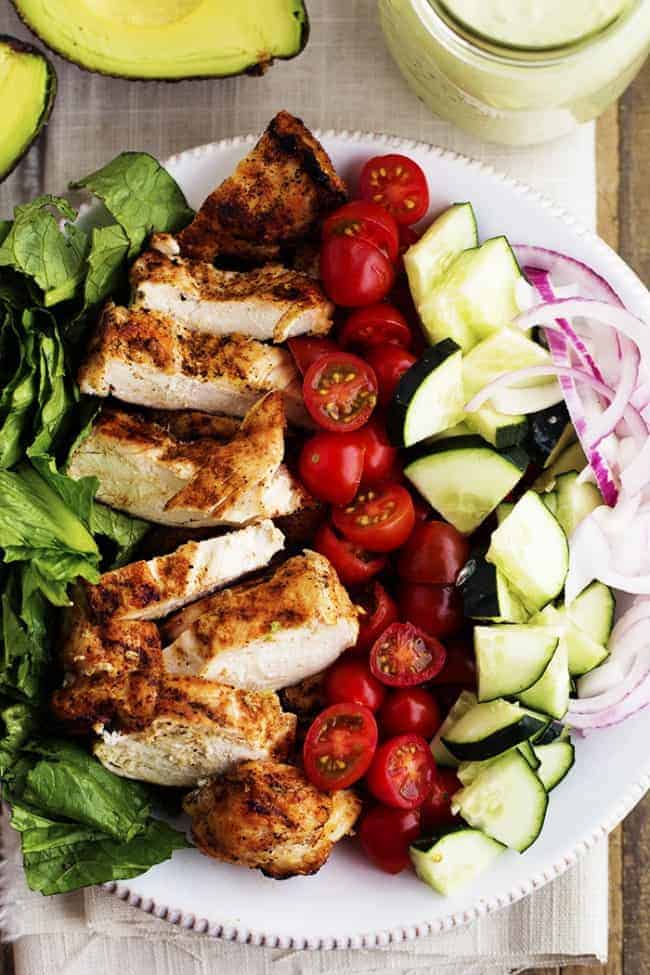 All I had to do was rub some cajun seasoning on my chicken and throw it on the grill. In a matter of minutes it was ready to add such great flavor to the salad.
One thing that I can't seem to get enough of are avocados. So I wanted to somehow incorporate avocados into the salad. And then it came to me. Why don't I blend some avocados with some homemade ranch? Homemade dressings only take a few minutes to whip up in a food processor and add the perfect topping to your salad. I love using this pureeing technique in salad dressings with fresh summer veggies. You can make some of the best homemade salad dressings this way.
This avocado ranch turned out fantastic. I added some avocado, sour cream, mayonnaise and buttermilk. And with the help of McCormick's high quality spices, the result was fantastic! It was the perfect finishing touch to the salad. It was tangy and creamy and added so much flavor.
I know that I will be using this Avocado Ranch recipe on quite a few salads this summer. It is one of the best dressings that I have made!
If you are wondering what to do with all of those veggies in the garden, then start with making this delicious salad. The possibilities are endless in creating a delicious summer salad.
I especially loved the cajun chicken hidden throughout the salad. It made the salad a well balanced meal and added such flavor! Cajun spice is really one of my favorites and adds just enough of a kick and flavor to the salad.
From the fresh veggies, to the cajun chicken, to the creamy avocado dressing on top, I know you are going to love this salad just as much as we did!
 This post was sponsored by McCormick®. All opinions expressed are my own! For more delicious recipes creating using the pureeing technique, like Kale, Bacon & Pistachio Pasta, check out McCormick's website