This website may contain affiliate links and advertising so that we can provide recipes to you. Read my privacy policy.
Best Bourbon Chicken is juicy, tender chicken thighs cut into pieces simmered in a sweet, brown sugar glaze that will melt in your mouth. Rich in flavor and served over rice for a complete meal! 
Easy to prepare and ready in minutes! For more quick chicken recipes try these Creamy Skillet Chicken Cacciatore, Slow Cooker General Tso's Chicken or One Pan Honey Mustard Chicken and Veggies.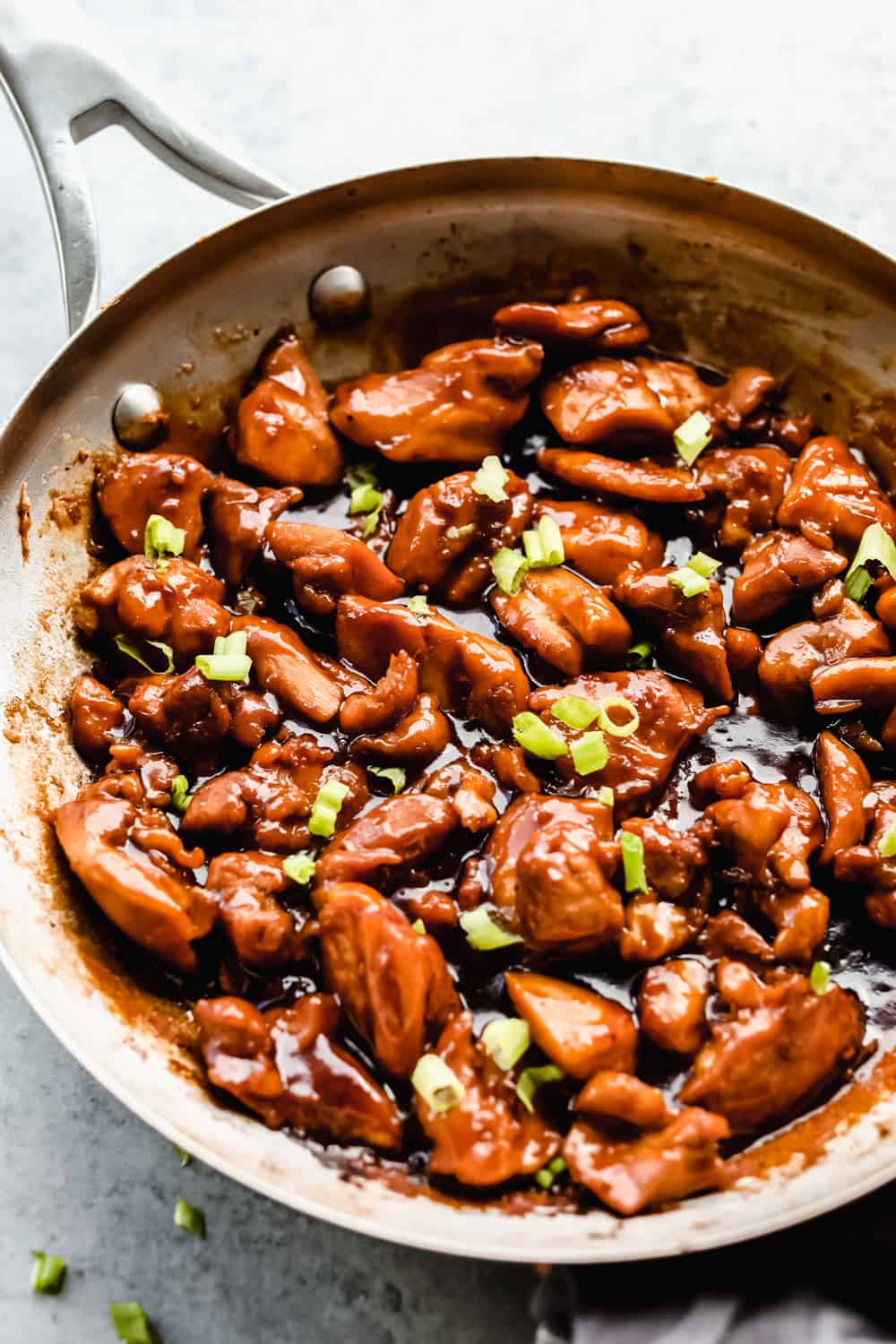 Bourbon Chicken
Need a simple dish that is going to be flavorful and demand attention?! This is it!
You will only see clean plates at your table after serving up some bourbon chicken.
My kids go crazy over this sweet, sticky chicken that tastes AMAZING!
With a  few simple ingredients you can come up with a deliciously tasting, tried and true recipe that everyone will love.
The chicken is so tender and juicy and the glaze is rich in flavor creating the perfect combination.
You can't go wrong with this bourbon chicken that your family is going to love!
What is bourbon chicken
Bourbon chicken is a dish named after Bourbon Street in New Orleans, Louisiana and for the bourbon whiskey ingredient.
The dish is commonly found at Cajun-themed and Chinese restaurants.
The recipe includes soy sauce, brown sugar, and bourbon whiskey in the base, and the chicken is marinated in this sauce.
So simple to make and everyone will be asking for more!
What you need to make bourbon chicken
Think of a rich, thick, sauce with a sweet and sticky consistency all covering bites of chicken!
It is a masterpiece in the making. So simple to make and comes together in minutes.
All the ingredients are most you already have in your pantry and they are ready to go with one bowl whisked together.
I love how easy this recipe is and how much my family craves it on a weekly basis.
Chicken thighs: make this meat extra tender and juicy when simmered in the glaze.
Olive oil: adding extra flavor when cooking your chicken.
Bourbon: rich in flavor and cooks out when simmered with the glaze.
Soy Sauce: brings added flavor and a pinch of salty taste.
Brown Sugar: adds to the sweetness.
Garlic Cloves: a hint of
Cornstarch: coats the chicken living it a little crispy on the outside of the chicken.
Water: makes it a runny sauce.
Sliced Green Onions: garnished on top!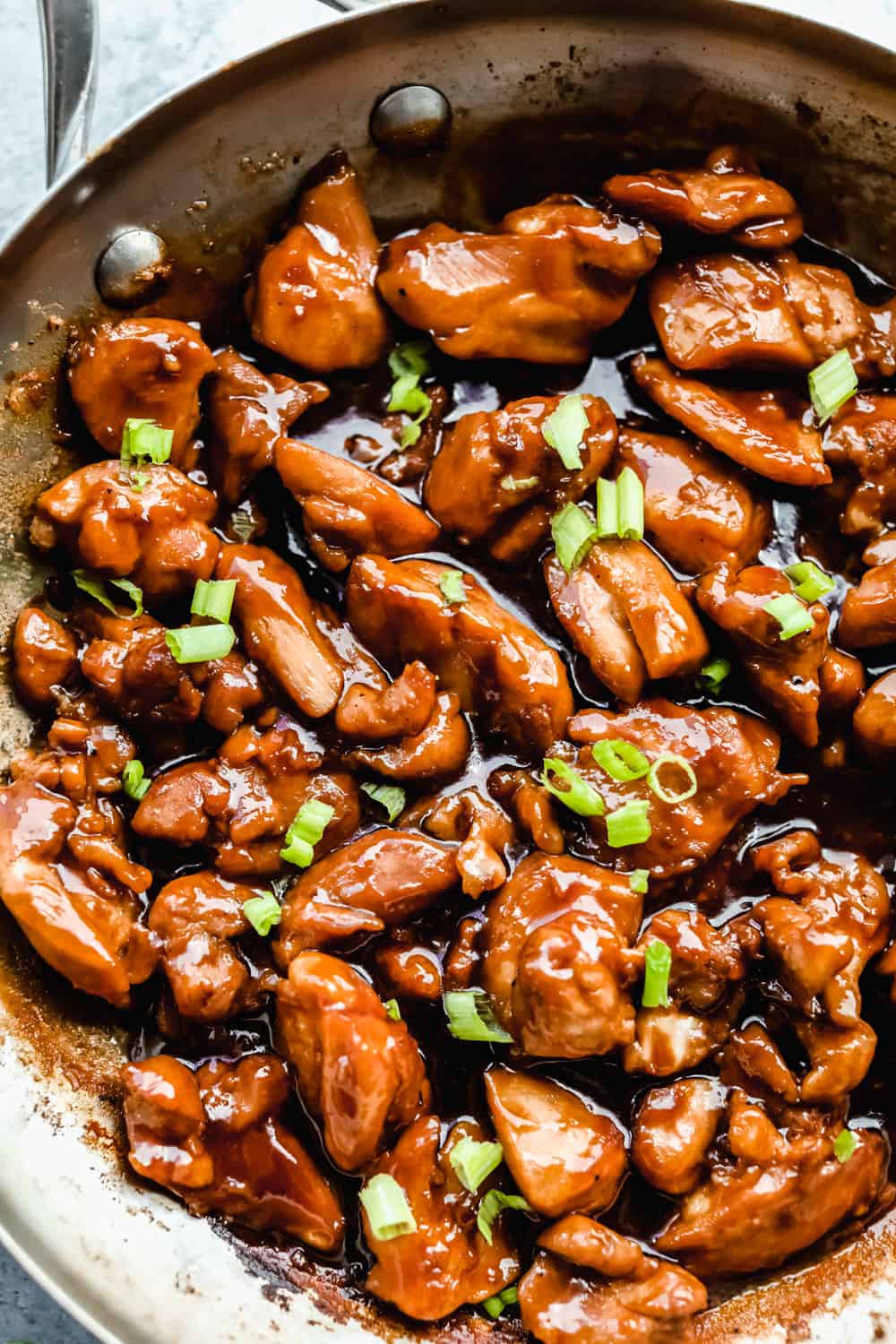 How to cook bourbon chicken
Simple ingredients that make a flavorful meal. It is a tried and true recipes that is a favorite!
Only a few items that you need to make this meal fantastic!
One skillet, two bowls and a side dish! So simple and easy to make on a busy weeknight.
When cooking your chicken make sure it reach 165 degrees Fahrenheit.
The sauce comes together quickly and smoothly. It has a thick, sticky consistency that will cover all of your chicken.
Make sure to watch over your chicken as it is cooking with the sauce that it does not burn.
Just a few minutes of simmering and you have a main meal! Add rice, green beans or asparagus.
Cook you chicken: In a medium sized skillet over medium high heat add the olive oil and chicken. Cook until brown and no longer pink.
Whisk together sauce: In a small bowl whisk together bourbon, soy sauce, brown sugar, and garlic. Whisk together cornstarch and water and add to the sauce.
Combine chicken and sauce in a skillet: Pour the sauce over the chicken and simmer for 3-4 minutes until the sauce thickens up.
Make it a complete meal: Serve over rice and garnish with chopped green onions if desired.
Tips for making bourbon chicken
This bourbon chicken is all about flavor and tender, juicy chicken.
There is not a lot to change with the recipe and ingredients but you will be thanking me after you make it!
Enjoy your bourbon chicken soon!
I use chicken thighs but you are welcome to use chicken breast. This will help cut down on the fat content too. Chicken thighs are little more juicer though.
If you don't have bourbon, whiskey, brandy or even scotch will work in place of it.
The alcohol from the bourbon does evaporate completely while cooking. It is safe for children to eat.
If you prefer not to use alcohol substitute the bourbon for apple cider
To make a thicker glaze, dip your chicken in a beaten egg and roll into flour. Then deep fry it for a crispier chicken.
If you love a little heat, add some red pepper flakes, sriracha sauce or paprika to the glaze when whisking.
Is there bourbon in bourbon chicken?
Yes! Bourbon brings out the rich, flavor in the glaze. It adds so much to this chicken and gives it most of its flavor.
As the glaze is simmering, the alcohol from the bourbon will begin to reduce and over a few minutes it does evaporate.
My kids and I eat this quite often and it is safe for all of us.
If you are worried about the alcohol just substitute it for apple cider. You will still have a great taste and flavor over this chicken.
Looking for more chicken recipes? Here are some!
We love chicken in our home!
These are more tried and true recipes that are simple to make and turn out great for busy weeknight meals.