This parmesan garlic chicken is perfectly baked tender and juicy chicken that is lightly seasoned with Italian seasoning and garlic powder and then sprinkled with parmesan.  All made in under 30 minutes!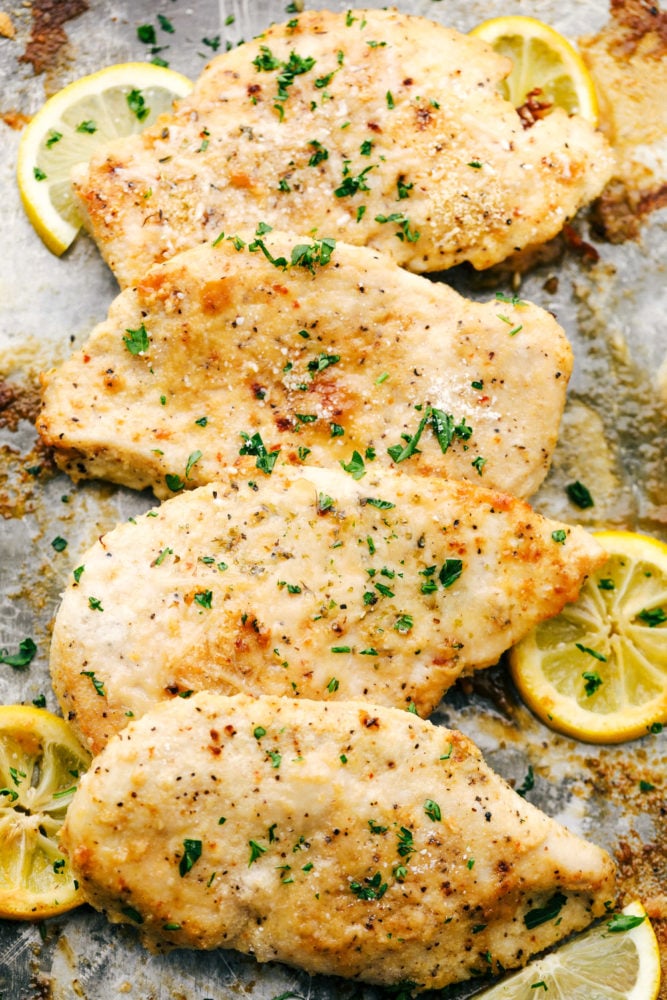 Baked Parmesan Garlic Chicken Breast Recipe
This my friends, was fantastic! The best part about it was that it was so easy and packed with flavor! Seriously. It is only four ingredients. I was able to throw this together in 5 minutes and serve it with a side of rice and veggies and my family thought they had a gourmet meal. I loved how the parmesan cheese gave it a delicious crust and the chicken was full of flavor and so tender. A great easy meal that everyone loved! This will definitely make it on your list of go-to meals when you are short on time but still want a nutritious dish! And on an even better note, it is kid- friendly as well. 
What is baked parmesan garlic chicken breast?
If not one of the greatest, easiest, and tastiest meals ever?! This dish is incredibly simple. Containing only 4 ingredients, it is exactly what it sounds like. Baked chicken breast with a parmesan and garlic rub to it. It is the perfect combination of savory garlic and parmesan paired with juicy chicken! 
It is definitely the meal that will have your house smelling amazing. 
What do you need to make baked parmesan garlic chicken breast?
This is one of those meals that is perfect for when you are in between grocery trips and may not have a lot of stuff to choose from. Because this literally calls for 4 things. You are able to make a gourmet dish with just 4 simple ingredients.
As always, remember the exact measurements for all the ingredients needed will be included in the recipe at the very bottom. 
Boneless skinless chicken breasts

Dry Italian dressing packet

Garlic powder

Parmesan cheese 
How do you make baked parmesan garlic chicken breast? 
Preparing dinner has never been so deliciously simple. This meal is by far one of the quickest ones I have ever prepared that is still very rewarding. By the looks and taste of it no one would even know that you whipped this up in just a matter of minutes! Here the 4 simple steps to follow to prepare a mouth watering meal.
 Preheat the oven to 400 degrees.

Mix together the Italian Dressing Mix, Parmesan Cheese, and garlic powder.
Wash the chicken and while still damp, coat them with the cheese mixture.
Bake chicken breasts in a shallow dish for 20-25 minutes or until no longer pink.
How much does this recipe yield?
So if you are following along with the 4 chicken breasts, this will provide 4 servings. However depending on the cuts of your chicken, you can always cut the breasts in half (making them thinner) if yours are really thick and would rather have smaller servings. 
What can you serve with baked chicken parmesan chicken breast?
This dish is very flavorful yet versatile enough to be served with a variety of things. Having chicken as the main dish opens up a lot of possibilities. There are of course many vegetables you can choose from, having them fresh or steaming them. You can always pair the chicken together with a salad that includes fresh vegetables. Potatoes are also a great side whether you chose to have them mashed, or baked. And for all my garlic lovers there is always the option of putting together some garlic bread or even just some sourdough bread or dinner rolls. 
Are there any variations to this recipe
Everyone has their own preferences and different tastes that they like. The nice thing about the recipe is that it is so simple you can afford to switch or add things that you like. You can choose to use bone in chicken breasts if that is what you already have or prefer that is not a problem! Also another common addition is using lemon juice to zest or varnish your chicken right before serving it. This adds to the flavor and is a quick adjustment to make. 
You might also enjoy these chicken recipes: