From glorious zucchini and garlic bisque to strawberry coconut dessert, these paleo soup recipes are as nutritious as they are mouth-watering. I've collated twenty gorgeous paleo friendly soups you can cook up every day.
---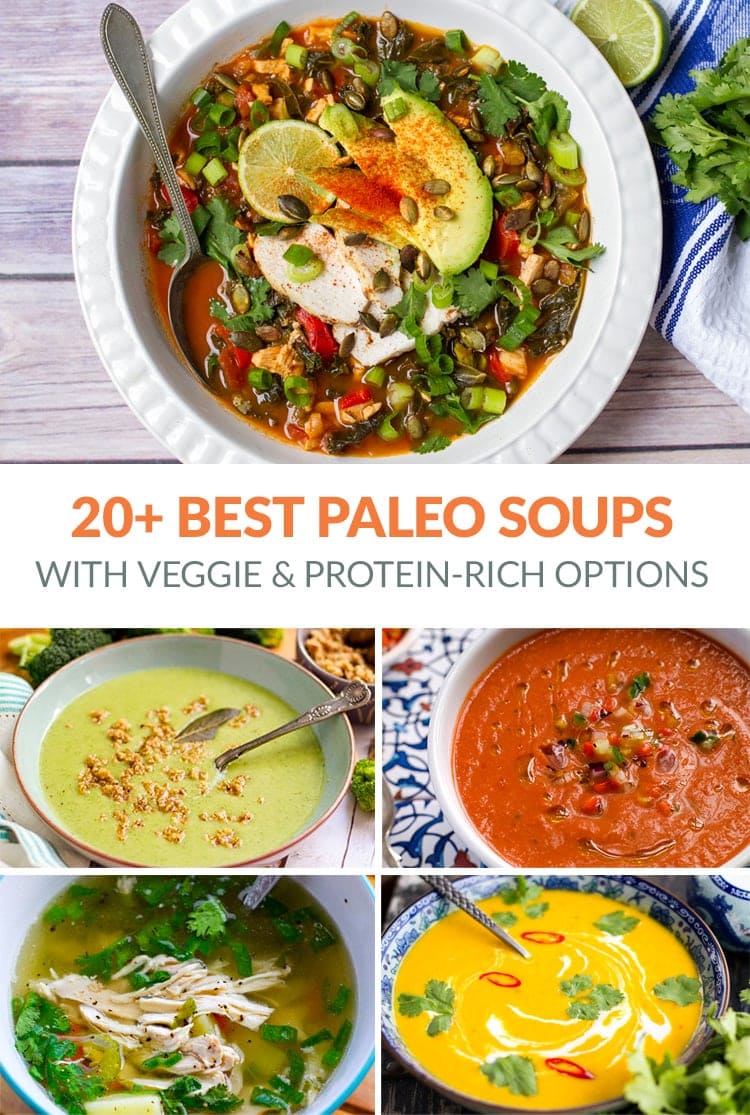 I love eating a good soup! It's the easiest way to get lots of veggies and nutrients in your body in one go. Plus, with thousands of possible soup combinations and flavours, I could never get bored with cooking it. While you can pick from my favourite soup recipes below, I've also provided a few general tips for making and eating delicious soups.
A few soup making TIPS 
For a complete meal, make sure to add some protein if the soup contains none: hard boiled eggs, sliced grilled chicken, tinned fish, sliced turkey or ham, beef jerky, plant-based options and so on.
Use good quality stock, either homemade or store purchased. This is the base of any good soup!  Use bone broth in soups to make them even more nutritious. Freeze leftover homemade stock in ice-cube trays or small containers.
Soups are great for using cheaper cuts of meat and leftover vegetables.
Soups can be eaten for breakfast. Fact!
Try to make a big batch to freeze for later as most soups will keep well for a few months.
Add winter herbs such as thyme and rosemary at the start and fresh herbs such as basil and parsley at the end of cooking.
Add extra texture with raw ingredients, crispy bacon, shredded Parmesan, seeds and nuts.
Don't add too much salt at the beginning (just enough to season the meat or veggies). The liquid will reduce during cooking and you might end up with saltier soup than desired. Taste for salt towards the end and add more then. Also, remember that adding things like Parmesan cheese, bacon, anchovies, capers and store-bought stock will add saltiness.
If heating up canned or boxed soup, add the following to freshen and spice them up: freshly chopped spinach, kale or spring onions, fresh arugula (rocket), sliced grilled chicken or crumbled bacon, sliced hard-boiled egg or poached egg, caramelised onions, grated sharp cheddar or Parmesan, spoonful of ricotta or yogurt, fresh herbs like parsley or basil, cracked pepper, chilli and fresh lime, grated carrot or beetroot, finely diced red peppers and tomatoes.
Okay, now that we have covered the basics of good soup making, here are my favourite paleo-friendly soup recipes.
---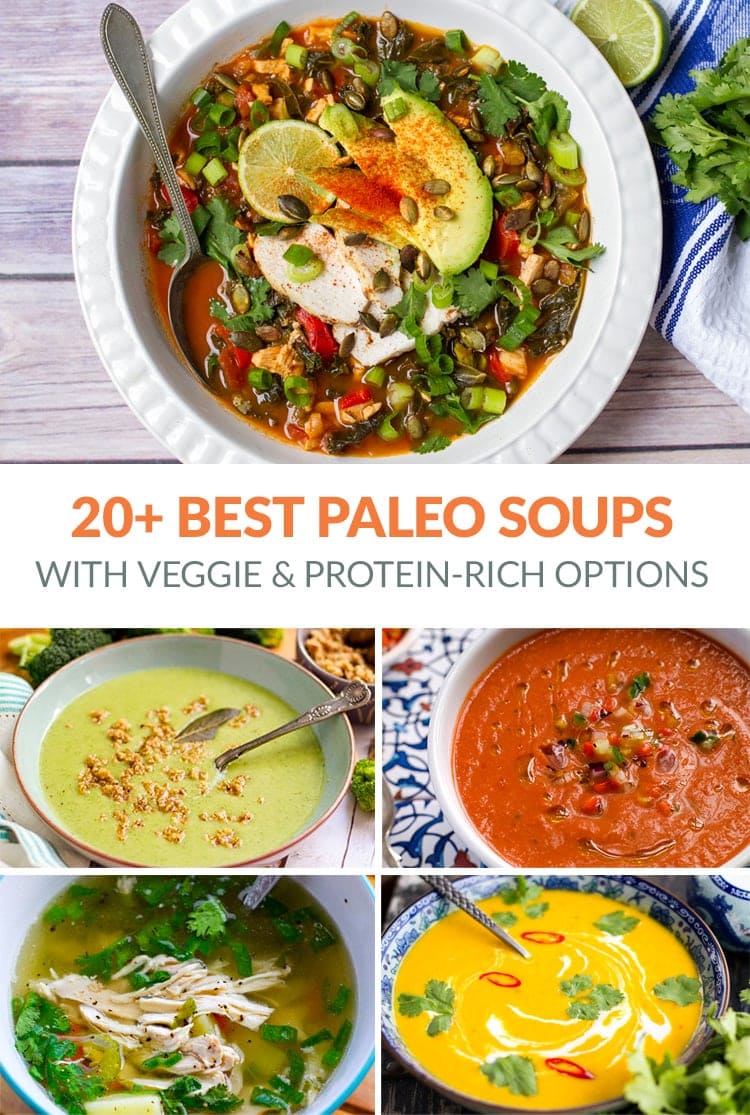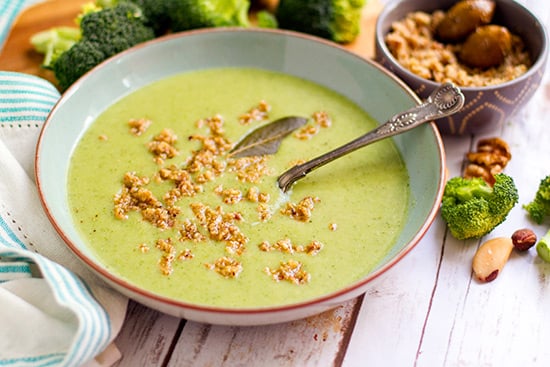 This is a really lovely and simple paleo broccoli soup recipe that is also vegetarian and vegan-friendly. It's thick and creamy without using any dairy or coconut cream. The starch in the potato is great for both thickening and making this soup more satiating. If avoiding nightshades, feel free to use sweet potato or swedes/rutabaga instead.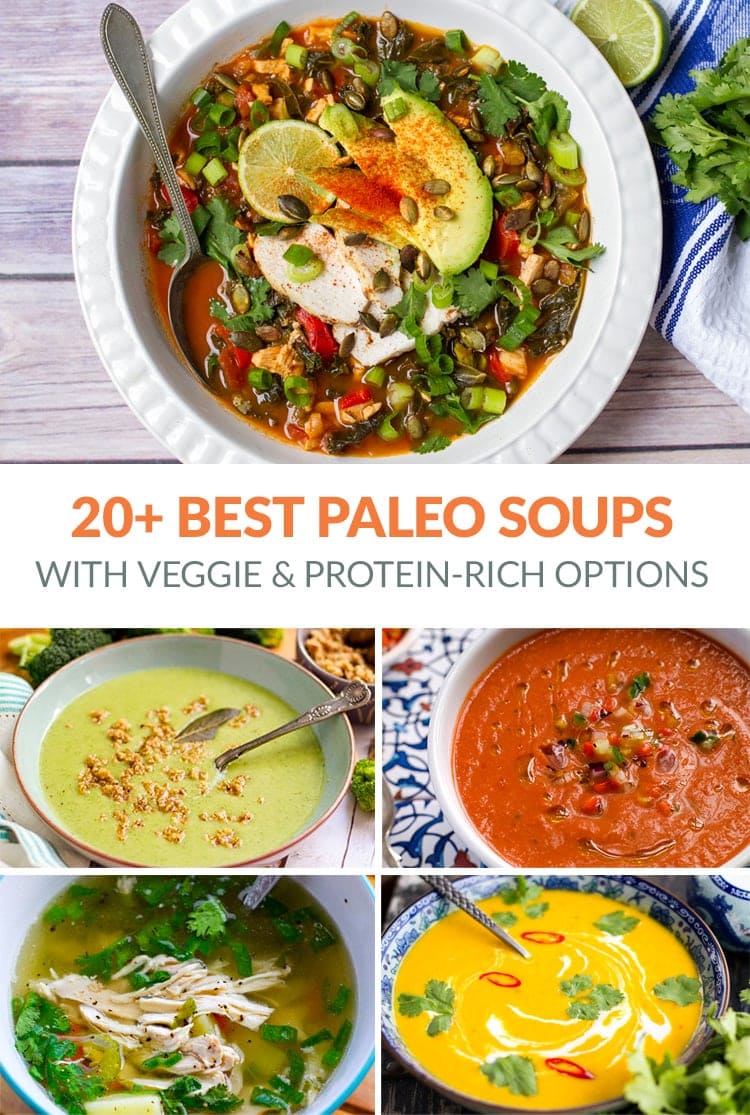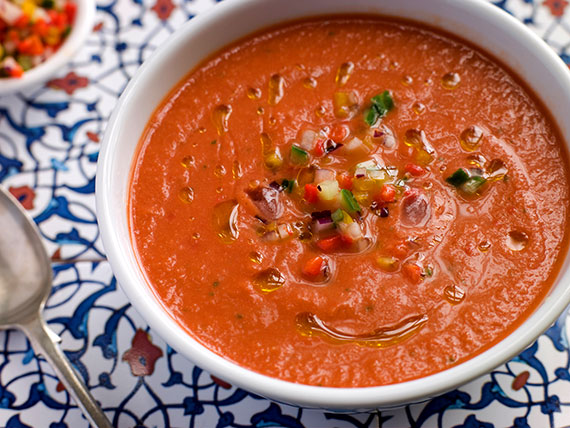 One of my favourite summer soups, gazpacho is a classic Spanish soup that requires no cooking and can be made in a blender.  It's nut-free, egg-free, vegetarian and vegan-friendly, and Whole30.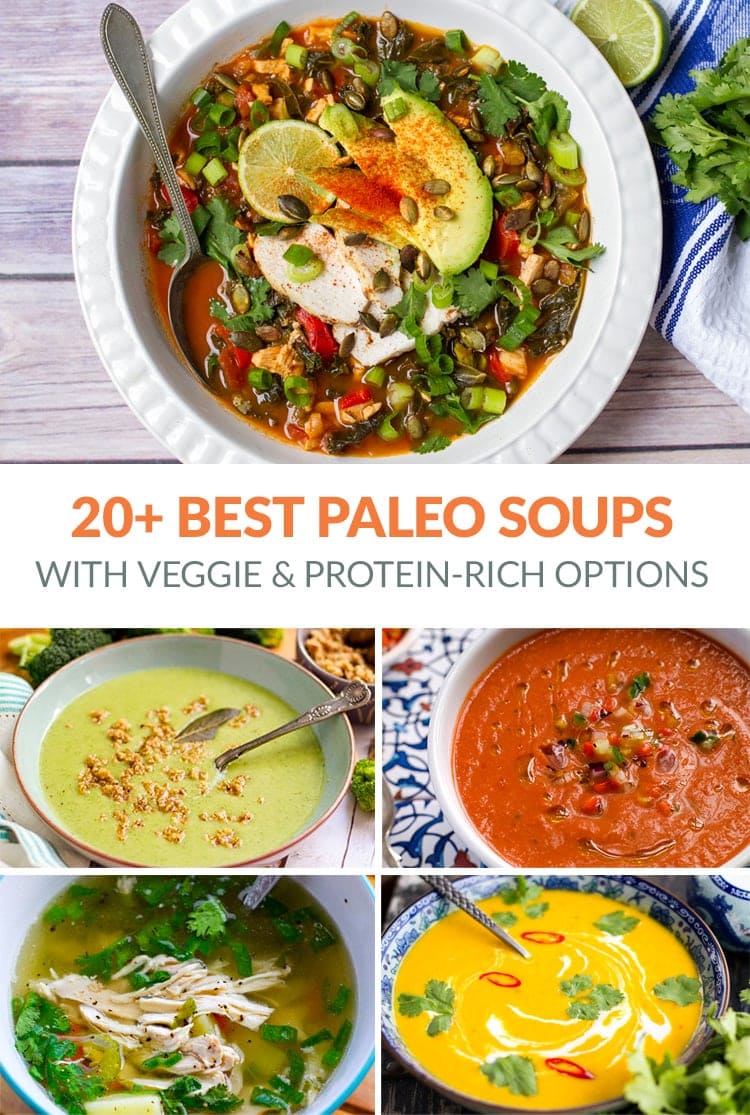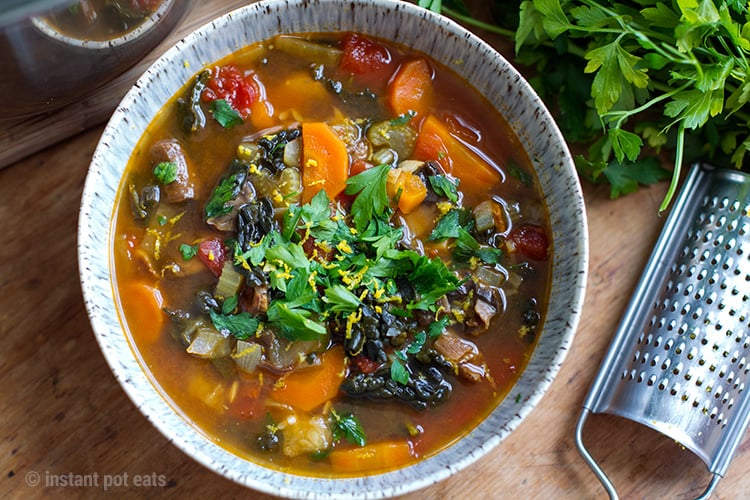 Vegan and gluten-free, this detox-friendly Instant Pot vegetable soup is hearty and nutritious, filled with veggies, greens and mushrooms. It's a great example of a traditional Italian farmhouse soup. Recipe from Instant Pot Eats.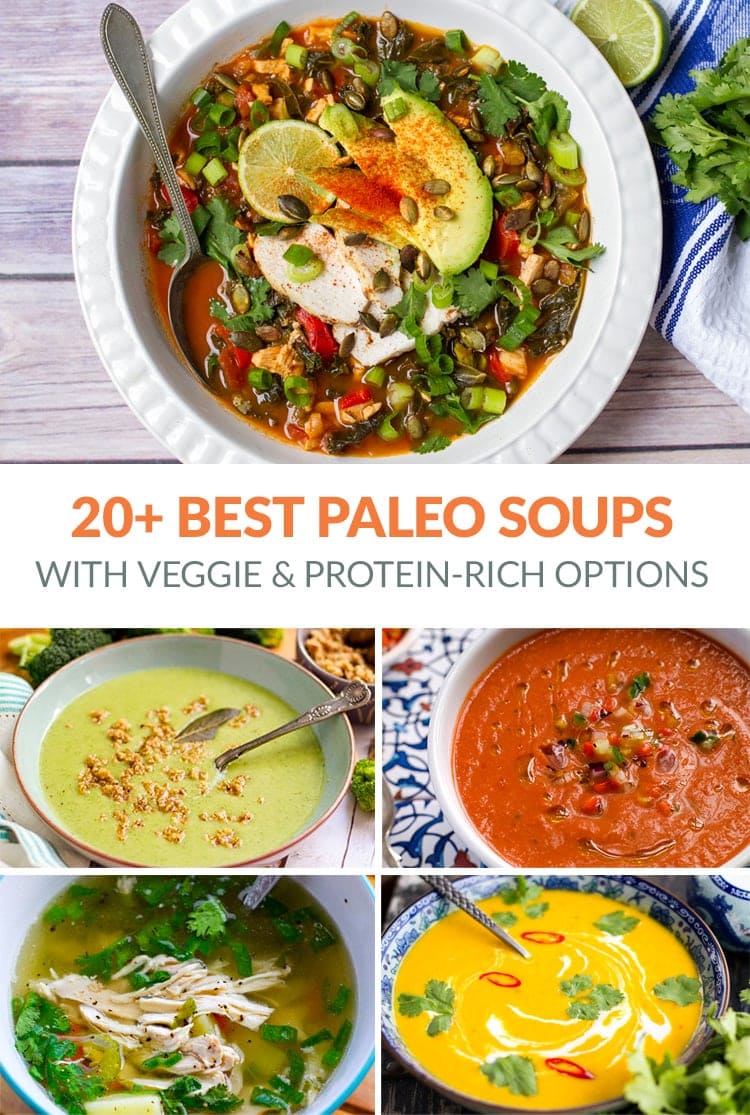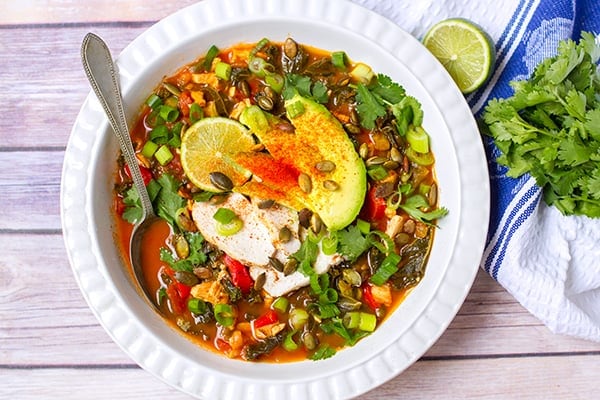 Gorgeous soup that is a little spicy and full flavour. It's super quick and easy to make (under 30 minutes), uses affordable ingredients and is nut-free, egg-free, Whole30, and low-carb. Use chicken broth for extra nutrients.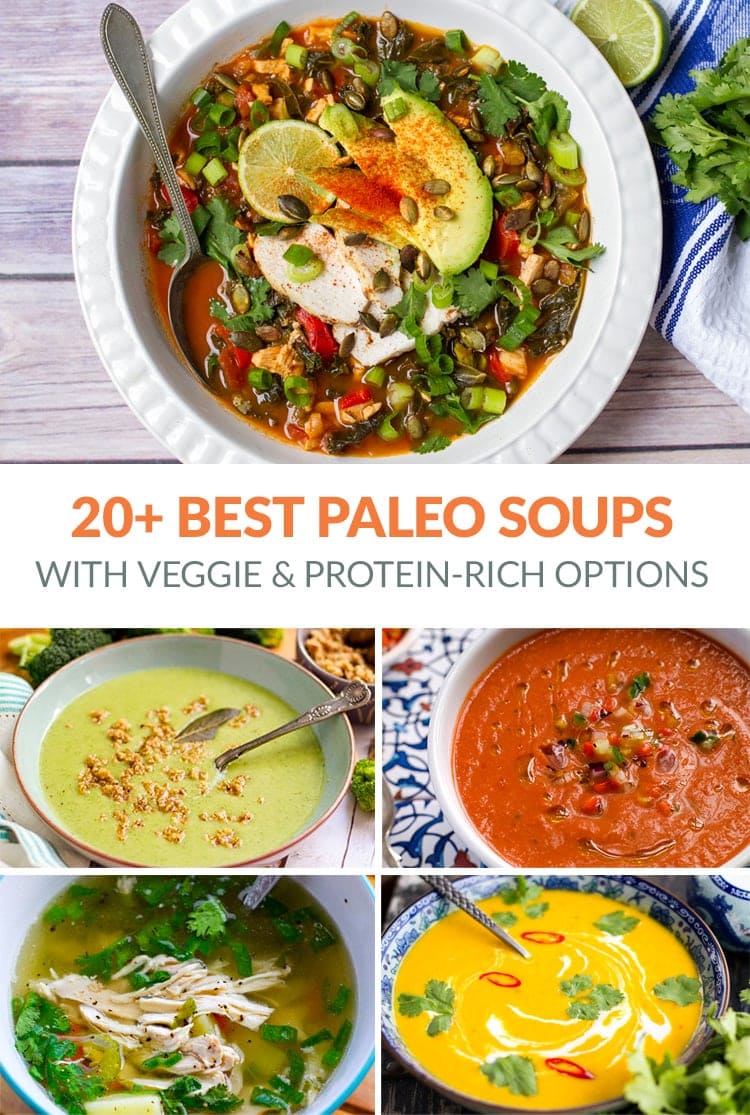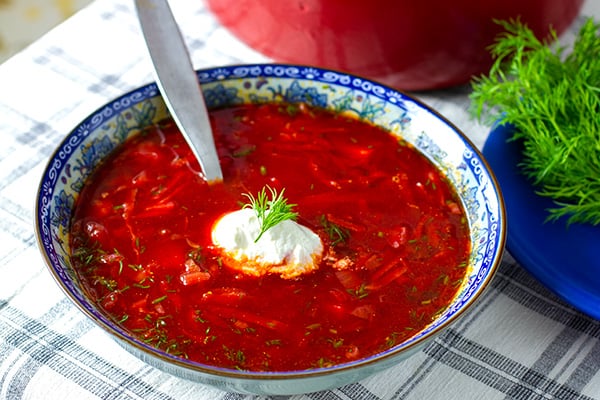 This Ukrainian borscht is a nut-free, egg-free, paleo and Whole30-friendly soup made with nutritious beetroot, cabbage and root vegetables. Serve with a dollop with cream or without. Can be made in a slow cooker or Instant Pot and is great for batch cooking ahead of time. The soup can be made without nightshades or meat. Suitable for those on the budget.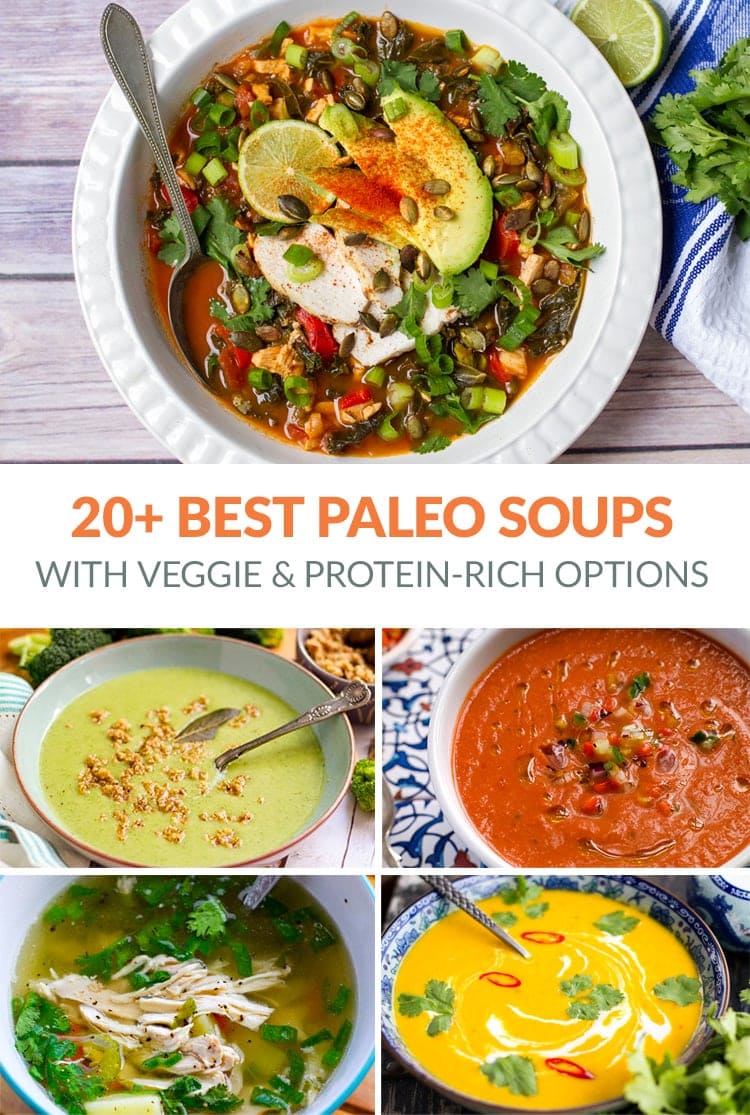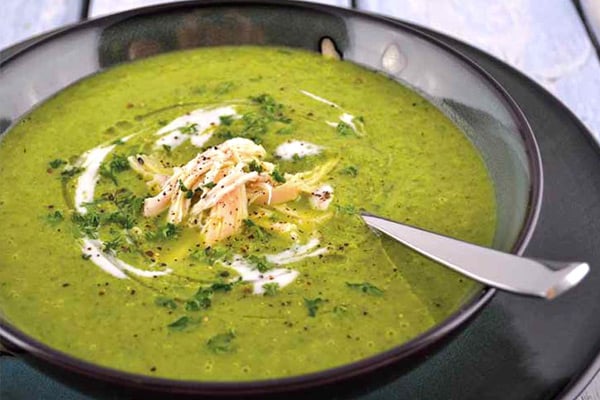 Quick and easy, this soup is great for anyone needing a little detox or a cleanse. It's nut-free, egg-free, Whole30 and keto friendly.  Perfect for batch cooking and meal prep ahead of time. Flavours will develop more over a few days so it's a great soup to store and to freeze. Just add some chicken on top for extra protein.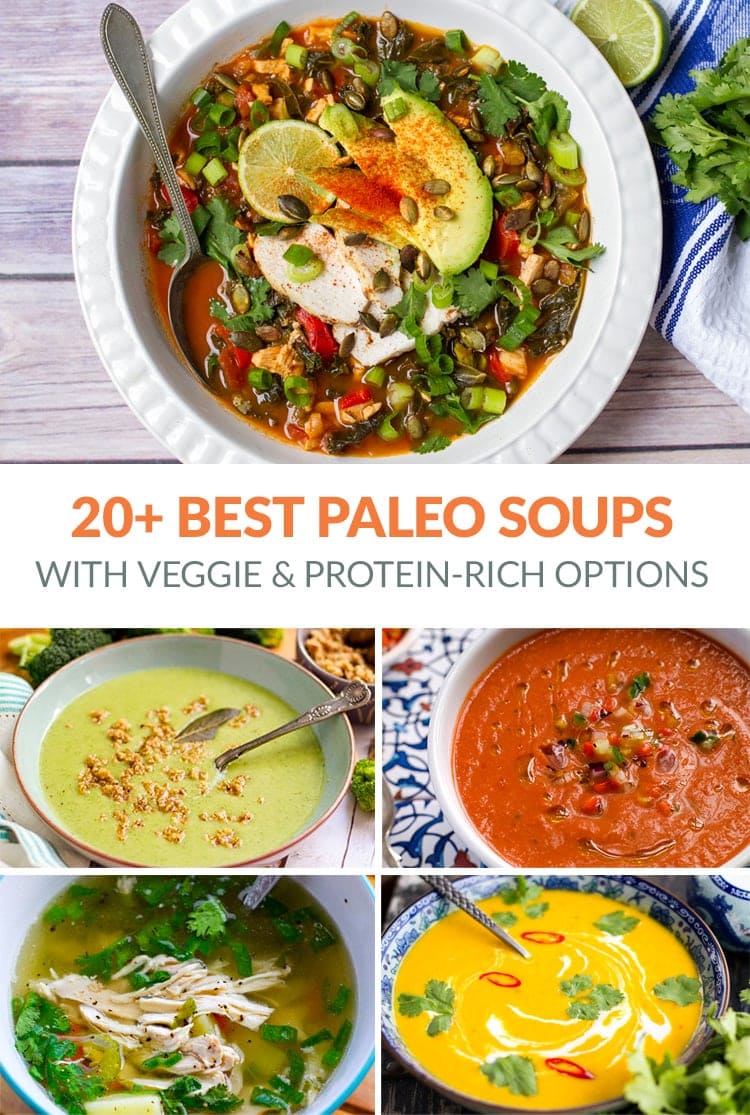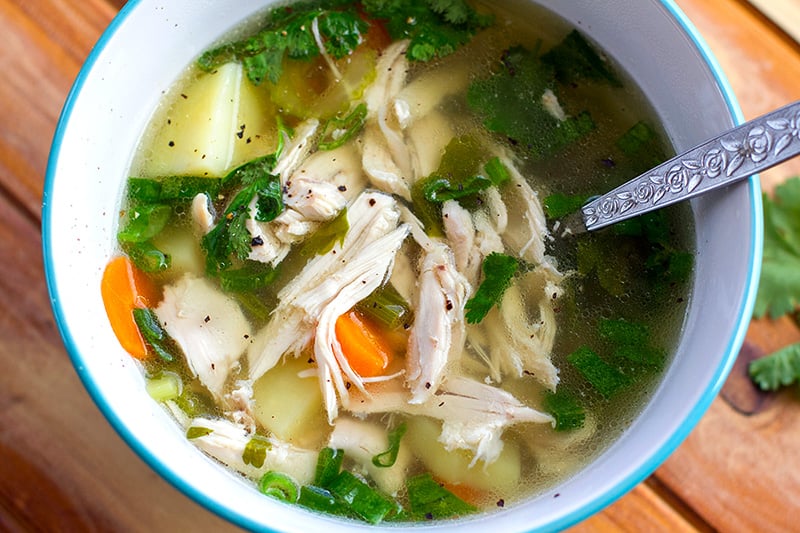 This fall off the bone, nourishing chicken soup recipe is one of my go-to dishes when I'm feeling under the weather or I want something comforting and warm. Tender chicken, nutritious veggies and hearty broth are magical together. This soup is nut-free, egg-free,  Whole30-friendly. Can be made with sweet potato instead of white potato.
CREAMY MUSHROOM, LEEK AND THYME SOUP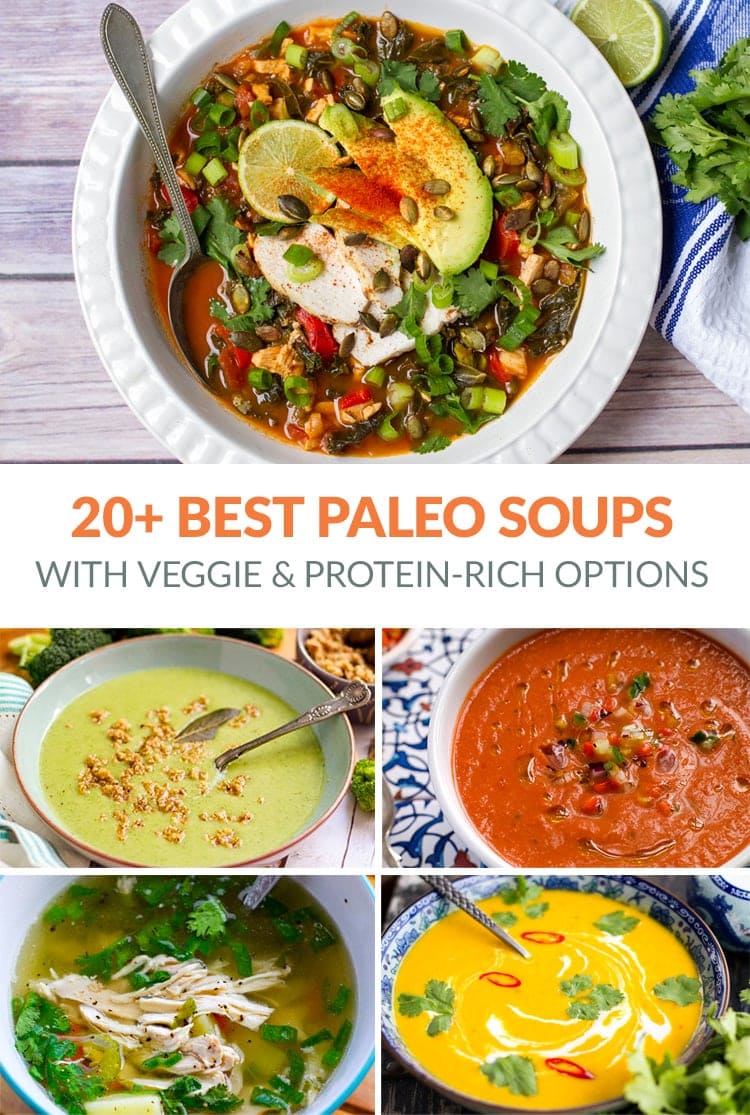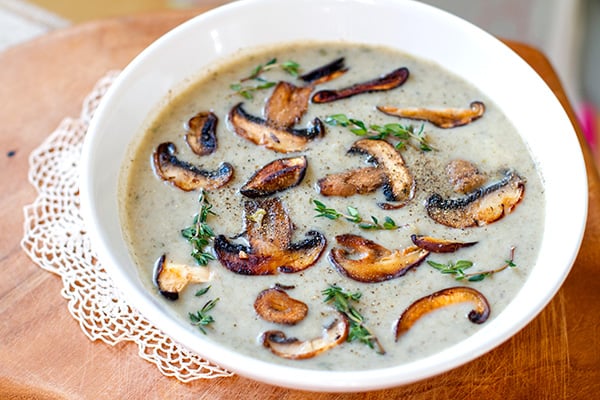 This is a great soup for a midweek dinner or for batch cooking and freezing for later. It's budget-friendly, especially when mushrooms are in season, and is egg-free, dairy-free, vegan, keto and Whole30 friendly.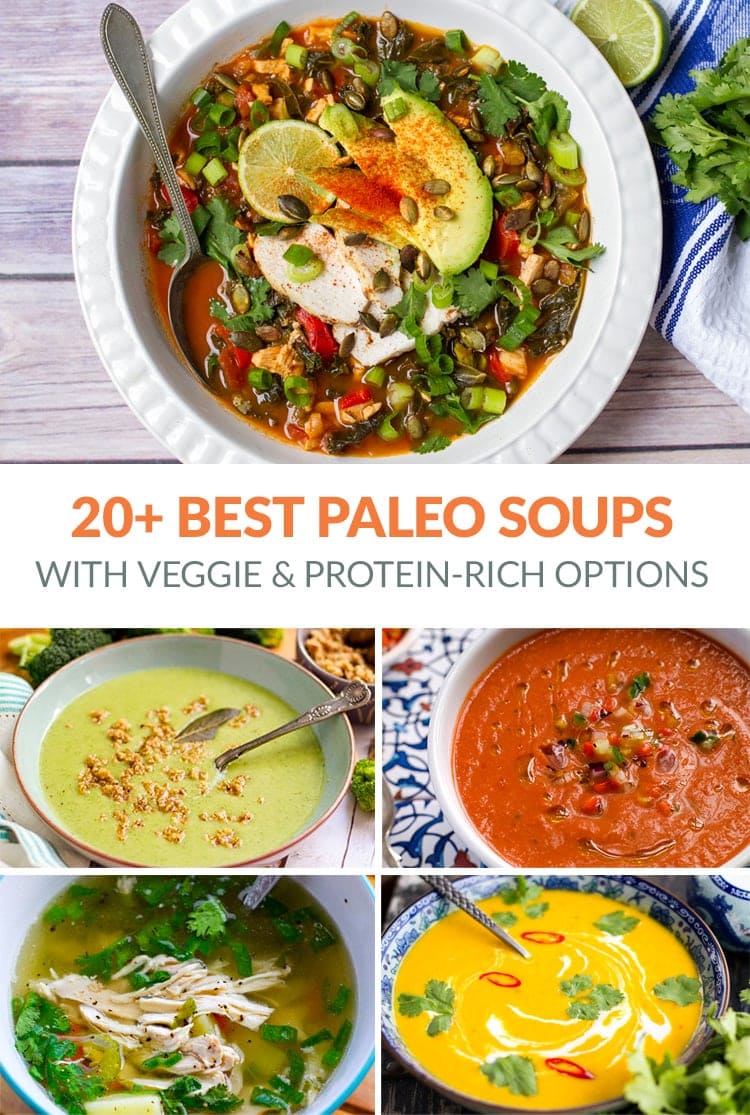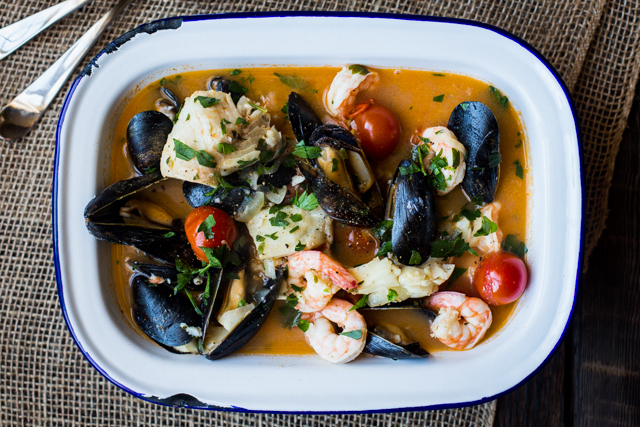 While there is a lot of variation to this dish, the Croatian version is an easy and unassuming approach to making soup. Marinate some fish for a while (like cod), then throw everything together for a true one-pot dish. Adding shrimp and mussels also gives the stew a more rich and satisfying flavour. It's nut-free, egg-free, and Whole30 friendly, very high in nutrients. This recipe is from The Domestic Man.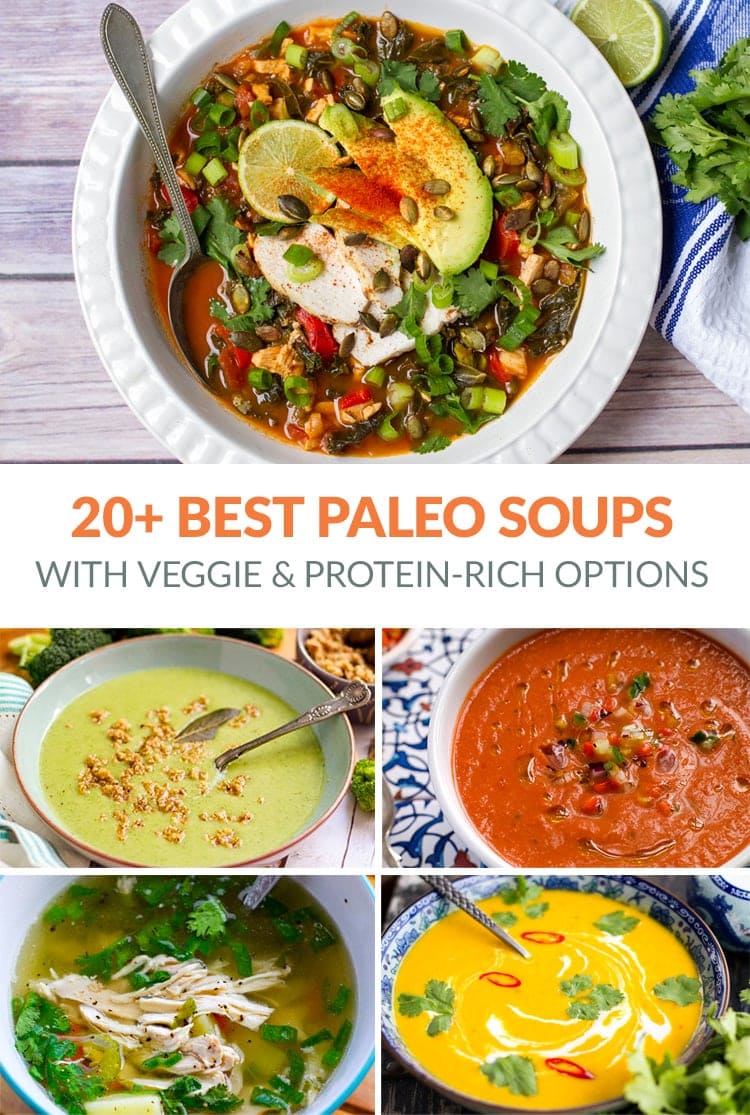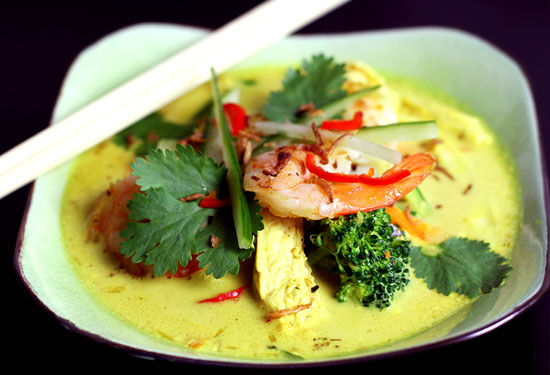 The best part about a Laksa soup is that it can be a perfect Paleo dish! Ditch the noodles and tofu, add extra veggies, some protein and et voilà – you have a delicious meal with the desired ratio of proteins, carbs and fats. This laksa uses a homemade paste, which can then be used for curries and other stews. This recipe is nut-free, egg-free, ketoWhole30-friendly.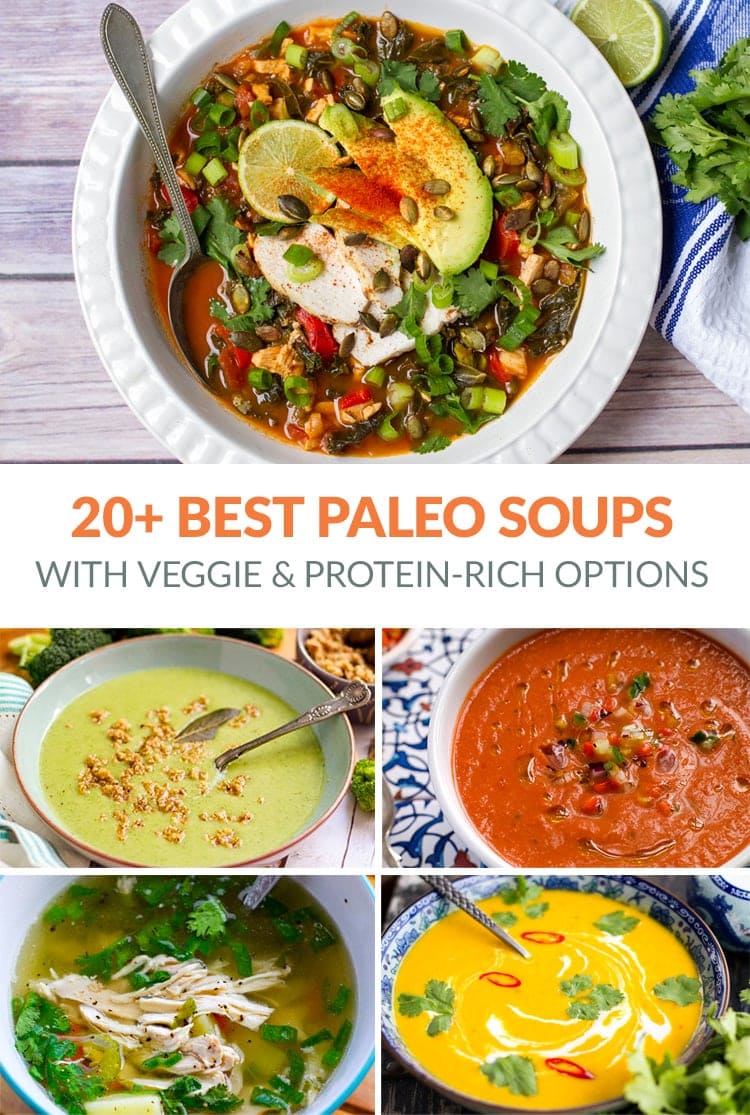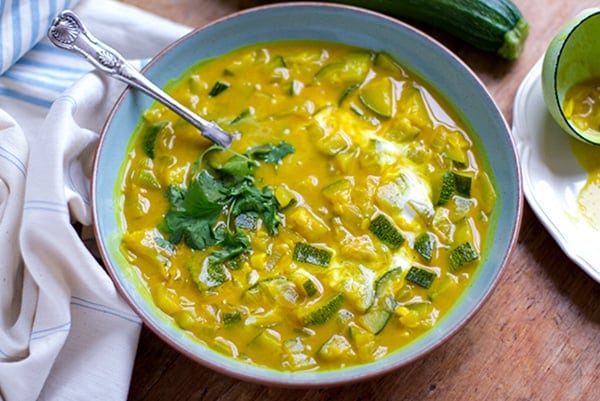 Cooked with creamy coconut milk and anti-inflammatory turmeric spice, this zucchini soup is healing and nutritious, perfect for those with digestion or gut-health issues or simply looking for a light yet satisfying meal. It's paleo, vegan, gluten-free, keto and Whole30-friendly.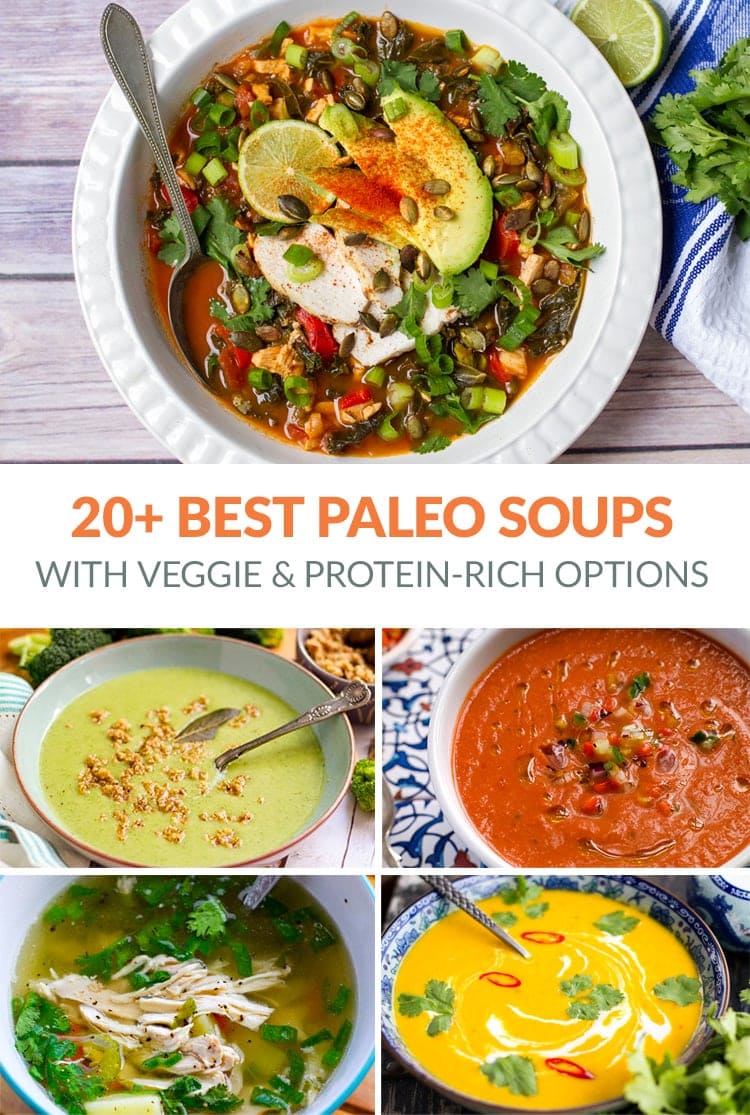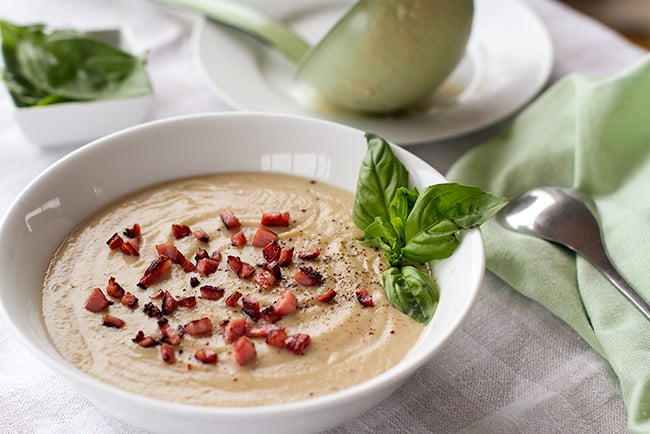 Whip up this creamy cauliflower puree soup in under 30 minutes.  It's delicate and fluffy with little crispy bacon candy adding texture and saltiness. The creaminess would fool you into thinking the soup is made with added white potatoes, butter or cream but it's all cauliflower with a little trick. Whole30, keto, nut-free.
spicy THAI pumpkin coconut soup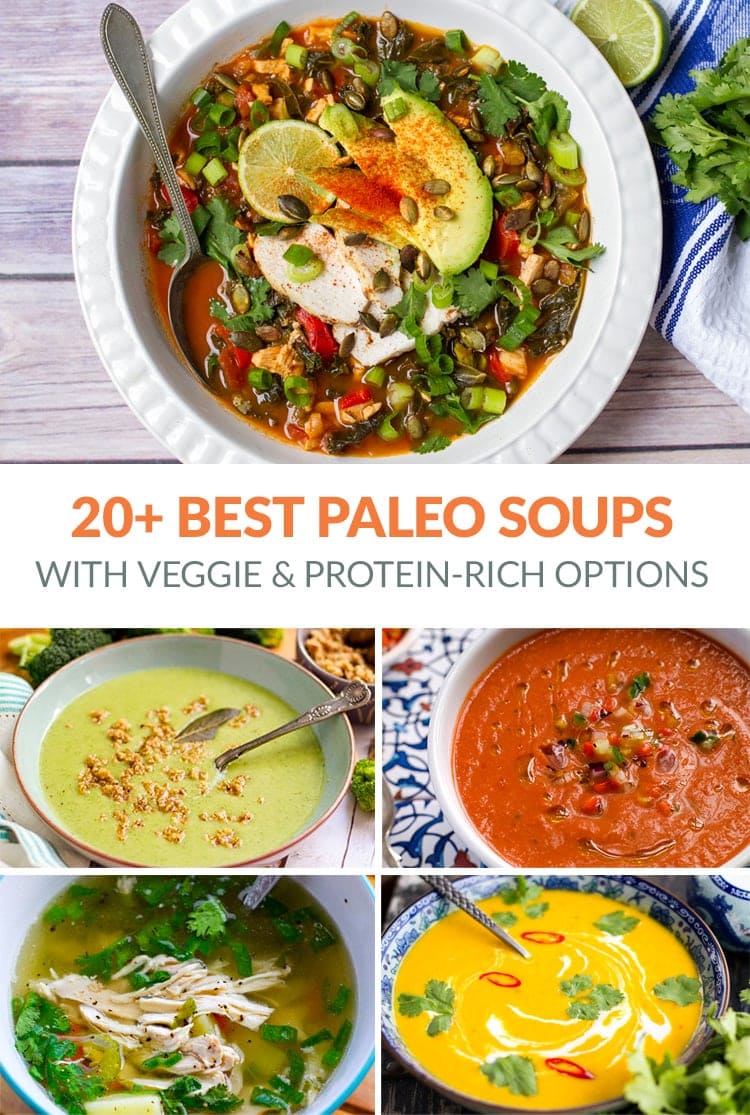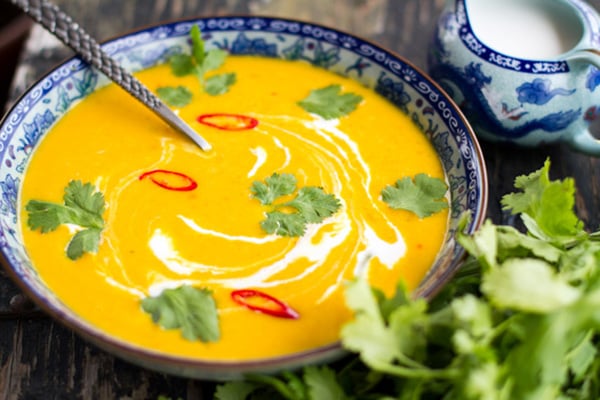 This Thai pumpkin soup is creamy and full of flavour, zest and spice. It's filling enough for a meal or can be paired with shredded or diced chicken or grilled prawns for extra protein. It's nut-free, egg-free, gluten-free, Whole30 and vegan-friendly. Slow cooker/Instant Pot-friendly and great for freezing.
Great soup for wild foragers or those looking for something different. It's great in spring when nettle is young but you could also use spinach, sorrel and other greens. The soup contains nightshades (potatoes) but can be made with parsnips or artichokes.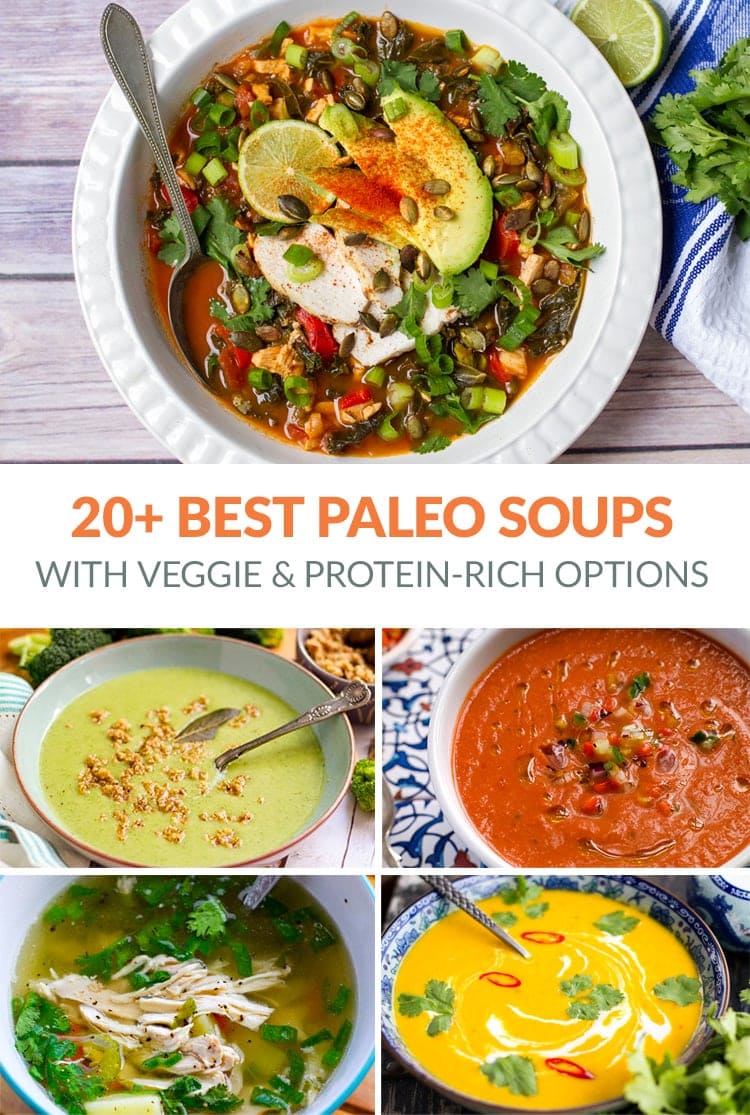 This soup has complex flavours and will make you think you're dining at an expensive restaurant. It's great for entertaining and can be made ahead of time. Pumpkin and carrots could be used in place of sweet potato. It's egg-free, Whole30, vegan-friendly.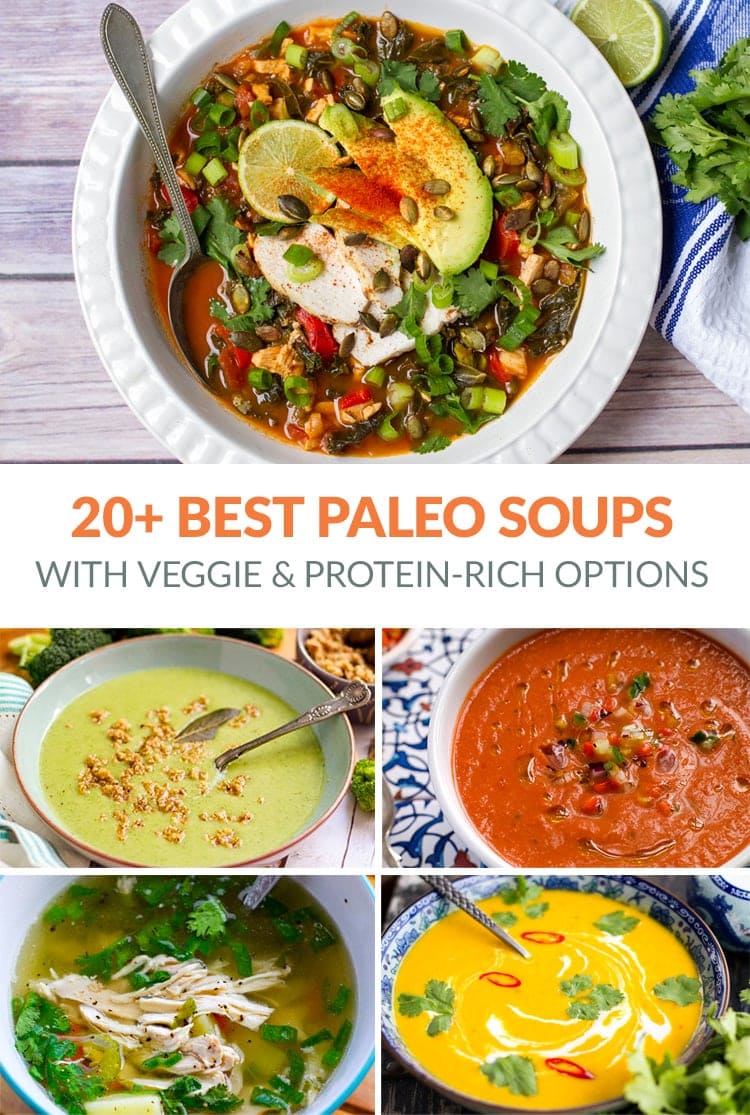 Garlic is one of the most powerful medicinal foods. Its anti-inflammatory, anti-parasitic, antibiotic and antiviral properties make it an incredibly important ingredient in the defence against digestive assaults of all varieties. Load on garlic's goodness with this bold and flavourful soup. Dairy-free, vegetarian, vegan-friendly, nut-free, egg-free.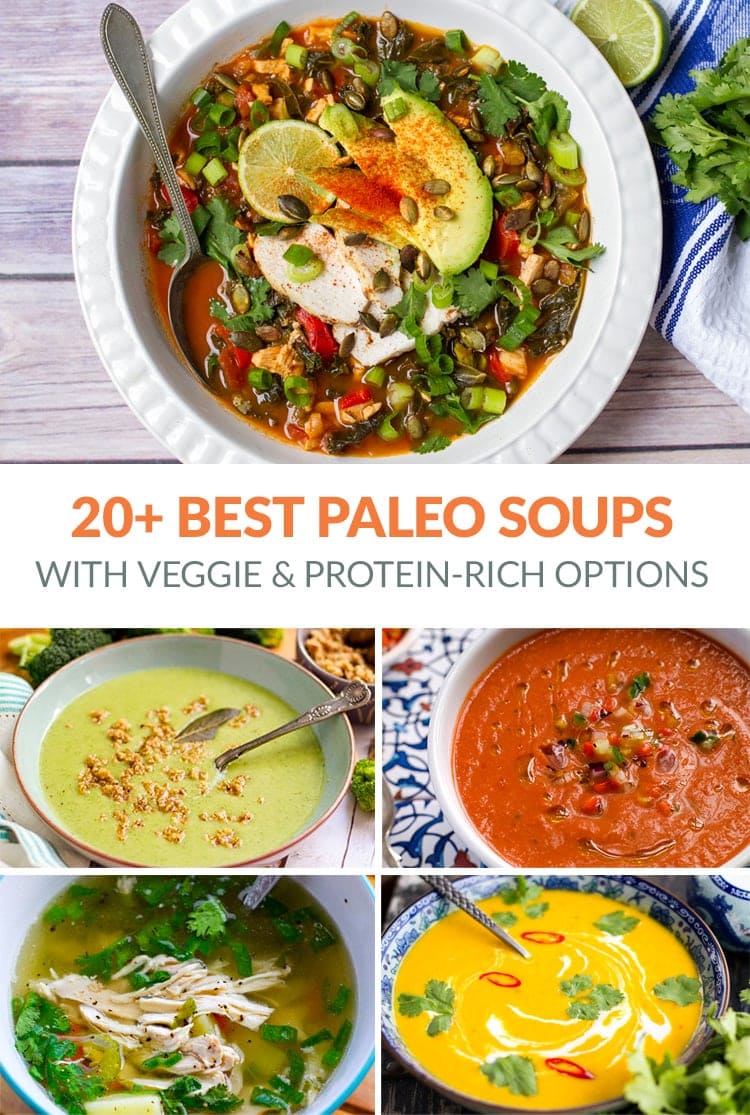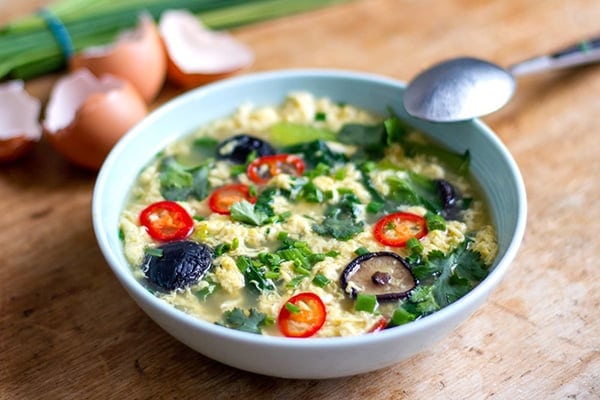 My favourite part about this soup is how easy it is to make. My version has a few extra ingredients compared to the traditional egg drop soup but it still only takes 15 minutes to put together. You get all the benefits of the bone broth plus the protein from the eggs (and all the other good stuff), mushrooms, lovely herbs and spices, and a bonus serving of leafy greens.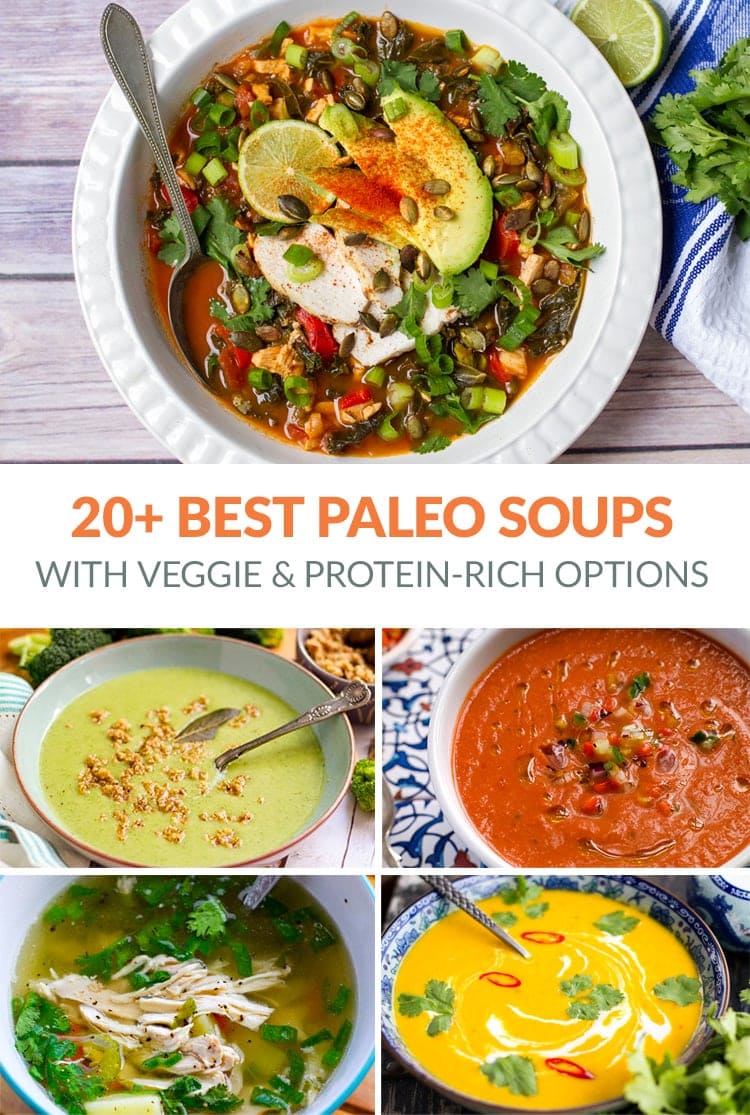 Whole30 & paleo Tantanmen Ramen with creamy rich bone broth and juicy caramelized chicken. This healthy low carb ramen noodle soup comes with loads of fresh vegetables and ramen toppings. It's a super quick dinner idea for tantanmen ramen lovers! Recipe from I Heart Umami.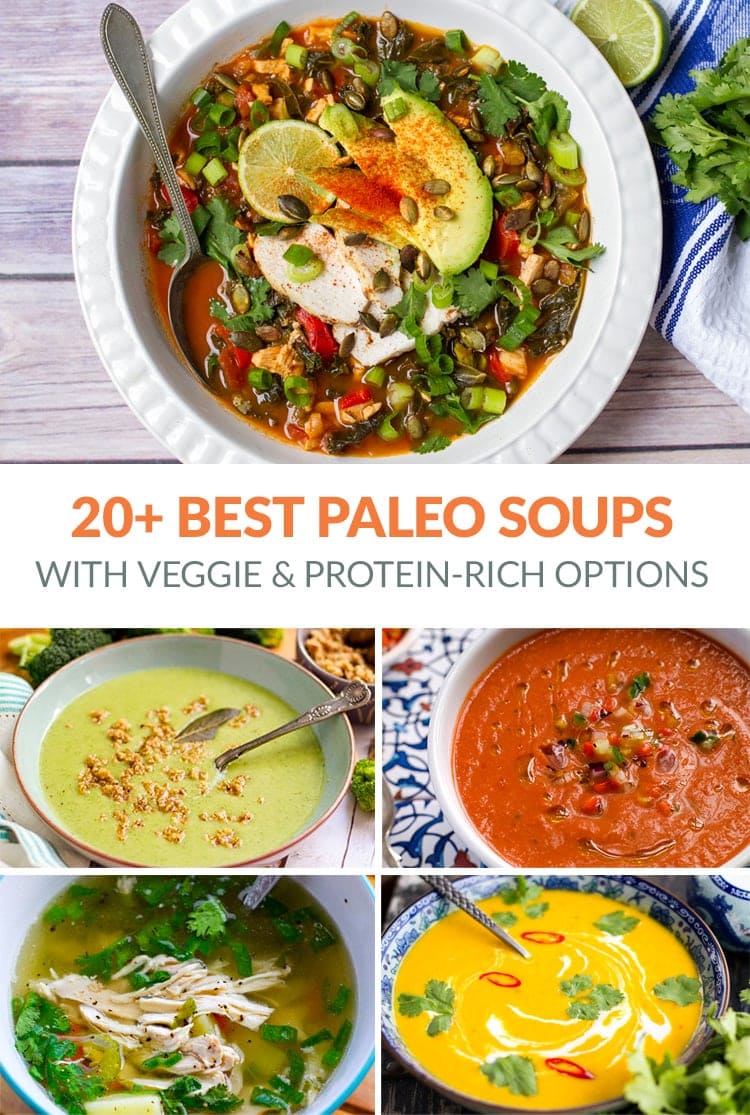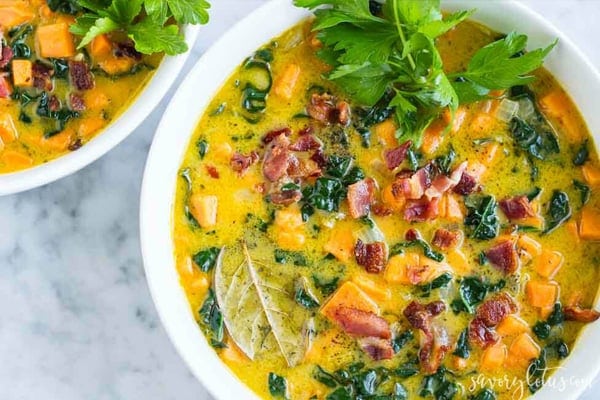 Creamy and cozy chowder loaded with sweet potatoes, kale, and bacon. It's hearty, nutritious and so comforting! Recipe from Savory Louts.
More useful tips & links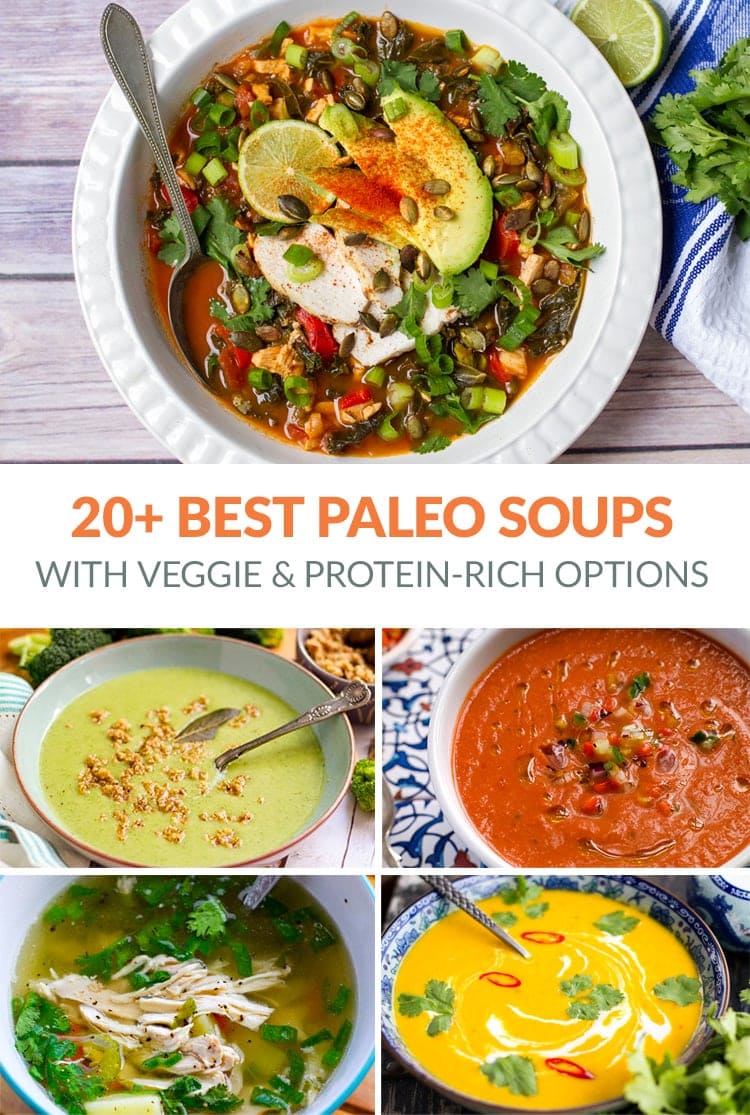 How to make bone broth
INSTANT POT CHICKEN BONE BROTH RECIPE
HOMEMADE VEGETABLE STOCK
Soup left out overnight: is it safe to eat?
5 SIMPLE TIPS FOR FREEZING ANY SOUP